We live in a world of email noise. We all receive hundreds of emails each day from marketers, retailers, friends and more. Frankly, it's almost impossible to sift through all these messages to find the ones we care about. The key for brands to stand out in all the noise? Make those emails indispensable.
At Trulia, we send personalized content through emails and push notifications. After years of intensive engineering work, we've reached a place where personalization is core to everything we send.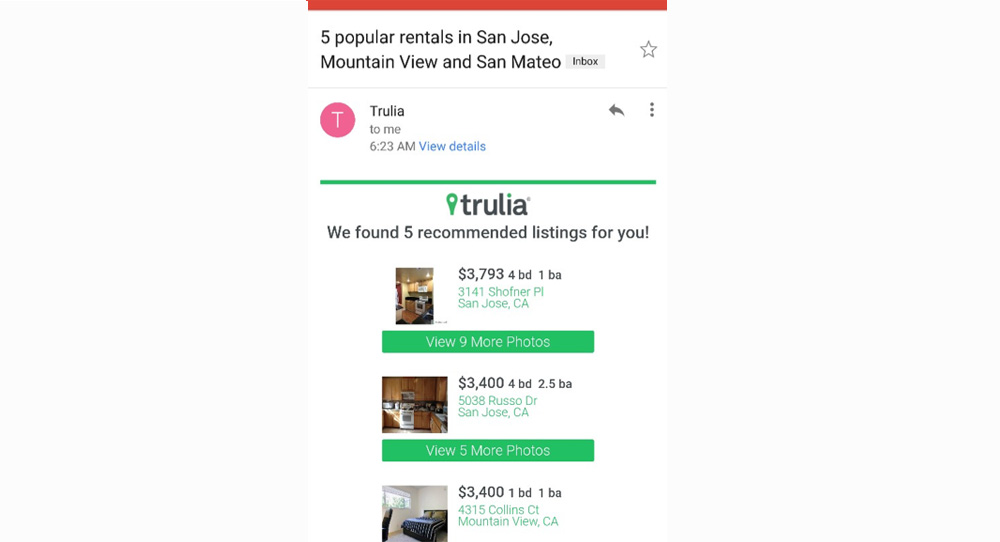 To get to this place we used a combination of consumer insights and data science. Here's a peek into our approach:
Consumer Insights
For starters, we needed to understand what each consumer cares about, so we built a consumer insight data platform, which you can read more about here. We use this platform to understand each consumer's preferences, such as locations or price range. Consumer preferences are updated in real-time and stored in the platform, where it becomes the foundation of how we personalize our messages.
Personalized Content Matching
Next, using what we learned about each consumer's intent, we find and match various relevant content for them. When we say content, it's important to explain that Trulia has a variety of real estate-related content to share with consumers. For example, not only do thousands of homes go on or off the market each day, but price adjustments are made regularly, open houses are scheduled and rescheduled, etc. To ensure we're matching the right content to the right consumer, we built several personalized content matching models using various business rules and machine learning algorithms. For example, one model recommends homes to consumers by looking at homes popular among other consumers who have similar behaviors. Another model alerts consumers when relevant homes hit the market, or when there's a new open house scheduled.
Personalized Content Delivery
After collecting the insights and using data science to match the right content to each consumer, we focus on message delivery. A prediction model tells us whether a consumer would appreciate a specific piece of content. If the model says yes, we send. If it says no, we don't. We also block ourselves if say a given home was sent in another email, or if we've sent multiple emails to a consumer in one day. This approach dramatically reduced the amount of email we send every day. Also, it's helped us learn and optimize the best time, frequency and channel to send the message in a personalized way.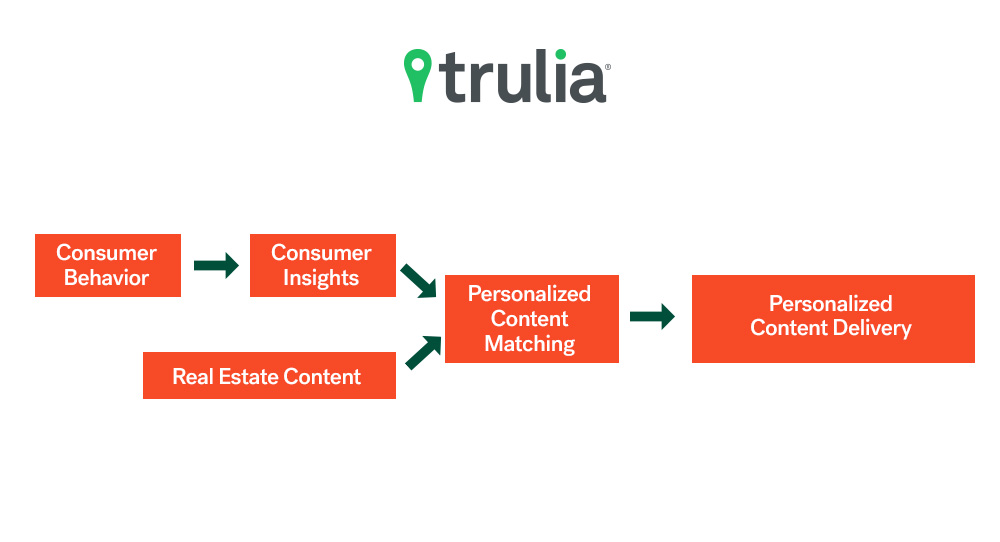 This is just a snapshot of the work we've done at Trulia to create a personalized experience for our consumers. Not only does sending personalized communication help us break through the noise, it helps consumers move faster in finding their next place to call home. Stay tuned here for more about our use of AI on this front.