Today's "Meet the Trulian" features Cynthia Taylor. Cynthia is a Director of Product focused on consumer search, personalization, and SEO. Read on to learn how this former investment-banking analyst made the move into product management, and so much more.
What's your role at Trulia?
I'm a consumer product manager, focusing on visual browsing, search, and personalization. I also manage our team of SEO product managers who work to ensure consumers can find the right page on Trulia through various search engines. Every day at work, I collaborate with our talented designers and engineers to make finding the perfect home easy and enjoyable.
What inspired you to get into your role?
I started my career as an investment-banking analyst and transitioned to product management because I love solving customer problems, analyzing data, and working with engineers to build a product that lots of people love to use. My first product management role was at a tech startup where I was lucky to meet mentors who coached me through the early stages of my career. I then worked for a much larger tech company to expand my skillset. About a year and a half ago, I started thinking about how it would be awesome to work on a product I'm personally passionate about. When I took an inventory of my personal passions, it became obvious I needed to work for Trulia – I love everything about real estate.
What was your dream job growing up and why?
My dream job growing up was to be a forensic pathologist. FBI Special Agent Dr. Dana Scully was my childhood role model and I wanted to be just like her. She was intelligent (she re-wrote Einstein for her senior thesis); she was confident (she always challenged Mulder's crazy theories); and she was a medical doctor who worked in law enforcement (which is so awesome). However, UC Berkeley's organic chemistry course was admittedly my wakeup call that the medical sciences were not for me.
If you could have drinks with one tech luminary – dead or alive – whom would it be and why? And, what would your first question be?
Marcus Lemonis. He's currently the Chairman and CEO of Camping World, but he is better known for being the star of the CNBC show, "The Profit." On this show, he invests his own money into struggling businesses and helps the owners turn the businesses around. He is able to walk in to any business, evaluate the situation, understand the market opportunity, envision the changes that need to be made, formulate a long-term strategy, and execute on his plans. It's pretty impressive. If I had the opportunity to meet Marcus, I would ask him how he stays healthy, given his insane schedule.
What's the one gadget or personal tech item you cannot live without and why?
I would be really sad if I didn't have my Kindle Paperwhite. My husband gave it to me for Valentine's Day back in 2013 because he knew I love to read. In fact, in 2015, I read a grand total of 143 books. I've included a rating distribution chart below (can you tell I really like data?). The book I most enjoyed last year was "You're Never Weird on the Internet (Almost)", by Felicia Day. In general I read a variety of genres, but my favorites are non-fiction books about people, places, or historical events. So far in 2016, I've already read 17 books, which is right on pace for matching last year's number of total books read. But, if I'd like to achieve a decent year-over-year increase in number of books read, I need to pick up the pace and read more.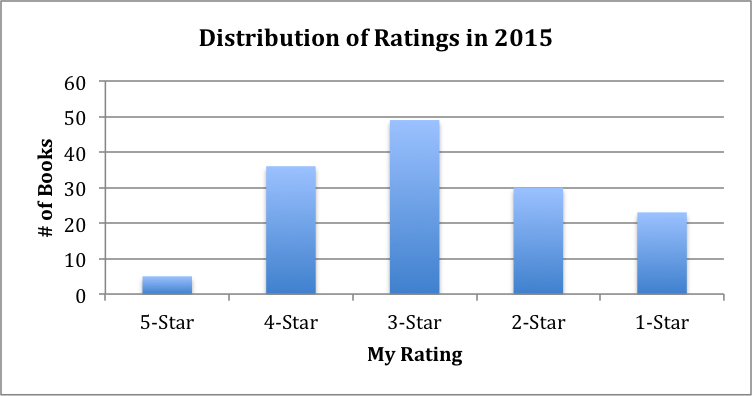 What was the last movie you saw or book you read and what – if anything – would you change about the ending?
The last book I read was "The Do's and Don'ts of Yesteryear: A Treasury of Early American Folk Wisdom." It's a collection of vintage tips and tricks that the author gathered from colonial-era almanacs and diaries. The book covers everything from how to tell when a potato is boiled to how to make soap. One of the tips suggested keeping a container of salt next to the stove in case you needed to extinguish a fire. This tip came in handy when I accidentally started a grease fire in our backyard barbecue – the salt worked like a charm!
What's your proudest accomplishment and why?
My proudest accomplishment is how I've re-balanced my life over the past year. Three years ago, I was one of those people who spent every waking moment thinking about work, doing work, or talking about work. I dedicated all my time and energy to work, leaving little room for anything else. But, over the past year, I've made a conscious effort to lead a more balanced life. When I'm working, I prioritize to make sure I'm spending my time on the right tasks, and when I'm not working, I put down my devices and try to be present at home. I've also set aside more time for myself to go on walks or go to the gym. As a result, I feel healthier, happier, and more productive in all areas of my life.
If you could master one talent or skill that you don't have now what would it be and why?
Making perfect Napoletana pizza dough. I love pizza. I've been trying to make my own pizza dough for the last six months but it has never come out quite right. I'm now reading and baking my way through an artisan dough textbook and I've purchased a digital kitchen scale (no more measuring by volume – it's time to get serious). If I practice consistently, I'm sure I'll be able to master the skill of making perfect pizza dough.
If you could have one superpower what would it be and why?
If I could have one superpower, I would like to be able to do magic like Hermione Granger (my favorite character from the Harry Potter series). I really like the idea of being able to magically produce light whenever needed (lumos – instantly rendering my iPhone flashlight obsolete) or levitating objects (wingardium leviosa – no more kitchen stools needed to reach objects high shelves).