In the euphemism-filled world of real estate listings, there are two words that always grab our attention: original details. We're suckers for a home with a unique personality, whether it's a Mid-Century house in Pittsburgh or a studio apartment in Philadelphia.
But the following apartments are truly one of a kind, with features you won't find in most homes (let alone rentals) — such as stained-glass windows, vintage brick, rustic beams, and antique wood floors. That's because these apartments aren't located in an average building — they're in buildings that were once churches.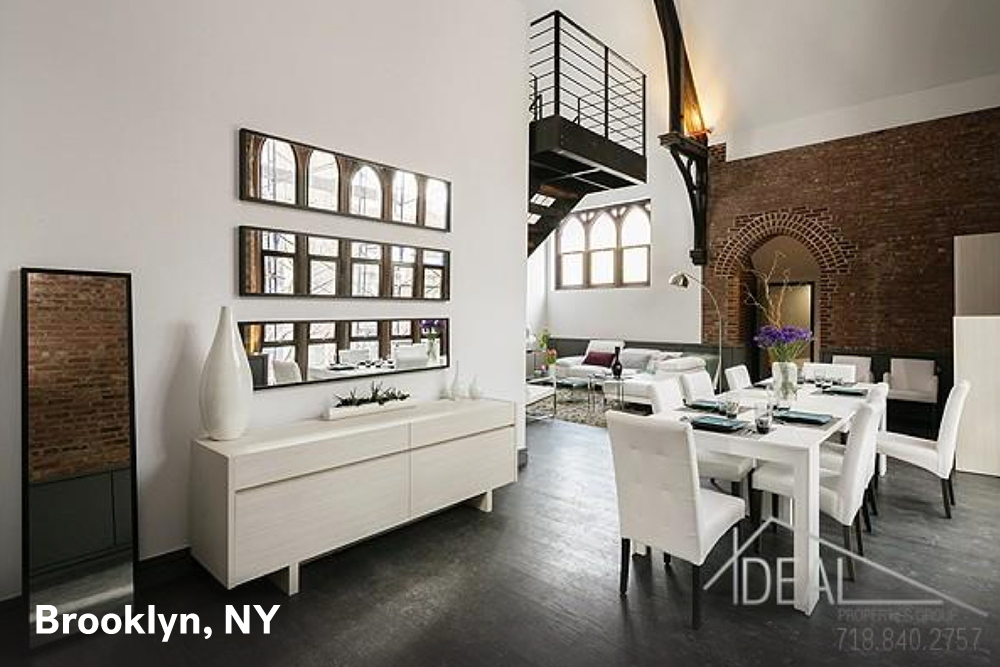 Beautiful brickwork in a Gothic Revival conversion: 232 Adelphi Street #7, Brooklyn, NY 11205
A faithful renovation infused this historic space with a decidedly modern spirit. Sleek cabinetry, understated tiles, top-of-the-line appliances, and a minimalist staircase follow today's trends without distracting from the handsome time-weathered exposed brick walls.
While most urban apartments suffer from a lack of light, this unit boasts arched windows that are too beautiful for curtains. Airy and spacious, the two-bedroom, two-and-a-half-bath in Brooklyn can be yours for the not-so-humble price of $7,300 a month.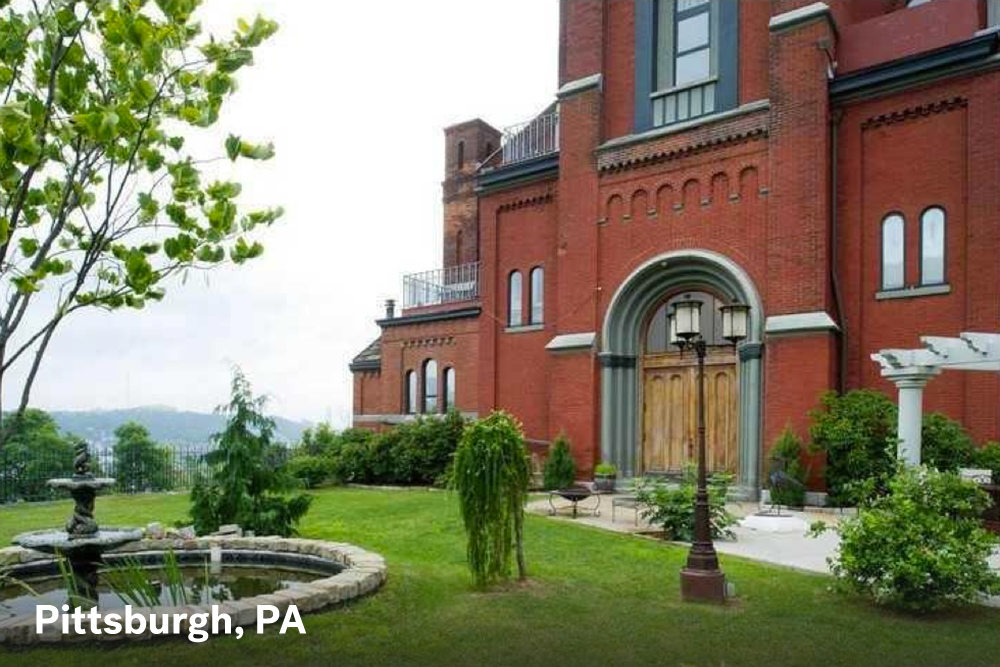 Stunning stained glass in the former St. Michael and the Apostles Church: 1 Pius Street #A3, Pittsburgh, PA 15203
Located on an aptly named street, the exterior of this former place of worship hasn't changed much since it was built in 1861. Similarly, much of the interior remains true to the original structure as well. Stained-glass windows make a stunning focal point in the living room, while the balcony treats you to a view of Pittsburgh. Cork flooring makes this home a quiet sanctuary, absorbing noise while adding a slight contemporary touch.
Living here isn't cheap — the apartment is listed for $6,200 — but you get quite a bit for your money: two bedrooms and two-and-a-half baths spread across two floors that measure in at an expansive 2,044 square feet.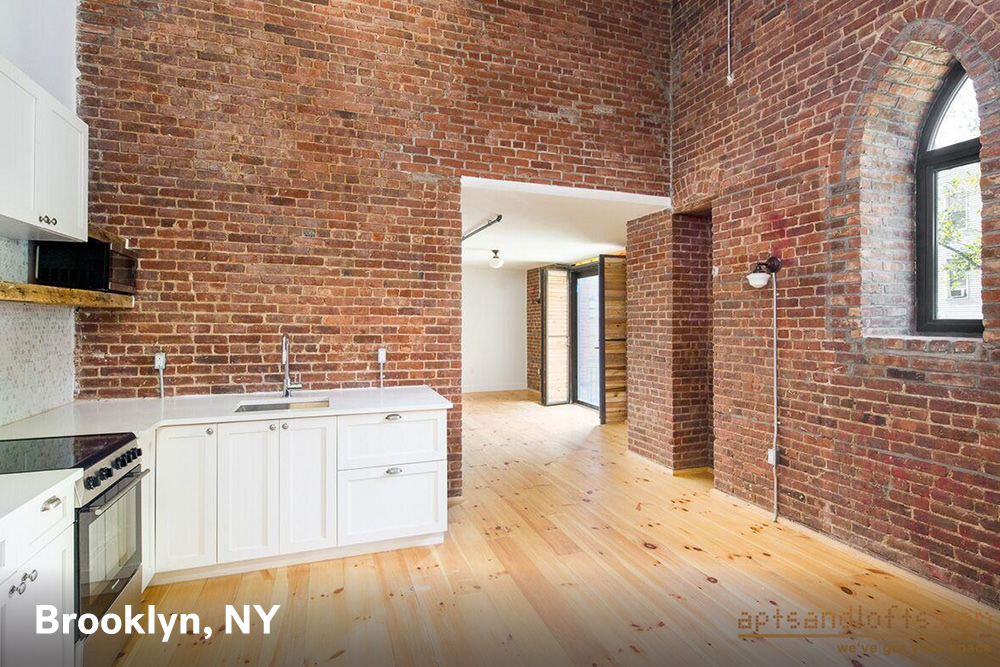 Old World atmosphere in the old St. Vincent de Paul Roman Catholic Church: 167 North 6th Street #A17, Brooklyn, NY 11211
Hipsters, rejoice! This two-bedroom, three-bath converted church apartment is filled with authentic rustic charm. Located in the trendy North Williamsburg neighborhood, the recent renovation kept a lot of the original structure across two buildings (the rectory and the church).
Salvaged details include the original exposed brick, arched stained-glass windows, and the most exquisite heart-pine pillars and beams you'll ever see. The handsome floors have an incredible patina, and came from a surprising source: reclaimed 100-year-old shipping boxes. Of course, at $6,875 a month, it might be a little bit of a sacrifice to live in such splendor.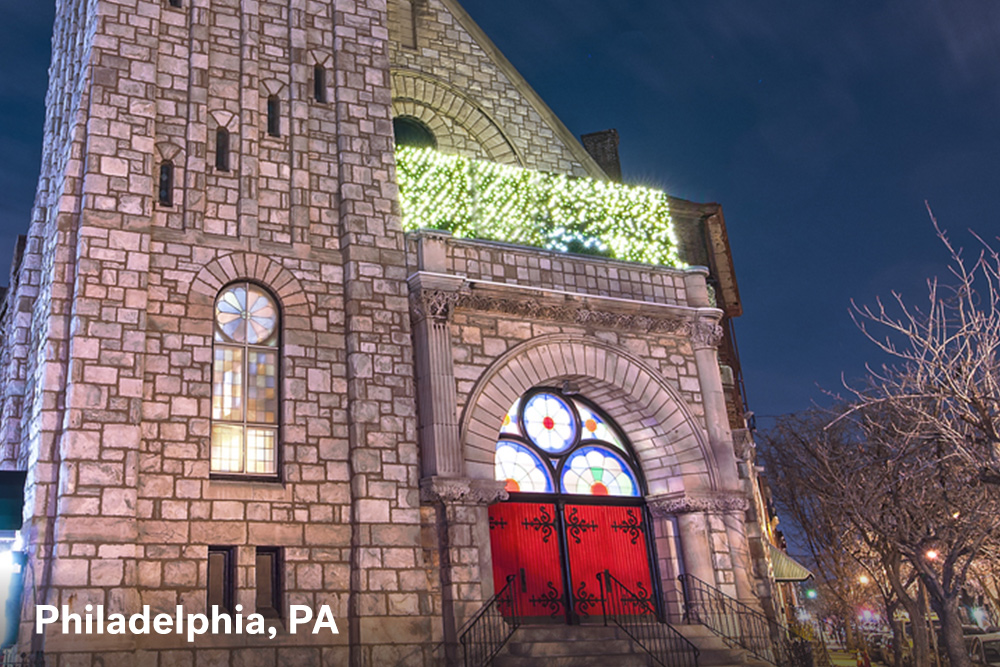 Soaring ceilings set in an incredible Gothic stone structure: 2321 Fitzwater Street #101, Philadelphia, PA 19146
The church theme is strong in these spectacular sanctuary loft apartments. The "interior resurrection" preserved features such as the original pews and hardwood floors, along with repurposed stained-glass windows.
Throughout the two-bedroom, one-bath unit, you'll find plenty of unexpected upgrades. This is most evident in the kitchen, which boasts European cabinetry, subway tiles, and high-end appliances. You can live in such splendor for the tidy sum of $1,850 a month.