On February 7, it's safe to say that nearly all of America will be glued to the television, watching every second of Super Bowl 50, right down to the commercials. And while your living room is a perfectly fine place to gather for the big game, how epic would your party be if you had the option to hold your gathering at, say, a home with ceiling murals and Italian chandeliers? Or a glamorous backyard with open-air screen?
We found just such mind-blowing Super Bowl party pads (think Renaissance Faire–inspired home theater) in homes for sale in Atlanta, GA, Encino, CA, and more. These viewing spots are so incredible, even a fan from the opposing team would be excited to come to your party.
Sports paradise: $30 million, 9694 Oak Pass Road, Beverly Hills, CA 90210
If your perfect idea of halftime entertainment is to duke it out in the ring with your friends, we have the house for you. This mega-property has a large gym with a boxing ring (perfect for settling arguments about rival teams or whose nacho dip is better), in addition to its very plush theater.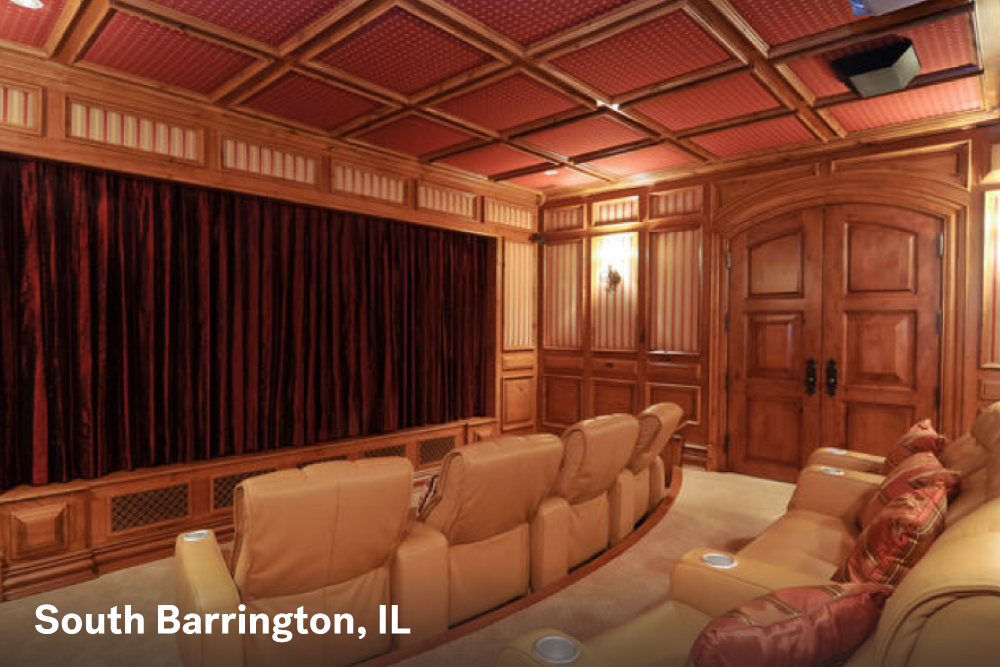 Stately theater: $4.499 million, 9 Brooke Lane, South Barrington, IL 60010
A polished, wood-panel-lined theater gives your Super Bowl party a touch of elegance. When the television is not in use, it hides behind curtains, creating the perfect spot for a cocktail and quiet conversation. Just make sure to roll back those curtains in time for the second half.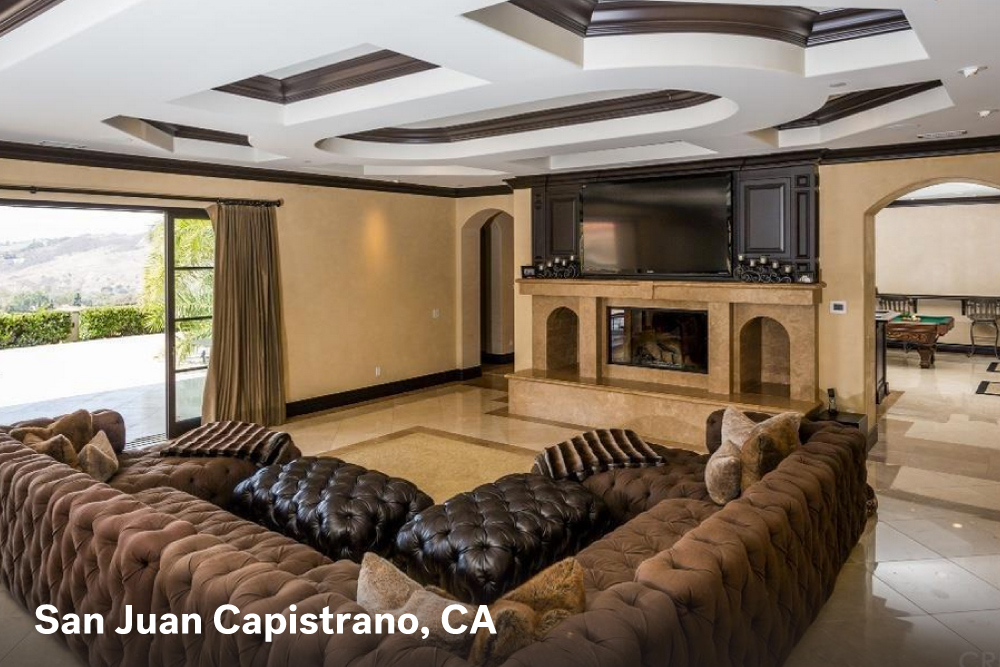 Pristine pool: $13.1 million, 30302 Malaspina Road, San Juan Capistrano, CA 92675
What could be better than basking under the California sun on sumptuous sofas while watching the game on a big-screen television? Then celebrate your team's victory (or forget their loss) by taking the party to the lavishly lit pool at this amazing estate.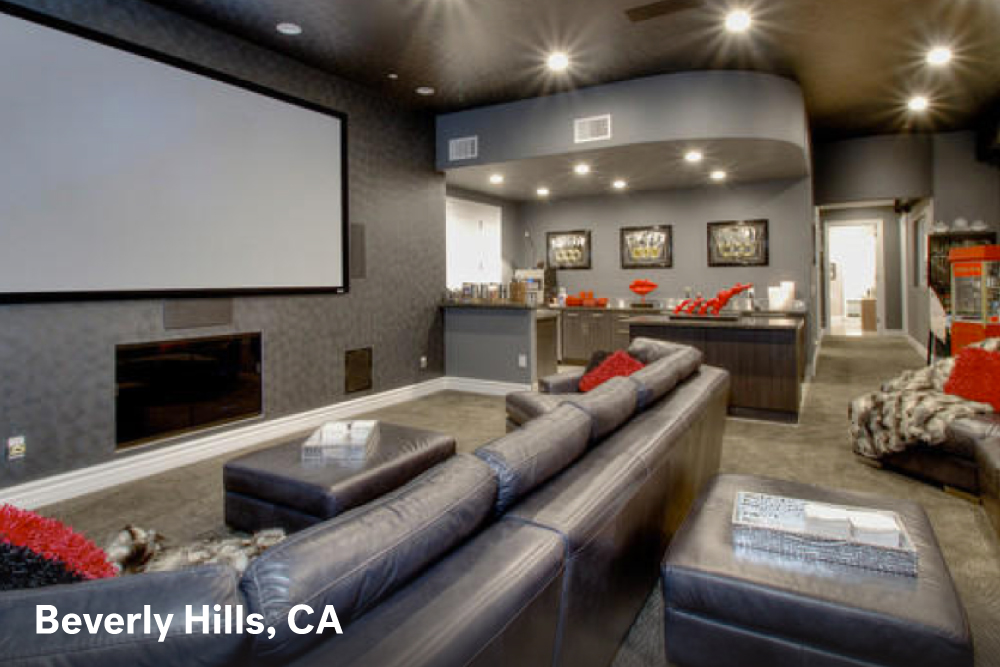 Big-screen style: $11.9 million, 12055 Summit Circle, Beverly Hills, CA 90210
You'll feel like a celebrity at this 10,000-square-foot home, located in an exclusive gated community of Beverly Hills. There's a swanky entertaining room with a welcoming open bar, popcorn machine, and rows of plush couches.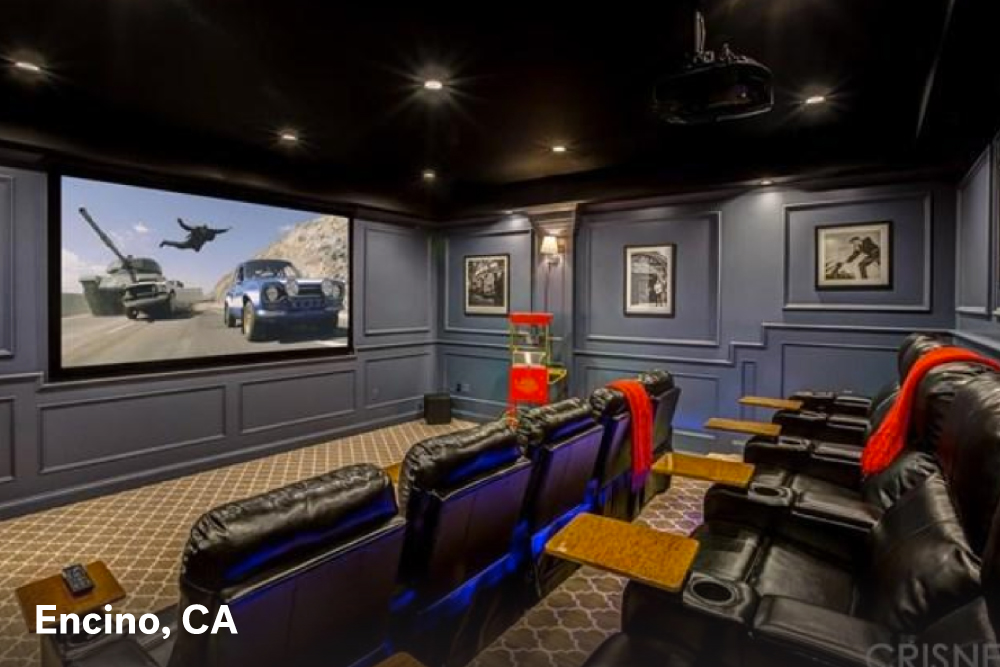 Cinematic comforts: $4.495 million, 5321 Amestoy Avenue, Encino, CA 91316
Your favorite movie theater is re-created at this California home, right down to the chairs with attached trays and drink holders. Bonus? Endless popcorn refills from the in-home popcorn machine.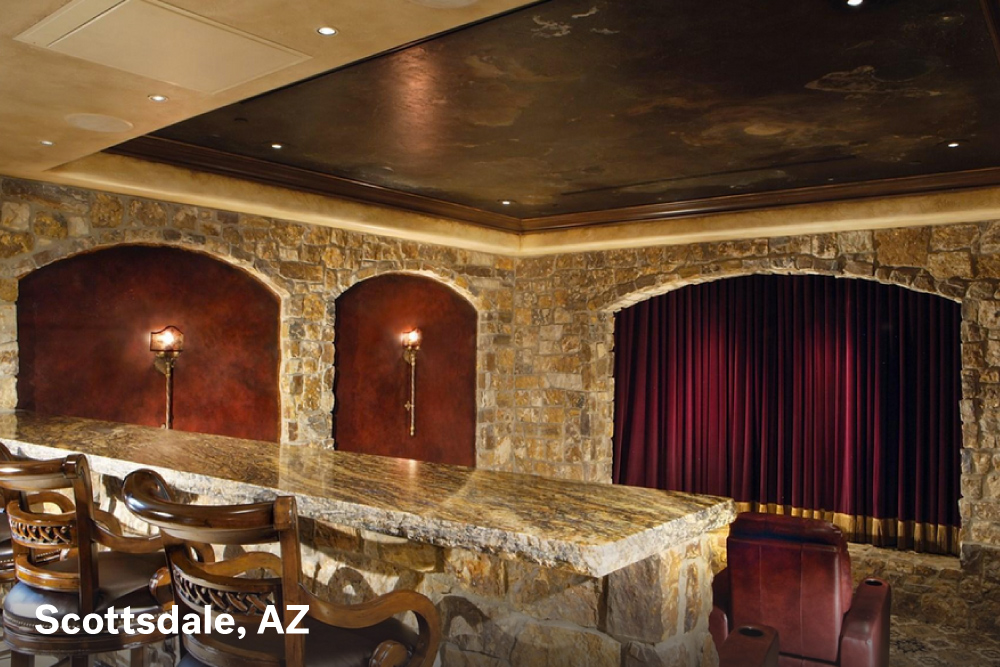 Monumental setting: $8 million, 20913 N. 104th St., Scottsdale, AZ 85255
On this rambling Arizona estate (it's over 14,000 square feet in total!), you'll find a home theater that vaguely recalls the splendor of a Renaissance Faire. There are majestic stone walls and torchlike wall sconces — but luckily, the big screen and bar feel very 21st century.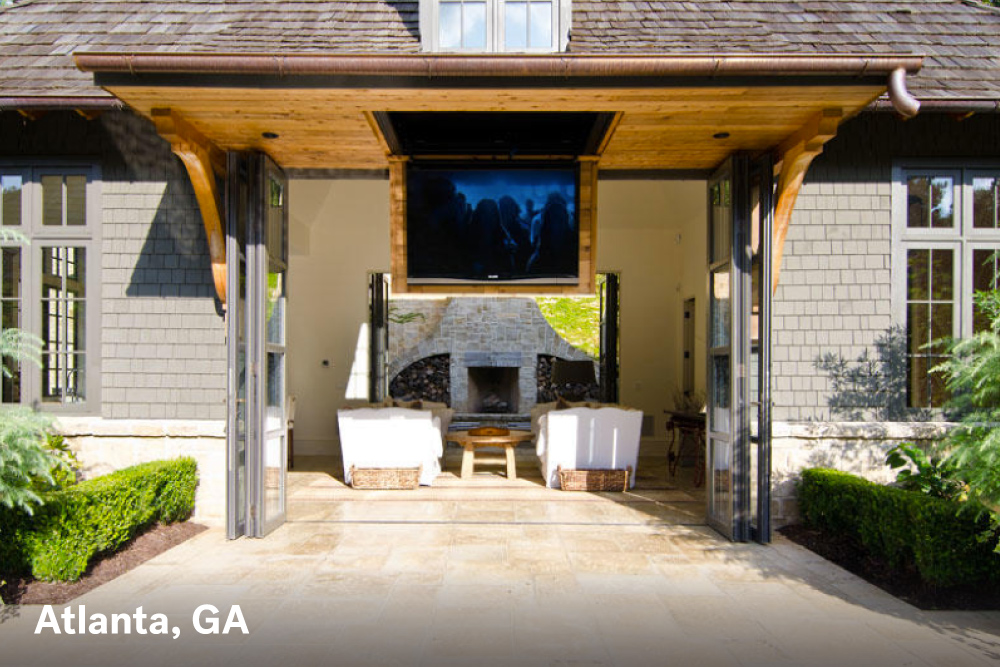 Open-air experience: $7.9 million, 435 King Road NW, Atlanta, GA 30342
Watching television (or even a movie) is always better outdoors. Case in point: the deluxe descending screen in the backyard of this stylish mansion. If it isn't too cold in Atlanta, get ready to pull up an Adirondack chair, sit back with some sweet tea, and enjoy the view.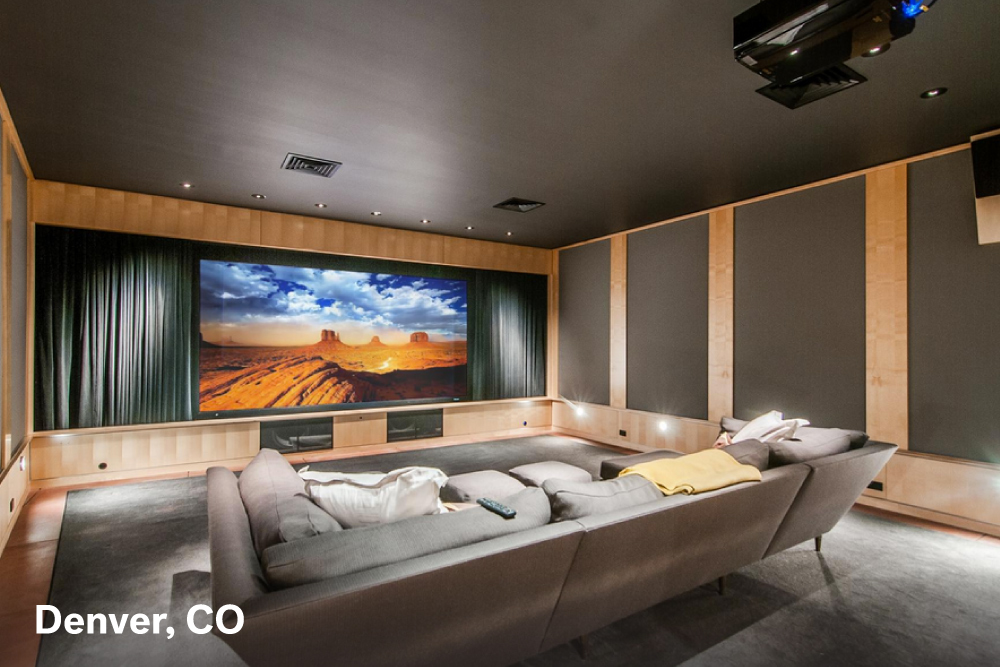 Contemporary cool: $4 million, 100 South Marion Parkway, Denver, CO 80209
If you're worried your screams of "touchdown!" will put your neighbors on edge, take your crowd to this well-designed home, which boasts a contemporary theater with sound-absorbing walls fit for the rowdiest fans. After all, the whole city of Denver is sure to be watching, now that the Broncos are Super Bowl–bound!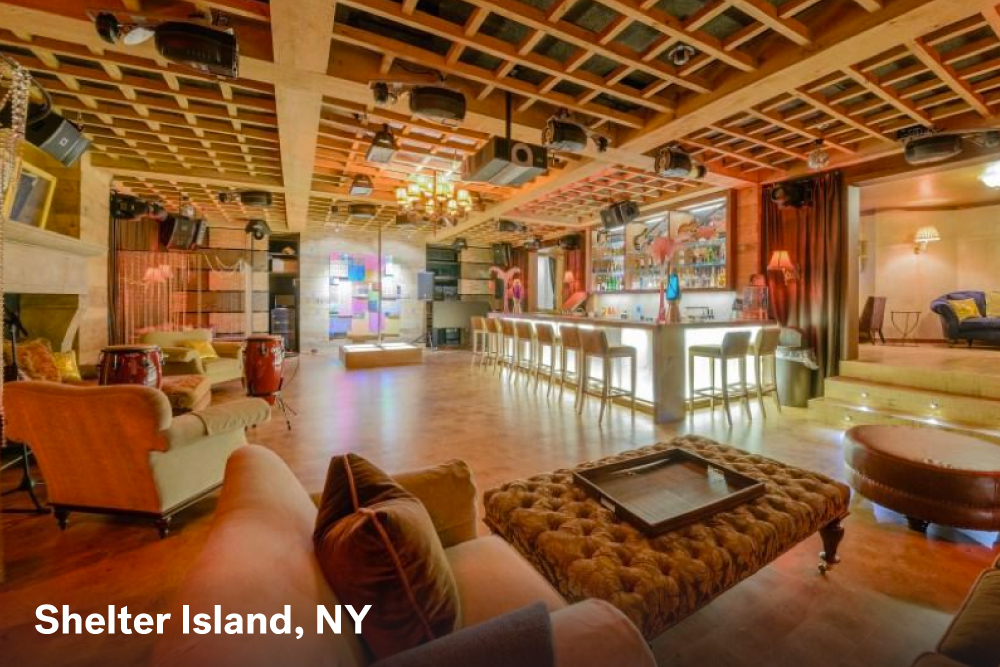 Massively entertaining: $24.5 million, 9 and 15 Little Ram Island Drive, Shelter Island, NY 11964
Here's a place where you can really cut loose. This huge (did you catch the two separate house numbers?) home has a jaw-dropping entertaining space complete with a stage, drums, a bar, a projector, and a stunning coffered, noise-absorbing ceiling.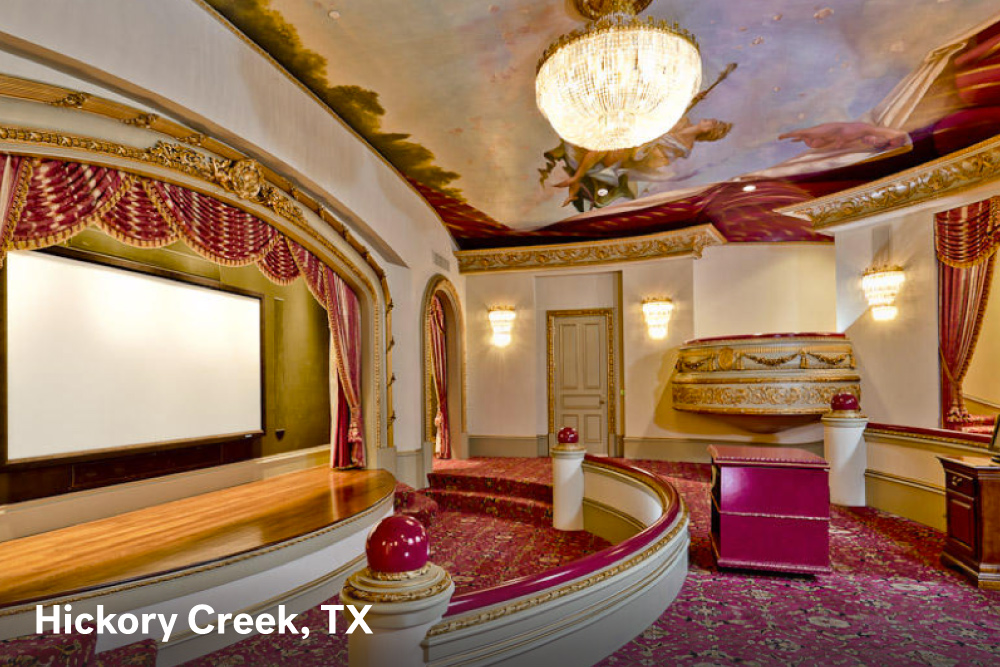 Civilized chateau: $17.5 million, 1851 Turbeville Road, Hickory Creek, TX 75065
Not so into the big game? This mega-mansion, which was modeled after the Vaux-le-Vicomte near Paris, offers plenty of high-brow distractions: ceiling murals, a two-story mahogany library, an ornate 78-foot dome, Italian chandeliers. Guests that aren't so into the game can sit and sip in the tearoom inspired by New York's Tavern on the Green.