Who doesn't want an amazing design-forward apartment, with minimal effort? We scoured Trulia looking for luxury furnished apartments for rent and found the prettiest, most inviting furnished spaces to explore what works when it comes to home style. The decor trend that these luxury furnished apartments have in common? Neutral, with a twist.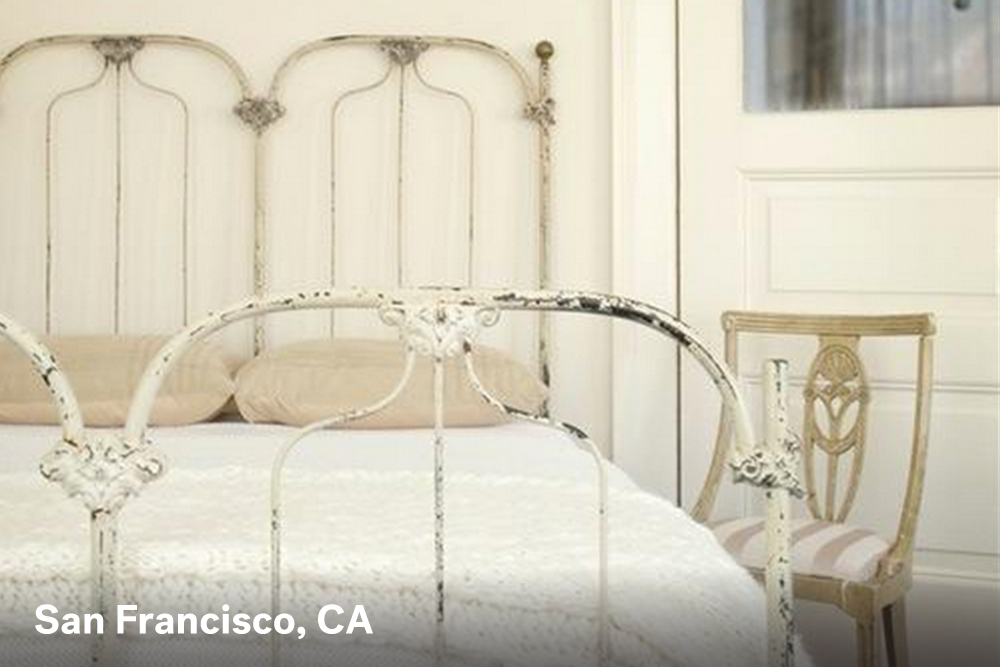 Designer style in a historic Victorian home: 330 Scott St., San Francisco, CA 94117
Stepping into this two-bedroom apartment in Hayes Valley is like being dropped into a real-life Pinterest board. (In fact, the interiors have been featured in magazine editorials in the past.) Gorgeous, Old World workmanship shines through the modern splash of white paint on the built-in details throughout, providing a clean backdrop for the eclectic decor. For a mere $10,600 per month, you can enjoy a minimalist setup with an array of old-new pieces that add richness. An elegant hodgepodge of American modern and Chippendale pieces is peppered with some charming country-style antiques and neutralizing industrial accents.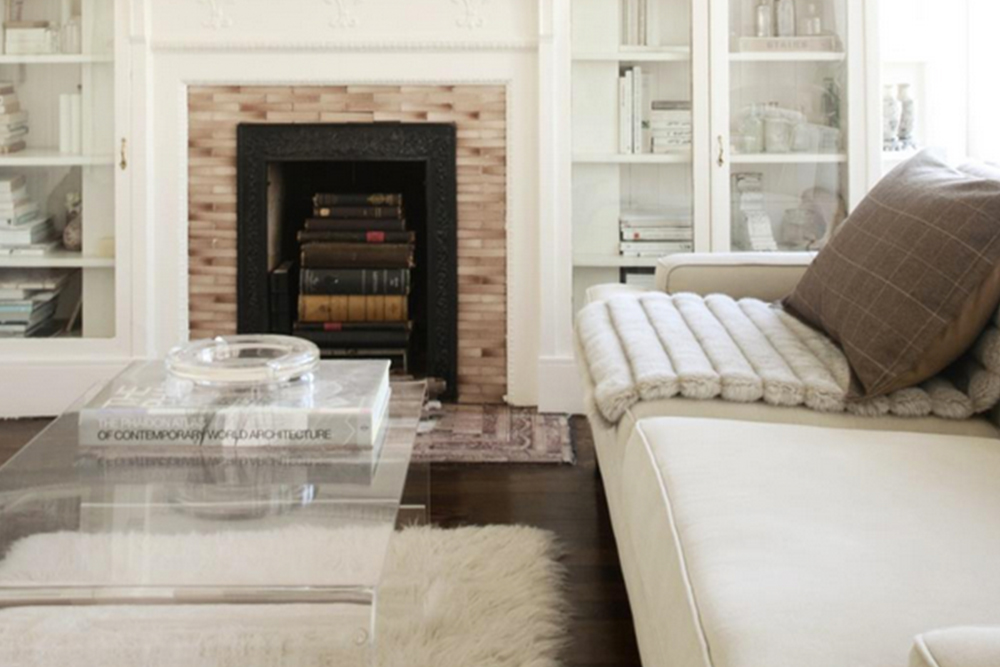 Design inspo: Metallics, shiny white enamel, and Lucite, all balanced by warm, dark wood, will deliver a look that's spare and a feel that's superluxe.
Find more San Francisco apartments for rent.
Laid-back luxury with a skyline view: 10776 Wilshire Blvd. #2401, Los Angeles, CA 90024

What color scheme goes with soaring skies and almost 6,000 square feet of the airiest of airy rooms? In the case of this tremendous spread at the Carlyle in Los Angeles, creamy and serene wheat hues rule the day. The neutral palette throughout the three-bedroom, four-bathroom penthouse apartment (which rents for a whopping $40,000 per month!) lends a sophisticated ambiance that pairs well with the space's proportions. Floor-to-ceiling vistas of the City of Angels are left to shine as a striking backdrop, without interruption from any overwhelming decor inside.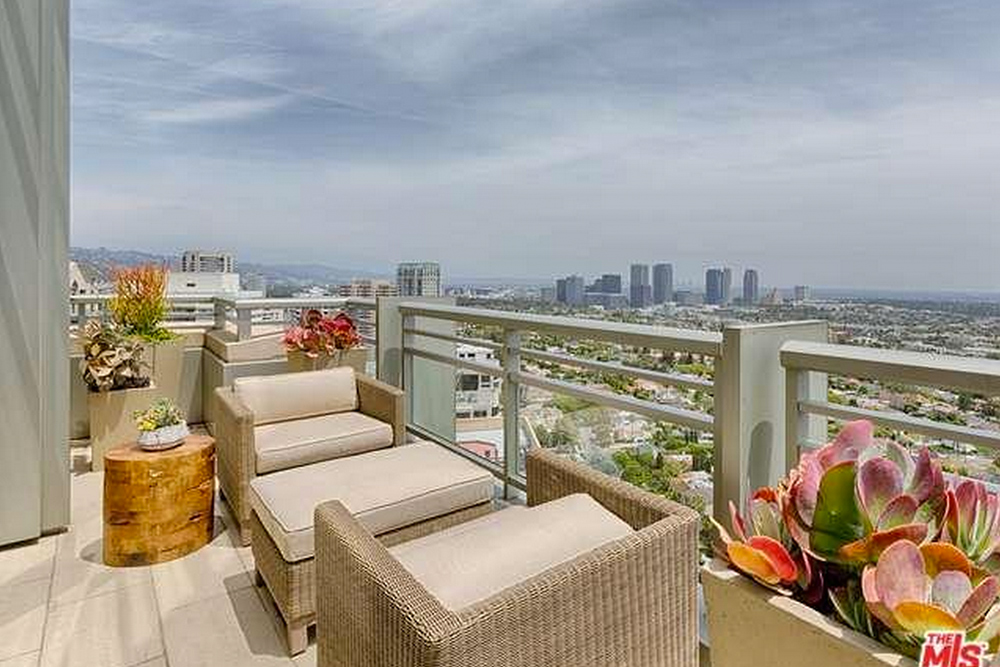 Design inspo: Fluffy sofas, plush carpets, wood accents in bathrooms, and buttery blond plank flooring add warmth to the extreme cool factor.
Find more Los Angeles apartments for rent.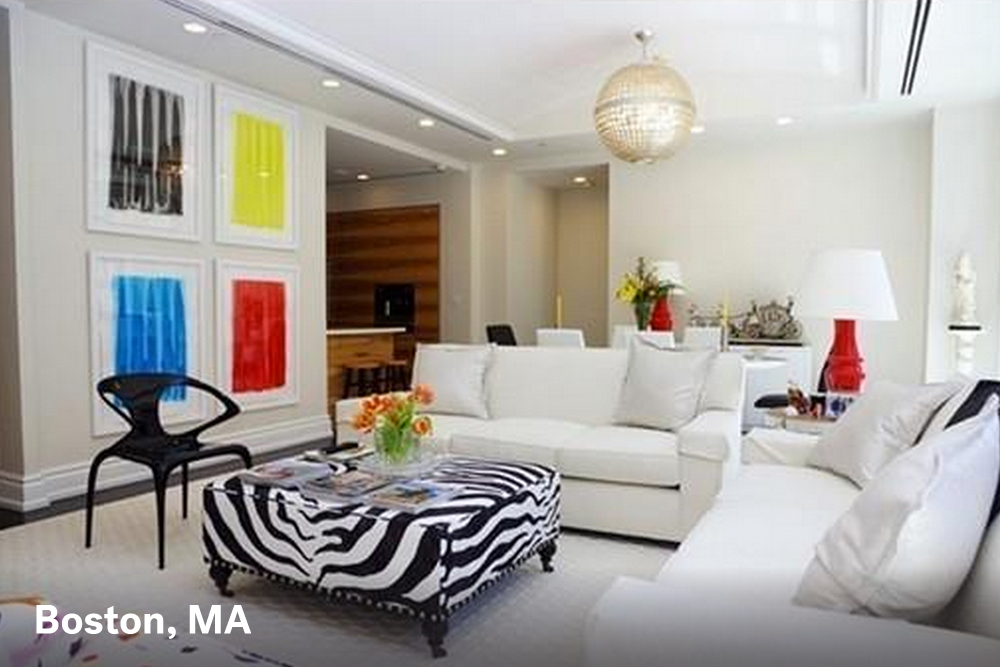 Brownstone elegance with a pop of color: 776 Boylston St. #PH1D, Boston, MA 02116
This two-bedroom penthouse in Boston's Back Bay neighborhood rents for $35,000 per month. But the steep price tag comes with a pro touch. Interior designer Anthony Catalfano orchestrated a sliding scale of color to bold effect — the socializing focal point, a mostly white-and-black living and dining area, gets a boost from cherry-red table lamps, a pair of overstuffed armchairs in a graphic, oversized floral pattern, and a crisp, rainbow-hued gallery wall grid. Move to the bedroom, and calming grays take over, while the kitchen is anchored in homey but sleek wood paneling.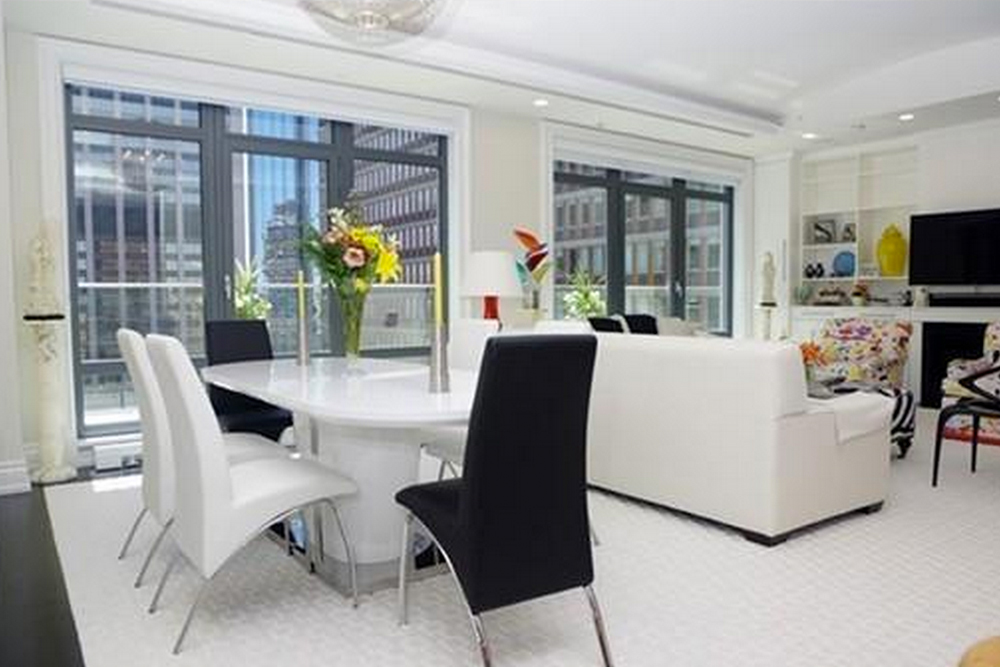 Design inspo: A concentration of bright color in social spaces helps keep a neutral palette base on its toes.
Find more Boston apartments for rent.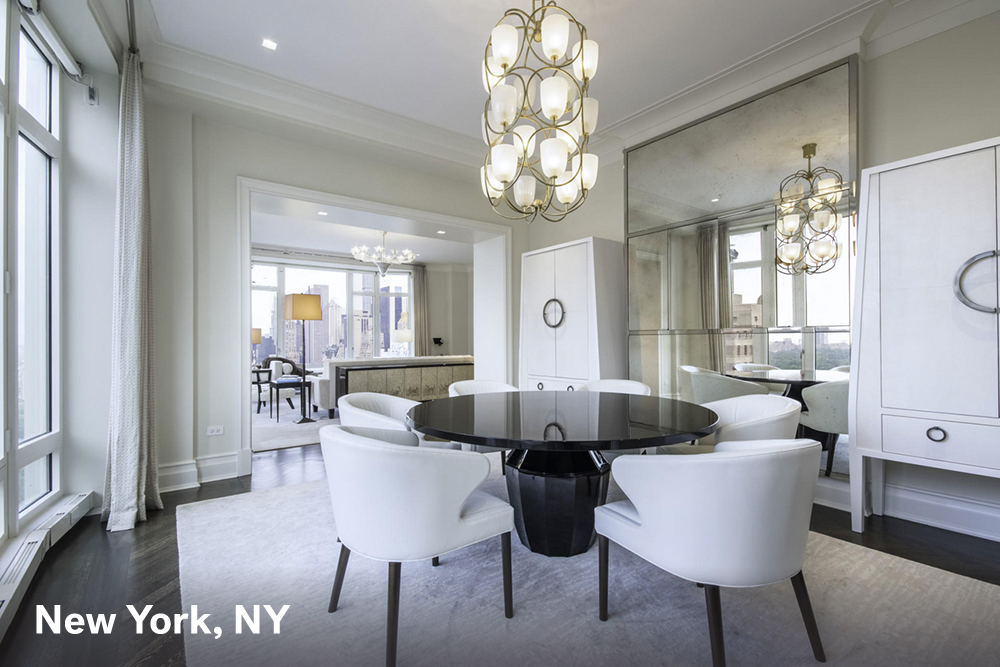 Subtle modern style on Central Park West: 15 Central Park West #28D, New York, NY 10023
In a building designed by Robert A.M. Stern with covetable views of Central Park, this spacious apartment on the 28th floor exudes simple elegance in the most quintessentially NYC state of design. Without having to shout its good taste (or outrageous $70,000 monthly rent) from the rafters, the decor throughout the three-bedroom apartment stays subtle, with a mostly black-and-white palette, with luxe neutrals mixed in.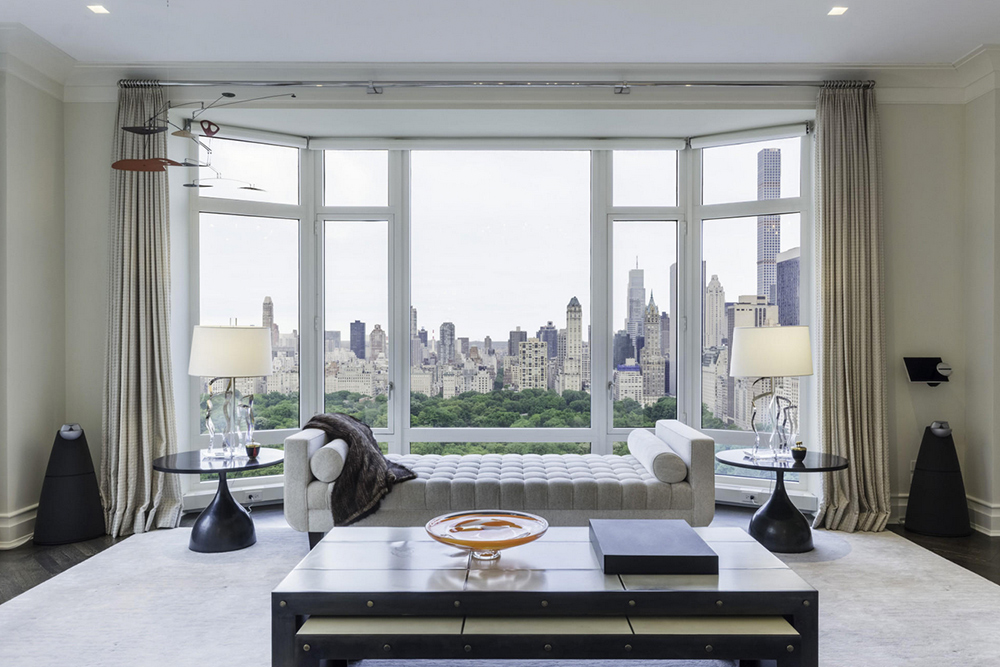 Design inspo: Mostly modern furnishings meant for an uptown urban setting, with just a few forays into something bold, such as a rust-and-mother-of-pearl mural in one of the bedrooms and a jumbo portrait in the foyer.
Find more New York apartments for rent.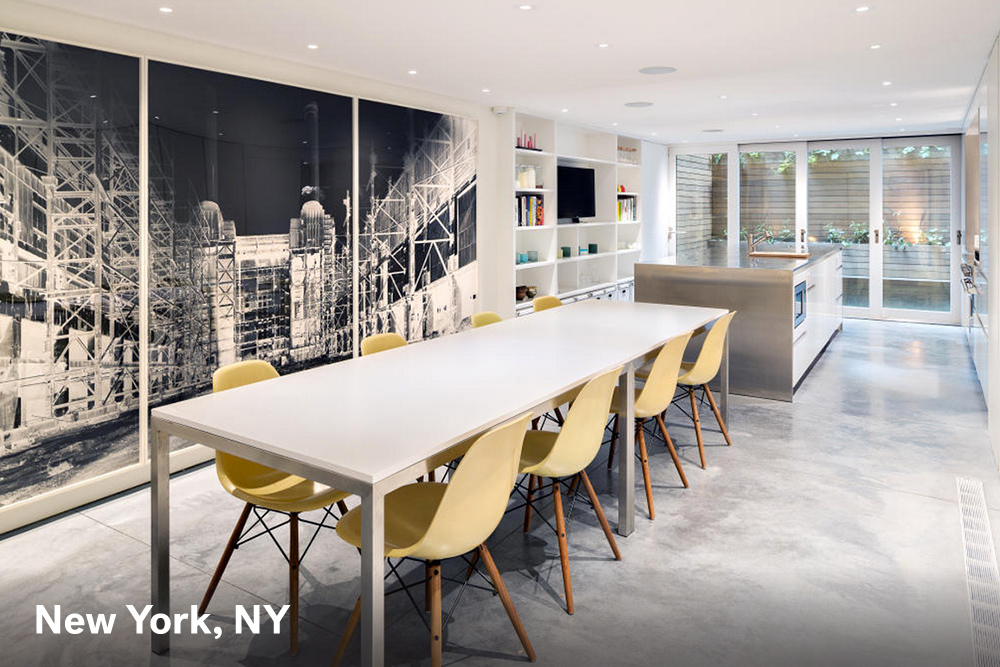 Stripped down in the West Village: 279 West 4th St., New York, NY 10014
This four-bedroom townhouse carries a prime address (and a $45,000/month rent fee) in the heart of Manhattan's most charming enclave south of 14th Street. Inside, you've got historic bones offset by a modernist aesthetic. In the kitchen, industrial concrete sits well with a black-and-white mural, while the living room is anchored by an original marble fireplace alongside sleek midcentury and eclectic modern furnishings and artwork. The beauty of this New York City rental lies in the flexibility tenants have in supplementing a solid decor foundation with their own personal touches.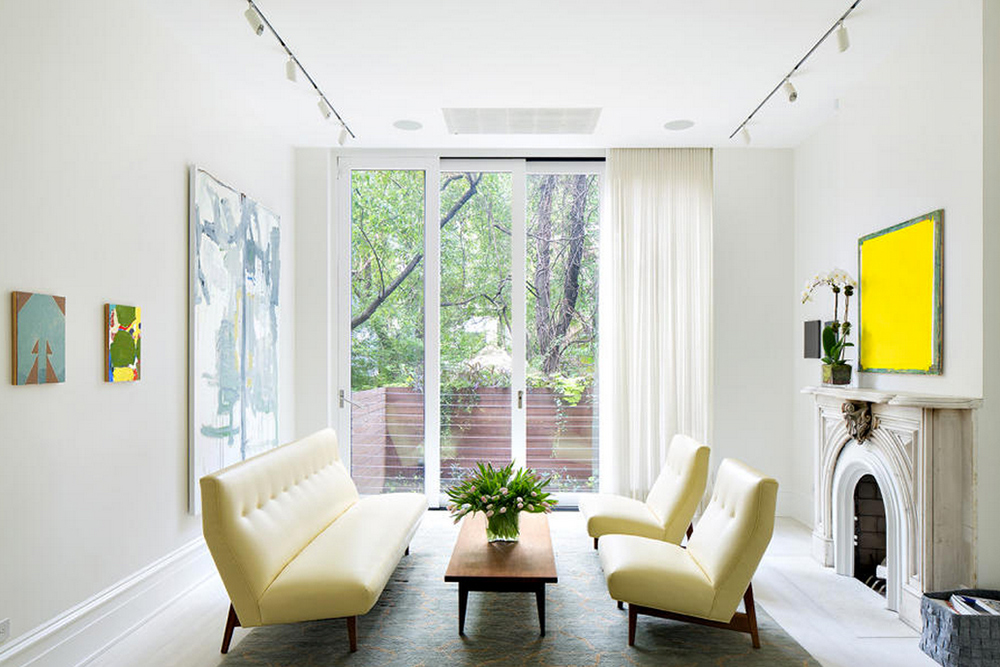 Design inspo: If more color is needed in a minimalist space, add some art — or, for a seasonal rotation of added richness, bring in plants and flowers as they bloom.
Find more New York apartments for rent.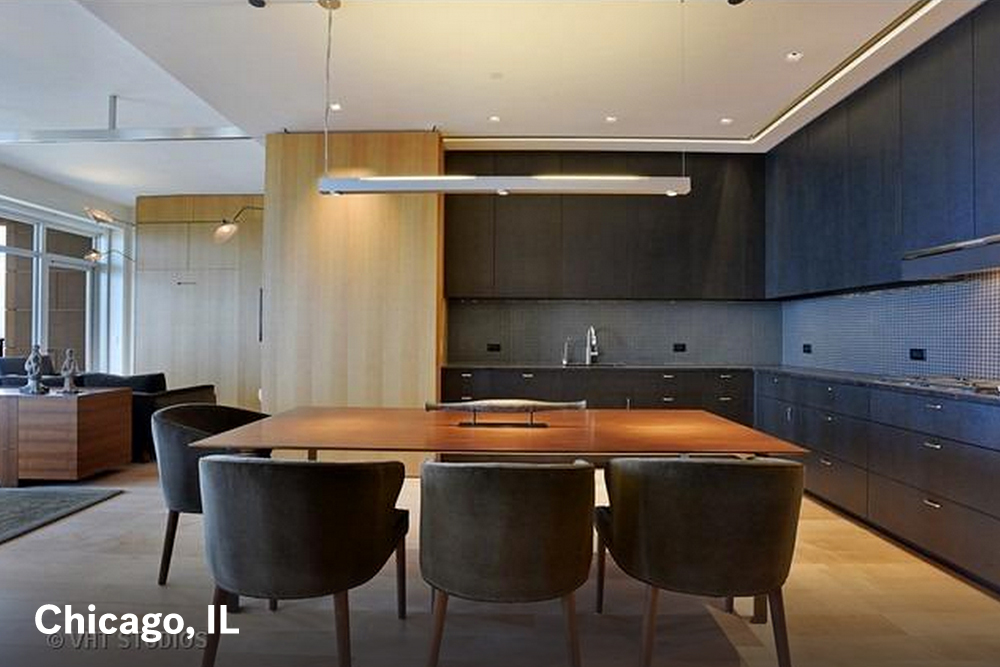 Unexpected neutral in the Windy City: 2550 North Lakeview Ave. #S2502, Chicago, IL 60614
The dominant neutral in this ultraspacious unit happens to be brown — which blends seamlessly with the Mid-Century Modern vibe. The fully furnished apartment rents for $23,000 per month, with two bedrooms (converted from three, for larger, airier rooms) and more than 3,000 square feet. Throughout, warm wood paneling is accented with substantial pieces, sleek lighting, and just enough bold, color-saturated modern art to add a few pops. The understated, vaguely masculine aesthetic skews just a little bit quirky and is underscored by a big-money lake view in a designer building — all in all, a crash pad to brag about.
Design inspo: With a darker neutral palette, adding curtain and glass partitions can keep the flow going — and make a space feel larger.