Let's face it: Your apartment's square footage isn't going to miraculously get larger over time, but your rent might increase year after year. And at some point, after yet another rent hike, most renters start to ponder this age-old question: Are they a culture-seeking urbanite who's happy to pay more for less living space in a hot location, or have they outgrown the city life in favor of more square footage and amenities like free parking and green space?
We sized up two similarly priced apartments in and around five thriving cities, from apartments for rent in Atlanta, GA, to rentals in Seattle, WA, to see how the price per square foot changes, and just how much more you could get for your money when you live farther from the center of the action.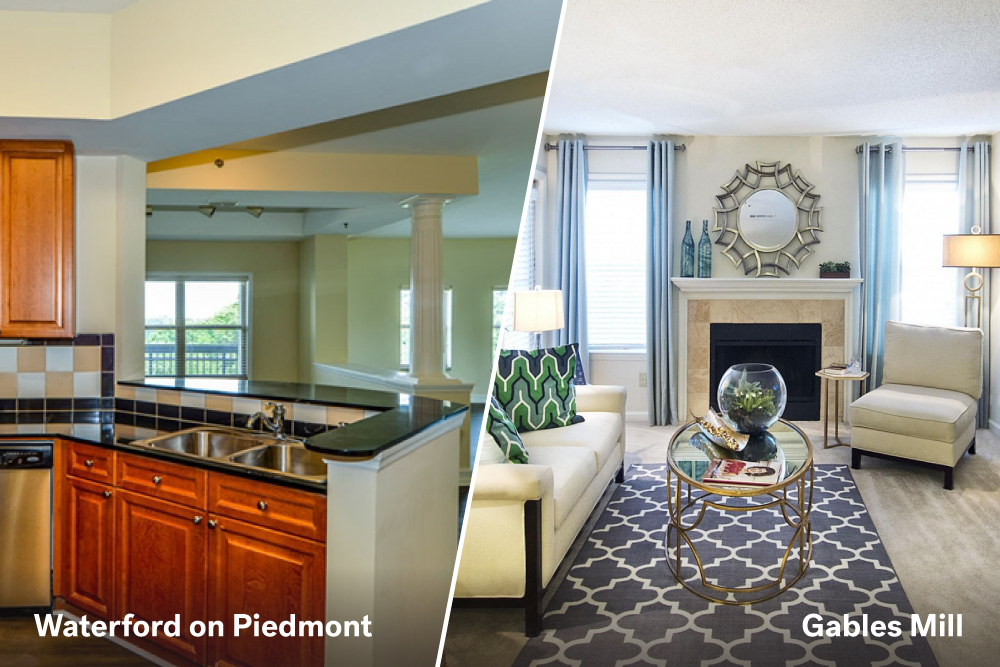 Atlanta, GA: Downtown vs. Cumberland
$1,271/month, 865 sq. ft., Waterford on Piedmont: This one-bedroom, one-bathroom unit is conveniently located in downtown Atlanta, close to luxury shopping at Midtown Mile, Fox Theatre, Phillips Arena, and the stunning collections at the High Museum of Art. When you aren't out and about in the neighborhood, enjoy your spacious apartment with 10-foot ceilings and a kitchen with granite countertops. Residents at the high-rise complex have access to amenities like a billiards room, heated swimming pool, 24-hour fitness center, and indoor putting green.
$1,260/month, 1,309 sq. ft., Gables Mill: Want to trade the sounds of city streets for the gentle call of nature? This suburban apartment has three large bedrooms, two bathrooms, walk-in closets, a spacious kitchen, and views of Kennesaw Mountain and adjacent Chattahoochee National Forest. Cumberland isn't far from downtown Atlanta (about 13 miles from the city center), and it's close to shopping and restaurants at Cumberland Mall and the Galleria. The apartment complex offers an on-site laundry, a fitness center, tennis courts, and a pool.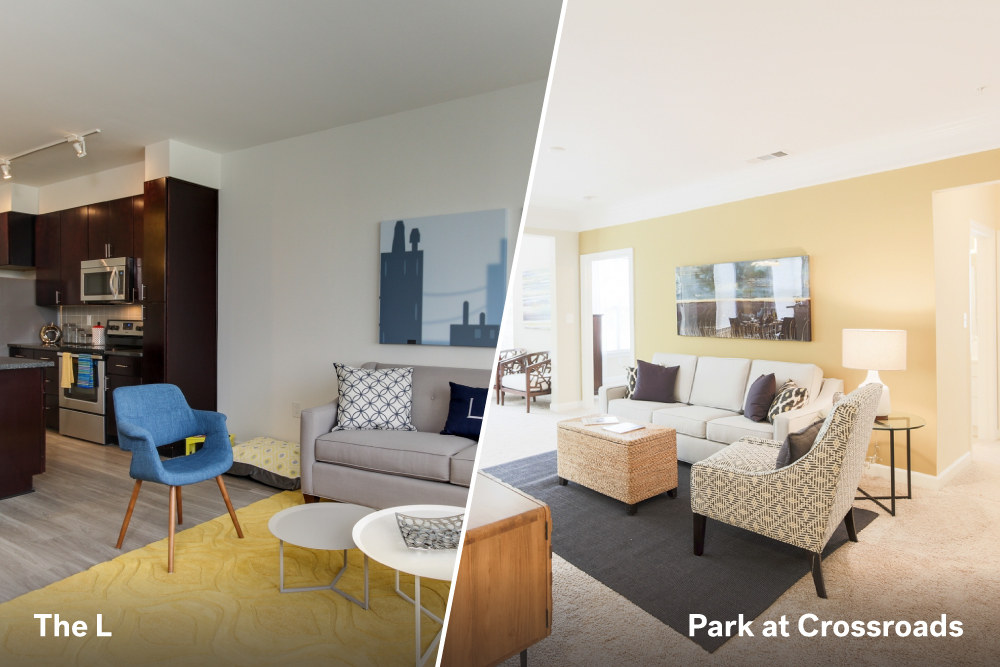 Raleigh, NC: Central Raleigh vs. Cary
$1,045/month, 508 sq. ft., The L: Retreat to this 508-square-foot studio apartment near bustling Fayetteville Street and Glenwood Avenue after meeting friends at nearby bars and restaurants like the Raleigh Beer Garden and RedHat. What it may lack in square footage, this studio makes up for with 9-foot ceilings, a dishwasher, and wood plank flooring, plus amenities like a rooftop clubhouse and outdoor grilling station. Pets are welcome, so bring Fido with you.
$1,180/month, 1,144 sq. ft., Park at Crossroads: Prepare to log more miles outdoors when you move into this two-bedroom, two-bathroom apartment at the Park at Crossroads. Plus, you'll be just 8 miles from downtown Raleigh and right next door to the extensive Town of Cary Greenway, where you can enjoy the outdoors unfettered. Apartments have features like 9-foot ceilings, crown molding, and ceramic tile, and amenities include a fitness center, indoor pool, and clubhouse.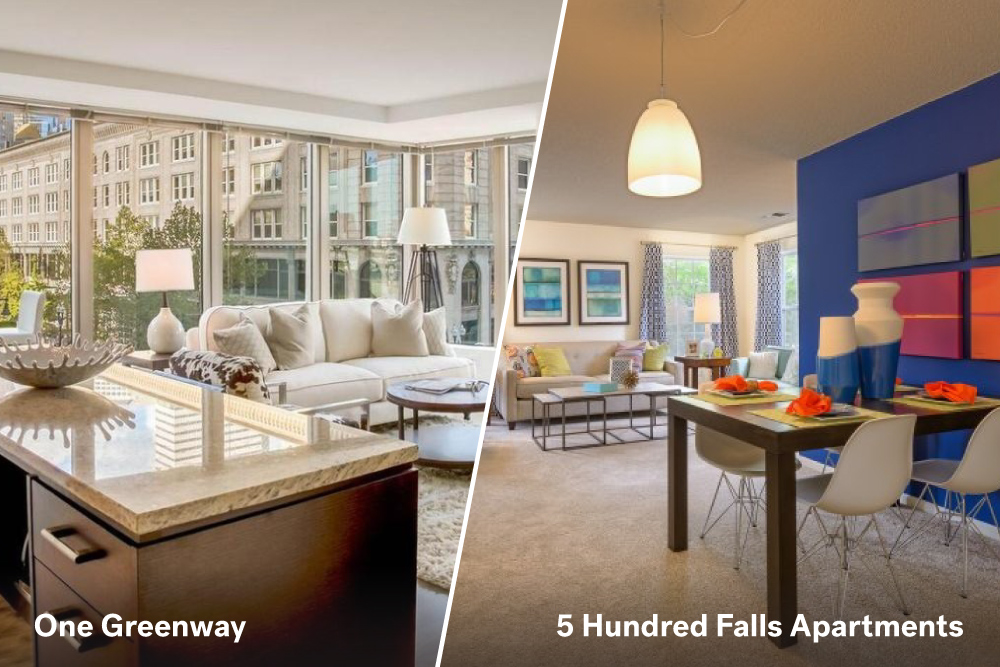 Boston, MA: Financial District vs. Quincy
$2,945/month, 510 sq. ft., Tower at One Greenway: Be in the thick of the hustle and bustle of Boston's Financial District in this one-bathroom studio apartment. You'll be living in the heart of downtown Boston with easy access to the South Station train-and-bus hub, dozens of top-rated restaurants, and the Rose Kennedy Greenway, which has public art installations in warmer months. Return home after a day at work to your studio with a walk-in closet and in-unit washer and dryer, and complex amenities like an 11th-floor lounge with city views, yoga studio, and fitness center.
$2,230/month, 1,013 sq. ft., 5 Hundred Falls: Enjoy the ease of being just a few miles outside Boston (you can still see the city skyline!) with suburban space in this two-bedroom, two-bathroom unit in Quincy, MA. Units have a washer and dryer, spacious full kitchens, large bay windows, and even fireplaces. Want to relax without leaving the property? Just stroll to the Wi-Fi–equipped clubhouse (perfect for work-from-home Fridays) or use the swimming pool, sun deck, or putting green. The building has the option of a private garage space, all the better for quick trips to the city or for getting a head start on weekends at the Cape.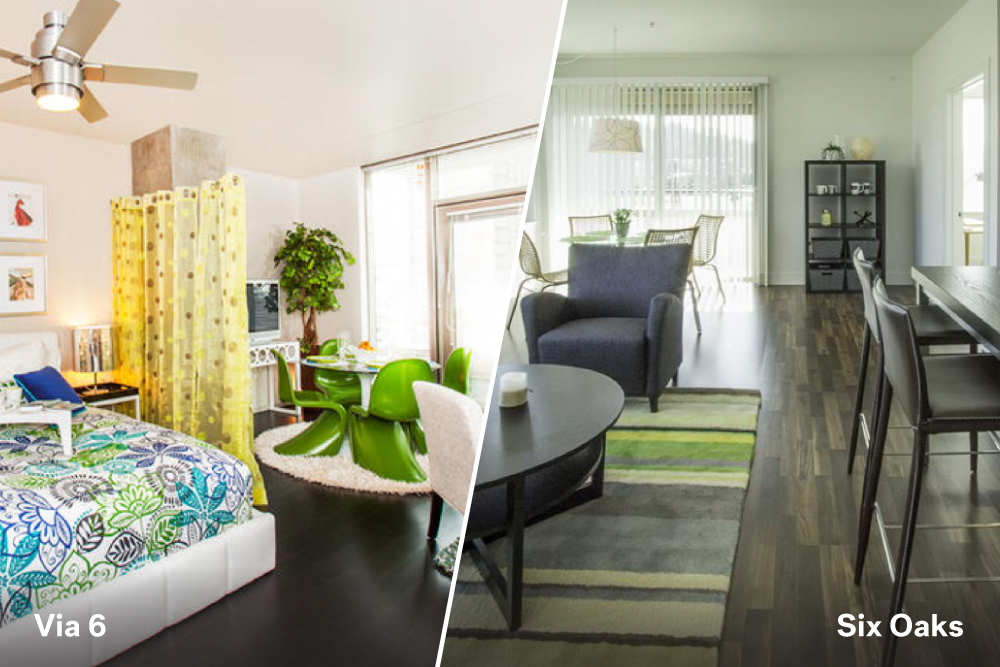 Seattle, WA: Belltown vs. Bothell
$1,851/month, 500 sq. ft., Via 6: Take an eco-friendly approach to commuting when you live in this studio apartment at Via 6, a "downtown haven for two-wheeled commuters." Located at Sixth and Lenora, where Belltown, Downtown, and South Lake Union meet, the building has an on-premises bike shop and ViaBike, which provides showers and locker rooms. Besides appealing to cyclists, the apartments at the LEED Gold–certified building have balconies, cork and wood flooring, and large windows to let in light. You don't even have to leave the building for the newest in trendy dining: Restaurateur Tom Douglas opened TanakaSan American-Asian restaurant on the ground floor. Feel like taking in some culture? Just venture into the hallway: Work by local artists is featured throughout the building.
$2,056/month, 1,050 sq. ft., Six Oaks: Real estate agents say you need to think about the three L's when looking for an apartment or house: location, location, location. Six Oaks, an apartment complex in Bothell, an up-and-coming suburb just 25 minutes from downtown Seattle, provides spacious units with walk-in closets, fireplaces, and washers and dryers. The complex also offers access to one of Bothell's largest fitness centers, a bocce ball court (new hobby, anyone?), sustainable rain garden, and outdoor dining courtyard with kitchen, perfect for roasting up those fresh vegetables.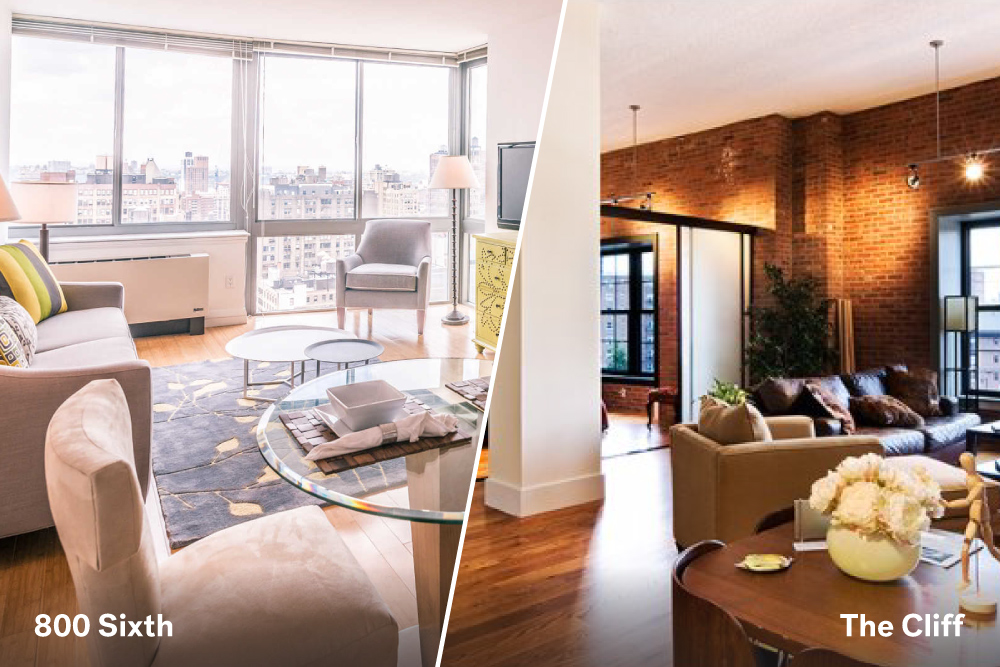 New York, NY: Chelsea vs. Jersey City
$3,510/month, 446 sq. ft., 800 Sixth: Imagine yourself on a sunny rooftop, glass of wine in hand, relaxing at the end of a long week. Enjoy that roof deck in real life (this one overlooking the Hudson River) when you rent an apartment like this studio at 800 Sixth Apartments on Sixth Avenue between 27th and 28th Streets in Chelsea. Apartments have bamboo flooring, granite counters, and stunning views seen through floor-to-ceiling-windows, and residents are close to Madison Square Park, the subway, and Whole Foods. Amenities include an on-site fitness center, putting green, and a lounge with full kitchen. Now back to that roof deck.…
$3,350/month, 1,134 sq. ft., The Cliff: Have the option of enjoying New York's fast pace or retreating back over the Hudson River to this two-bedroom, two-bathroom unit in Jersey City, NJ. The loftlike apartments have exposed brick walls, granite countertops, open floor plans, and even full-size washers and dryers. Enjoy a 24-hour concierge, a full fitness center, complimentary shuttle to the Hoboken rail terminal, and the SoHo Link, which gets you to lower Manhattan in just 15 minutes.
Urban or suburban: Which would you choose? Share your picks in the comments!