Q: I moved to San Francisco, CA from Boston, MA in 2013 and am renting a junior one-bedroom in the Mission neighborhood for $1,950 per month. I think I'll be in the city for at least three to five more years, but will eventually move back to New England, since that's where my family lives.
I'm thinking it might be a good investment and save me some money to buy a place in Oakland, CA, but am not sure if it will actually be less expensive to keep renting in SF. Please advise!
A: First, let me say that your monthly rent is more expensive than my first car. (And that car is likely about as big as your apartment.)
Even crazier? At that price, your apartment is a steal. The median rent for a one-bedroom in San Francisco is an offensive $3,460. From one bargain shopper to another, bravo.
About your question: I'm going to provide a couple of scenarios that will add some clarity in your rent vs. buy dilemma.
Without knowing your financial situation, I'll have to make a few assumptions. Those being that you have enough for a 20% down payment; you're able to secure a 30-year loan with a 3.88% interest rate; and you make less than $189,000 per year.
All of these variables you can tweak in our Rent vs. Buy calculator yourself — and I'd urge you to do just that. You'll get a better answer than what I've provided below.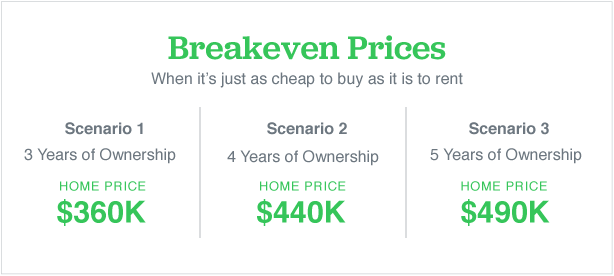 Here's the good news: The median sales price of a one-bedroom home in Oakland is less than your target price in all three scenarios. Which means it's possible you could buy a home, sell it, move back East, and celebrate your success with a lobster roll — because you just paid less for housing than you would have by renting in the Mission.
Here's the meh news: this is a ballpark scenario. Any changes to your income tax rate, down payment, mortgage rates, and more will affect your results. Again, check out Trulia's Rent vs. Buy calculator to get a more personalized answer.