Snarky students have been saying it for generations: School seems to last forever. In the case of these schoolhouses-turned-private homes, however, the slow tick of the second hand has little to do with snoozefest lesson plans and everything to do with the preservation of original architectural details.
With some dating back as far as the Colonial era, exposed wood beams, wide-plank floors, and the occasional belfry or weather vane seem to exist in a sort of suspended animation, while modern updates (heated pools, oversized garages, amenity-packed kitchens) move to the faster beat of 21st-century life. The result is eight old schools for sale that pack historic charm and intrigue into every square inch.
As for seeing the appeal of living in a local landmark — it's elementary.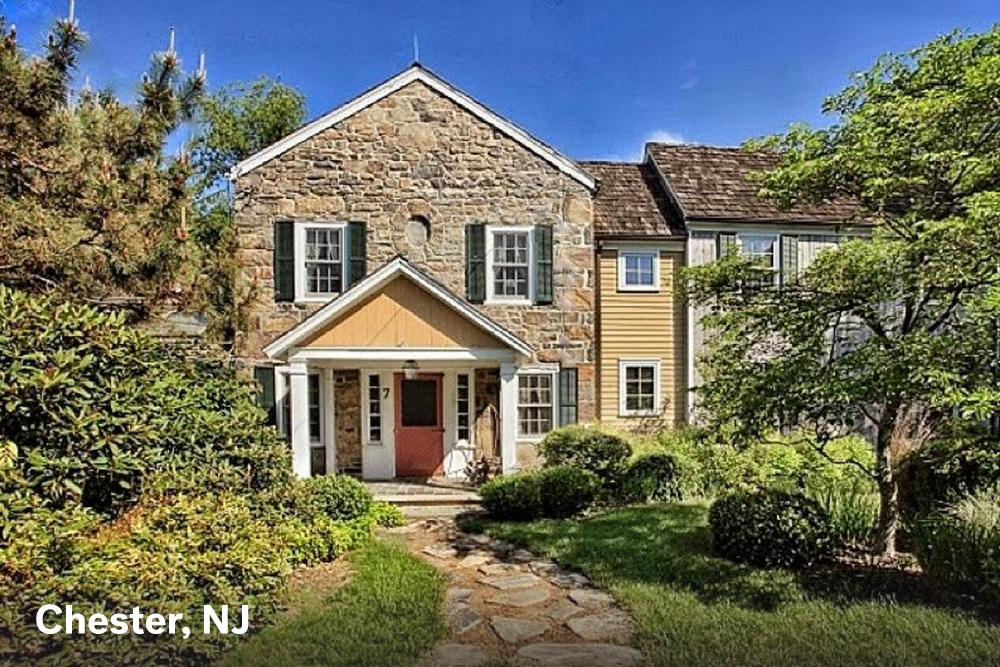 Ivy-kissed antique with landmark status in the Garden State
Not only does this flagstone home (aka "Cross Roads Schoolhouse," est. 1830) serve as a direct portal to the Colonial classroom, but it also boasts the distinction of being the first public schoolhouse in Chester, NJ. Don't be misled by the home's historic credentials, though: Renovated and expanded to a generous 3,031 square feet, this place knows how to cut loose. Just check out the party-ready sunroom or the heated backyard pool, which is bordered by a climate-controlled cabana-slash-guesthouse. BYO daiquiri mix — and $649,000, the home's asking price.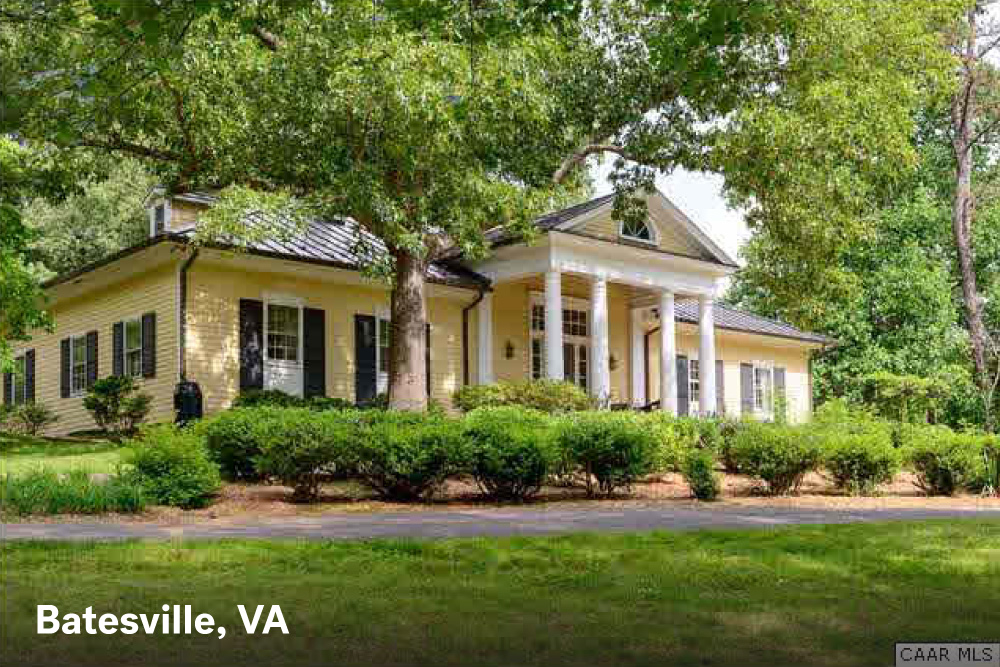 1920s gardener's delight on 3 acres in rural Virginia
Is it the columned front entry? The chandeliers and crown molding? The original hardwood floors and high ceilings? Maybe it's the ample windows (also original), which do their part to cast the ethereal glow of natural light throughout 4,416 square feet of living space.
Whatever "it" may be, this early-20th-century stunner in the National Historic District of Batesville, VA, sure knows how to captivate an audience. Listed at $799,900, the old school — called Ecole on a Knoll — is a beauty inside and out, with 3 acres of landscaped grounds and formal gardens, meticulously tended to by the former owners.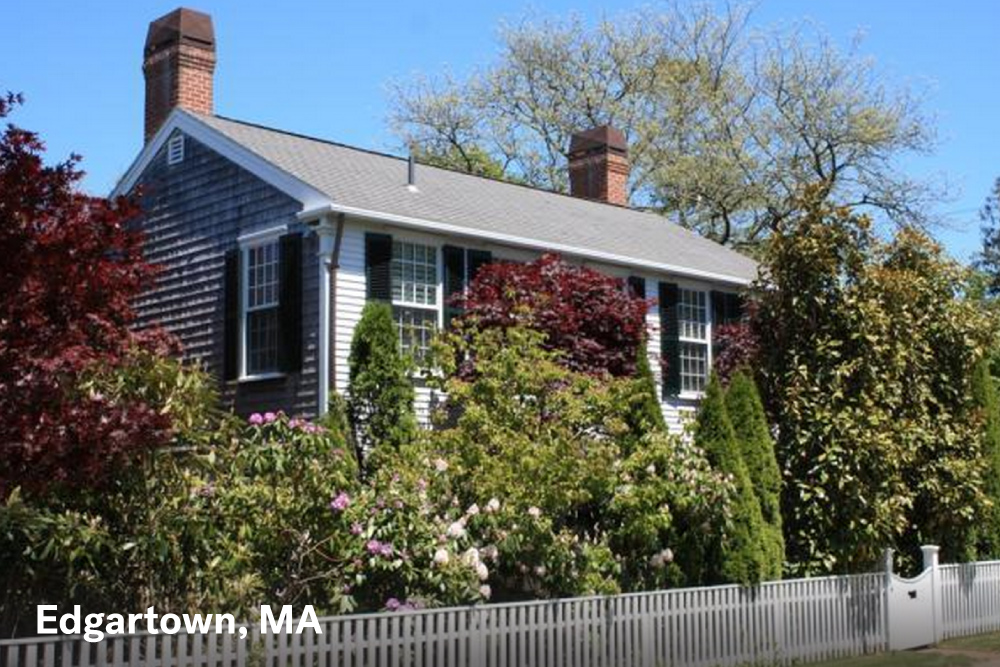 Once schoolhouse, now summer house in scenic Martha's Vineyard
Constructed in 1970, this 2,500-square-foot schoolhouse-turned-vacation-rental in New England is the whippersnapper of this roundup. Still, the corner property is awash with old-fashioned charm, from its perennial gardens and gated white picket fence to its interior, which boasts beadboard ceilings and white trim galore.
That's not even making mention of its location on picture-perfect Martha's Vineyard, a historic whaling town just off the coast of Massachusetts. It's a summer retreat well-liked by the well-heeled, which explains the $2.595 million listing price of this five-bedroom, five-bathroom moneymaker (it brings in close to $13,000 a week during the rental high season).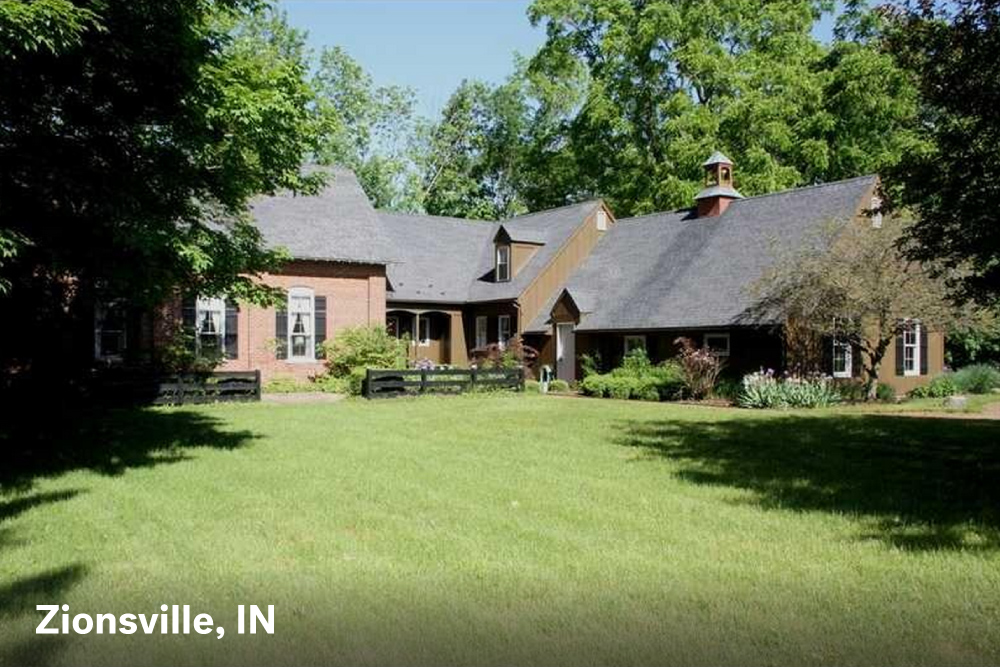 Indiana brick beauty crowned with a belfry and Historic Registry cachet
The (school) bell still tolls for this Historic Registry renovation, priced at $489,000 and located in the southeast Indiana town of Zionsville. Listen closely between each chime, and you might just hear the footfalls of former students within the lofty great room. Once a place for pencils and primers, the room (built in 1890) has retained its original hardwood floors.
More of a visual type? Allusions to the home's schoolhouse past can be seen in its slate-colored interior trim and transoms (a nod to chalkboard), while antique fixtures and Amish-built kitchen cabinetry recall the simplicity of a bygone era.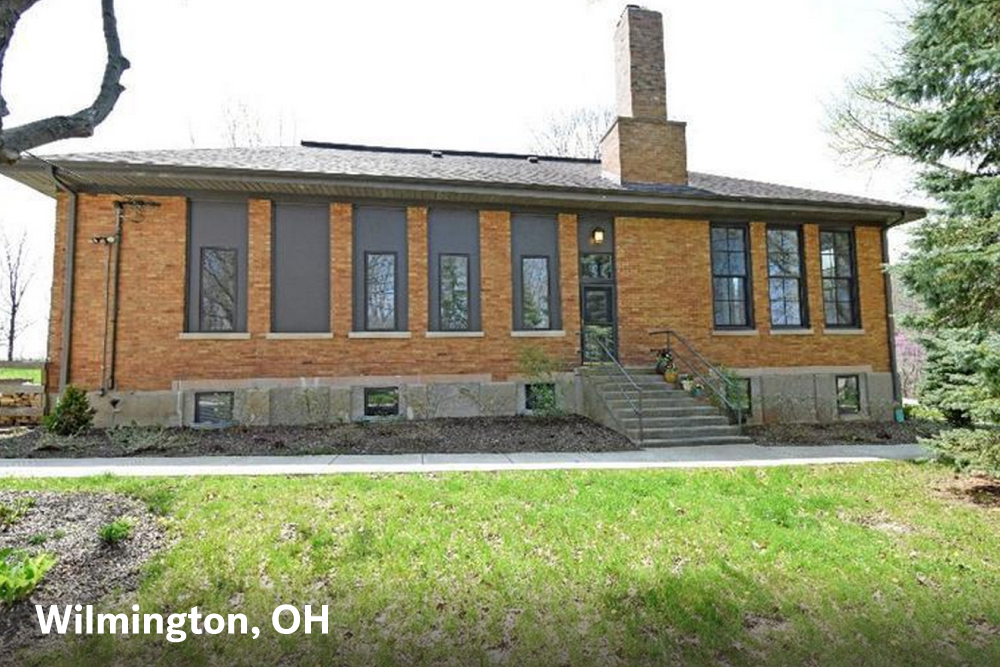 Send yourself to the principal's office in Wilmington, OH
Rising formidably from a 3-acre lot in Wilmington, OH, this 3,320-square-foot former schoolhouse isn't big on curb appeal. Step inside, however, and you'll encounter all of the comforts of, well, home. Namely, four bedrooms, two full bathrooms, and a gargantuan chef's kitchen measuring in at 23 by 23 feet.
Rising above original maple floors dating back to 1913, the 13-foot ceilings make already-huge spaces feel even larger. But if you need a little coziness, you could always retreat to the study, which once served as the principal's office. Make the grade for $289,900.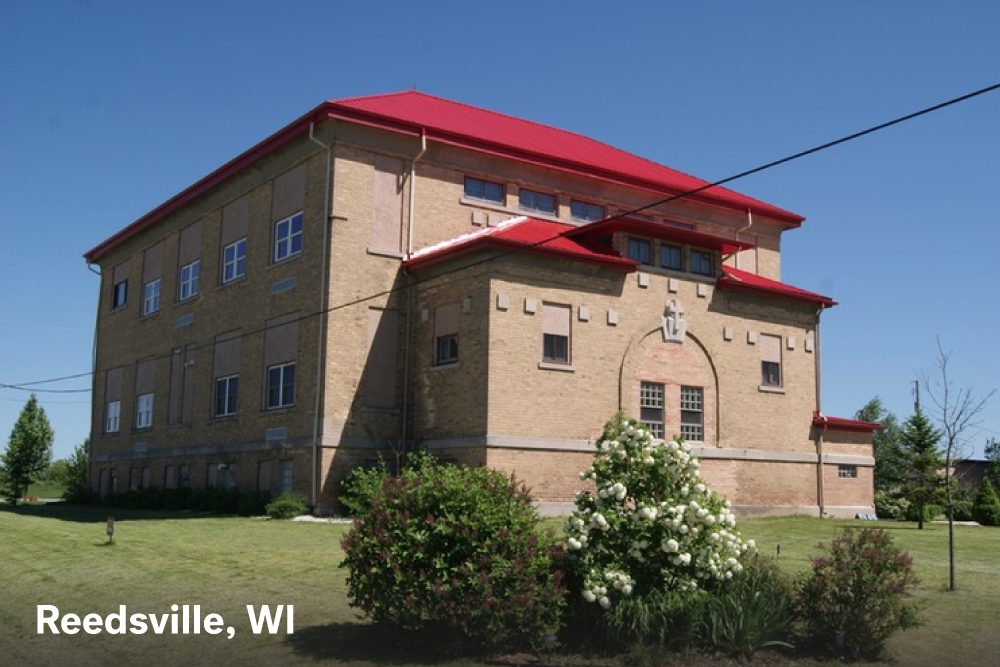 Blank canvas in Wisconsin begging to become a dance hall or a B&B or a….
There's no mistaking the past life of this red-roofed behemoth in pastoral Reedsville, WI, formerly known as St. Pat's School. Its future, however, is a little less certain.
Will its 3,120 square feet be split in half to accommodate two families as the listing suggests? Will it be transformed into a bucolic B&B overlooking an existing garden of fruit trees and berry bushes? Or will its new owners adapt the 52-by-55-foot former gymnasium into one of the most rockin' dance halls in the Midwest? Decide its fate yourself for $229,000.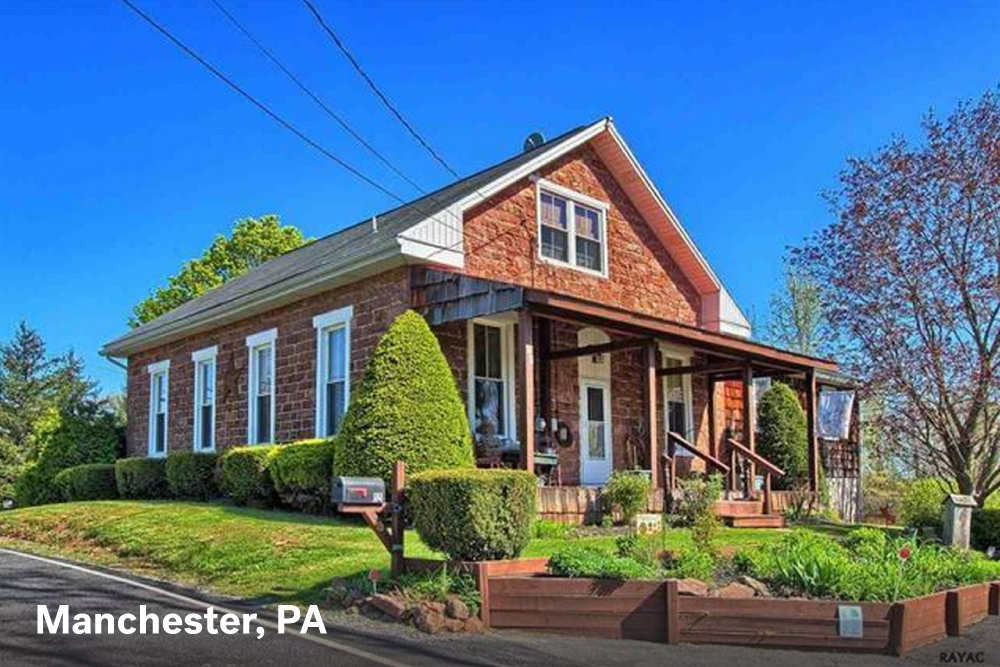 Home is where the hearth is in central Pennsylvania
Located in central Pennsylvania, this 3,054-square-foot home shelters close to 185 years of history under its gabled roof. The former school's circa 1870 birth year will certainly become a conversation starter, but the $205,000 residence's oversized fireplace might be an even more surefire way to spark interest (pun intended). Measuring 18 feet across and stretching from floor to ceiling, the stone hearth adds a new texture to an open space dominated by wood floors and trim.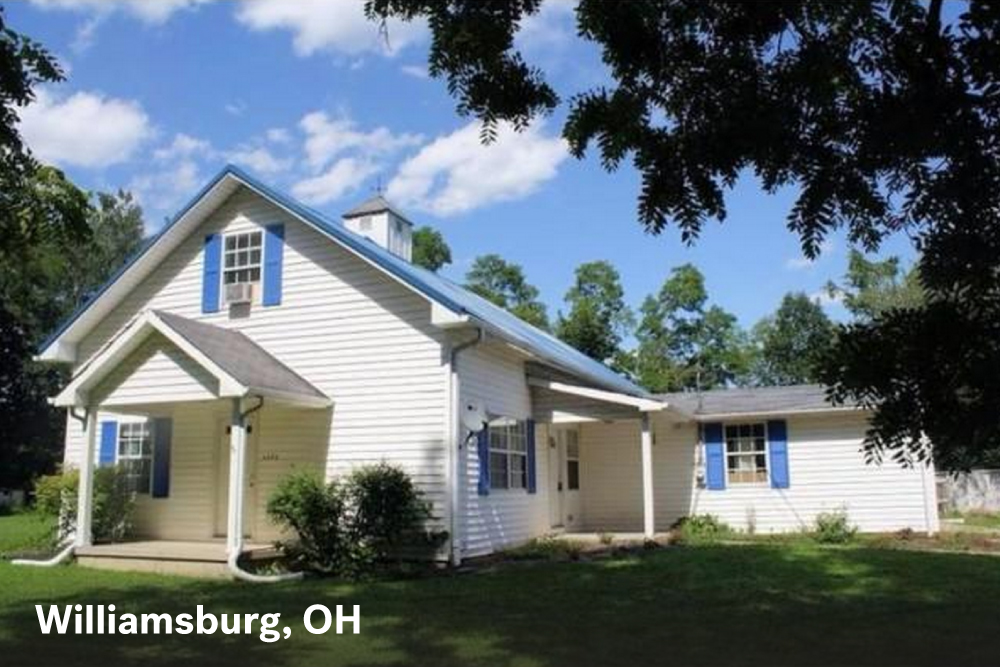 Pretty, precious Cincinnati charmer with a weather vane on top
Accessorized by a gabled roof and shutters in coordinating sky blue, this adorable little schoolhouse has traveled from your favorite childhood storybook to a small town 40 miles east of Cincinnati.
OK, so maybe that's a stretch, but here are the facts: The 1,456-square-foot home was built in 1919, sits on a 1-acre lot, offers three bedrooms and two bathrooms, and is capped by its original weather vane. It's listed at the wee price of $125,000. All together now: Aww!