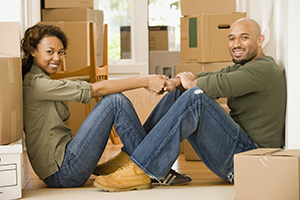 You've done it. You've decided you're ready to take the next step in your relationship … and move in together.
You're simultaneously excited and a little terrified. That's totally normal.
Sharing a space with someone can test whether or not you're a good fit for each other. It can also cause some awkward and potentially testy situations if you don't handle it correctly.
Follow these basic dos and don'ts to increase the chances you'll live happily ever after in the same home.
DO: Brace for an Adjustment Period
Even if you've gotten along flawlessly up to this point, things change when you start living with someone. After all, you'll be around them (and their quirks) 24/7.
Be prepared for a little awkwardness and getting to know each other all over again— it's natural and bound to happen. Even the strongest couples in the world (whoever they are) experience moments when they irritate the heck out of each other. It doesn't mean your relationship is in trouble; it just means you're going through an adjustment period.
DO: Keep an Open Line of Communication
If you have a disagreement or misunderstanding, the worst thing you can do is keep quiet. Even seemingly little things — like her tendency to leave dirty clothes on the floor or his failure to check with you before inviting friends over — can balloon into huge fights if you secretly stew over them.
There are very few problems that can't be worked out or compromised in some way. The key is to stay open and communicative about what bugs you. Open the conversation with an "I" statement, such as "I feel stressed out when …," and you'll be on the road to domestic bliss.
DON'T: Feel Like you Have to Spend Every Second Together
Living with someone doesn't mean you have to spend every waking moment with them. In fact, doing so can drive even the closest couples crazy.
In order to stay happy (and keep your relationship healthy), enjoy some "me" time at least a few times a week. Whether that means reading a good book, going out with your friends, or pursuing a hobby your partner isn't interested in, make sure you're allowing yourself some physical and mental space to relax, unwind, and recharge.
DO: Be Willing to Sacrifice a Little
Yes, you hate doing the dishes. We all do. But living together successfully means that each of you needs to be willing to do the "un-fun" stuff that needs to get done. If you can go one extra step and occasionally do more than necessary, that will go a long way towards keeping things harmonious.
Surprise your significant other by relieving them of dish duty every once in a while. Offer to walk the dog tonight even though it's your s.o.'s duty, because you can tell she's had a long day at work. Think of little ways you can make your partner smile, and (hopefully) they'll return the favor.
DON'T: Insist on Doing Things "Your Way"
Maybe the toilet paper was always spooled from the top in your household, but your boyfriend grew up with it reversed. Maybe your girlfriend always loads the dishwasher from the back to the front, and you've always done the opposite.
These little things are not worth getting upset over. As long as you're both pulling your own weight, it shouldn't matter if your techniques are a little different. Be willing to let go of "the way you've always done it" and find a new way that works for your combined household.
DON'T: Get Stuck in a Rut
After you've lived with someone for a while, you can start to feel more like roommates than a couple. Even if you both enjoy spending every weekend in your PJs watching Netflix, make a point of setting up some nice, official outside-the-house dates now and then to keep the spark alive.
Get dressed up and go to a fancy restaurant you haven't been to before. Book a room at a B&B and enjoy a romantic weekend. During date time, no trivial roommate-related talk is allowed — don't mention you're running low on milk or that you need to call the plumber in the morning about that leak. Focus instead on what you love about each other and how much fun you have together.