How much house does a $100,000 monthly mortgage payment buy? You could crunch the numbers in Trulia's mortgage calculator, assuming a down payment of 20% and a 3.9% interest rate, and be met with a listing price of $21 million (wowza!), or you could join us on this voyeuristic virtual visit to six luxury homes for sale throughout the U.S.
They all carry the same mortgage payment of — you guessed it — $100K, but that's where the similarities stop. Because for some homeowners, "having it all" means playing barkeep in a basement Irish pub, stomping grapes in a full-production vineyard, or catching rays on a private beach in the Florida Keys.
The takeaway: America's idea of luxury is totally subjective, and these homes are the photographic evidence.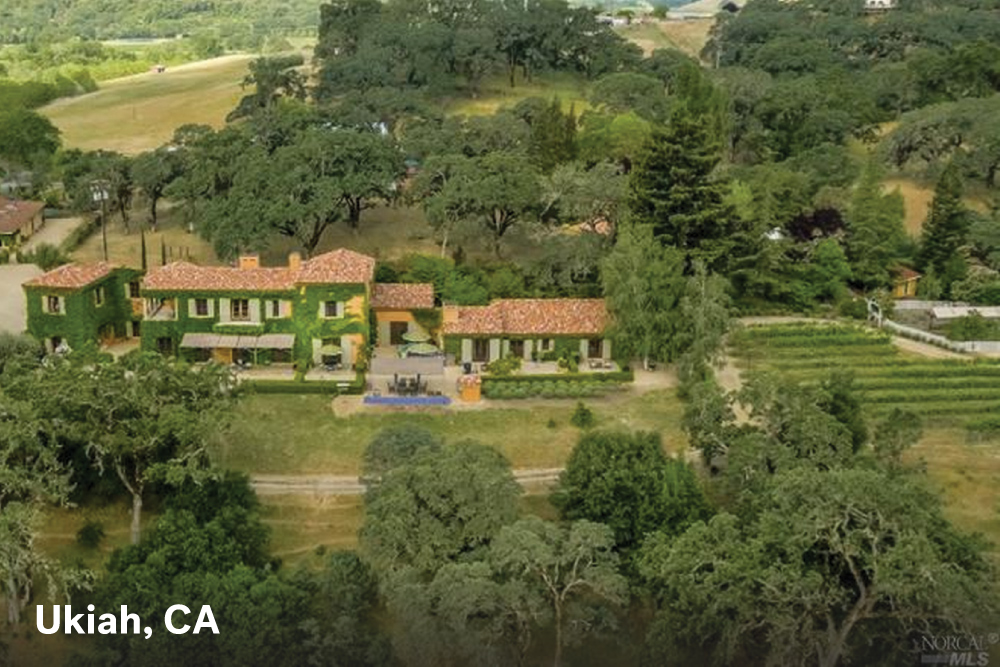 Grape expectations in California's wine country
Cloaked in ivy, a 10,000-square-foot Tuscany-inspired villa isn't the main attraction of this 255-acre Ukiah, CA, property, built in 2001. Nor are its landscaped gardens, its on-site fitness facility and professional equestrian arena, or its sparkling outdoor pool. And forget the fact that the property is traversed by a sinuous 1-mile stretch of the Russian River.
No, the real draw here is the 130-acre, full-production vineyard, which draws upon the celebrated terroir of California's wine country to grow 800,000 grape vines in six-plus varietals. Postharvest, the chardonnays, sauvignon blancs, and merlots end up on retailer shelves all across The Golden State, though you wouldn't have to venture that far to sample the goods: This place has its own wine cellar (of course).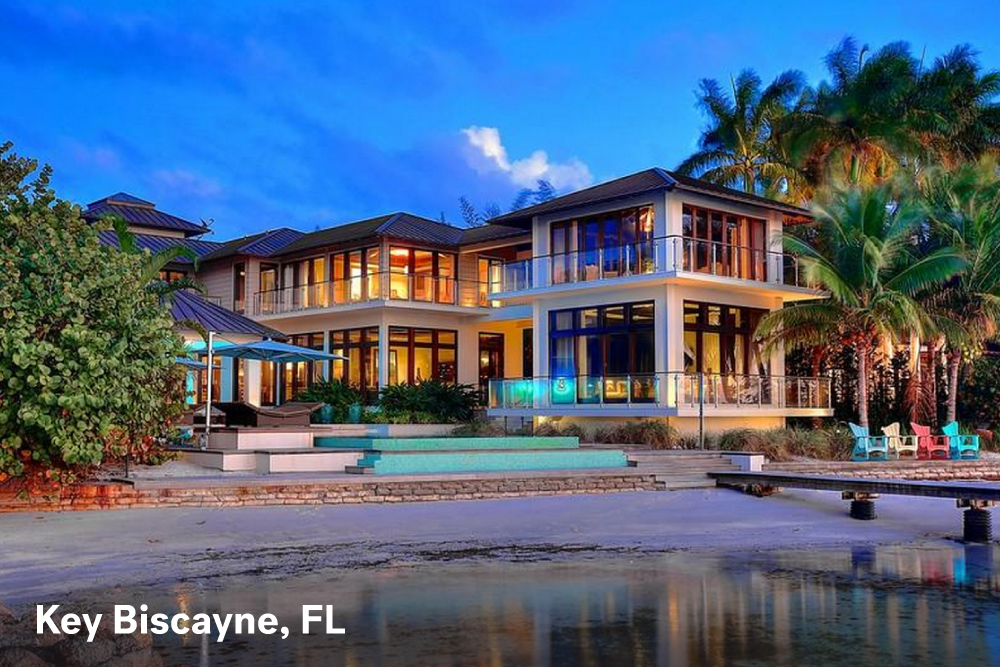 Key Biscayne stunner with a private beach and dock
What could be better than gazing over turquoise waters from your own personal beach and dock? Answer: When that same view is punctuated by the glittering skyline of downtown Miami. It's just another day in paradise at this 10,000-square-foot contemporary on half an acre in Key Biscayne, FL.
Nestled behind the lush tropical foliage of one of the island's poshest private streets, the fully furnished, seven-bedroom stunner greets guests with a double-height atrium and an illuminated water feature. Things really heat up in the glass-walled master bedroom, which adjoins a sumptuous private cabana. Shielded from the elements by billowy white curtains, it's the perfect spot for watching the Florida sun slip over the horizon.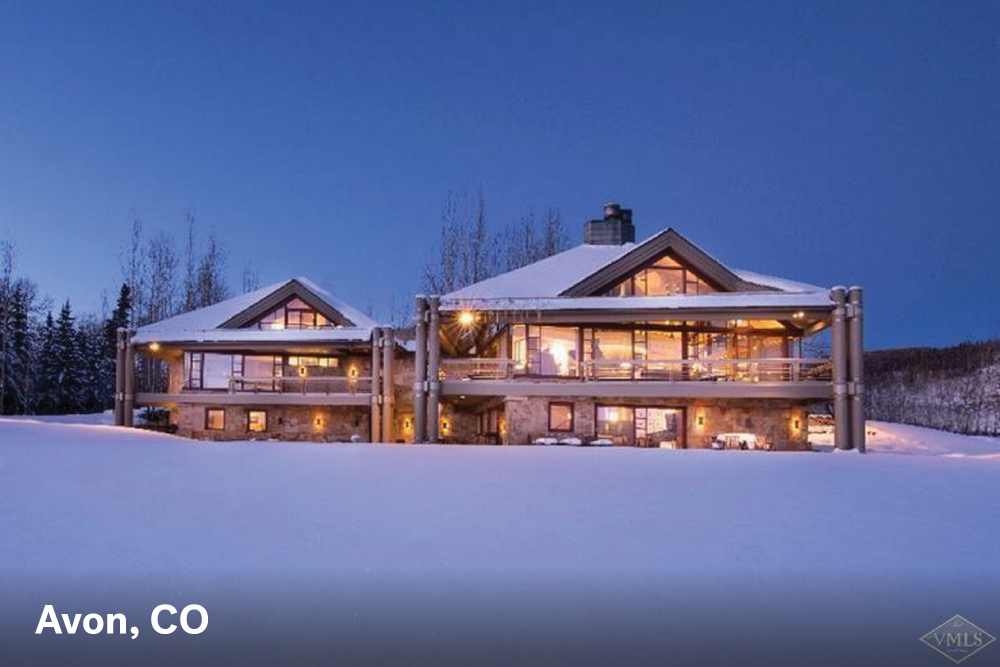 Contemporary Colorado cabin with Vail Valley views
Overlooking the snowcapped peaks of Colorado's Vail Valley, this modern mountain retreat gives new meaning to "cabin fever" — not like you could ever be bored here! Because behind the gated, seven-bedroom home's glass-paneled facade (intended to echo its natural surroundings) await 9,824 square feet of opportunity to blow off some steam (quite literally, if you make a mad dash from the hot tub to the monolith-adorned courtyard).
Recreation arrives in the form of a six-seat movie theater and seriously impressive wine cellar, while those who prefer more active pursuits can take it outside: The home is no more than a 20-minute drive from two of Colorado's most famous ski resorts, Vail and Beaver Creek, and it boasts easy access to nearby national parks (think hiking, fishing, and kayaking in the summer).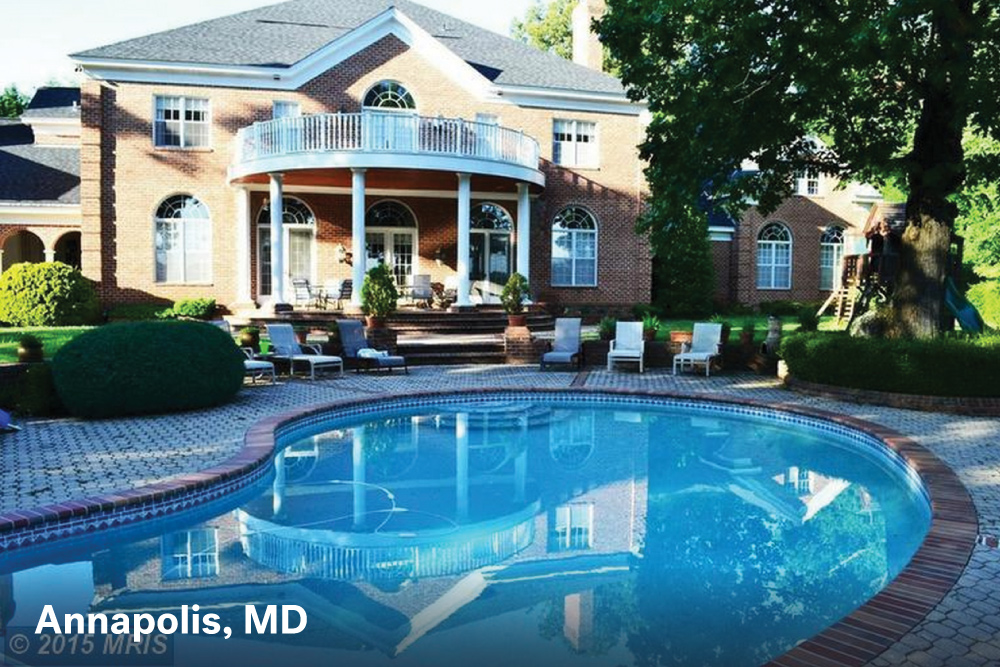 Everything but the boat on Maryland's South River
If Robert Leech were the agent for this colossal 21,500-square-foot compound on 14 acres in Annapolis, he'd probably point out its two-story foyer, elevator, ballroom, ballet studio, movie theater, and conference room fit for a Wall Street Martin Sheen. The current owners would likely call attention to the fact that the seven-bedroom home's asking price includes a 1-acre lot, ready for new construction.
Mariners, on the other hand, would notice something else altogether: the property's proximity to the water. After all, the palatial estate is perched right on the edge of Maryland's South River and claims ownership of 1,700 feet of uninterrupted waterfront, complete with a 200-foot pier, boathouse, multiple lifts, and everything else a captain might need for a smooth sail to the Chesapeake Bay (except the boat!).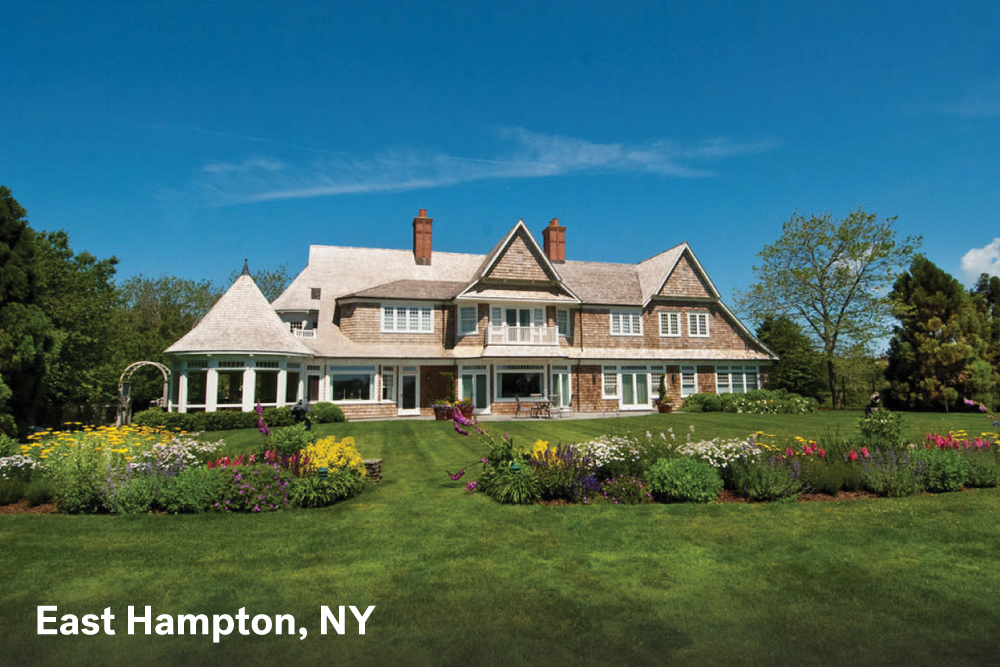 Get your croquet on in East Hampton, NY
This waterfront East Hampton mansion is a little too far east (and about 70 years too new) to have been F. Scott Fitzgerald's muse for The Great Gatsby, but Jay could have thrown one heck of a party here. It's easy to imagine midnight strolls upon the soft, manicured grass, past the formal gardens and 60-foot pool, to watch the moonlight shimmer on the placid waters of Georgica Cove. The distant crash of the Atlantic Ocean would provide the soundtrack to sips of champagne and stolen kisses at the water's edge.
Getting back to reality, this 7,000-square-foot summer retreat was built in 1997 and features five bedrooms, six bathrooms, and water views from nearly every room in the Shingle Style home. A dramatic two-story foyer greets guests at the front door, while out back, a pergola-adorned pool house is beside that massive pool. When storm clouds shroud the sun at Georgica Beach (just 2 miles away), rainy summer days can be spent lazing about the circular conservatory, thumbing through leather-bound books in the library, or passing the hours in the basement rec room.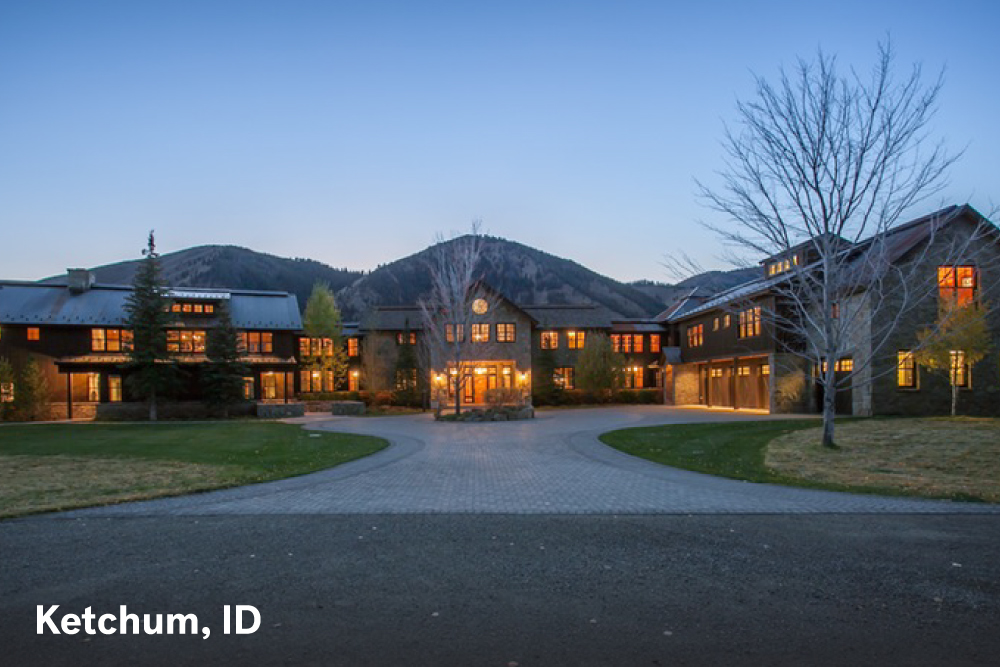 Idaho mountain estate with its very own Irish pub
The American dream is a 30,000-square-foot, gated-entry estate in … Idaho? You read that right. Constructed in 2009, the nine-bedroom home sits on an elevated 18-acre lot with panoramic views in the central Idaho region of Sun Valley, a winter destination with all the culture and cachet of Aspen — and beloved by moneyed skiers in the know.
At this labyrinth of reclaimed wood, long days on the slopes are followed by soothing soaks in the oversized stone Jacuzzi, located adjacent to the outdoor fireplace and dining room within the home's entertainment wing. There are also a media room, indoor basketball court, outdoor tennis court, gym, elevator, and a two-bedroom guesthouse. And did we mention the authentic antique Irish pub in the entertainment barn? The only amenity missing here is a gold coin vault a la Scrooge McDuck.