It's important to find an apartment that has enough space to let you live the life you want—whether that includes weekly dinner parties, regular yoga sessions, or movie marathons with your seven best friends. If your interests require lots of room, finding big apartments with affordable rent can be a challenge. In some areas, it's a near-impossible task. Luckily, there are cities across the U.S. where you can find spacious rentals that won't break the bank.
To help make room for your favorite at-home activities, we've found nine apartments with more than 1,000 square feet that cost less than their area's median rent.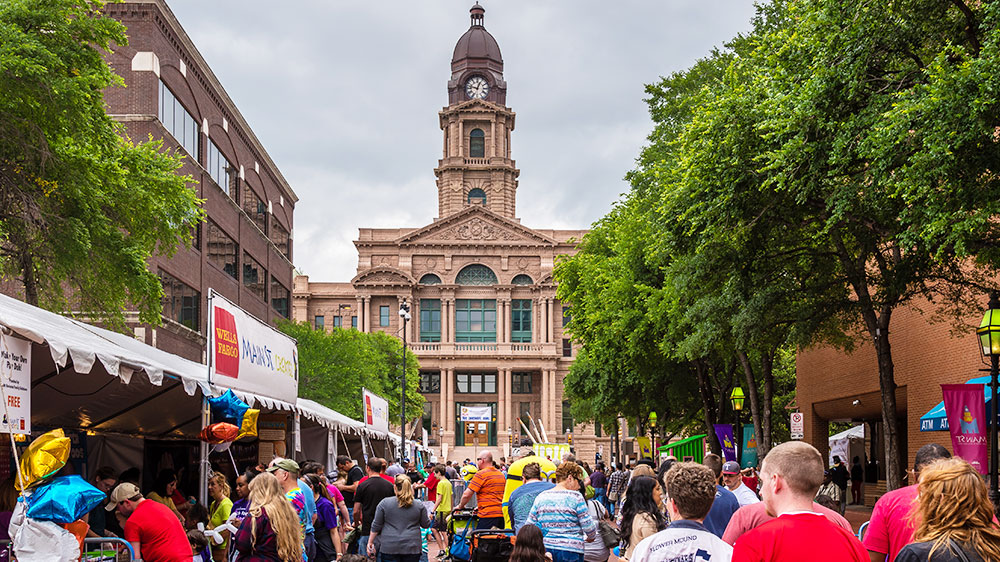 1. Fort Worth, Texas
Roomy rental near the farmers market
$1,014-$1,227/month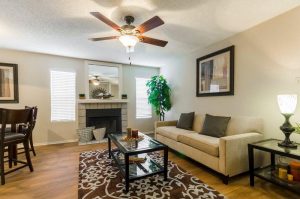 Best known for its reputation as "Cowtown," Fort Worth has far more to offer than cattle drives and cowboy boots—though you'll find both within city limits. Home to Fortune 500 companies such as Lockheed Martin, American Airlines, and D.R. Horton, the city is bursting with business, Texas charm, and plenty of entertainment. Art aficionados get their Monet and Picasso fix at the Kimbell Art Museum, foodies enjoy a diverse restaurant scene, and rodeo enthusiasts find plenty of cowboy culture at the famous Stockyards. Fort Worth offers big-city amenities with small-town perks (think: easy parking and light traffic), so don't be surprised if it jumps to the top of your "future hometown" list.
The Oaks at Hulen Bend apartments keep you close to the city without sacrificing closet space. Currently, two-bedroom, two bathroom rentals offer 1,044 square feet and range from $1,014 to $1,227 per month—well below Fort Worth's median rent. When you and your roomie are ready to stock up on fresh produce, don't forget to check out the Clearfork Farmers Market, which is just a 10-minute drive away.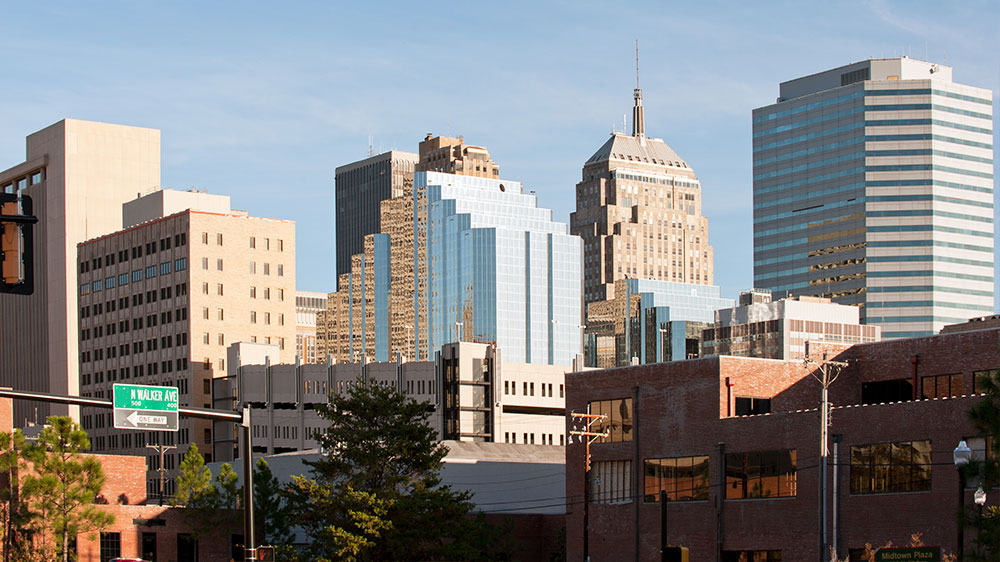 2. Oklahoma City, Oklahoma
Pet-friendly apartment in near the countryside
$902/month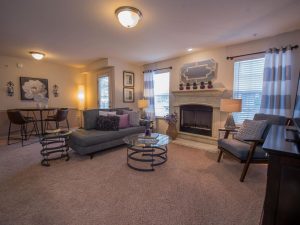 Though Oklahoma City has a fast-growing population, it offers plenty of spacious (and affordable) apartments—which means most renters aren't confined to shoebox-sized studios. If you're on the hunt for a safe, family-friendly neighborhood with easy access to the city's amenities, consider Harvest Hills. The proximity to Will Rogers Airport and Interstates 44 and 240 is ideal for frequent travelers, and Seller's Park—which offers a playground and splash pad for kids—is just a short walk or drive away. And when you're ready for a grown-up night out, you can still get to Downtown OKC in 15 minutes or less.
Prairie Springs rentals combine luxury and affordability in this idyllic neighborhood. Here, you can stay under OKC's median rent and opt for more space with a two-bedroom, two-bathroom apartment for $902/month. The 1,050 square-foot rental is an especially good find in the Harvest Hills area, where the median rent jumps to $1,200/month.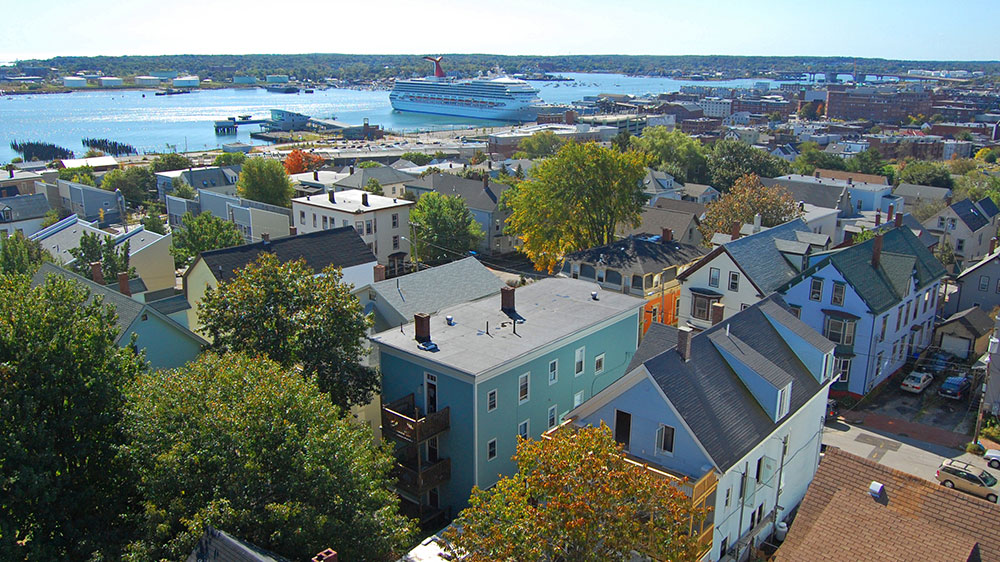 3. Portland, Maine
Bright, furnished apartment in a walkable neighborhood
$1,875/month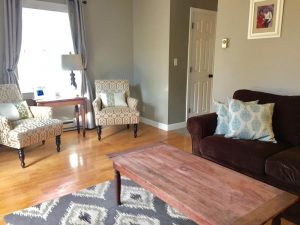 The most populous city in Maine, Portland is celebrated for its mild summers, breathtaking seascapes, and many historical sites and landmarks. There's something for everyone in this well-loved city—whether you prefer to spend the day kayaking, shopping, or touring museums and mansions. And in Deering Center, you'll find a small-town charm within Portland city limits. This walkable neighborhood converges on Stevens Avenue, where local retailers and restaurants provide residents a charming, nearby spot to shop and dine.
If you want to spend more time getting to know the neighborhood and less time in picking out end tables, this furnished two-bedroom condo is the answer. At $1,875 per month, this cheerful rental is under Portland's median rent—and you'll have both off-street parking and a five-minute walk to the scenic Capisic Brook Trail.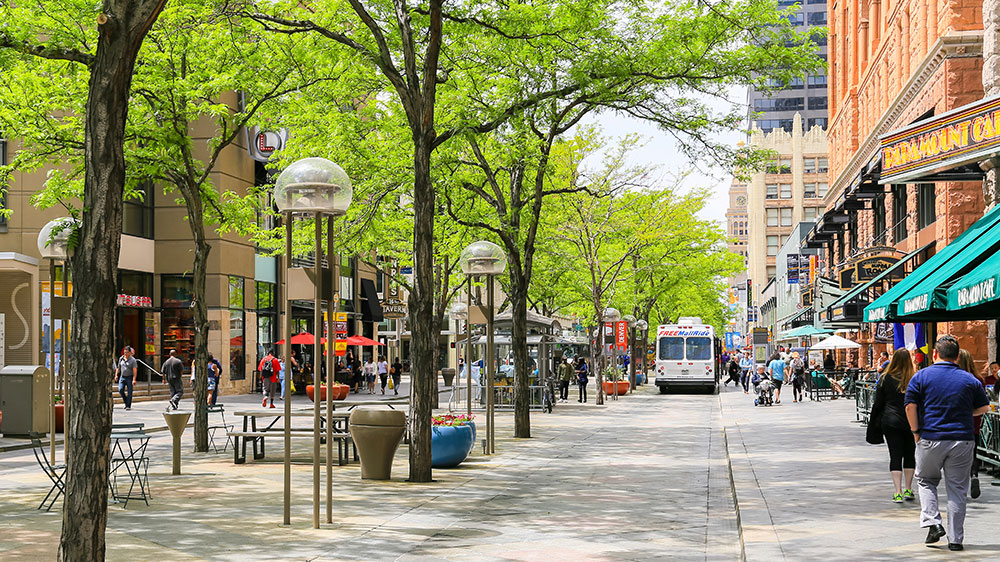 4. Denver, Colorado
Modern living near work and play
$1,876/month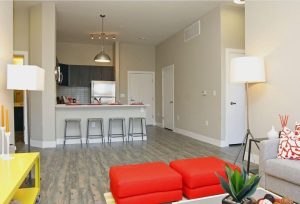 Denver regularly makes it onto lists of the fastest-growing cities in the U.S., and there can be no question as to why. Few places rival Denver's unique combination of urban attractions, natural beauty, and a bustling business sector. Washington Park West is an ideal spot for professionals looking for a cozy, fun-filled neighborhood with easy access to the Central Business District and Tech Center. Local attractions include the many shops and restaurants on South Pearl Street, and—of course—the lush landscape, lakes, and running trails of Washington Park.
In Denver, it's rare to find ample space and dual walk-in closets without paying above-average rent. But you can rent this two-bedroom, two-bathroom apartment in Washington Park West for $1,876 per month. With plenty of shops, restaurants, and cafes within walking distance, you won't need a car to have an activity-packed weekend.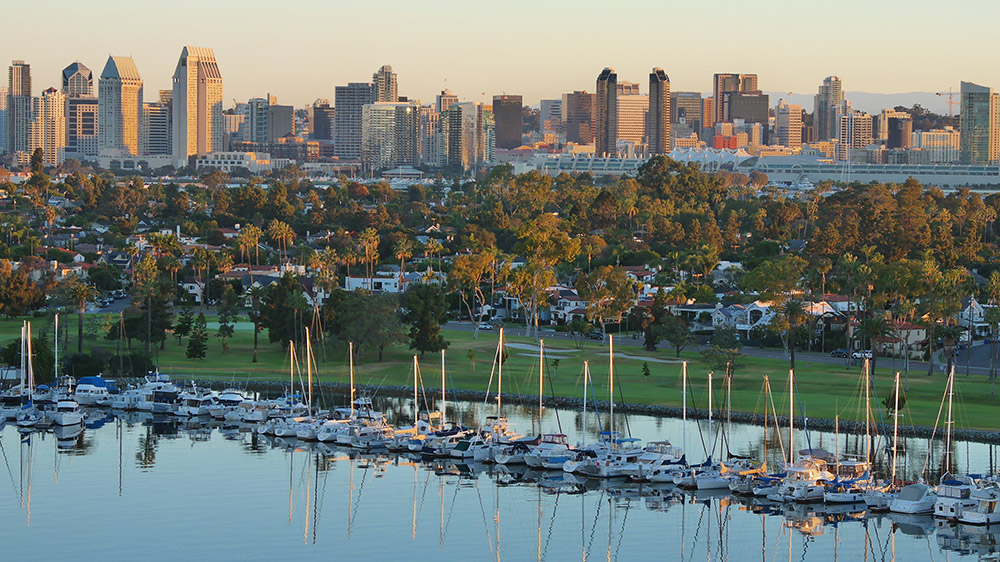 5. San Diego, California
Stylish space with mountain views
$2,225-$2,250/month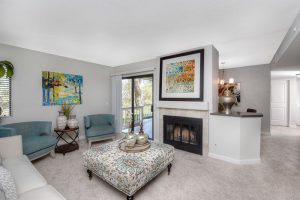 Let's face it: San Diego is an easy sell. Known worldwide for its enviable climate and gorgeous beaches, the California city draws in hoards of tourists and new residents each year. Rancho Bernardo, a master-planned community northeast of downtown, keeps everything at your fingertips. Bordered by mountains, canyons, and Lake Hodges, this neighborhood offers locals plenty of opportunities to get active. Of course, if wining and dining is more your speed, look no further than the Bernardo Winery and the Rancho Bernardo Inn.
With its long list of accolades, it's natural that San Diego isn't known for big apartments with affordable rent. Still, spacious deals exist, such as this two-bedroom, two-bathroom rental at La Serena. For $525 under the city's median rent, enjoy upscale amenities, mountain views, and the convenience of living in Rancho Bernardo.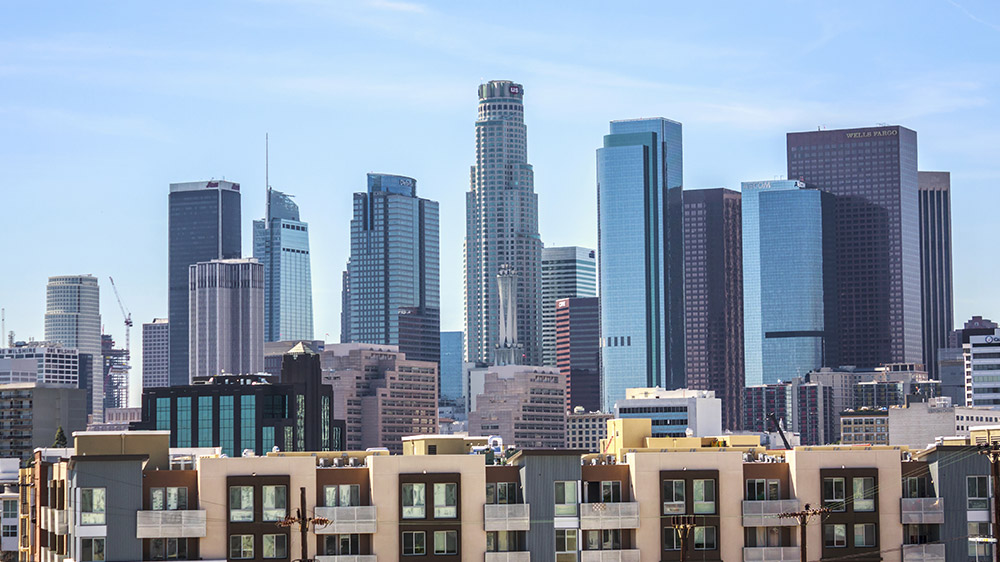 6. Los Angeles, California
Upscale amenities in West L.A.
$2,975/month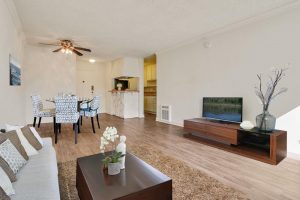 Besides the hope of a chance encounter with Ryan Gosling, plenty of factors contribute to L.A.'s residential appeal. Los Angeles is known for its diverse population, and this large-scale cultural exchange helps the city offer the very best in food, entertainment, and the arts. This is especially true in the Palms area—a diverse, youthful neighborhood 20 minutes outside of downtown. Just five miles from UCLA's campus and neighboring Culver City, this area is a great spot for commuters and offers a hometown feel in a city that can be a bit overwhelming to navigate.
For well below the city's median rent, The Woodcliff offers a two-bedroom, two-bathroom apartment for $2,975 per month. Coming in at 1,250 square feet, this rental is one of the largest on our list and a great find in the Palms. When you aren't sampling the fresh-as-can-be pizza at The Doughroom, enjoy having access to an upscale pool, fitness center, and yoga studio—right at home.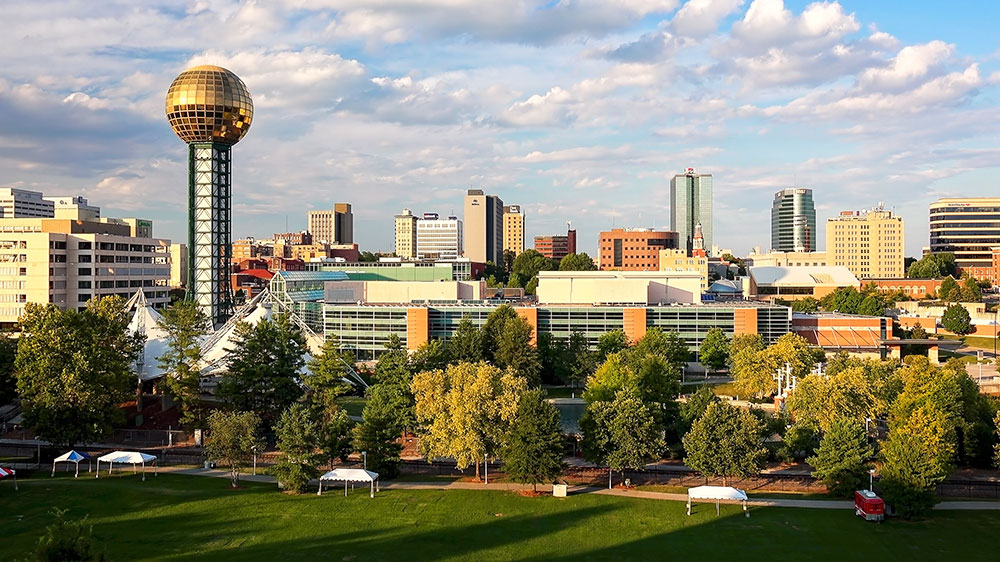 7. Knoxville, Tennessee
Upscale apartment community close to downtown
$970/month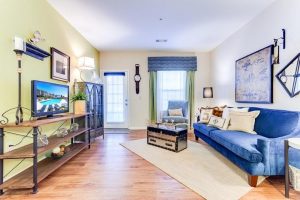 Home to the University of Tennessee and less than an hour's drive from the Great Smoky Mountains National Park, Knoxville offers a blend of culture, comfort, and the great outdoors. Runners and bikers enjoy the many trails and greenways, and water-sports lovers flock to parks along the Tennessee River. When you're ready for a fun night out, head over to Market Square to experience some of the city's best restaurants. One favorite is Tupelo Honey, a "Southern comfort" joint that serves modern dishes, craft beers, and cocktails.
With so much to enjoy in Knoxville, you'll want to stay close to the action. Fortunately, Evergreen at the Bluffs is just a ten-minute drive from Market Square. For $970 per month, you can lock down a two-bedroom, two-bathroom apartment in this top-notch residence.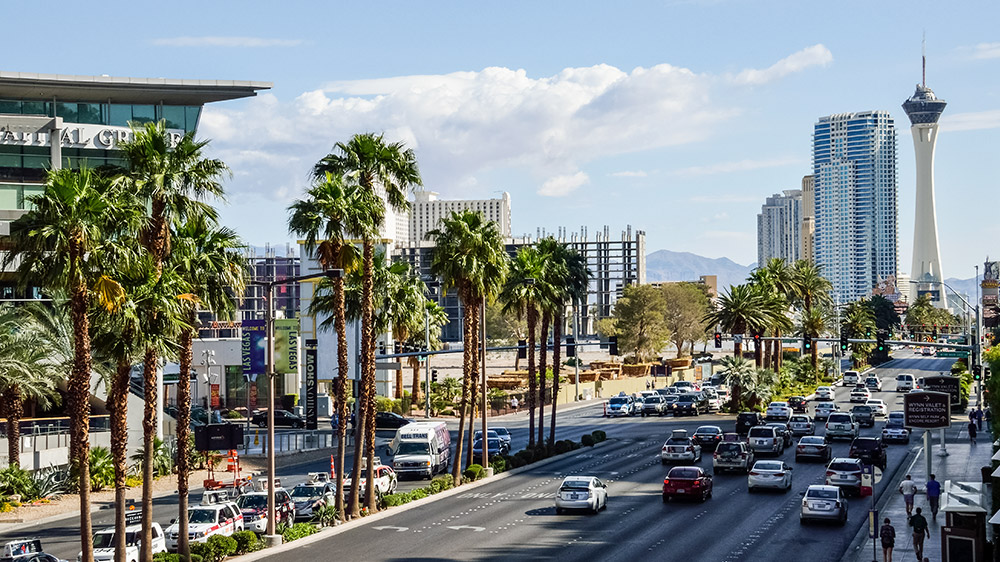 8. Las Vegas, Nevada
Resort oasis near the Las Vegas Strip
$1,221/month

Las Vegas has earned its reputation as the unofficial capital of gambling, shopping, shows, and entertainment in the U.S. But if you live in Vegas, you're going want to sleep sometimes, which is why the Canyon Gate neighborhood is a smart choice for renters. Located within walking distance of two parks (Firefighters Memorial and Rainbow Family) and 25 minutes outside of Red Rock Canyon, this neighborhood is ideal for someone who wants to stay close to the action—while still getting some much-needed fresh air.
Just 20 minutes away from the Strip, Sahara West is a sprawling apartment community offering plenty of its own entertainment. Currently, a three-bedroom, two-bathroom apartment goes for $1,221 per month. If you're more interested in baked goods than blackjack, pop over to Is Sweet and ask for the famous honey toast. You won't regret it.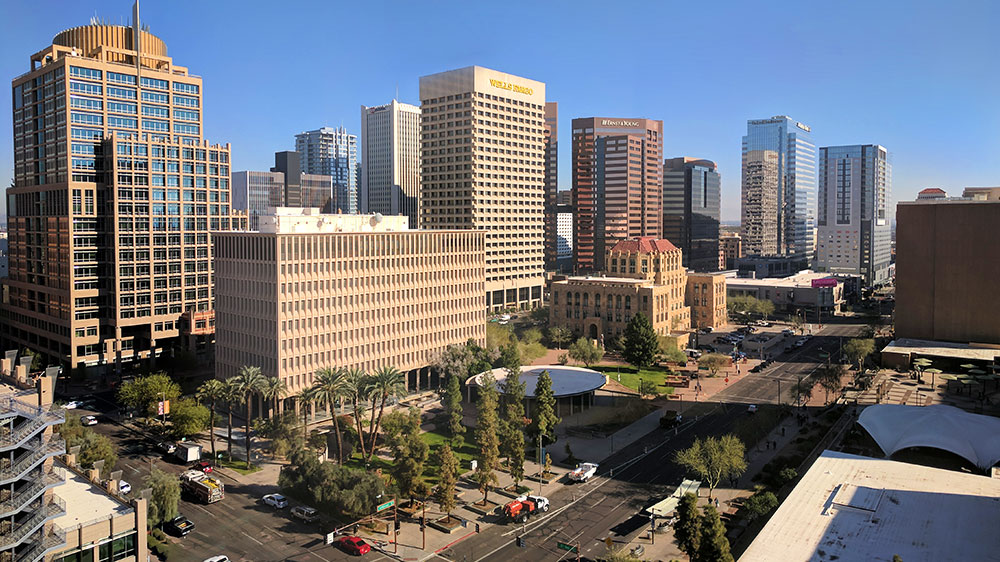 9. Phoenix, Arizona
Laid-back luxury surrounded by natural beauty
$1,061/month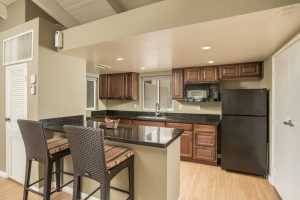 Listed as one of the fastest-growing U.S. cities of 2017, Phoenix is known for its year-round sunshine. It's a dream city for people with active lifestyles, offering everything from hiking and mountain climbing to bike trails and water parks. For those living in the North Mountain neighborhood, this couldn't be truer. As the name suggests, the area borders North Mountain Park—a part of the Phoenix Mountain Preserve with hiking trails of all lengths and intensities. When you've finished your trek, head over to Scramble for a well-deserved brunch.
Set along the North Mountain Preserve, Avana at the Pointe is the ideal spot for outdoor lovers looking for quick access to hiking and biking trails. At the moment, it's also a great place to score a two-bedroom, two-bathroom apartment for less than the city's median rent. Once you've moved into your 1,105-square-foot rental, settle down by the pool and take in the sweeping mountain views.
Originally published November 27, 2017; updated January 30, 2018.
Looking for a spacious apartment you can afford? Start your search right here on Trulia.