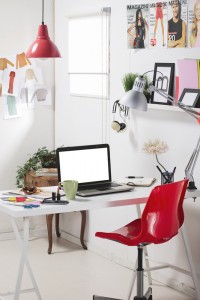 Working from home today is much more common, not just among people who bring some work home. The only problem is that not everyone budgets space for a home office. Fortunately, with a few smart tricks, you can create an office in even the smallest enclave.
Choose an innovative location
Even if you don't have a lot of space, there are many creative places where you can build an office of your own. Sometimes you have to play around with negative space or get inventive with areas you wouldn't normally consider. Some unique ideas include:
An unused closet or alcove
The basement or attic
A corner of a spare room
An open space in the hallway
A spot in the kitchen
The most important thing to remember when choosing a place is to make sure it's private. You don't want distractions from the TV, the kids, your pets, or chatty neighbors. Make sure everyone understands that this is your workspace, just like any office.
Pick a productive color palette
Some colors are more stimulating than others. You might think that neutrals, such as stark black or shades of tan, will increase your productivity, but they can actually distract you or sap your energy. Instead, decorate your office with paint, wallpaper, curtains, or decor that will motivate you and keep you working.
Yellow is optimistic, but don't go too bright. Blue is very soothing, but it also motivates your performance. White is a stable neutral, so think about using it as a backdrop. A bright shade of red will pump up your heart rate, but don't make it overwhelming. Green is one of the best colors; there's a reason that it's supposedly the favorite color of many geniuses.
Play with lighting options
Lighting is a wonderful trick for making small spaces look larger. If you can situate your office around a window or two, that's your best bet. Natural lighting is stimulating, but make sure you won't get distracted by the view. Make smart use of curtains and blinds to avoid temptation.
You can use artificial lighting, but make smart, informed choices. Fluorescent lighting is a little too harsh and may make you feel as if you're in an industrial office. Instead, opt for softer lights. Desk lamps, table lamps, and floor lamps are all ideal, and with the shades, you can incorporate stimulating colors.
Build up, not out
Design is an important aspect in a smaller space. Make use of your floor space by building up, not out. Use bookshelves, wall shelves, and multifunctional furniture to maximize your square footage. Don't choose a large, overpowering desk; a floating desk is a great option. Stay away from large office chairs, but make sure your chair is comfortable and supportive. You should also go small with your accessories, from your lamps to your computer.
Even a closet makes a great nook for an office, so you can create one practically anywhere.