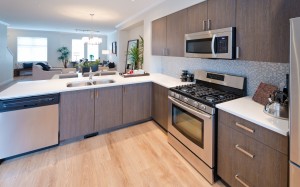 Whether you're sprucing up before a home sale on a tight budget or you're hoping to give your forever home an upgrade without breaking the bank, I've got some advice for turning a lackluster kitchen into a truly jaw-dropping space for less than $3,500. And even if your kitchen is, um, adequate, it can be easily improved. Yes, we've all seen the design shows and magazines that boast $100,000 kitchen renovations with every bell and whistle, but for most Americans with modest homes, that's not practical — but a low-cost upgrade is!
Here are Trulia's 10 budget-friendly ways to give your kitchen a face-lift — without breaking the bank:
1. Make the most of what you've got — The key to an inexpensive kitchen makeover is making the most of your existing kitchen components. Keep what's usable and upgrade, repair, or replace what's not. Take inventory of your current kitchen and be realistic about what can be transformed and what really needs to go.
2. Upgrade your existing cabinets — If your current cabinets are made of quality wood and are still in good working order, you're in luck. Three ways to repurpose old cabinets and save thousands are:
Spray-paint: Prep and prime them correctly, and you can transform ugly cabinets, making them look factory-new. You won't get the same look by brush-painting or rolling the cabinets, and often, hiring a professional painter to spray your cabinets isn't much more expensive than a DIY job, so call around.
Relaminate: Already-laminated older cabinets can be re-covered with wood or vinyl veneers. Many companies specialize in this process, and it usually takes just a few days — perfect for anyone on a tight selling schedule.
New doors and drawer fronts: If you need to, you can replace the cabinet doors and drawer fronts. This can completely transform old cabinets, especially if you want to add a little more style to the kitchen. Just have the new doors and drawer fronts made and then spray the old frames — the part still attached to the wall — so they match.
3. Revamp with new hardware — Home remodeling superstores carry a great selection of cabinet door hardware. Get knobs or pulls that complement your architectural style, the cabinet finish, and other kitchen accents. Also, remove all the old painted-over hinges and replace with shiny new ones. It's time-consuming but very inexpensive.
4. Fake new appliances — If you're not getting new appliances, a great trick is to order replacement parts so you can refurbish where it's needed. Replace worn-out stove coils and oven knobs, and don't forget about new handles for your dishwasher or fridge to replace old, grimy ones. These new parts can really jazz up the whole look.
5. Get a high-end look for a low-budget price — Fortunately for everyone, appliance manufacturers have begun to create great-looking lower-priced lines. With a little research and some smart shopping, you can find expensive-looking appliances at very reasonable prices. The GE Profile line, for example, is well-styled, comes in the popular stainless finish, and is moderately priced.
6. Save with built-in appliances — Built-in appliances are a cost-effective way to add tremendous value. You can upgrade your microwave to a built-in model for as little as $100 over the cost of a regular countertop version. And custom framing kits allow you to squeeze small appliances into existing cabinet space, freeing up those counters. Until recently, only very high-end companies offered built-in or "slim-line" refrigerators, shallower models that save you space; but now, many affordable models are available.
7. Don't mix and match — When replacing your appliances, try to keep the new models as similar to each other as possible. Always be consistent. Buy the same color and finish, and if possible, keep the brand consistent as well. This tactic creates a well-thought-out, cohesive designer look.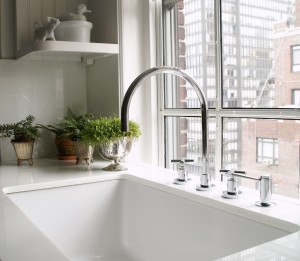 8. Select new sinks and fixtures — Sinks have become a fashion statement! For the most basic kitchen upgrade, go with a drop-in sink; because it literally drops into the hole in the countertop, the installation costs very little. And don't forget faucets. Repair or upgrade a faulty one, or spend a little money to get an eye-catching model, perhaps one with a pull-out spray attachment or a gooseneck with detachable head. The difference between good and great is only $50 to $75. Stick to one consistent fixture finish for all your faucets throughout the house, as mixed finishes can look like patchwork.
9. Enhance countertops — Replacing countertops is a big job, not a quick fix. But older houses, especially those built from 1910 to 1950, often have tile counters, and chances are, the grout is stained and chipped. Scrape off the top surface of the grout and replace with a fresh batch. It will easily transform your tired tile, making it look renewed. If your kitchen has Formica countertops, they probably need to be replaced. There are lots of new looks for this old standby. For a minor investment, you can select from a variety of great updated Formica textures and patterns.
10. Look into light switches and dimmers — Aim for a mix of natural, overhead, and under-cabinet lighting. Under-cabinet lights create drama and a warm glow. They come in sets, are easy to install, and can be added under your existing upper kitchen cabinets — and can even be put on a dimmer switch. How's that for a designer touch?