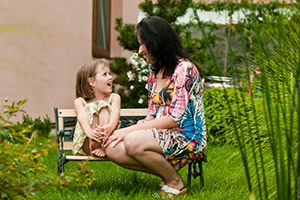 Searching for the right home can be an exciting, emotional process for any prospective buyer, but for parents, there's the added challenge of how to handle kids' expectations. After all, moving is a family affair. Kids need to feel like they're part of the process, but how much they're involved depends on many things, including how old they are.
Kids Under 5
Preschoolers may seem too young to include in the house hunting process, but they can still play a role in helping you decide which home to buy. According to psychotherapist Allison Latona, it's best to wait to tell toddlers/preschoolers about moving until you've already narrowed down the options to a specific neighborhood or short-list of houses: "Toddlers don't have a great sense of time, so if you tell them too early, you will likely create undue anxiety." Once you're down to just a few options, you can take little ones on a second tour of the house (preferably not an open house, where they might prove distracting to you and other potential buyers) or take them on a virtual tour if the house(s) are out of town. Show little ones features of the house they might enjoy and discuss how much fun they'll have playing and exploring their new home. And if possible, check out the neighborhood's kid-friendly offerings. All other things being equal, even a little kid's opinions could help tip the scale in one house's direction.
Kids 6-9
Children in early elementary school may be incredibly wary of leaving the stability and security of your current home, so bringing them into the process is important. Once the neighborhood has been selected, parents should tell kids their plans, share a timeline, and include them in conversations about what their priorities are for a new house. Parents can also show kids the neighborhood either in person or online, stressing why the new community is advantageous for the family. Once you've shared your excitement about the moving plans, take kids on a tour of the final contender(s) and let them share their thoughts and ask you questions — but remind them that ultimately the choice is up to parents.
Kids 10-12
Kids 10 and up are old enough to play an active role in the house search, but younger tweens need to be reminded that parents hold the decision-making responsibility. "There's a big difference between a child expressing his feelings and desires and having responsibility for selecting the house," psychologist Bruce Narramore told the Baltimore Sun. "It's too much pressure on the child to feel they have to make the right or wrong decision — especially if the decision turns out wrong for the family," he says. So how can tweens help? Let kids tour the handful of house finalists with a clipboard and have them organize their feedback in a pro and con list. Then tour the area with them, if you can, and scope out schools, likely tween hangouts, and sports venues. Finally, have them deal with their "What about me?" questions by researching favorite hobbies, sports, or scouting organizations in potential new neighborhoods. Knowing they won't have to give up favorite hobbies or sports goes a long way toward helping children adjust.
Kids 13-18
With teens and nearly grown children, avoid the temptation to minimize their input because they're a few short years from leaving the nest. Teens, while pushing for their independence, still may want a say on where they'll be returning to visit (or move back into after college, as is increasingly common), and they may have a unique viewpoint on a home or neighborhood. Ask them to use a smartphone or digital camera to document the homes you visit, or put their computer skills to use by searching for homes online or scoping out potential neighborhood amenities. But keep in mind that teens still aren't adults and lack the judgment that parents posses, so be clear that you are the decider.
No matter how old your kids are, the key to a happy home-buying process is basically a balancing act: involve your children enough to let them know their input is valuable, but not so much that they feel somehow responsible for the decision. Your children need to be a part of the buying experience, so when you make the final decision, they're not left in the dark about the whole move.