Are you in the market for a good scare? Looking for a spooky spot? Good news — or is it bad? — Trulia has you covered.
In 2012, we looked at which U.S. metros have the greatest concentration of old, vacant homes. Using that data, Trulia Chief Economist Jed Kolko was able to determine the cities where you're most likely to find a haunted house. With Halloween just around the corner, we decided to rejigger the numbers and see if ghosts and ghouls are on the move.
(And also to prove once and for all — we ain't afraid of no ghost.)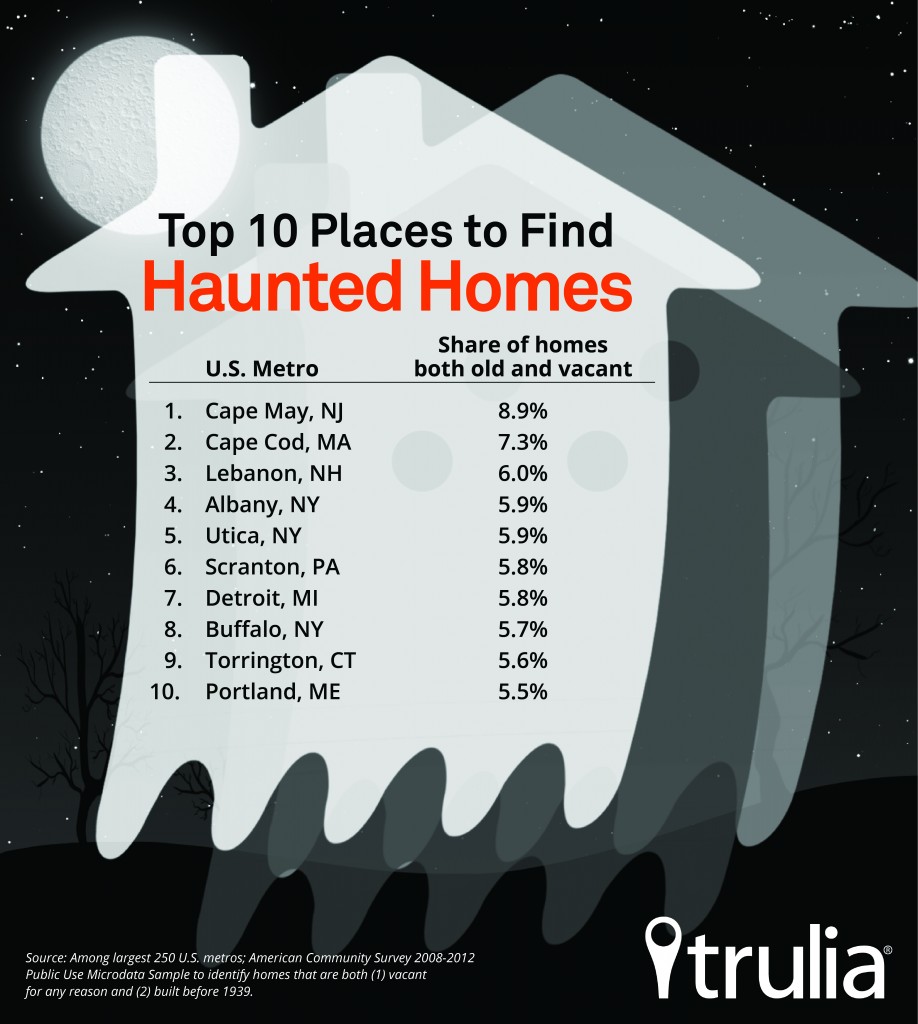 How did we come to our spooky conclusion? We used the same logic, looking at old, vacant homes. As Jed noted then, "Old homes with creaky bones have a history of previous residents whose spirits might return, or maybe never left. Our other hunch is that ghosts would prefer not to be disturbed, so they haunt vacant homes more than homes occupied by pesky mortals."
So did we learn anything new about our otherworldly neighbors?
One city floated onto the haunting scene since 2012, but overall it seems like those pesky phantoms like to stay put. Makes sense to us; it's probably tough for even the most seasoned specter start haunting in a new town. Adding to the scare factor, the newcomer has a seriously spine-tingling name: Torrington, CT. (Terrifying!)
And remember how we told you that ghosts love capes?
Still true. Cape Cod, MA and Cape May, NJ continue to occupy the top two slots, with the most housing units that are both old and vacant. The number three city for spotting the supernatural? None other than Lebanon, NH. The rest of the cities are a mix of areas that haven't seen much growth recently, including older cities like Buffalo, NY, Scranton, PA, and Detroit, MI, that are experiencing hard economic times.
Ready to settle down in a city where things go bump in the night? Chances are, ghosts aren't going to show up in Trulia's demographic maps, so you might want to keep this list handy when you're hunting for haunted houses.