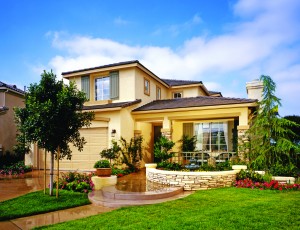 Despite the bad rap homeownership — and particularly home affordability — has gotten in the last few years, it's still part of the "American Dream." But now, in 2014, there's a question around that dream: Can buyers find a home to purchase within their budget?
Millennials and first-time buyers are particularly daunted by home affordability. In Trulia's latest survey, 15% of potential homebuyers ages 28–34 said they wouldn't even sacrifice their Netfix subscriptions to save money toward homeownership — a notion that makes saving seem like an even tougher uphill battle. With mortgage requirements deservedly more stringent and down payment requirements higher than ever, for most, finding that affordable dream home is going to take some compromising.
Here are nine savings sacrifices that won't foul up your finances — and may help you land a house.
1. Price
This is overall the biggest sacrifice you can make because home prices in your area dictate exactly what you'll be getting for your dollar. But how much of a price sacrifice do you need to make? My rule of thumb is this: Purchase a home that is 20% less than what the bank says you can afford. By ducking under your max price by 20%, you're giving your budget some room to breathe, ensuring that you'll never be in over your head each month.
2. Cash in the bank
Another big sacrifice is liquidity. While you may have to drain the piggy bank to make the numbers affordable, hitting the 20%-down mark immediately lowers your monthly payment with a smaller loan, better interest rate, and no private mortgage insurance.
3. Neighborhood
Of course, we know that it's all about location, but you may not be able to purchase in the hottest 'hood within walking distance to the main drag. Even proximity to recreational areas, shopping, and dining may have to give way for the math to work in your favor. What's the alternative? Look for a home near public transportation, or at least within a short drive, that still allows easy access while keeping you just outside the priciest areas.
4. Home type
It's a big sacrifice, but if location and other factors are more important, you may have to make the shift from a single-family home search to a condo, townhouse, or duplex. Especially in dense metropolitan areas, single-family homes may be way out of reach, while a condo or co-op might just get you the address you want with the home affordability you need.
5. Square footage
The average midsized home is approximately 2,363 square feet. Interestingly, just 15% of potential homebuyers polled in Trulia's "American Dream" survey said they'd now like to purchase a home with 2,600 or more square feet. Cutting back on size could put your dream home within reach. Remember, less square footage does not always equate with being cramped; look for homes with open floor plans and lots of access to outdoor living spaces.
6. Move-in condition
Paying for someone else's upgrades is a luxury you may just have to sacrifice. The best way to get more home for your money is to find the "fixer" that needs some TLC. If you're trying to keep that bottom line down but can spend some time at your local home improvement store, purchasing a fixer-upper is a great sacrifice to make.
7. Extra bedroom
It's always nice to have a plan, especially if you're starting a family. But having a spare guest room that sits empty until your sister comes for her annual visit may be something you can sacrifice. Instead, look for homes that have a den or even a finished basement or attic that can be utilized for those occasional out-of-town visitors.
8. Outdoor space
Everyone enjoys backyard pleasures – the grassy hills, a hammock swinging from a tree. But it's time for a reality check: By today's new construction standards, the backyards of yesteryear are just that — behind us. Land is a valuable commodity that will need to be sacrificed to find a home in an affordable range. You may even find that all you really need is a great outdoor deck that can accommodate some friends and a barbecue grill.
9. All "buy" yourself
Sure, you wanted to buy a home all on your own. But you may just have to hit up the folks for a handout to get a leg up, since a larger down payment will considerably lower your monthly mortgage bill. Your parents can each legally "gift" you $14,000 per year, and if they both do, $28,000 can make a huge impact on your ability to put down 20%.