When a local economy is thriving, there tends to be winners and losers in the housing market. Typically, priced out buyers become discouraged about soaring home prices while sellers are cashing in with high offers.
There's no question the game has changed for home buyers and sellers in the Seattle real estate market – and the agents who represent them. The market is experiencing growing pains in affordability and demand predominantly driven by Seattle's rising technology industry.
The influx of these skilled and well-compensated workers is propelling the metropolitan's record population growth and changing the approach to buying – and even selling – a home.
The urbanization of the Puget Sound
An estimated 86,320 new transplants flocked to the region from April 2015 to 2016, and many of them boasting impressive house-buying budgets. "What's happening in Seattle resembles a lot of what was seen in the San Francisco Bay Area," says Jeff Reynolds of Urban Condo Spaces. "The urbanization of the Puget Sound correlates directly with the tech boom."
There are now more than 80 tech-related offices in the Seattle area operated by Facebook, Salesforce, eBay and not to mention Amazon – the e-commerce behemoth promising to add 100,000 jobs in the next 18 months.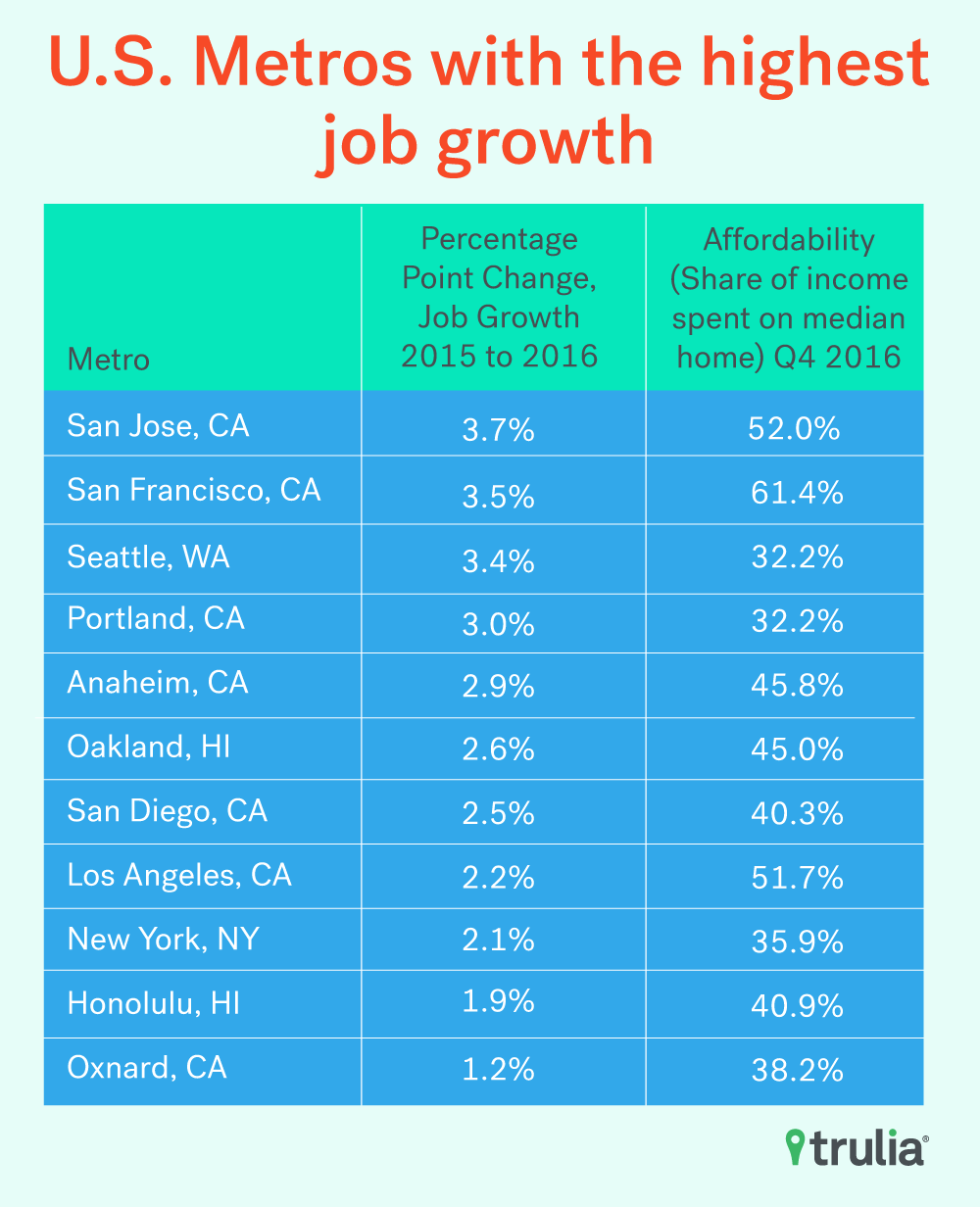 As a result, Seattle saw a 3.4% increase in job growth from 2015 to 2016 alone. And with more jobs, comes more home buyers who will need to spend more to afford a home. A typical buyer would need to spend 32.2 percent of their income to afford the median-priced home. This makes Seattle the 11th most income-draining metro to afford a home out of the largest 100 metros in the country, according to the Trulia Inventory and Price Watch.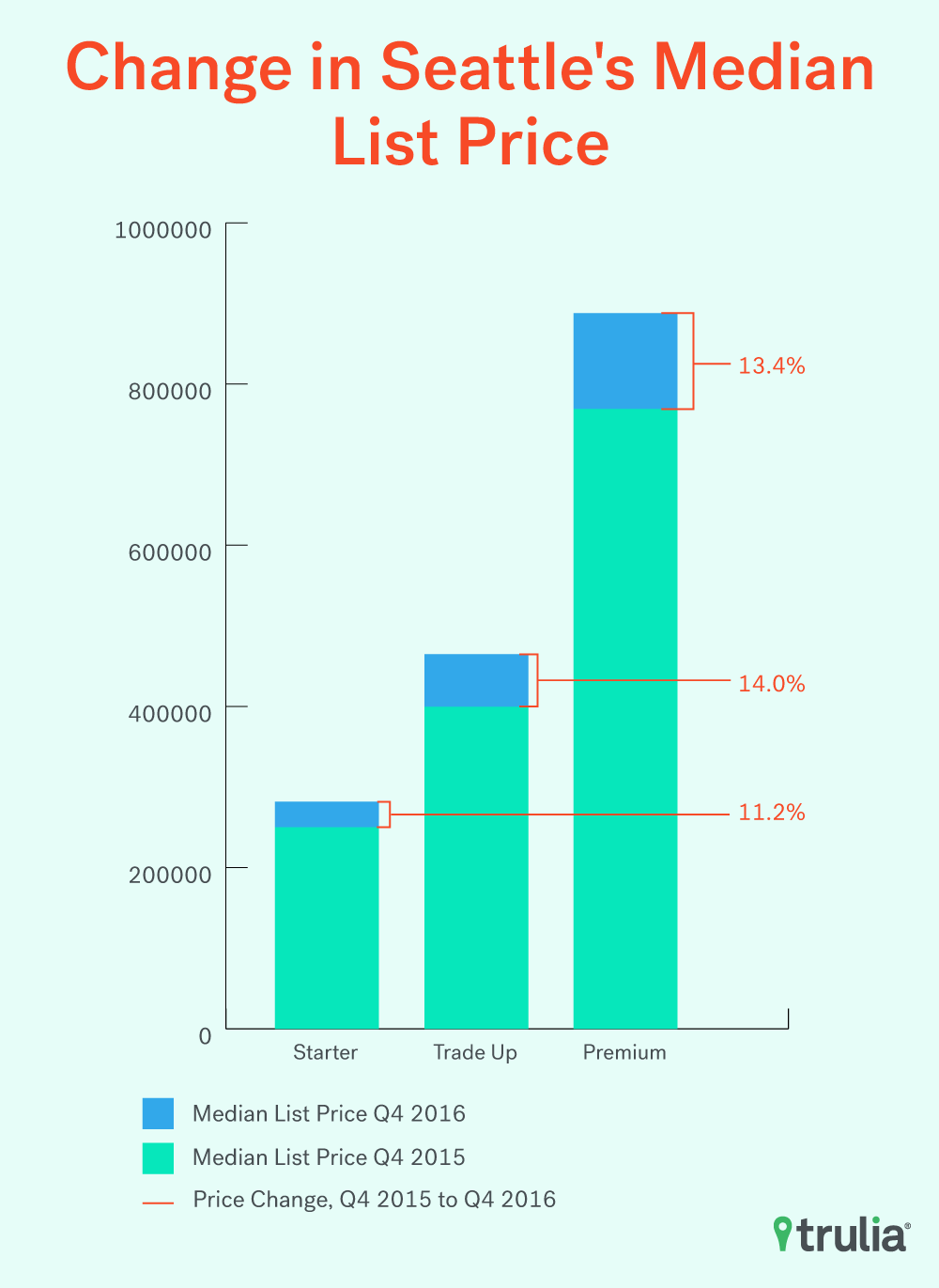 From an inventory perspective, trade-up and premium home inventory at the metropolitan level have also dropped significantly from 2015 to 2016, making it difficult for buyers but especially for first-timers.
Metropolist Real Estate Agent Kate Pederson notes that Downtown Seattle condominium inventory has been hit the hardest. "There's no new construction downtown and the next condominium project won't be ready for three years."
Once the new condo project is delivered in 2019, there will have only been 1,000 newly constructed units in Seattle proper over a 10-year period, according to Reynolds. From depleting downtown condominium inventory to higher demand, Seattle is certainly a seller's market. But as a buyer, how do you acclimate to these changing times?
Be patient and set realistic expectations
"Searching for a home and getting an offer accepted is now a longer process," says David Warren of Metropolist. "It requires either waiting for the right home and going all in, or being happy with 60% or 70% of what you expected."
Rising prices are usually a deterrent for buyers but the price ceiling is nowhere in sight, which means waiting out for the right house and attempting to buy a home will be worth the effort. "This is a market that will reward those who are patient, and once you're in, you will begin to see a great return on investment," Reynolds says.
While patience is important, it's only half the battle for prospective home buyers. Successfully buying a home requires realistic expectations. Real estate agent Brooke Davis of the Brooke Davis Real Estate Team says the anxiety of buying a home in today's market is real. "Our job today is to mitigate that anxiety and our jobs are evolving as agents."
Warren says his clients often feel discouraged before entering the competitive market, but still want to make attempted offers in their target price range. "It may take three or four lost opportunities with aggressive offers for clients to realize they need to lower expectations," says Warren. "Buyers looking at homes in the $600,000 range might need to focus on the $500,000 range to have financial room to escalate against competing offers."
After several unsuccessful offers, eventually pre-inspection costs begin to add up which makes it even more disheartening for buyers to continue their search.
Make smart, competitive offers and trust your agent
When push comes to shove in competition with other buyers, making your offer stand out from the crowd might give you the nudge that you need. This is why partnering with an experienced agent will come in handy, to guide you through what can be a nerve-wracking process.
Remove contingencies. If your agent suspects strong offers might be coming in on your target home, they might suggest removing all contingencies in a competitive market like Seattle's. Although risky, removing contingencies is one way to prove to the seller that you're serious about buying the home. Inspection contingencies protect the buyer from unforeseen repairs and warrants a grace period for a buyer to back out from purchasing the home. Removing an inspection contingency will guarantee your purchase if the appraisal is above or in line with your offer.
Find a good loan, and be able to pay it off. Often times, sellers aren't looking for the highest offer on the table. Sellers want to be convinced that escrow will close without any financial constraints, so find a loan with a solid rate that you're comfortable paying off. While it may be tempting to put down a big down payment, your agent will be able to offer advice on a down payment that makes sense given your financial standpoint.
Humanize the experience. When sellers are receiving several similar offers, it's sometimes difficult for them to choose an offer based on qualifications alone. "Oddly enough these days, agents are finding themselves doing what we used to decades ago," Warren says. In the early 90s, before the industry moved to the internet, the buyer's agent presented offers to the sellers in person. This was usually to explain low offers, or unusual offers to sway sellers. Agents would even come in with flowers and gifts to try to sweeten the deal.
Nowadays, these old practices are common in a competitive market like Seattle's. If your offer isn't 10-15% over asking price, it probably won't have a good chance without the "human touch" factor. Warren says writing letters, and even creating short introduction videos to help break the emotional barrier, gives weaker offers an advantage.
On the flipside, how do you maximize profits as a seller?
Stage your home. Whether you've been a homeowner for a long time in Seattle, or recently bought before the tech boom, it's easy to feel eager about selling. But are you maximizing your profit? Staging your home is more important than ever to earn top-dollar.
"Staging your home in a slow economy will move the inventory faster, but staging your home in a strong economy will bring in higher offers," Shirin Sarikhani, founder of Seattle Staged to Sell & Design, says. Staging homes in the Seattle area since 2005, Sarikhani and her team have worked behind the scenes in an overwhelming amount of seller's success stories.
In hot Seattle neighborhoods like Ballard and Capitol Hill, Sarikhani's staging efforts have resulted in homes selling $100,000 to $200,000 over the original listing price. One of Sarikhani's clients in Capitol Hill was struggling to sell until hiring her team. After bringing in new colors, furniture and overall ambience, one Microsoft executive seeing it before and after, "could not believe it was the same house," Sarikhani says. The house quickly sold for nearly $200,000 over the listing price, all-cash and without contingencies.
The Seattle real estate market is a force to be reckoned with. Being creative, patient and aggressive is more critical than ever to buy a home. And whether you're buying or selling in Seattle, you're in a position to reap the rewards of a growing market.
Do you have experience buying or selling in Seattle's market? Share in the comments below.