Choosing a rug … it's as simple as picking a color or pattern. Sounds easy, right? But then the area rug size isn't right and the fibers shed more than your favorite four-legged friend. It turns out that buying a rug, much like any big piece of furniture, is a purchase that benefits from research.
After all, whether you're looking for an apartment for rent in Boston, MA, or simply looking to spruce up the home you've owned for years, the area rug you choose will be seen (and walked upon) every day. It has to be stylish but durable enough to stand up to spills and soles. And even just one year is a lot of time to spend with any high-maintenance rug that needs constant care. We asked interior designers and industry professionals what they recommend looking for to find a rug that won't let you down and put it in this handy guide.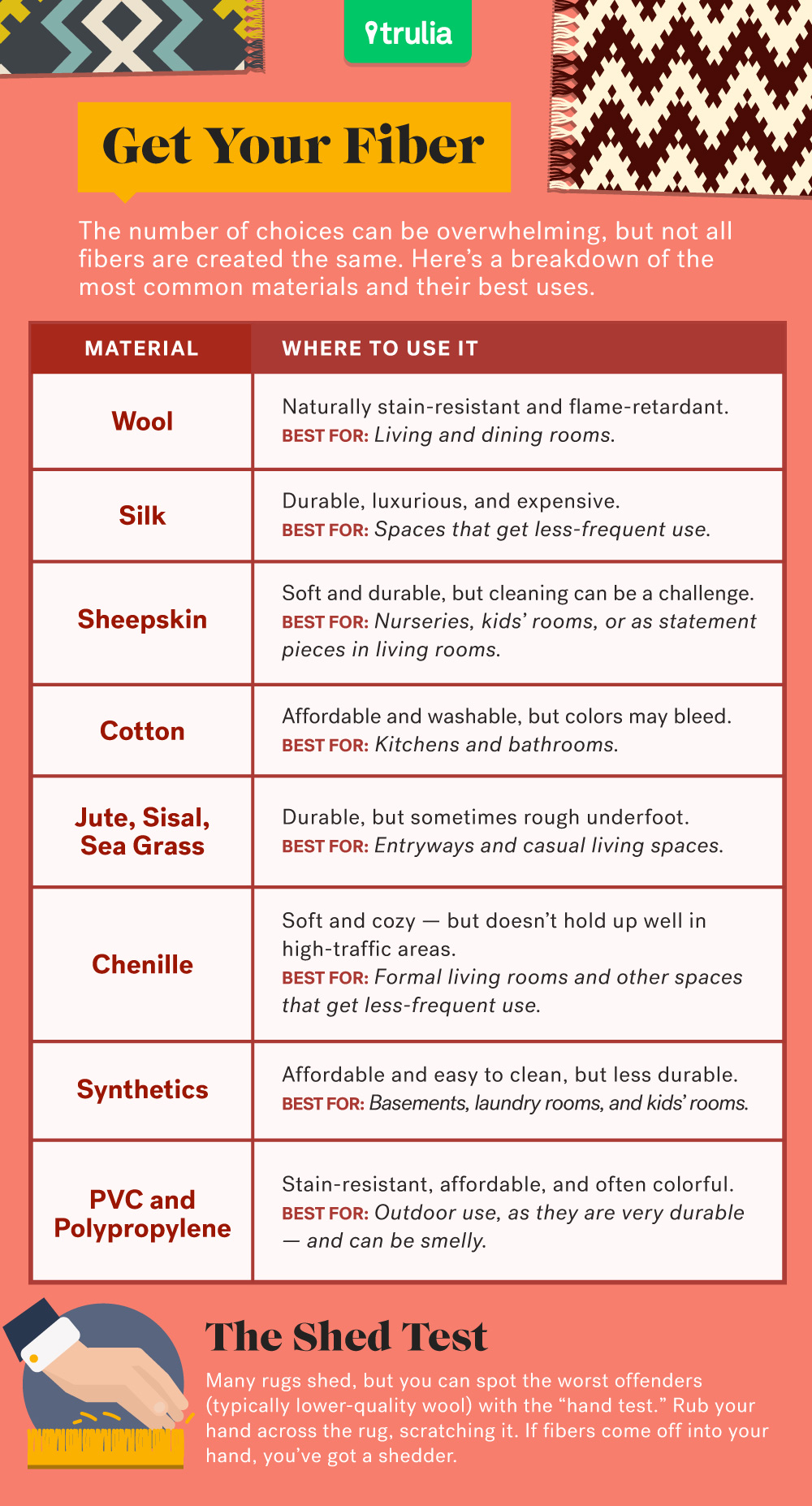 Silk, wool, or synthetic rug?
Surprise! Wool rugs are considered the most resilient. The fibers are naturally stain-resistant — and flame-retardant to boot. But wool isn't the only winning material for an area rug. "Real wool and real silk are by far the most durable," says Bahram Shabahang, creative director and co-founder of New York City–based rug company Orley Shabahang. Experts especially recommend silk for its sumptuous feel underfoot, which makes silk rugs a luxurious choice for bedrooms. The bad news? Silk rug prices start in the thousands.
If wool and silk are too pricey, synthetics or blends could be a better option. But not all synthetic rugs are created equal. Synthetic materials like polyvinyl chloride (or PVC) and polypropylene (generally used for outdoor rugs and rug pads) are practically stain-proof, but they can come with their own headaches (literally). Designer Jennifer Jones of Niche Interiors avoids this material and other outdoor rugs for indoor use because like some conventional wall paints, they can release volatile organic chemicals (VOCs) into the air, impacting air quality. If you have asthma or a compromised immune system, you may want to be especially wary — but also consider that opting for wool doesn't always remove the risk, as any rug that uses glue to bind the fibers can potentially release irritating chemicals as well. Buying vintage rugs, which have most likely already released most of their VOCs, is also a good option, and airing out any "smelly" rug until the odor subsides can help too.

Area rug sizes matter (and style does too!)
Area rug sizes aren't one-size-fits-all (we're looking at you, ubiquitous 5-by-7 accent rugs). "In general, people tend to select rugs that are too small for their space," says Jones. "Our biggest rule for rugs is that all furniture legs should be sitting on top of a rug. When in doubt, go bigger — you can place an area rug as close as 5 inches to the wall." Plus, opting for a bigger area rug often helps a room look larger.
But if there is one faux pas that drives designers crazy, it's layering rugs. "Yikes! It's a definite no-no to put a rug on top of wall-to-wall carpet," Jones says. Beyond that, a stylish rug is a matter of preference. If you're truly stumped, try a dark, neutral rug — it'll go with everything and never look dated.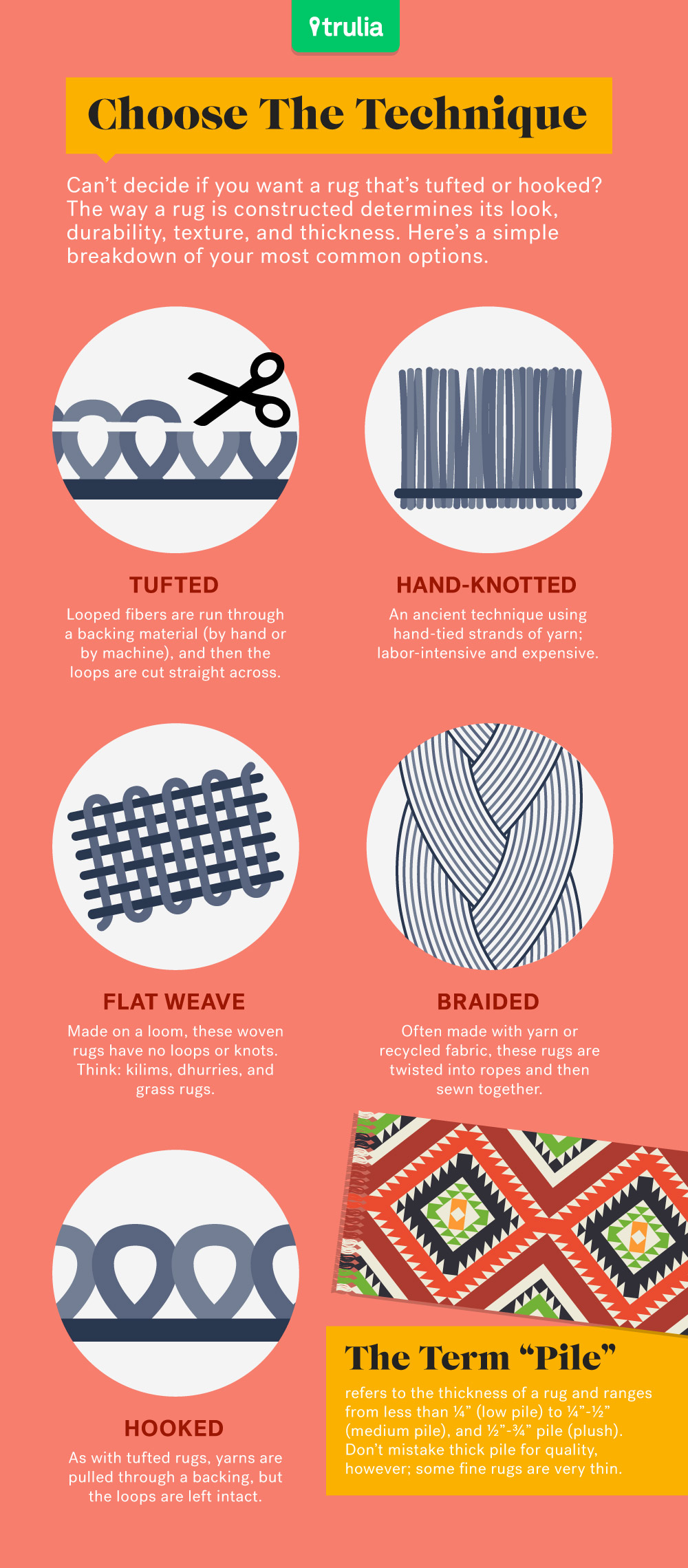 How can you be sure of rug quality?
"A bit like thread count in bedding, the number of knots per square inch is a good indicator of the quality of a rug," says Jessie Black, an interior designer based in San Francisco, CA. "Thirty knots per square inch is rather coarse, but 290 knots per square inch is rather fine." You will generally find the knot count on hand-woven rugs, which Black recommends for their reliable durability.
Price tends to correlate with quality. Just think of all the effort that would go into hand-knotting a rug made out of the best materials! But you can often find high-quality rugs to fit your budget by looking at antique options. "The rug market has been through a lot, similar to the housing market," says Azad Kazanjian of Kazanjian Oriental Rug Gallery. "I see the next few years as a buyer's market. [Antique rugs] have stood the test of time, offer great value and very reasonable prices, and as long as you take care of them, they will keep or appreciate in value."
What matters to you when choosing a rug? Area rug sizes, construction, or material? Share your shopping tips in the comments below!