Confusing climate trends aside, there's nothing quite like a fireplace in the wintertime. The mantel lends itself well to holiday decor, while the crackling fire provides the best excuse to stay home on a Saturday night. It's a feature most of us yearn for as soon as the calendar hits December, even if we live in a modern apartment complex. (Don't fret; there's always the Yule log on TV.)
Some of us are lucky to have a fireplace to call our own. And some of us are luckier still to have an exquisitely designed version that is closer to a work of art than a heat source — such is the case with these homes for sale in Boston, MA, to Cusick, WA. Go on, steal a few fireplace designs from these flaming-hot living room centerpieces.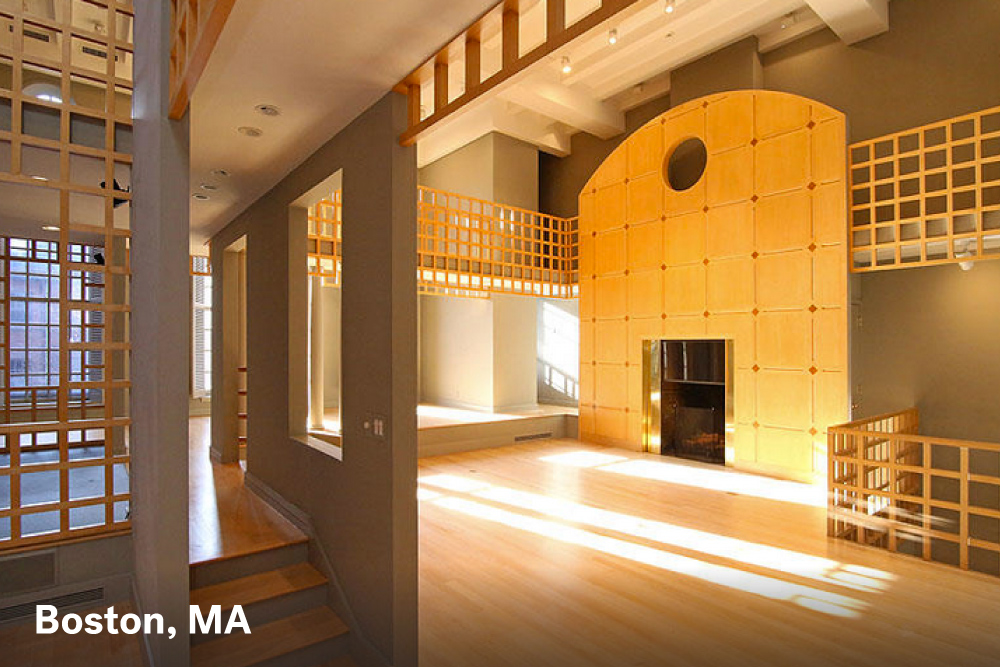 Postmodern paneling: $6.95 million, 5 Byron St., Boston, MA 02108
When you think of Beacon Hill homes, you probably come up with an image of a very traditional townhome. Not so fast. This condo, located in that enviable neighborhood, puts the stereotype to rest. Designed by renowned architect Graham Gund, the open-concept interior is dominated by a two-story fireplace with a unique silhouette defined by a curved top and round cutout. It's paneled in a golden wood that keeps the fireplace from feeling overwhelming while unifying this standout feature with the rest of the home. Interestingly enough, such a conceptual space is found in a building that dates back to 1890.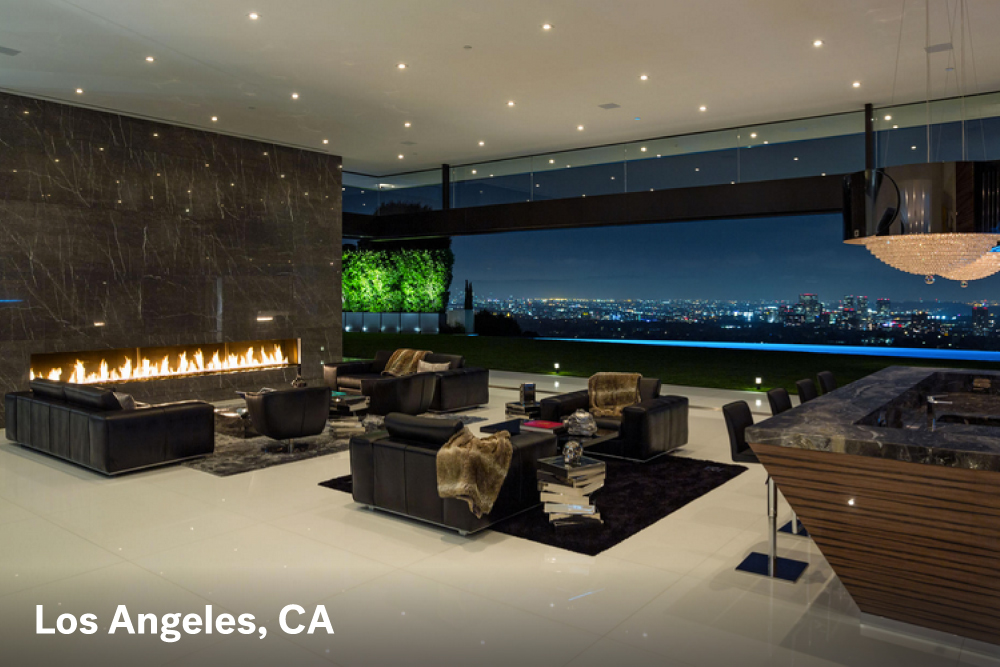 Extravagantly edgy: $49.995 million, 864 Stradella Road, Los Angeles, CA 90077
Sometimes you see a property so incredible that it can't even be called a "house." One so unbelievable, you can't believe a real human being could possibly live there. Add this one to the list: It's a jaw-dropping eight-bedroom, 10-bathroom contemporary estate (though "Bond villain lair" might be the best descriptor) designed by star architect Paul McClean. Essentially encased in glass and perched high above Los Angeles, CA, in the exclusive enclave of Bel Air, this masterpiece boasts breathtaking views as far as the eye can see.
It would take a truly spectacular feature to grab your attention away from such a vista — and this fireplace does just that. Made from the same striking black marble as the nearby bar, the sleek, wall-sized fireplace showcases a mesmerizing "row" of flames that bring warmth to the streamlined space.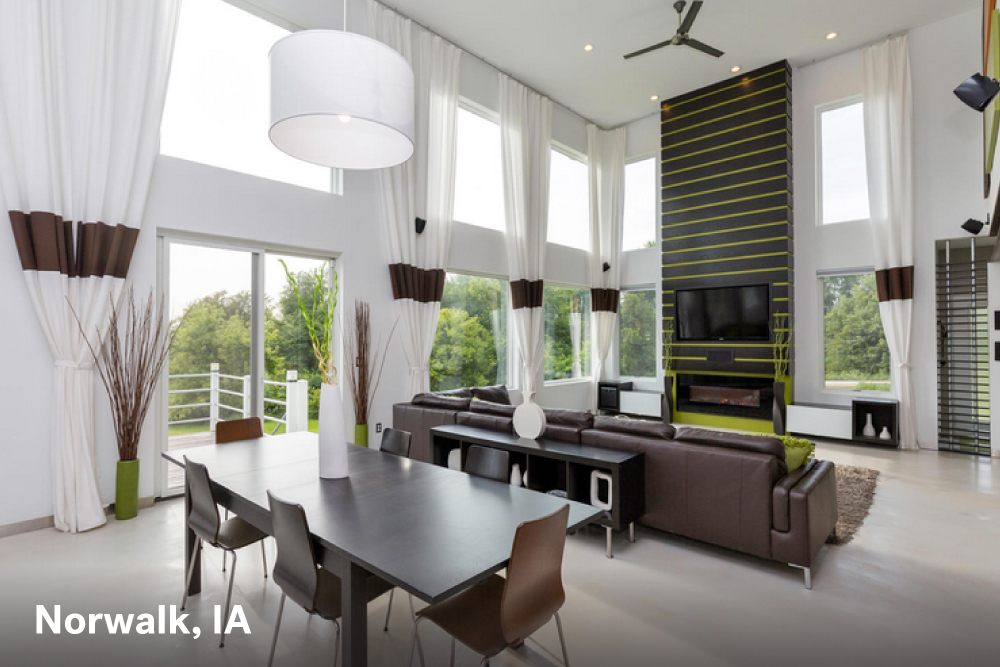 Midwest modern: $449,900, 9446 Dubuque St., Norwalk, IA 50211
Here's a fireplace that reaches for the sky … and gets as far as the ceiling. The boundary-pushing design of the fireplace works perfectly with the loftlike feel of the living room in this four-bedroom, three-bath home. The home features all the trends that fill Instagram feeds: a slight industrial influence, a restrained color scheme with pops of color, and tons of natural light. Yet the fireplace alludes to the character you'll find, with its quirky horizontal lines and low-slung firebox. We also love how the glimpses of green complement the grass and trees seen from the nearby windows.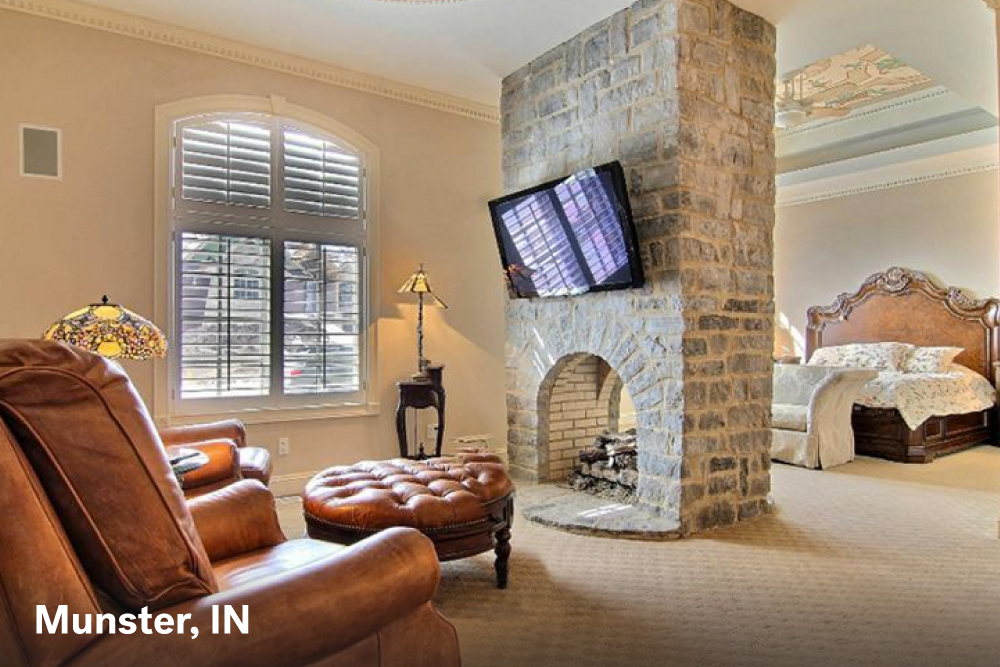 Double feature: $1.199 million, 8647 Bakker Court, Munster, IN 46321
From the stone facade to the coffered ceilings, a slight French influence is present throughout this five-bedroom, eight-bathroom custom home. At 9,214 square feet, it's also incredibly spacious. Two dual-sided fireplaces do wonders to bring a more intimate feel to the interior while preserving the open feeling — a trick that works to an especially cozy effect in the master bedroom. Here, a stylishly weathered open stone fireplace divides the space into two distinct zones (one for sleeping, another for relaxing), allowing you to enjoy a roaring fire from either spot.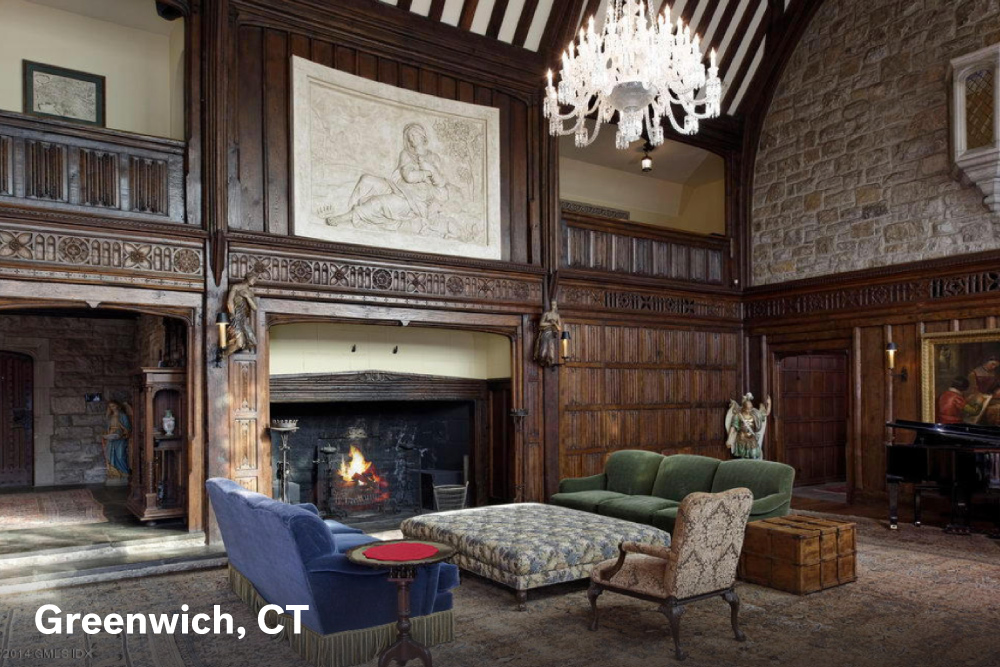 Stately stunner: $25.75 million, 124 Old Mill Road, Greenwich, CT 06831
Nestled into 75 acres of backcountry is a palatial estate steeped in history. Designed in the 1920s by architect Charles Lewis Bowman for investment banker and decorated World War I pilot George L. Ohrstrom, every square inch of the Elizabethan Tudor-style 15-bedroom, 17-bathroom manor is epic. Take the "walk-in" fireplace that anchors what could only be described as a grand drawing room. From the intricate woodcarving of the surround to the marble relief above the mantel, the fireplace design is the perfect example of the meticulous craftsmanship that you just can't find anywhere else today.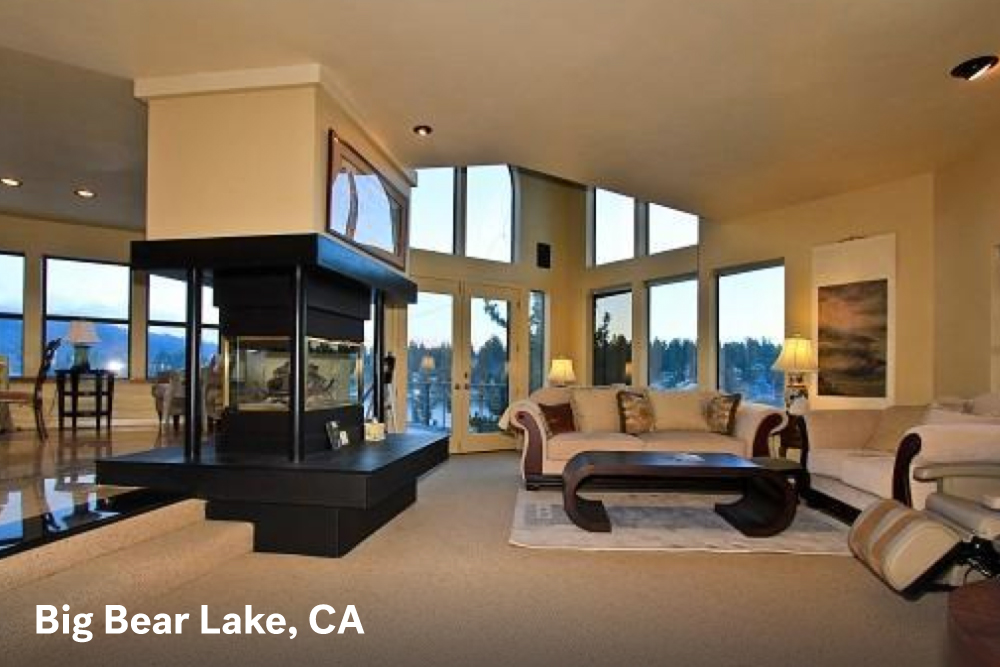 Floating focal point: $2.75 million, 806 Boulder Road, Big Bear Lake, CA 92315
This waterfront four-bedroom, four-and-a-half-bath estate has an angular, multilevel design that ensures a beautiful view from every spot. While such a layout often presents a challenge for placing a fireplace, this floating version stylishly solves the problem. Placed near the steps from the living room to the dining area, the contemporary two-sided design is visible from both. We also like how the black base and deconstructed mantel bring a dramatic touch to the predominantly cream-and-white decor scheme without overwhelming the space.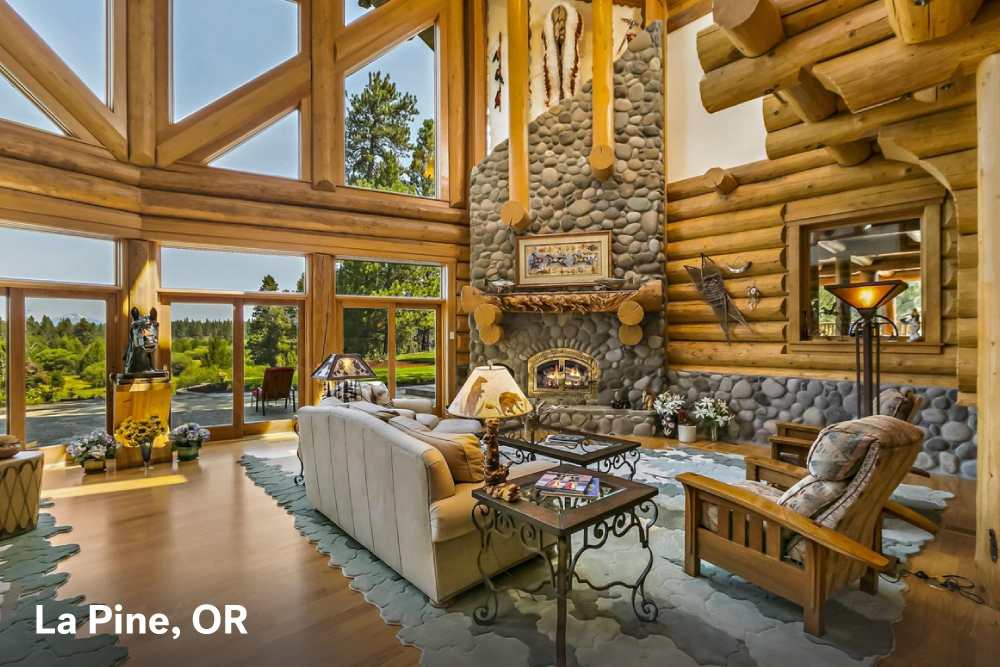 Stony statement: $8.57 million, 50385 Diamond Bar Ranch Road, La Pine, OR 97739
Secluded among a staggering 701 acres of forest, this sprawling four-bedroom, four-and-a-half-bath ranch is heaven for those who really want to get away from it all. Hand-scribed logs bring a rustic beauty to the exterior and interior, which features custom carvings, soaring ceilings, and giant windows that show off the natural beauty of the surrounding landscape. The huge fireplace holds its own among such majestic sights, offering a visual break from all that (albeit gorgeous) wood. Irregularly shaped stones break up the horizontal lines of the logs, while the slanted design accentuates the room's unique proportions. The stones also continue in a sort of rustic wainscoting across the wall, drawing the eye around this memorable room.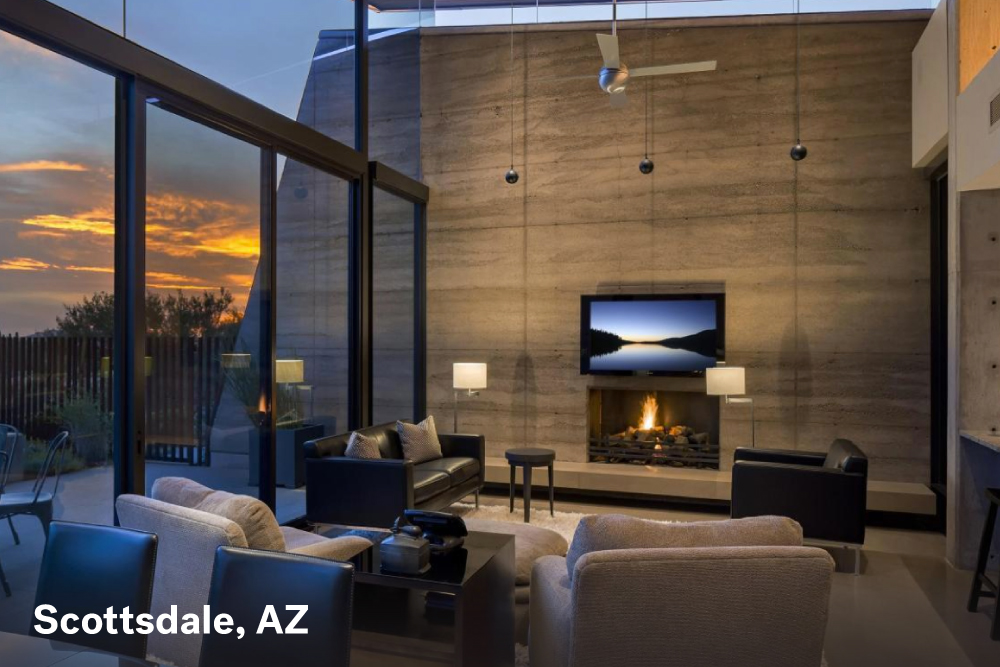 Minimalist marvel: $5.5 million, 38300 North 102nd St., Scottsdale, AZ 85262
Named "Desert Wing," this striking property has a distinctive silhouette that punctuates the Sonoran Desert. The inverted "butterfly" roof is not only remarkable from the exterior, but it also creates intriguing angles inside the home. Additionally, the glass walls make the interior feel part of the tranquil natural landscape. Another feature that bridges the gap between indoors and out is the remarkable fireplace, which is part of a sleek stone wall that extends to an outer seating area (with its own fireplace too). The scene must be exquisite at night, with the subtle ceiling lights casting a gentle glow, showing off the subtle differences of the sweeping stone surround.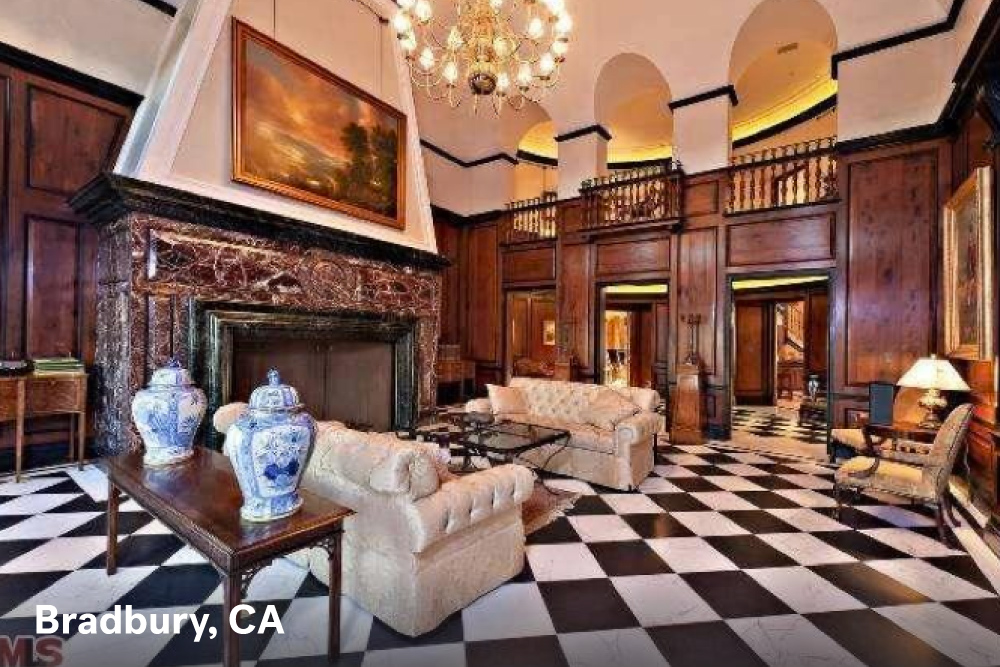 Monumental mantel: $48.8 million, 172 Bliss Canyon Road, Bradbury, CA 91008
This regal mansion is an unusual sight in California, with its French limestone exterior that recalls a European estate. Even more unusual, indeed, are some of the features that come with the home — a leather-paneled poker room, a subterranean EPA-certified shooting range, and a 1,000,000-gallon-capacity climate-controlled pond stocked with rainbow trout and mallard ducks (reportedly the only one of its kind in the state). The stately interior boasts more expected, though no less grand, sights: Venetian plaster walls, forged-iron chandeliers, and six fireplaces. Here's but one of those fireplaces, which has a very impressive mantel made of burgundy and ebony marble that complements the rich undertones of the wood paneling. Though massive in size, it works perfectly with the scale of the room.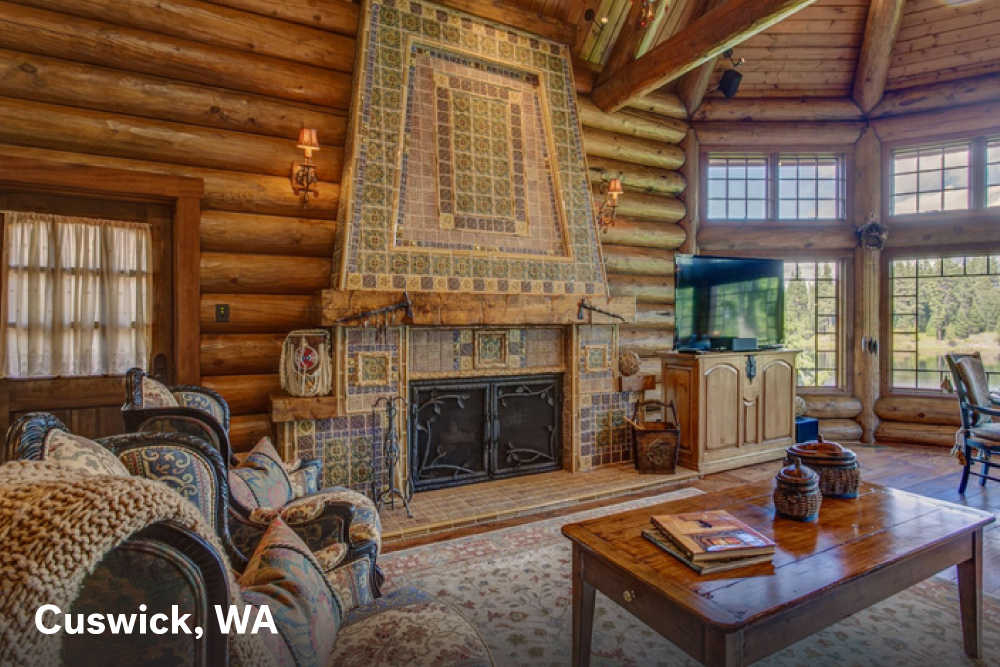 Stylishly tiled: $24 million, 152 Locke Cutoff Road, Cusick, WA 99119
When you have 900 acres and 12,000 square feet to call home, you have plenty of space to get creative. This luxurious lakeside lodge has just so many details to appreciate, from the log walls to the tiered chandelier to the character-filled hewn wood floors to the ornate carvings that decorate shelves, panels, and moldings. One standout is the tiled fireplace, which is basically a giant work of art right in the living room. Each tile has a subtle design in a muted color scheme that echoes the decor of the rest of the room. Together, they create an interesting geometric shape above the simple rustic mantle that gives the fireplace a bold presence without taking over the room.