Whether you're into Hefeweizens or stouts, American wheats or porters, a place that serves up good craft beer is usually a good place to plant your roots. Pair a craft beer from a local brewery with a bratwurst, a pretzel, and fine company, and you've got the recipe for a truly great neighborhood.
Trulia's Market Trends team used Yelp and U.S. Census Bureau data to research and determine the official Oktoberfest Index of American towns. (If you want to see how all the metros included in our study did, you can download the full data set here.)
Of the top 10 metros with the highest concentration of breweries per 10,000 households, most are in places with mountains, cold winters, or pine forests. Is your city on the list?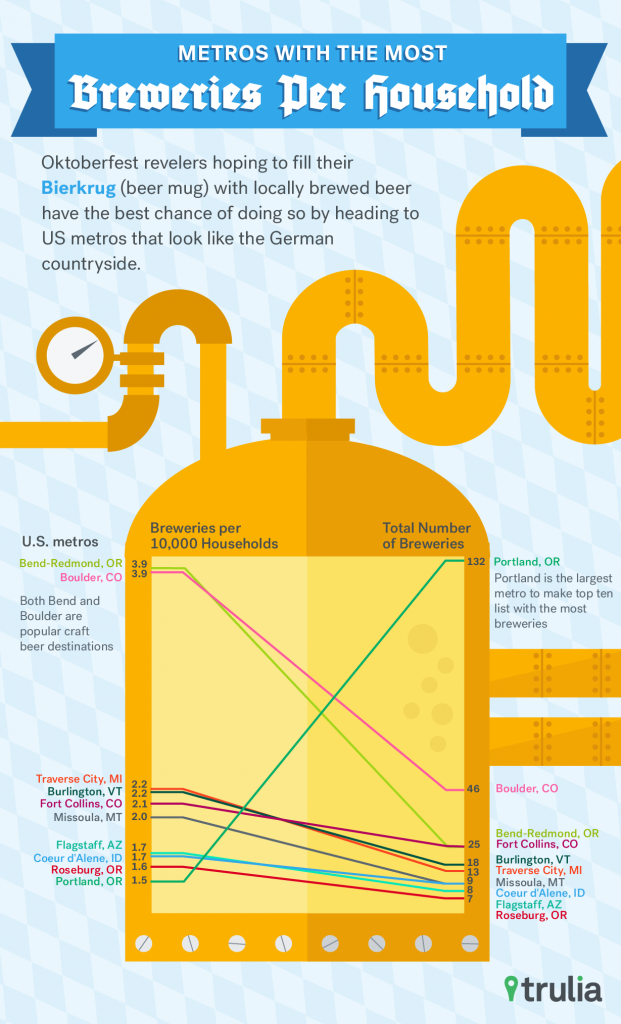 If you're ready for another round, scope out these digs in the country's best craft beer cities. You won't need a designated driver; they're all within walking distance of great local breweries.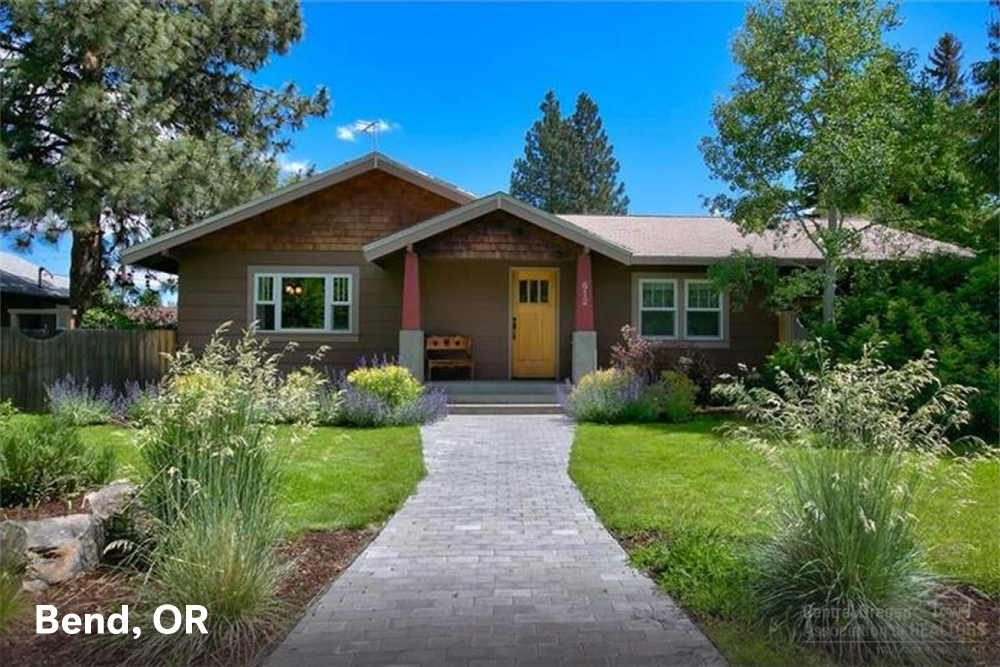 $557,000, 612 NW Federal St., Bend, OR 97703
Breweries per household: 3.9
Total breweries: 25
This home is sandwiched in the block between two of Bend's most famous breweries — 10 Barrel Brewing and Oblivion Brewing Company — which means you'll have no trouble walking home after brewery hopping. Prefer a night in? Grab your craft beer and settle into the sauna or relax in the backyard garden.
Find more homes for sale in Bend, OR.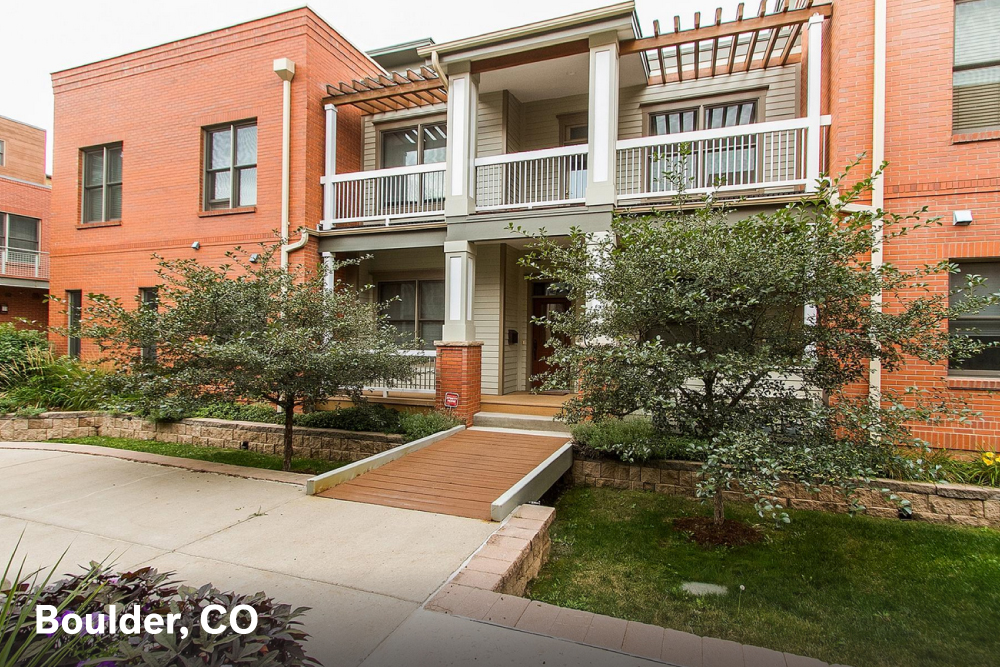 $724,900, 2320 Spruce St., Boulder, CO 80302
Breweries per household: 3.9
Total breweries: 46
Just one block up from Boulder's bustling Pearl Street, this spacious Neo-Victorian townhouse features outdoor porches on each level, the perfect spots to sip craft beers from nearby local breweries such as Mountain Sun Pub & Brewery and Walnut Brewery.
Find more homes for sale in Boulder, CO.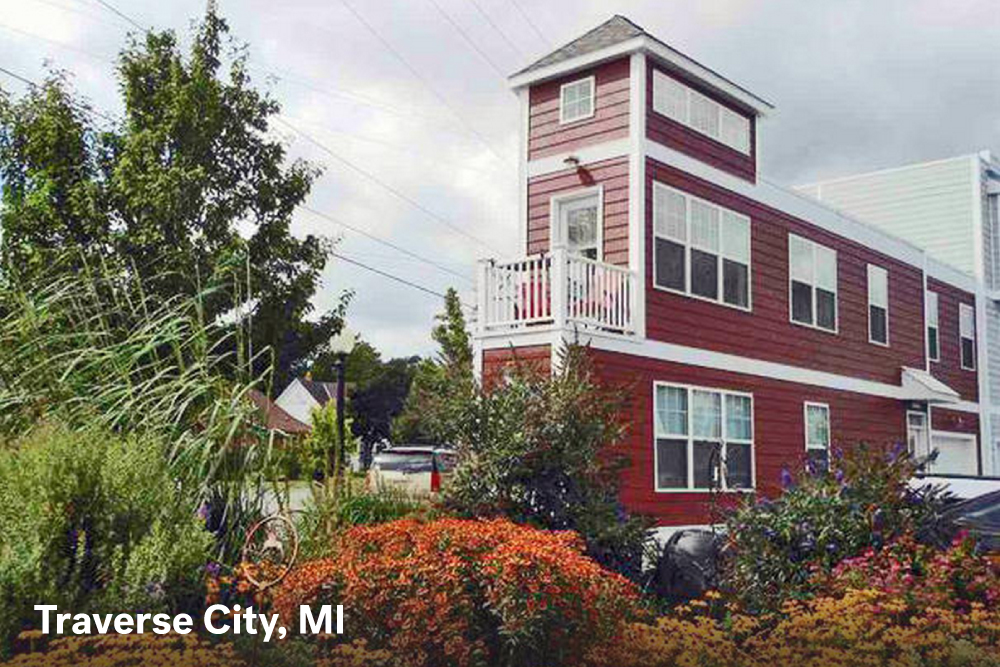 $249,000, 307 E. Eighth St. #1, Traverse City, MI 49684
Breweries per household: 2.2
Total breweries: 13
It doesn't get much better than an end-unit townhouse with plenty of sunlight and views of the Boardman River that's also less than a five-minute walk to two of the best Michigan breweries: Rare Bird and The Filling Station Microbrewery. The townhome is within D1 zoning, so some home businesses are allowed. Forget the microbrewery; you could start a nanobrewery!
Find more homes for sale in Traverse City, MI.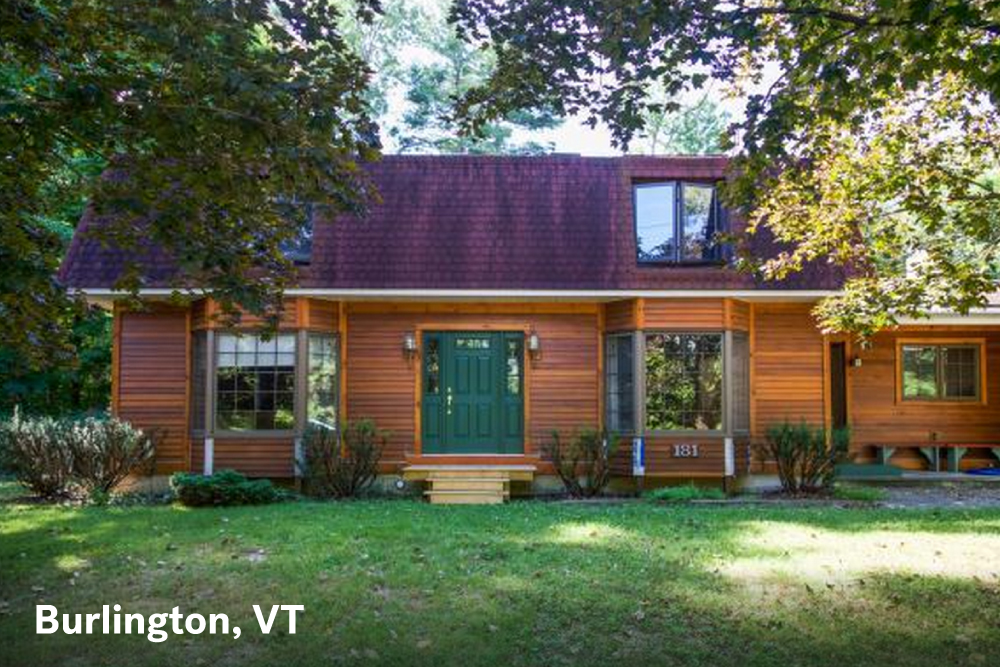 $429,000, 181 Austin Drive, Burlington, VT 05401
Breweries per household: 2.2
Total breweries: 18
Cheers to this charming cabin by Lake Champlain, where you can walk the scenic Island Line trail along the banks of the lake for less than a mile and end up at Switchback Brewing Company. The microbrewery is known for its traditional Marzen Fest Beer, a tribute to Oktoberfest in true hoppy, malt lager style.
Find more homes for sale in Burlington, VT.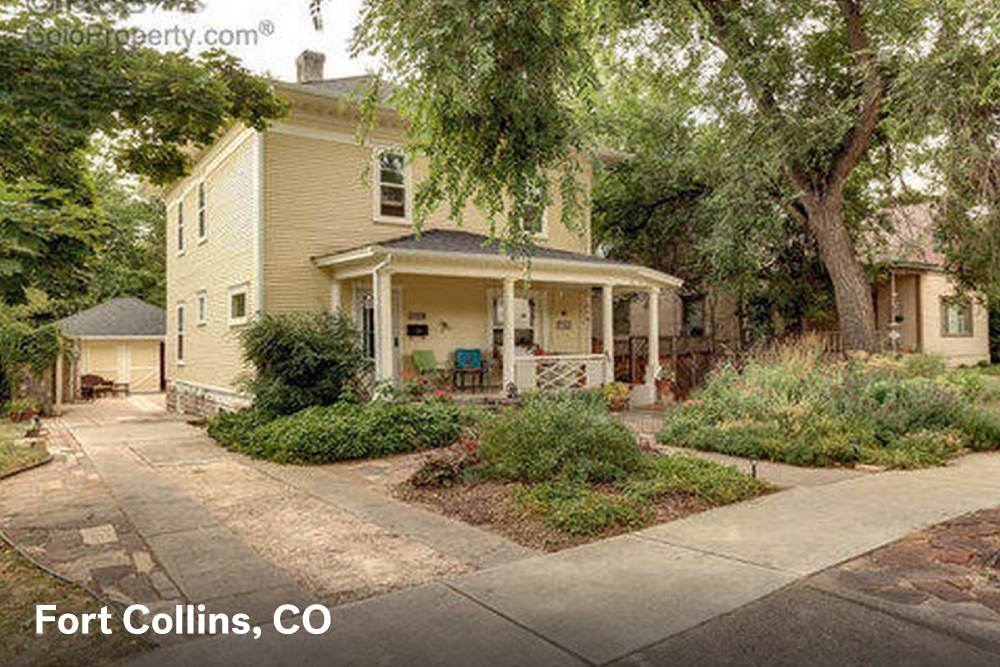 $598,000, 410 Peterson St., Fort Collins, CO 80524
Breweries per household: 2.1
Total breweries: 25
Another home with potential rental income, this Fort Collins duplex sits in the center of Old Town and includes a seasonal garden and historic root cellar. If you're not feeling adventurous enough to grow your own hops and turn the root cellar into a brew room, Equinox Brewing and Pateros Creek Brewing Company are a mile away.
Find more homes for sale in Fort Collins, CO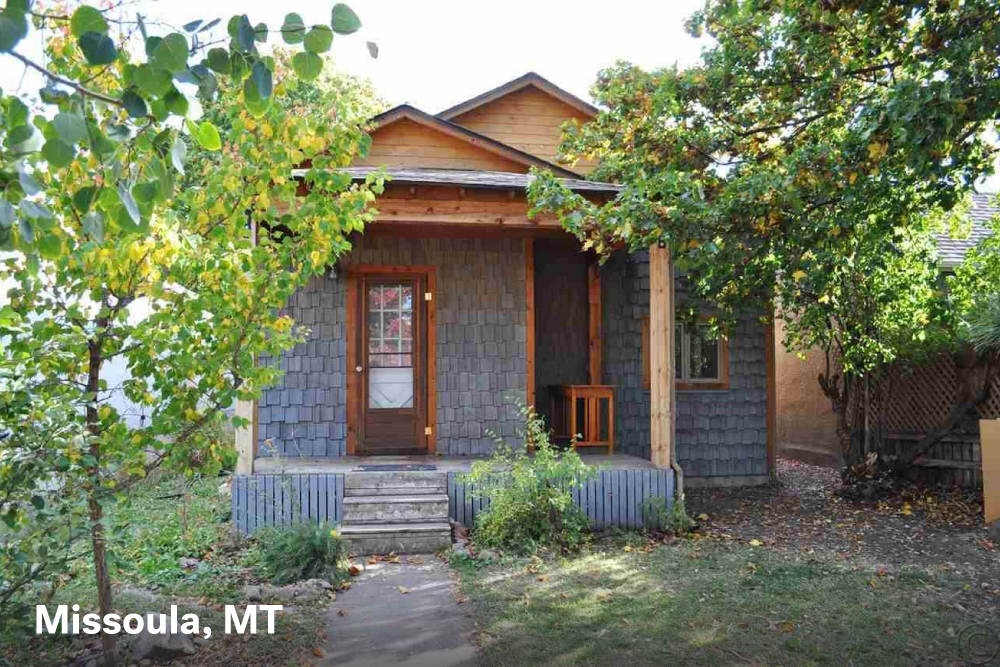 $229,000, 1019 Phillips St., Missoula, MT 59820
Breweries per household: 2.0
Total breweries: 9
This teeny home has rustic style, a backyard garden and maple tree, and cool history to boot: Part of the home is made from a passenger train car and still features the wooden ceiling and stained-glass windows. But when you're ready to venture out for a local brew, head to Imagine Nation Brewery and Draught Works — they're both less than half a mile away.
Find more homes for sale in Missoula, MT.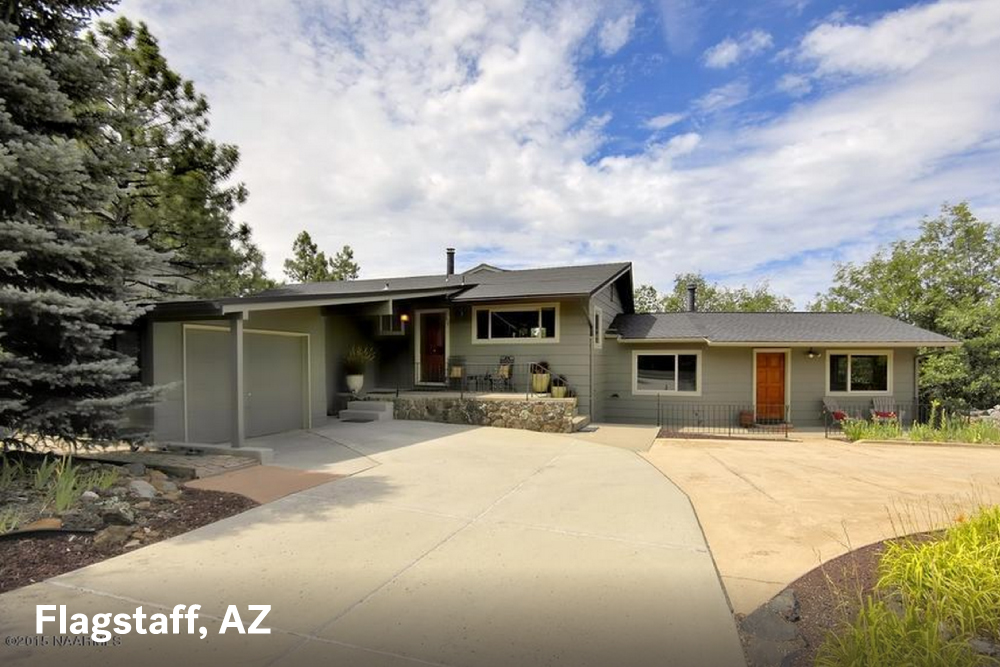 $698,300, 427 E. Cherry Ave., Flagstaff, AZ 86001
Breweries per household: 1.7
Total breweries: 8
Nestled within Flagstaff's Historic District, this former bed-and-breakfast is now an energy-efficient, solar-panel-equipped home that melds modern amenities with mountain rustic. When wanderlust strikes, walk to Flagstaff Brewing Company, which is just a half-mile away. Bonus: Flagstaff Brewing Company makes beer and coffee, and also boasts one of the largest collections of single malts in the country.
Find more homes for sale in Flagstaff, AZ.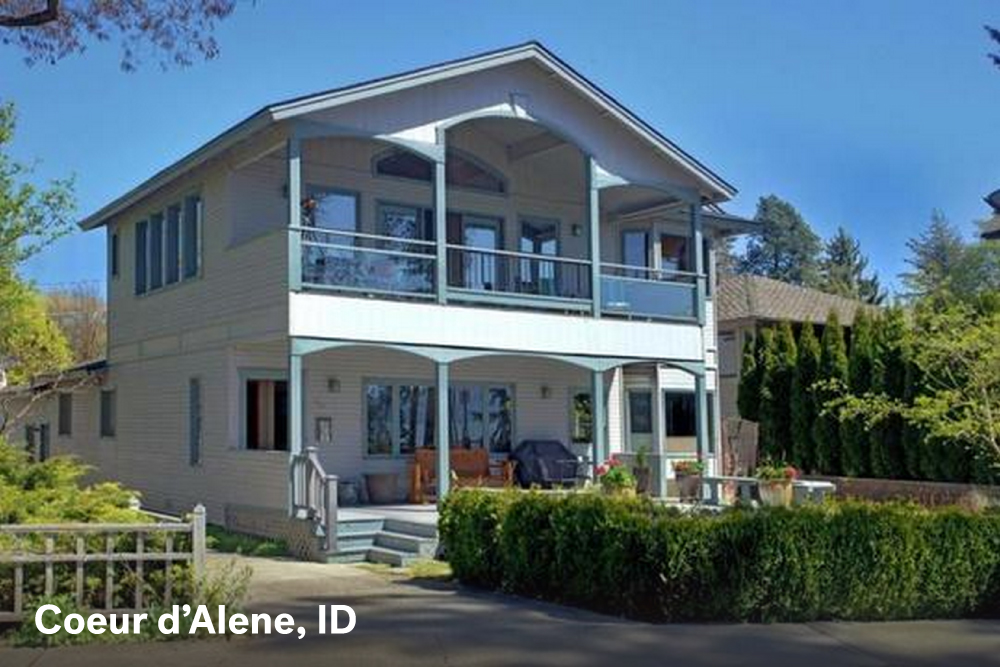 $1,500,000, 807 W. Lakeshore Drive, Coeur d'Alene, ID 83814
Breweries per household: 1.7
Total breweries: 9
This home is a brisk 2-mile walk to Daft Badger Brewing — but it's worth the trek for pulled-pork nachos and a Red Letter amber ale. But if you'd rather stay home, grab a six-pack and camp out on this home's expansive porch that overlooks Lake Coeur d'Alene.
Find more homes for sale in Coeur d'Alene, ID.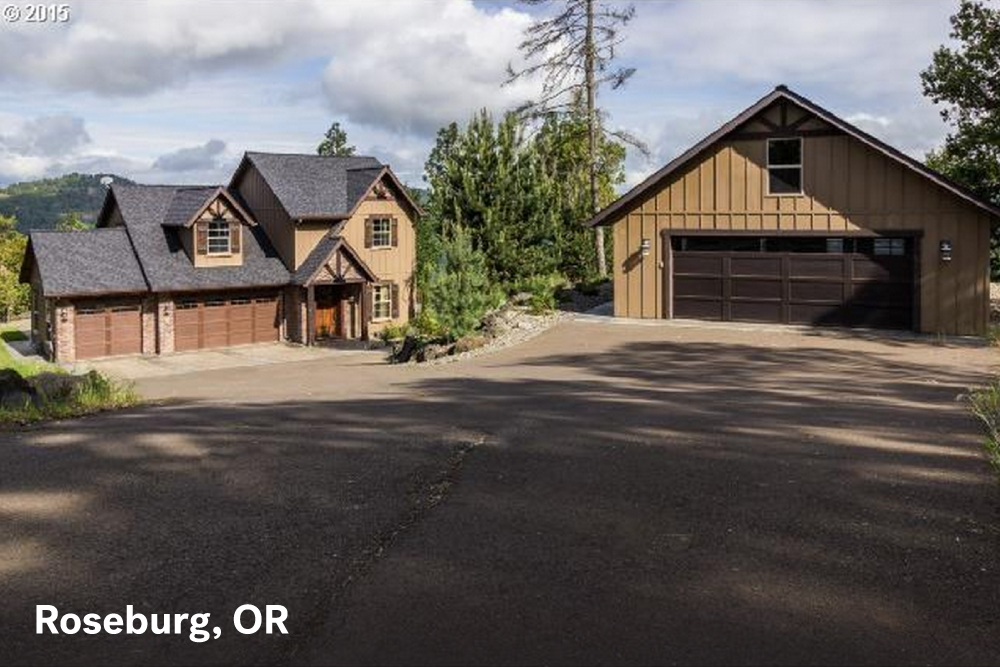 $489,900, 650 Southridge Way, Roseburg, OR 97470
Breweries per household: 1.6
Total breweries: 7
This charming craftsman-style home is located less than a mile from the quaint Old 99 Brewing Company. The Old 99 brewery started in the owner's garage — start your own home-brewing operation in this abode's three-car garage, or just walk over to the brewery, grab a growler, and invite your friends over to enjoy a cold one by the fire on the large outdoor patio.
Find more homes for sale in Roseburg, OR.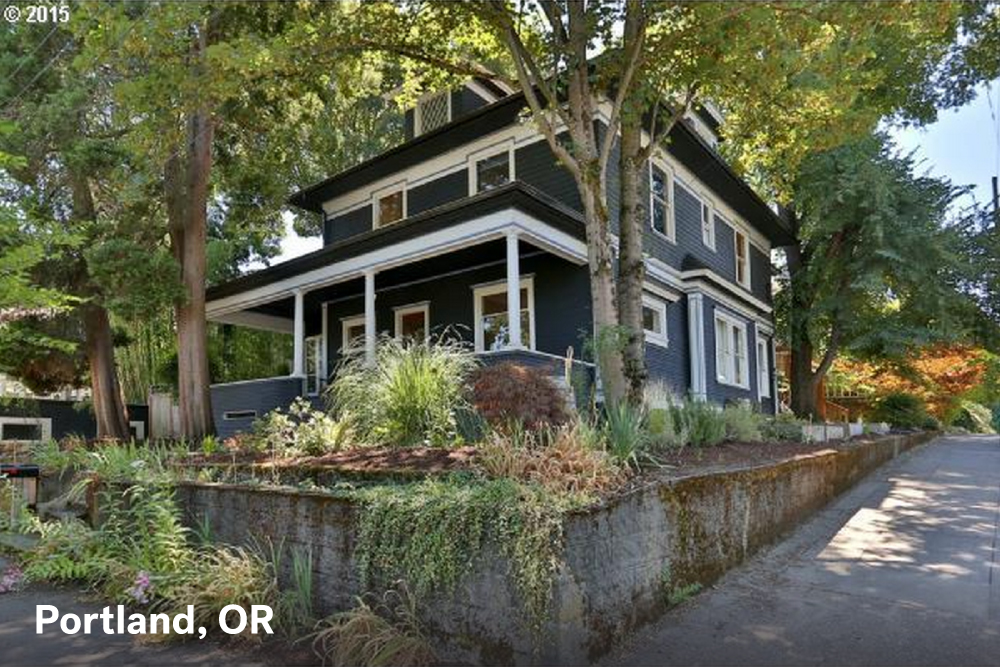 $725,000, 3004 SE Taylor St., Portland, OR 97214
Breweries per household: 1.5
Total breweries: 132
This 1900s Portland home packs in Old World charm and a basement that could easily be converted into a rental unit. But there's more: It's a short walk to one of the best breweries in Portland, Coalition Brewing Company. Bonus: If you do rent out the basement, you'll always have someone to share a craft beer with.
Find more homes for sale in Portland, OR.