Calling all railfans, foamers, and train buffs! If you're looking for an express line to a quirky, chic home, these unusual homes for sale might be just the ticket. Scattered across the country from Wilmington, DE, to Lopez Island, WA, each of these homes for sale has a converted train car on-site, celebrating the nostalgia and romance of the golden age of train travel, including all the bells and whistles (literally).
All eight of these homes with train cars for sale have been lovingly restored or reimagined. Here's a whistle-stop tour.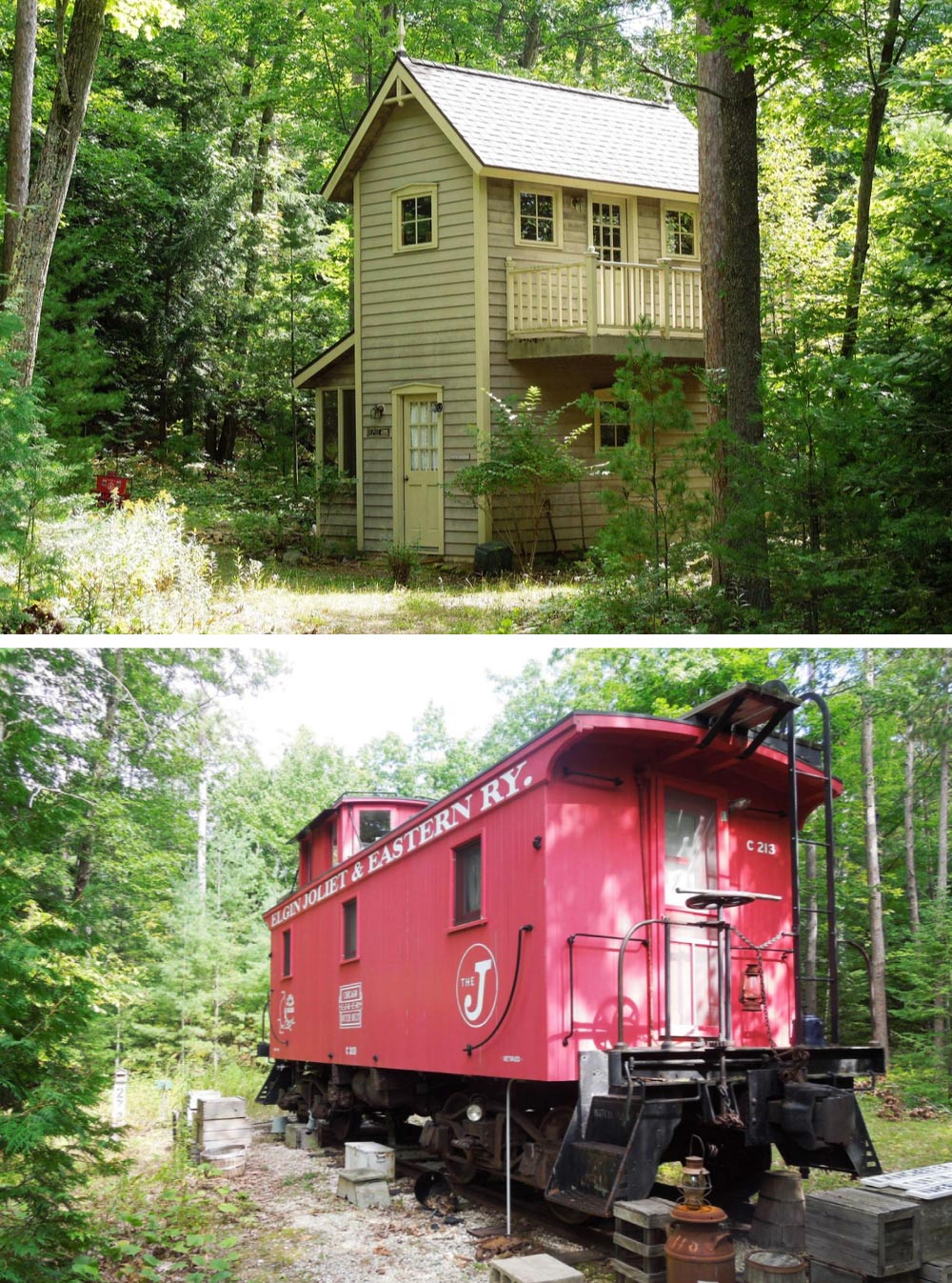 Tucked into a little pocket of forest between Sturgeon Bay and Egg Harbor in Wisconsin, there's a precious caboose-turned-country-abode for sale that's equipped with areas for sleeping, cooking, and hanging out, as well as a bathroom. If you need to disembark, there's a two-story cabin on the property for even more living space. Sprinkled throughout the property are authentic train traffic signs, actual tracks, and more railroad memorabilia, and when you want to blow off some steam, so to speak, there's a relaxing fire pit to while away the summer nights.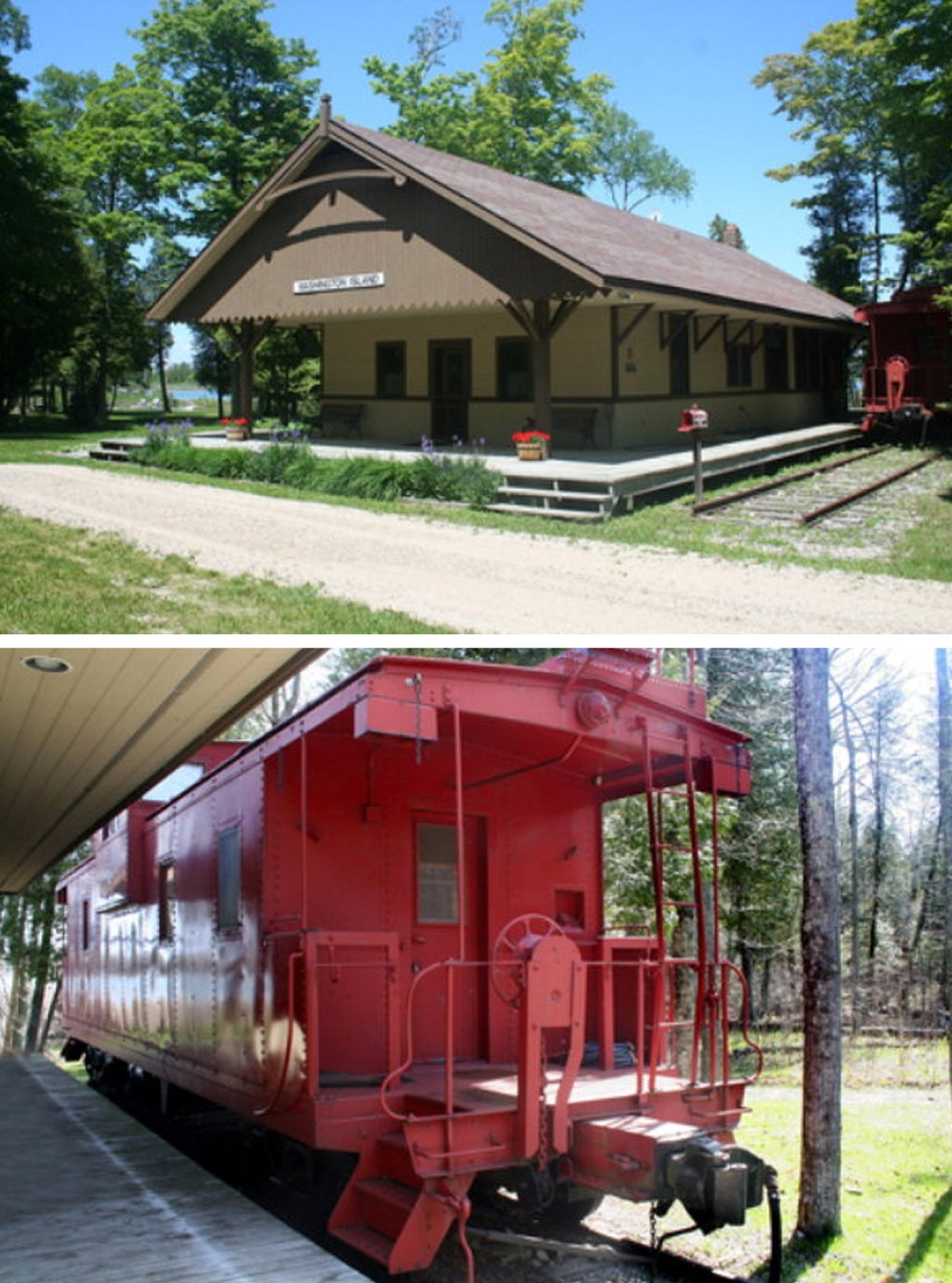 Next stop, Green Bay! What may look like a railroad station at first glance is actually a residence, perched right on the coast for prime bay views. Adding to the train station feel is the caboose parked out back. Sitting on real, vintage tracks, it's fully outfitted with sleeping quarters for a next-level guest room option. If sleeping on the tracks isn't your thing, there are three more bedrooms in the house — and they all overlook the water.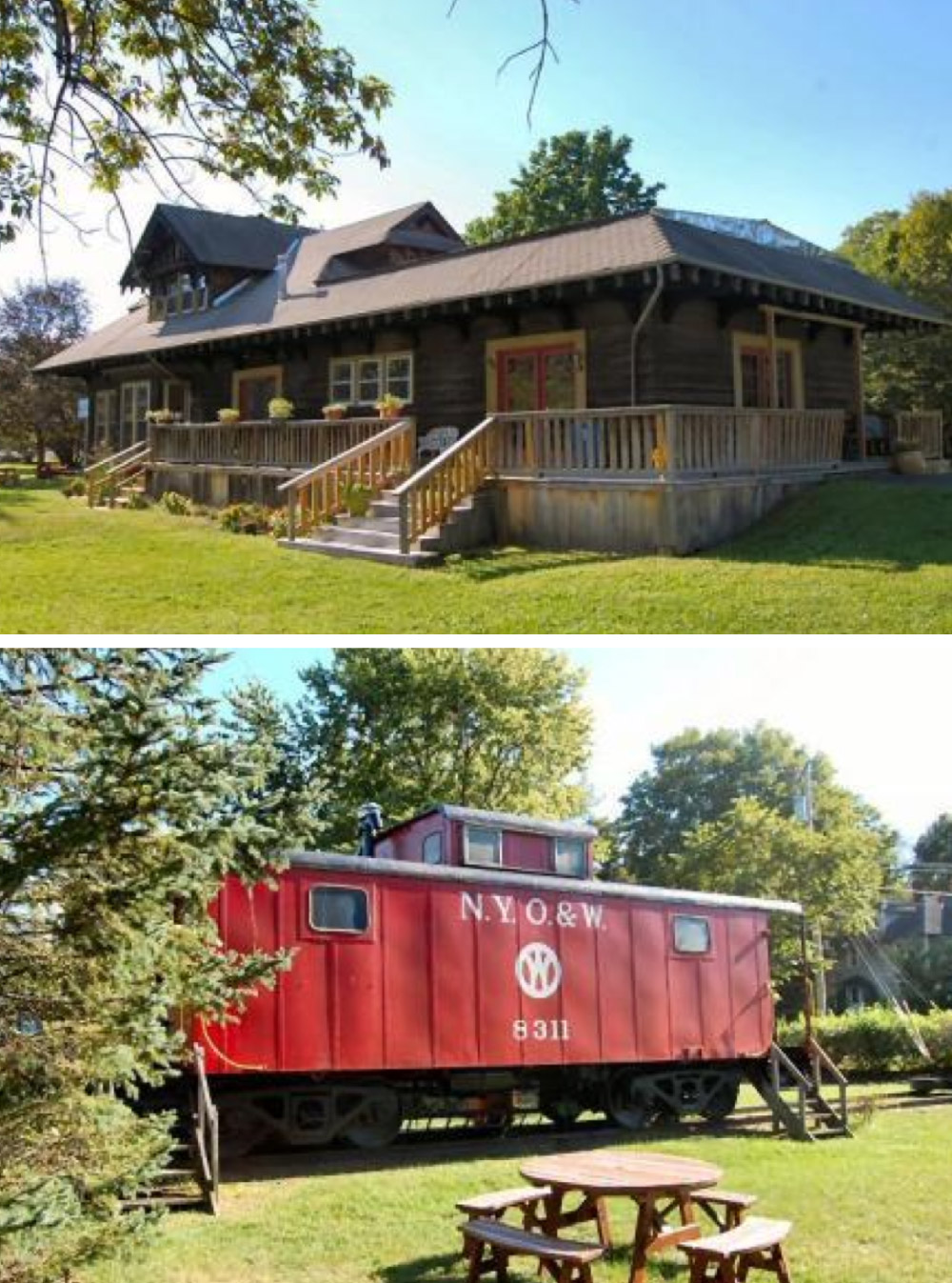 Home to a rich history as the former Accord Train Station, this property is now available for a buyer who wants to live the ultimate train enthusiast's fantasy. Built in 1902 and renovated in 1993, the home includes a waiting room, ticket taker room, and baggage-handling room, plus two bedrooms and 1.5 baths. A caboose parked out back on the track highlights the home's original purpose.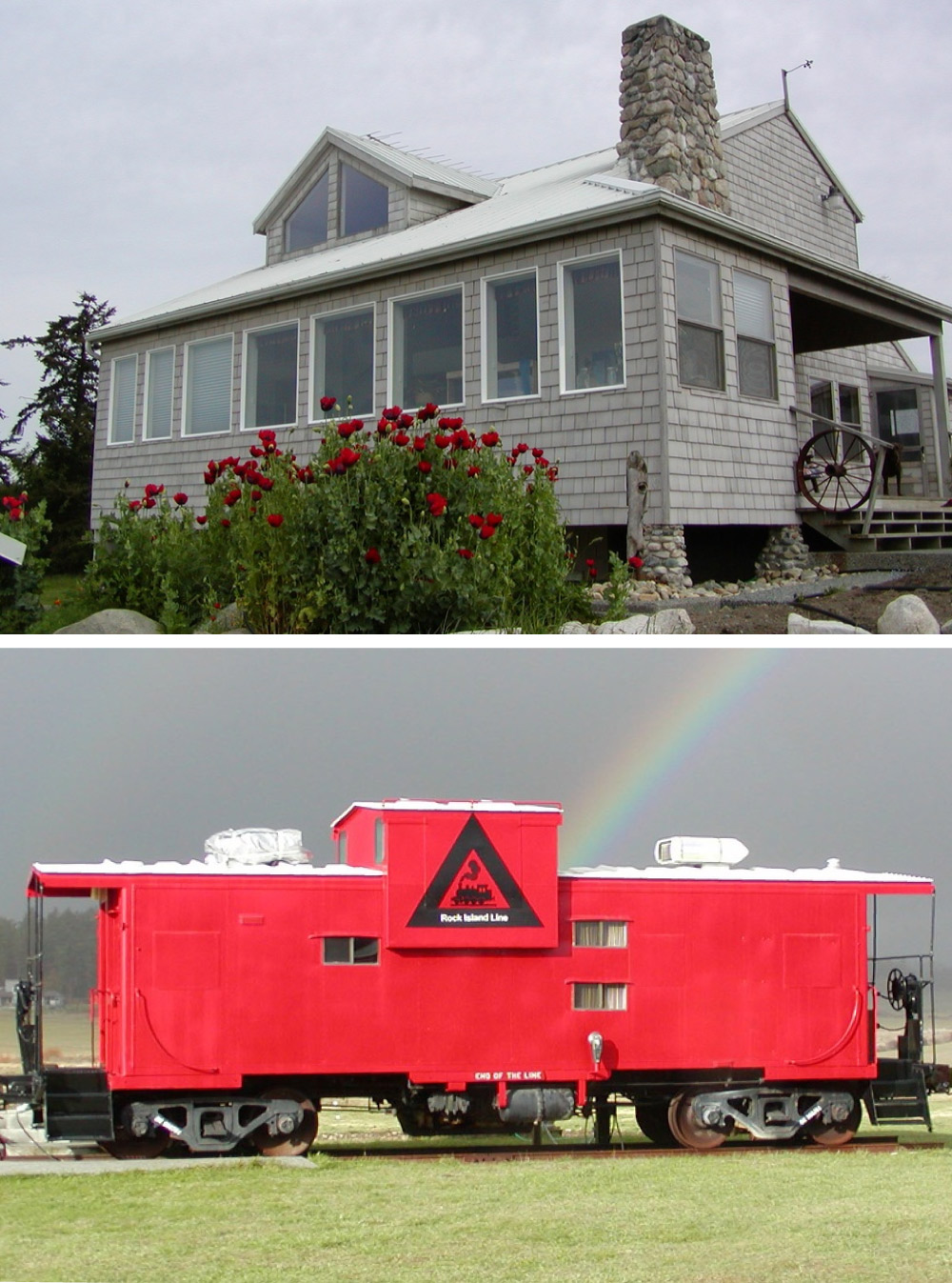 This expansive, 10-acre property sits smack-dab in the middle of Lopez Island, overlooking the Olympic Mountains. The cedar shake one-bedroom cottage comes with a guest caboose, renovated to include sleeping quarters for six, a bathroom, and a small kitchen. There's also a 2,880-square-foot barn, a metal and wood shop, a garden with greenhouse, and an orchard.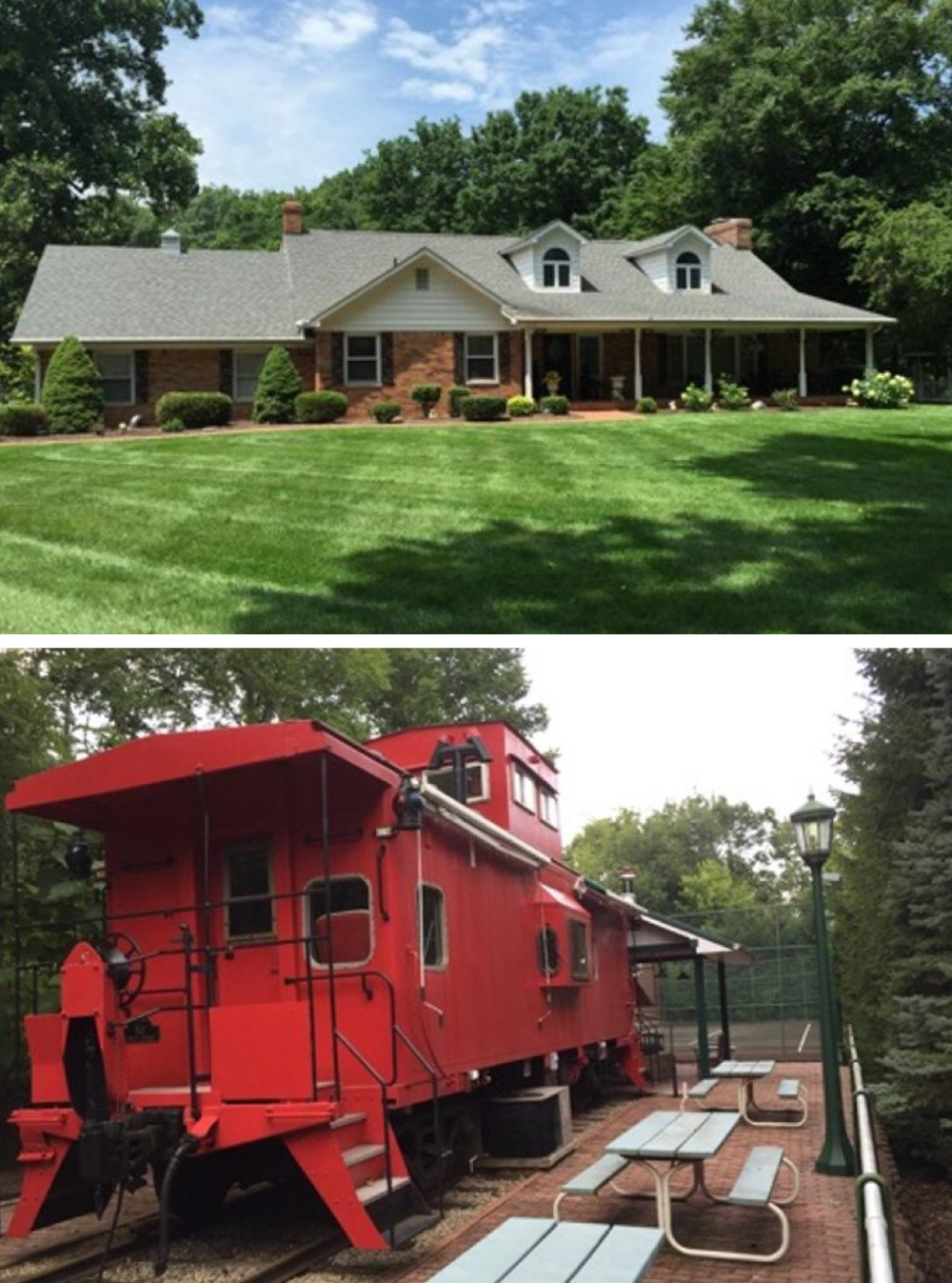 This pretty brick ranch conceals a whole wonderland of fun inside and out. You've got an indoor pool, spa, bar, bowling alley, bumper car rink, and tennis courts to start — and then whimsical touches to make the driveway and garage look like a gas station, as well as a log cabin in the backyard. The fun-loving owner's pièce de résistance is a handcar and shiny red caboose with an antique Coca-Cola soda fountain inside, plus picnic tables — perhaps to sit and enjoy a Coke float?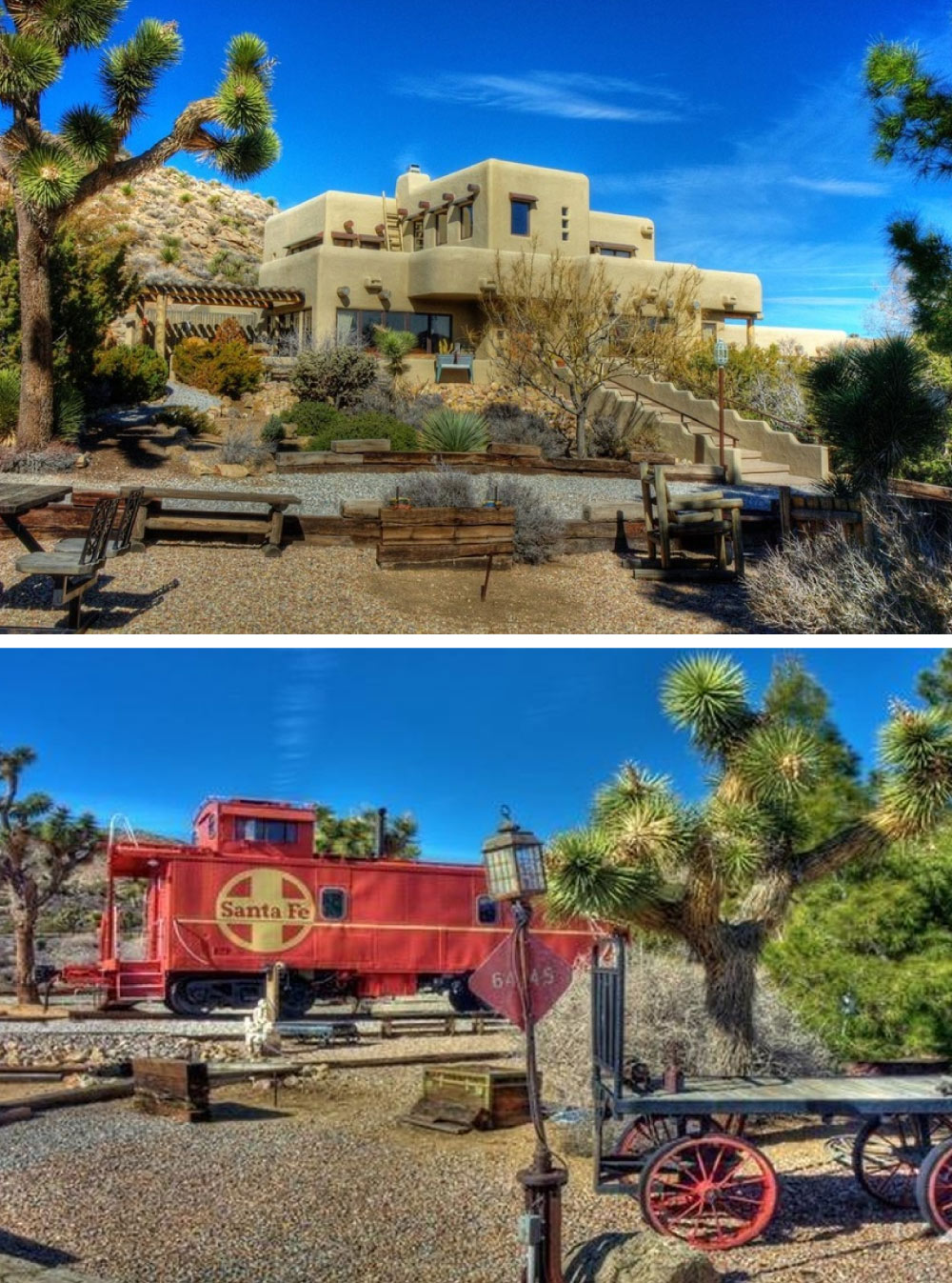 This custom-built, Pueblo-style palace is a sight to behold, from the adobe main home with a "cool room" set at 68 degrees year-round to wraparound porches showcasing vistas of the surrounding mountains. A restored 1928 Santa Fe caboose is one of the many novelties sprinkled across the property's 15 acres, serving as a distinctive guesthouse.
This home for sale in Colorado Springs, CO needs a depot agent! Thoughtful updates and renovations preserve the Old West charm that seeps through every element of this 11-acre property in the middle of the Rockies. The 822-square-foot cabin was built in 1925 and has been completely renovated, with a train depot–style garage featuring bricks from the Colorado Springs Old Santa Fe Railroad Depot. Obviously, no depot is complete without a caboose, but this particular car is one of two known 1880s cabooses in existence, converted to comfortably house guests with four bunk beds, bathroom stall, kitchenette, and sitting room.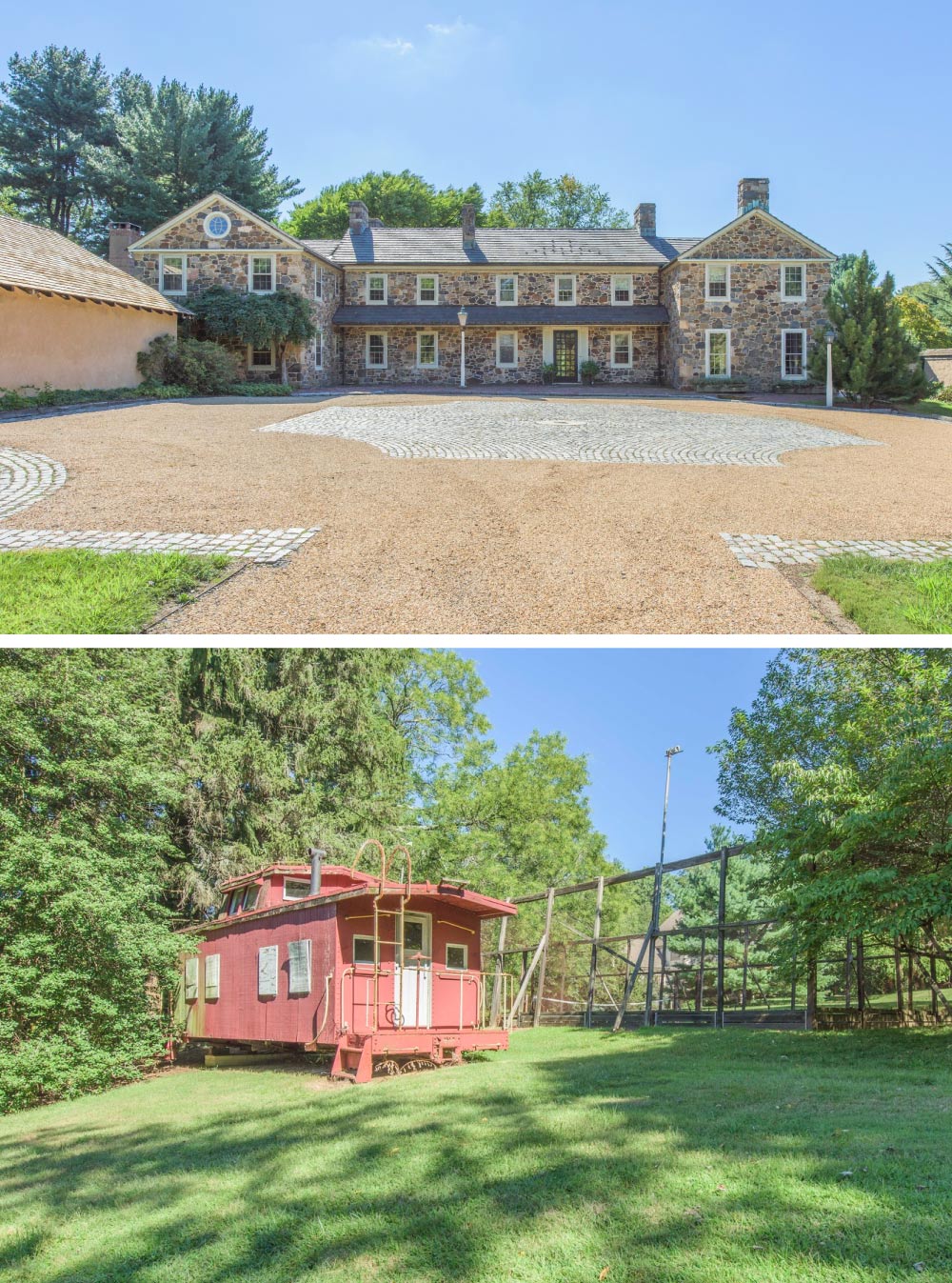 This spectacular stone manse was built in 1799 and renovated by the du Pont family in the 1960s. Updates were expansive, and today, the historic estate feels rich and vintage, with 10 fireplaces, an 8-acre lake, a three-story conservatory enclosed in glass and brick, a barn with six garage bays and horse stalls, and a carriage house with a three-car garage and adjacent art studio. Perhaps best of all, however, is the authentic, historic train caboose with wood-burning fireplace that doubles as a warming hut.
Would you pony up for a home with train cars for sale? Tells us which one stopped you in your tracks in the comments below!