Home brewers are a passionate bunch, but consider this: For every excited introduction to their latest IPA home-brew, there's a part of the story you're less likely to hear. That is, the part about the time and energy spent designing, assembling, and maintaining their personal brew space.
Ask any home brewer, and they'll quite likely tell you that brewing is around 90% preparation (and waiting!) and about 10% enjoying the fruits of their labor. The process of organizing, sanitizing, boiling, cooling, fermenting, filling — all while cleaning between tasks — is a prerequisite to every perfect pint. And the perfect home brew space was probably on their home shopping list, whether they were searching beer-friendly homes for sale in Portland, OR, or Atlanta, GA.
So if your aim is to curate a dedicated brew space that's equal parts stylish and functional, don't fret — it can be done.
Function before form
Grain, hops, pots, buckets, carboys, tubing, thermometers, wort chillers, air locks, sanitizers, strainers, thermometers, racking canes, measuring cups and spoons, bottles and caps: Home brewing the old-school way (that is, without fancy automated systems) is a hobby that comes with a lot of "stuff." And as is the case with most pursuits, the amount of stuff you accumulate will only grow in proportion to your passion, whether you're brewing in your kitchen, garage, basement, or tricked-out brew shed (more on that later).
That said, the first (and arguably the most important) step to having a stylish brew space is finding a way to get all of your ducks in a row — and keep them there.
Tip 1: Think vertical
Most brew spaces will benefit from some sort of commercial shelving unit, particularly units with adjustable shelves (be sure to anchor the unit to the wall to prevent tipping). A wall-mounted pegboard is useful for keeping oft-used items within easy reach (choose a plastic pegboard if you'll be storing washable implements, such as tubing, while they're still damp), and bicycle storage hooks can come in handy for suspending carboys and other heavier items. The goal here is to get as many tools and pieces of equipment off the ground and out of the way as possible.
Tip 2: Bin it to win it
Inexpensive, portable, and available in a wide range of sizes, clear storage containers are your ally against clutter, especially when used in conjunction with a label maker. Bins can be stacked and nested when not in use, which helps free up floor space. Similarly, empty buckets and milk crates can be used to stow tools and other supplies that don't require lidded storage.
Tip 3: Keep like with like
Try to keep similar items together, like cleansers and sanitizers with brushes, for example. Or group items together by stage of the brewing process. For instance, store caps, cappers, racking canes, tubing, and other items used for bottling in a bin near your empty bottles.
Tip 4: Get creative with storage
Storage containers don't necessarily have to be brewery-specific. Empty beer bottles can be stored in a basic office filing cabinet, grain can be kept in a pet food storage container, and a tackle box can store bottle caps, thermometers, plugs, and other small items.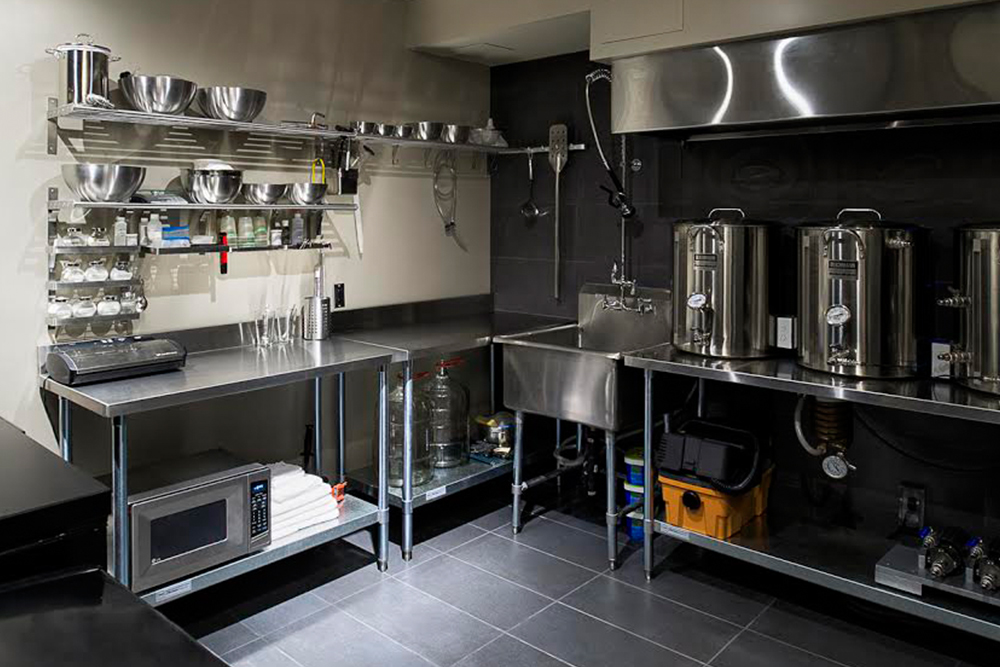 But don't forget about form entirely
You've done your due diligence, and the layout and organization are working for you. Now comes the fun part: making the space your own. Depending on your budget and space constraints, the sky's the limit here, but Kal Wallner, the founder of The Electric Brewery, offers up some advice. "If you can think of a way to make a kitchen look nice, the same can be done in a home brew space," says the avid home brewer and engineer by trade. "This could be nice tile, paint, or generally nicer finishes."
Admittedly, Wallner's award-winning basement brew room, which centers on an all-electric home brew system that the engineer designed and constructed himself, didn't come cheap. But that doesn't mean you have to empty your bank account to inject a little style into your home brew space.
Tip 5: Draw inspiration from your favorite pub
Borrow a few decorative elements from your favorite beer bar: think retro neon signs, hanging pint glass racks, or underlit floating shelves that hold your most recently brewed bottles. Personalized items such as pint glasses, growlers, or wall decor can instantly make your brew space feel more custom sans sticker stock.
Tip 6: Consider the kegerator

Want to really impress your friends? Transitioning from bottles to kegs requires a relatively small initial investment of around $200 for a starter kegging system (usually a 2.5- or 5-gallon Cornelius "Corny" keg setup). To take your kegging to the next level (and to prolong the freshness of your brew), a kegerator can be purchased for around $500 for a basic model to $7,000 for the Brew Cave, a commercial-grade behemoth of a residential walk-in cooler. Or, handy types might opt to go the less expensive route with a DIY kegerator that requires a minifridge and a kegerator conversion kit.
Show what's on tap with a custom tap handle, or take a cue from this innovative home brewer by installing a tap right into your drywall.
Tip 7: Big budget? Go all out
The holy grail of dedicated home brew spaces might be the backyard brew shed, like the Internet-famous HammerSmith Ale House and Brewery in Bethlehem, PA. The owner and designer of the "pub," Chris Bowen, started with a prefab, 22-by-14-foot shed, then tricked it out with four refrigerators, two sinks, and a hand-built bar featuring four taps. Flat-screen TVs, Wi-Fi, and A/C only add to the appeal of the British-style pub, which set Bowen back around $3,500.
Is a room for your home-brews on your home wish list? Share your tips in the comments below!