In a city as large as San Francisco, and with so many great neighborhoods to choose from, finding your best match for an apartment for rent can be a challenge, especially if you're new to the area.
For the inside scoop, we turned to two locals: Bay Area native, photographer, and creative director Ashley Kane and photographer Justin Blomgren, who recently moved to San Francisco from Los Angeles, CA. "Each area is so different, so just make sure you've had a chance to get the lay of the land, find out where your local shops are, and see if it's a good fit," says Kane. "Take a day or two and spend time in each. I know so many people who move here and move to neighborhoods they haven't spent much time in, and end up not enjoying San Francisco to the fullest." That's the approach Blomgren took for his move up the coast: Plenty of visits gave him time to scope out his perfect 'hood, factoring in noisiness, proximity to public transportation, and other, San Francisco-specific factors — like how hilly an area is or whether it's consistently blanketed with fog. He ultimately settled on an apartment in a historic Victorian house in the Duboce Triangle.
Here's a quick guide to some of the most popular (and a few often-overlooked) San Francisco neighborhoods to consider, with tips and advice from locals in the know.
1. Duboce Triangle
Blomgren chose San Francisco's centrally located Duboce Triangle as his first home in the Bay Area. "It's a beautiful neighborhood," he says. "It's really close to a lot of restaurants and bars. It's close to public transportation. It's kind of a sleepier, quieter neighborhood. And it's really close to some urban hikes that I like to do. We're really close to Corona Heights Park. It's a beautiful hike. You get to the top and you get an incredible view of the city. It's nice that I can do that after a long day of work."
2. The Castro District
One of the first gay neighborhoods in the United States — Harvey Milk lived and worked here when he became the first openly gay person to be elected to public office in California — the Castro is still a prominent symbol of lesbian, gay, bisexual, and transgender rights, but its popularity transcends its history. "Castro just has a rich history and so much character," says Blomgren. "Lots of cute little restaurants, the rainbow crosswalk, and coffee shops that I always walk to."
3. Hayes Valley
Just north of Market Street, this neighborhood has transformed into one of the most fashionable areas in the city, and not just for the shopping and restaurants: It's also home to many pastel Victorian, Queen Anne, and Edwardian homes. "Hayes Valley is my favorite place to spend a spontaneous Saturday with my boyfriend," says Kane. "We head over for coffee, browse the shops, stop for an alfresco lunch, and wander a bit. It's a very charming neighborhood, very up-and-coming."
4. The Mission District
With its rich Latino culture, colorful murals, and stellar restaurants, the Mission attracts a young, upscale, and professional crowd — everyone wants to be here. "Some of the best restaurants are located in this 'hood," says Kane. "It's superfun and has so much character," Blomgren agrees. "It's also right next to BART [Bay Area Rapid Transit]. It's definitely louder, so if that's what you're looking for, this is where all the excitement is."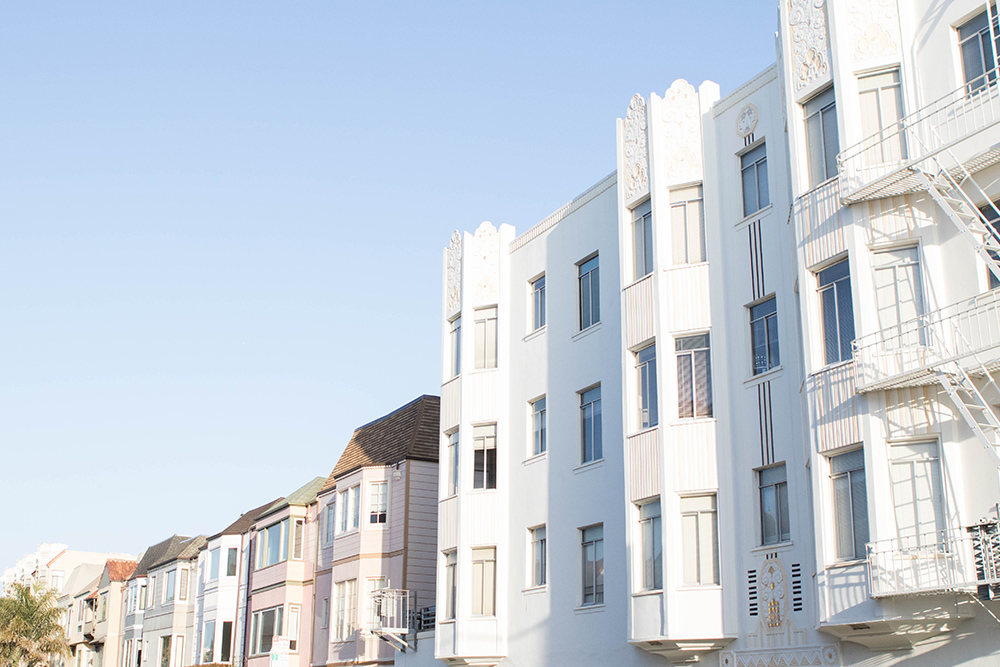 5. Marina
Kane lives in the postcard-perfect San Francisco waterfront district pictured above, known for its views of the Golden Gate Bridge, trendy restaurants, and thriving nightlife scene. "I gravitate to neighborhoods where I feel safe and at ease," she says. "I love how our street is filled with families, and how walking-distance close we are to everything we really need. We feel safe, it's convenient, it's gorgeous, and we found an apartment we love."
6. Nob Hill
Looking for iconic San Francisco? Nob Hill is where you'll find it. This area boasts landmarks, historic hotels, cable cars, lush parks, lovely mansions, and quick access to the Financial District, Chinatown, and Tenderloin neighborhoods. "Nob Hill is quintessential San Francisco," says Kane. "I lived on Washington and Hyde one year and loved every second of it — even the trolley full of people turning under my corner bay window, screaming as if they were on a roller coaster as they passed by. I love the trees lining Hyde Street, the hidden-gem restaurants that only locals know about, and the way you feel when walking around the hilly streets."
7. Noe Valley
San Francisco families are often attracted to the quieter, family-friendly neighborhood of Noe Valley. Tucked away from the hustle and bustle, this area caters to young families, with close access to parks and lots of little cafes. Perhaps best of all, the prominent hills of Twin Peaks partly block the daily coastal fog and cool winds that blow in from the Pacific, making this area typically sunnier and warmer than the surrounding neighborhoods. "It feels a lot more family-friendly and almost suburban," says Blomgren. "It's also great for people with dogs."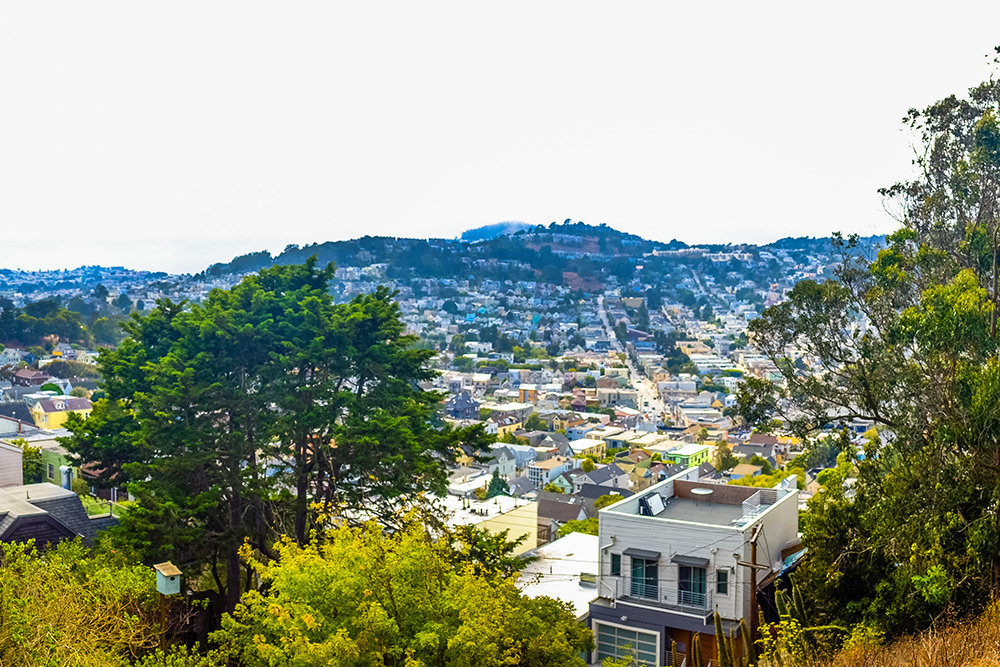 8. Pacific Heights
As another option for families, Blomgren suggests posh, manicured Pacific Heights (or "Pac Heights," as the locals say). "Pacific Heights is close to both Alta Plaza Park and Lafayette Park, both of which have great playgrounds for kids," he says. "I see lots of families, kids and dogs when I walk through that area." This dog-friendly neighborhood is home to some of the city's most notable residents, but the Victorian, Edwardian, Chateau, and Mission Revival–style homes — plus views of the Golden Gate Bridge and San Francisco Bay — are a draw for tourists as well. If you're a Full House (or Fuller House!) fan, you'll recognize this area immediately.
9. SoMa
Affordability meets convenience in SoMa, the up-and-coming area named for its location below Market Street. "If you want an apartment that's brand-new and close to work downtown, then SoMa is for you," says Blomgren. "You're going to get a good price, and it's right next to everything." The former industrial district filled with factories and warehouses is now an eclectic mix of lofts, design showrooms, residential hotels, nightclubs, and dot-com offices with a true urban feel.
What makes you feel #AtHomeHere? Sign up for your chance to win $1,000 per week! To enter, follow @Trulia on Instagram and register at Trulia.com/athomehere.