As they did in the Gold Rush of 1849, Americans are racing westward in 2015. Trulia's Housing Economist Ralph McLaughlin noted that five of the 10 fastest-moving real estate markets this year are located in the Golden State, while sales have slowed in eastern states like New York, Tennessee, and South Carolina.
It looks like 2015 is seeing its next Gold Rush, but this time, it's with homes — and they're selling incredibly fast. In fact, less than 30% of homes for sale in three San Francisco Bay Area metros remained on the market after two months.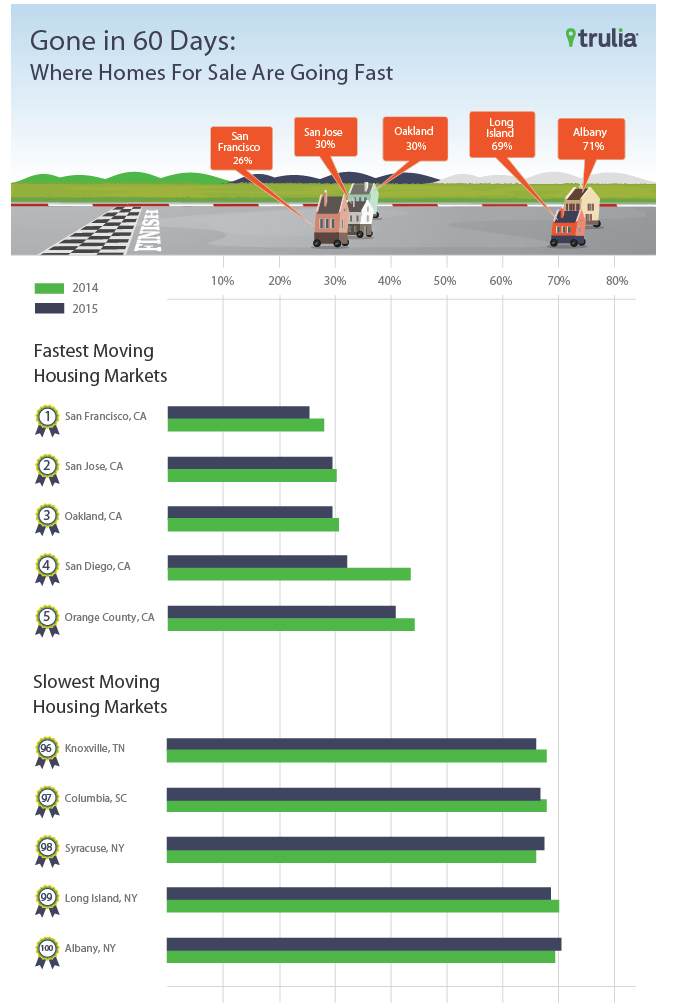 Why are people racing to buy in California? Well, each one of the cities on this list has its own charm. Let's see what you can buy in the Golden State's hottest markets.
You almost have to ask what the City by the Bay doesn't have. Good food, great sights like the Golden Gate Bridge and Park, and lots of business opportunities. And with the average home selling for more than $1 million, the real estate market in San Francisco is just as fast-paced as its tech innovations.
So what can you get for $549,000 (roughly the midpoint of the median)? You could vie for this one-bedroom, one-bathroom condo in the Castro or this teeny, tiny 678-square-foot single-family home in Mission Terrace. Either way, come prepared to battle it out with dozens of other buyers.
2. San Jose
Tech companies and their employees clearly know the way to San Jose, nicknamed the "Capital of Silicon Valley." The third-largest city in California, San Jose reached the 1 million population milestone last year and shows no signs of slowing.
Buyers in this home base to the headquarters of several huge tech companies (Cisco Systems, Adobe Systems, PayPal, eBay, and so many more) are scooping up newly-built condos, roomy Victorian single-family homes, and everything in between. If you can pony up the median asking price of $800,000, you can look forward to harvesting lemons from the mature fruit trees and hosting some epic barbecues in the backyard of this 1960s ranch-style home.
3. Oakland
Across the bay from San Francisco lies Oakland, a city with a rough reputation — The New York Times' Anna Bloom described growing up there as "a mix of growth, grit, and crime."
But things are changing as the newcomers to the city and businesses are beginning to take advantage of Oakland's proximity to San Francisco but with cheaper rents, according to Fortune magazine. For half the tab of its pricier neighbors across the bay, you could score this tidily renovated Montclair cottage (listed at $599,000).
4. San Diego
Any native of this city will give you the following advice: "Get a California burrito and carne asada fries. You'll thank me later." San Diego can boast the Gaslamp Quarter, the beautiful Coronado Island, Comic-Con International — and the fact that it was home to Will Ferrell's Anchorman movies.
Earlier this year, San Diego was ranked the second-most-expensive city to buy a house in, making it a seller's market. (And buyers are digging it.) Live the dream in this cozy 560-square-foot Mission Beach cottage. It'll cost you, though — it's listed at $559,000, well within the average for this sunny city.
Widely known as "The OC" (even off TV), Los Angeles' suburban neighbor is experiencing a big economic upswing. Last month, The OC Register's Jonathan Lansner reported that local businesses are booming and the amount of money spent on cars is at a seven-year high.
Orange County is home to affluent beach communities like Newport Beach and Laguna Beach, as well as Disneyland over in Anaheim. Chapman University and University of California at Irvine also call The OC home. All those California vibes don't come cheap — if you want to soak up the coastal views in a cliffside home like this one, be prepared to fork over a cool $18 million.