Wouldn't you love to be lounging on the beach, a guest at Jennifer Lawrence's palatial Hawaiian vacation house? Pass the poi, mahalo!
But in reality, you're probably spending your morning commute trudging through dirty snow on the way to your car, where you'll desperately try to keep your hands from freezing as you defrost your windshield.
So in the interest of escaping February's most brutal weather, we thought we'd take our minds off shoveling snow by looking at some of Hollywood's hottest beach retreats. After all, when it comes to vacation getaways, the stars sure know how to luxuriate.
Here are a few of our favorite celebrity spreads that will have you mentally stretched out on a chaise lounge with a daiquiri in your hand in no time.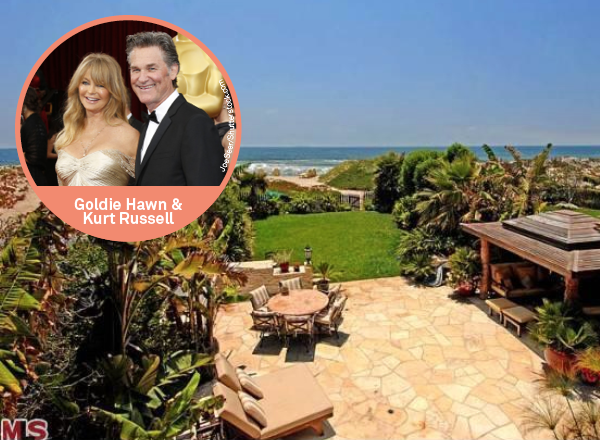 Goldie Hawn and Kurt Russell
Are you feeling extra Zen today? Maybe that's because you're dreaming of kicking back at Hollywood power couple Goldie Hawn and Kurt Russell's former Buddhist beach retreat.
The legendary lovers' Malibu, CA, pad, located on the exclusive stretch known as Broad Beach, is filled with natural light and has a gorgeous view of the Pacific Ocean from the designer kitchen.
Plus, while you're busy practicing your downward dog like the free-spirited Goldie, you can always gaze out at the expansive grounds featuring tranquil fountains, lush landscaping, and a grand oceanfront patio. Who wouldn't want to bust out a "namaste"?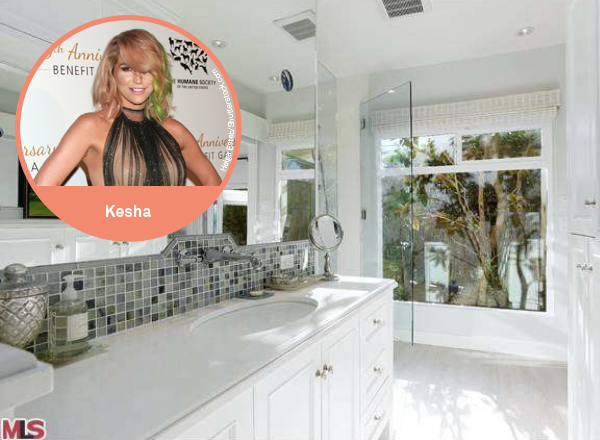 Kesha
The "Tik Tok" singer, who has recently transformed from a hot mess who wears sidewalk chalk on her face into a sophisticated fashion fiend, has the cutest Venice Beach, CA, bungalow you've ever seen.
The Spanish-style home, which was built in 1925, combines throwback details like arched entryways and hardwood floors with modern amenities including stainless steel appliances, a brand-new master bath, and dual-paned windows.
The candy-colored-hair singer snatched up the bachelorette pad last summer for $1.65 million after her six-month stint in rehab.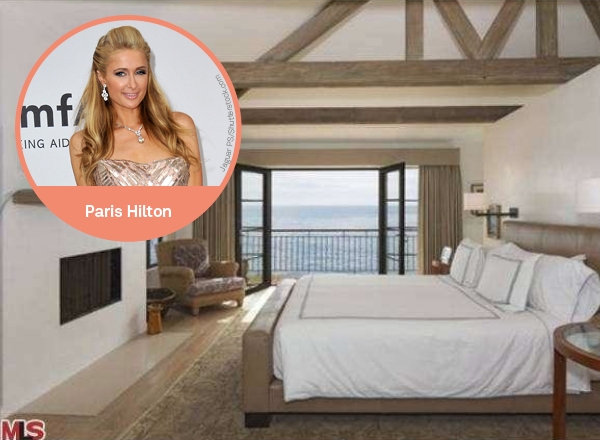 Paris Hilton
If there's one person who knows how to party, it's socialite-turned-DJ Paris Hilton.
When she's not busy reportedly dating teenagers, or shimmying around in front of a turntable and calling it a career, the Hilton heiress is spending her time on an eternal vacation.
This past summer, she shacked up at a La Costa Beach spread in Malibu that cost a pretty penny: $45,000 per month.
With four bedrooms, four bathrooms, a chef-ready kitchen with Carrara marble, plasma TVs, and a master suite complete with a sitting/reading area (because we're sure Paris is a big reader), this California home is a prime spot for a summer getaway.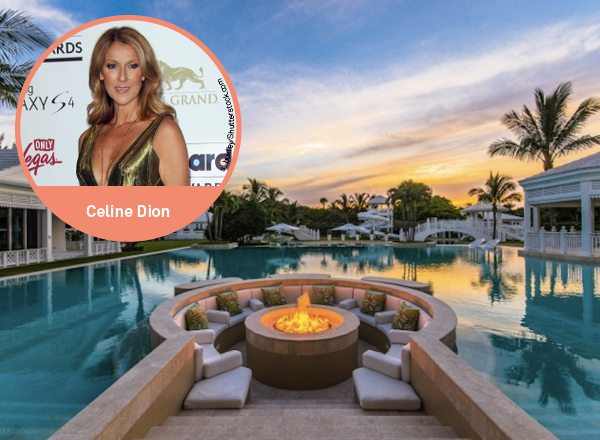 Celine Dion
The French Canadian songstress may be worth a bajillion dollars, but there's nothing she loves more than sitting back with her son and her father husband, Rene Angelil.
The Casa de Celine is located in Jupiter, FL, and it sports quite the waterfront kicker. There are three  pools on the property: one at the rear, by the ocean, and two connecting pools at the front with an insane water park. That's right, a WATER PARK.
It's as if they just snatched up Six Flags and slapped it in her backyard.
However, Team Celine decided to high-tail it back out west. Although the house was originally listed for $72 million, Celine decided to do a price cut on the manse and knocked it down $10 million. For someone who lives most of the time in Vegas, we'd call that a fold.
The main residence (you'll probably need a golf court to get around the property) really takes advantage of the oceanfront views, but if you're looking to catch another perspective, you can always kick off your sandals and stay in one of the other buildings on the property: a double four-bedroom guest house (meaning eight bedrooms altogether), a tennis house with a simulated golf range, a pool house, and a cozy beach house.
Matt Damon
Down south from Celine's luxurious pad is Matt Damon's gorgeous former getaway, a Miami waterfront mansion overlooking sparkling Biscayne Bay.
Even though Jason Bourne no longer hangs his hat at the Mediterranean-style home, which was built in 1935 (it finally sold in December of 2014 for $15.375 million after sitting on the market for over a year), we wouldn't have any problem popping by for a barbecue and beachfront party.
Matt, his wife of ten years, Lucy, and their four daughters currently spend their time in La-La Land at their permanent home, a Pacific Palisades spread, which is conveniently located just down the road from his Beantown BFF, Ben Affleck.