Greetings from sunny Scottsdale, AZ, earthlings! What, you were expecting a more intergalactic locale (or perhaps a top-secret research site in Roswell, NM)? Architect Gordon Rogers would probably be tickled by the notion. After all, cutting-edge contemporary designs are the Phoenix-based architect's paintbrush; the rugged terrain of the American Southwest, his canvas.
And what a picture he paints! Called Diamond Estate, this $3.995 million, 5,572-square-foot modern masterpiece for sale in Scottsdale, AZ depicts a government spaceship only recently reunited with Earth's gravitational pull (could its triangular roof be transmitting messages to newly acquired allies in outer space?).
OK, so this is more likely just a piece of luxury real estate designed to highlight the natural beauty of the Sonoran Desert and not some extraterrestrial ship hiding in plain sight. But, hey — art is subjective.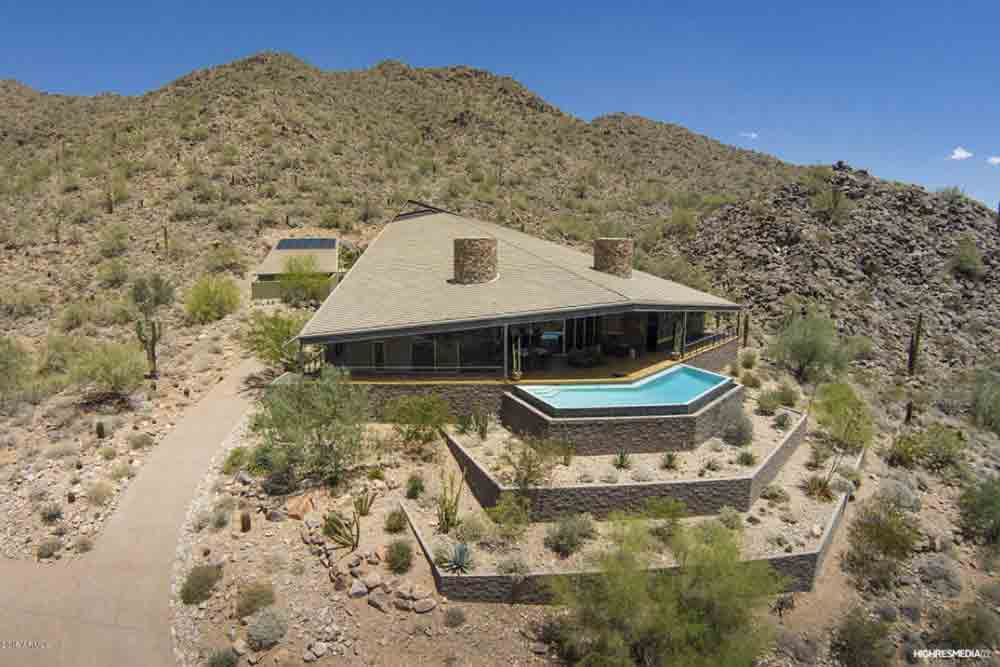 Located on the outskirts of the 3-million-acre Tonto National Forest in Arizona, the property's 2.49 acres of unspoiled desert landscape are in stark contrast to its geometric, slightly sci-fi blueprint. That's not to say, however, that location was an oversight. Designed and constructed to showcase the stunning views afforded by this particular foothills lot, the westward-pointing home offers commanding visuals of the mountains and valley below — as well as a front-row seat to desert sunsets.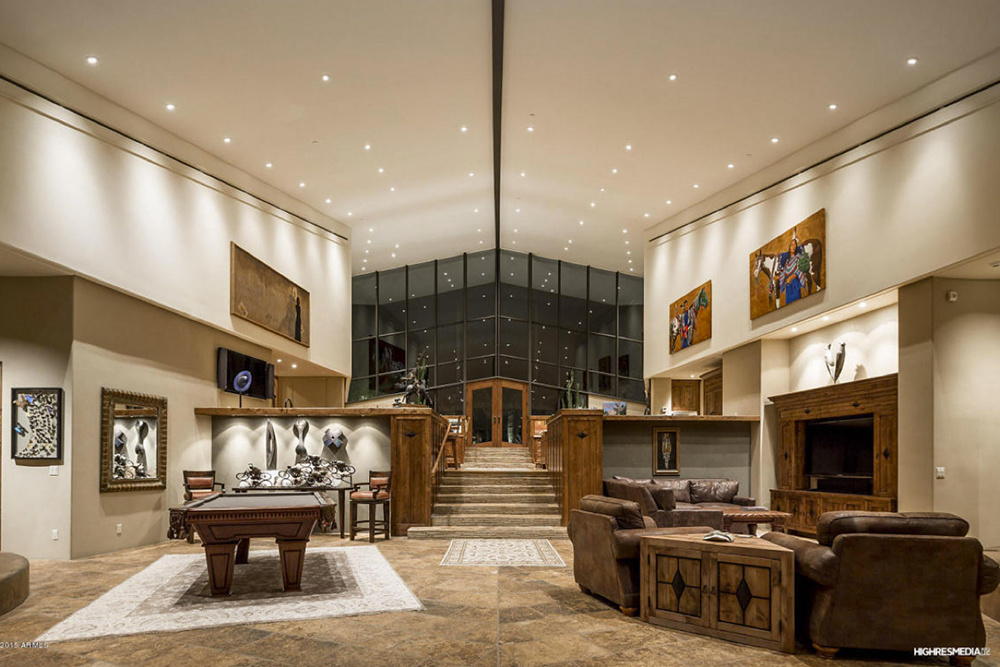 With its vaulted interior and exterior "steeple," the cavernous residence could easily pass as a place of worship. Venture beyond the floor-to-ceiling glass entry, however, and you'll be met not by pews but a billiards table and a cozy sitting area, complete with a custom carved media cabinet.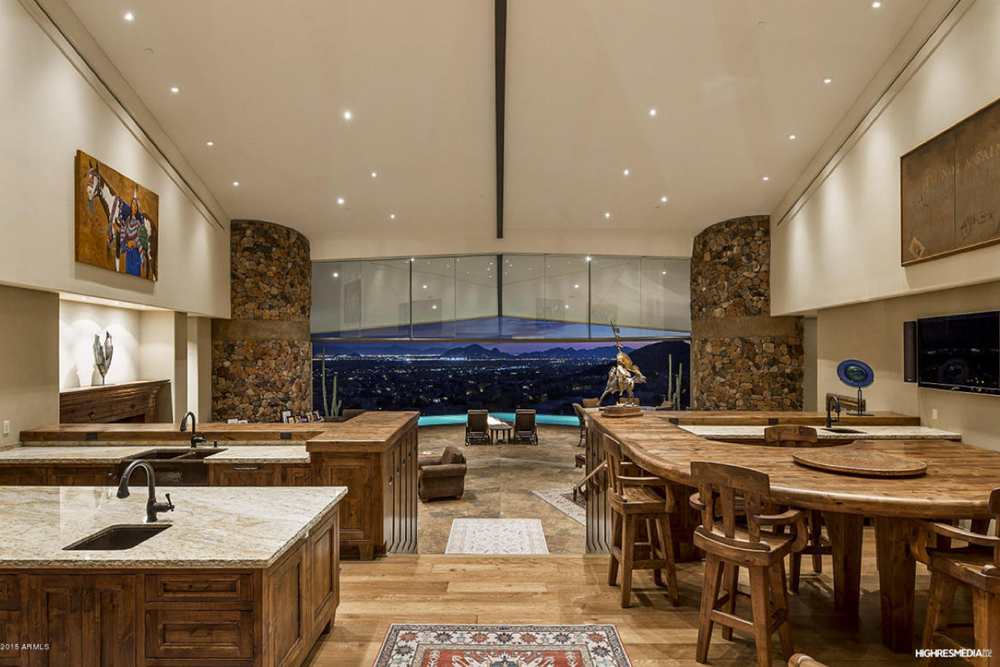 A set of four steps leads you from the formal entry into the kitchen, or, rather, kitchens. It's a multipurpose, undelineated space that encompasses a chef's-quality range, three sink-equipped stone counters, two dining areas (a curved counter and a table), and, just for good measure, a built-in writer's desk. (Even the most artfully plated dish will have to vie for attention with that view.)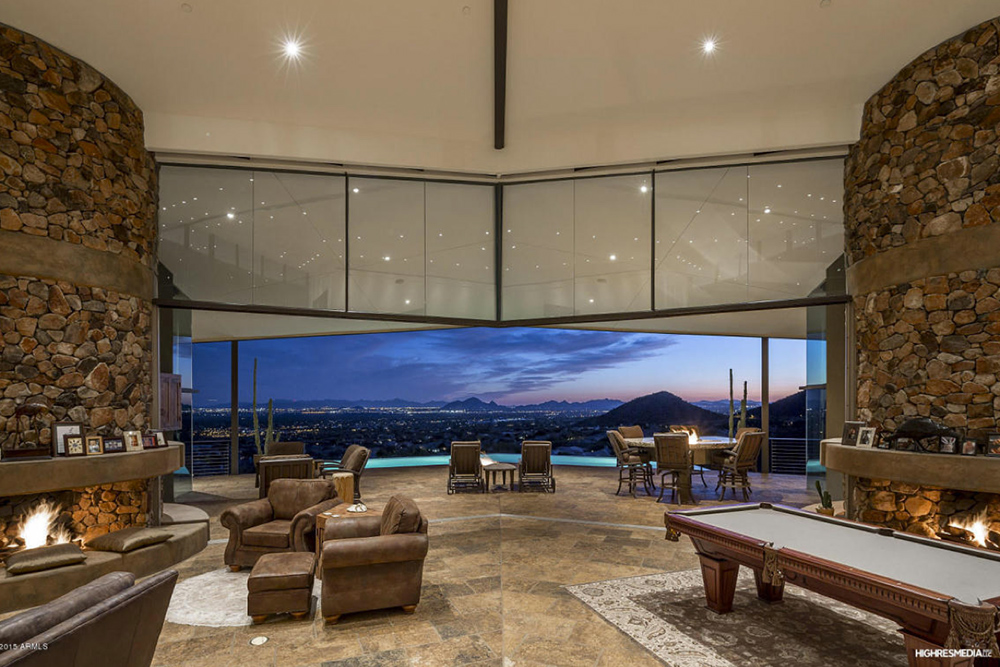 Another short series of steps places you in the lounge area, set aglow by twin fireplaces that make use of stones harvested from the property. Sheltered from the elements by a pane of retractable glass, the room (if you could call it that) is a comfortable, amenity-filled layover on the way to the home's real attraction: the infinity-edge pool — and that multimillion-dollar panorama.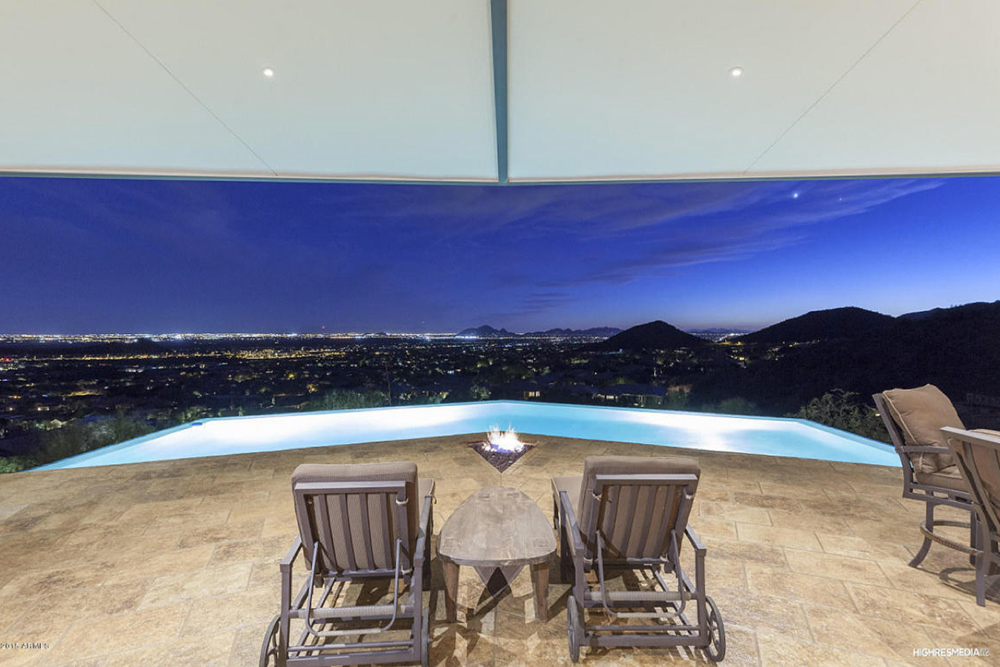 The pointed pool directs gazes toward the residence's raison d'être: its panoramic view. Peppered by rust-colored rooftops, undulating mountains, and green tufts of desert flora, it's a sight to behold during the day, for sure. But come nightfall, the scene takes on new energy as shimmering city lights echo the twinkle of the starlit violet sky.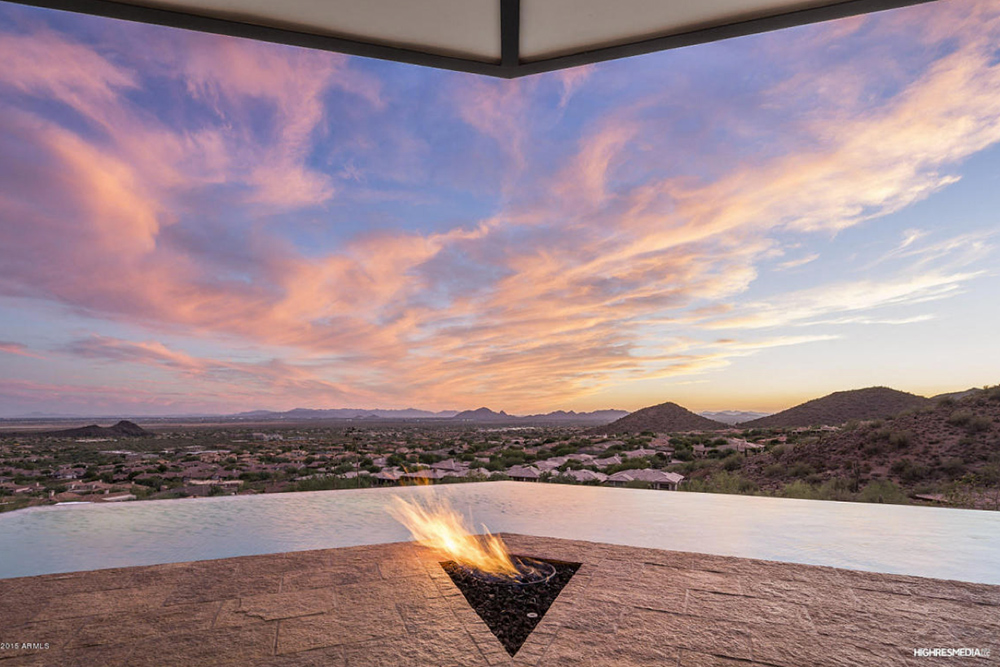 All arrows point southwest: In a nod to the home's diamond shape, the architect leaves his calling card in the form of this poolside fire feature. Its orange flames lick at temperate desert breezes, contributing to a snapshot of all four elements in a single blink.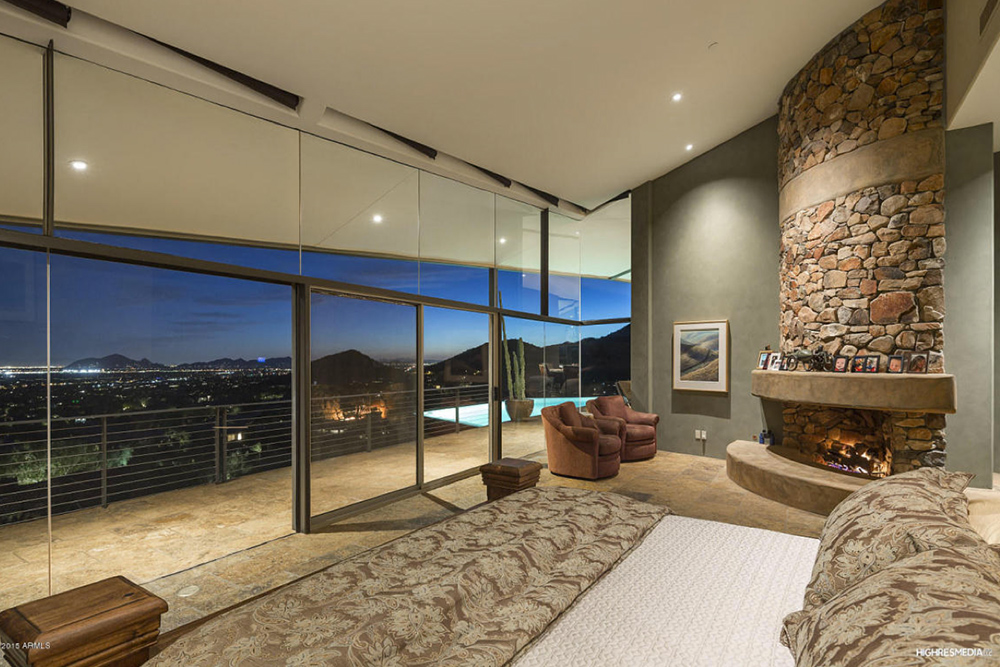 Just steps from the pool, the glass-fronted master bedroom (one of five bedrooms in the home) trades privacy for panorama. That can be changed, though, with the tug of a retractable blackout shade or a duck into the lavish adjoining master bath, which features carved vessel sinks, a walk-in shower, and a soaking tub beside an oversized picture window (not an oil painting, as it may appear at first glance).