In simplest terms, this $12.5 million contemporary is a Mojave Desert oasis that mirrors its sienna surroundings in both its construction and its majesty. Take a step through the 13-foot-tall solid teak front door, however, and you'll see that it's much more than that.
It's a 13,255-square-foot bowling alley and lounge, spa and swim retreat, chef's utopia, and introvert's haven, all tucked safe and sound under a solar-power-generating zinc wing. (Would you expect anything less from an eco-luxury home with its own film series?)
Capable of producing 10 kilovolts of clean energy, the solar power wing is a seamless blend of organic simplicity and high-tech glitz, much like the home itself. Its location, on the other hand, is a little more dual-natured: The residence exists between the rugged expanse of a protected natural area and the manufactured fluorescence of the Las Vegas Strip.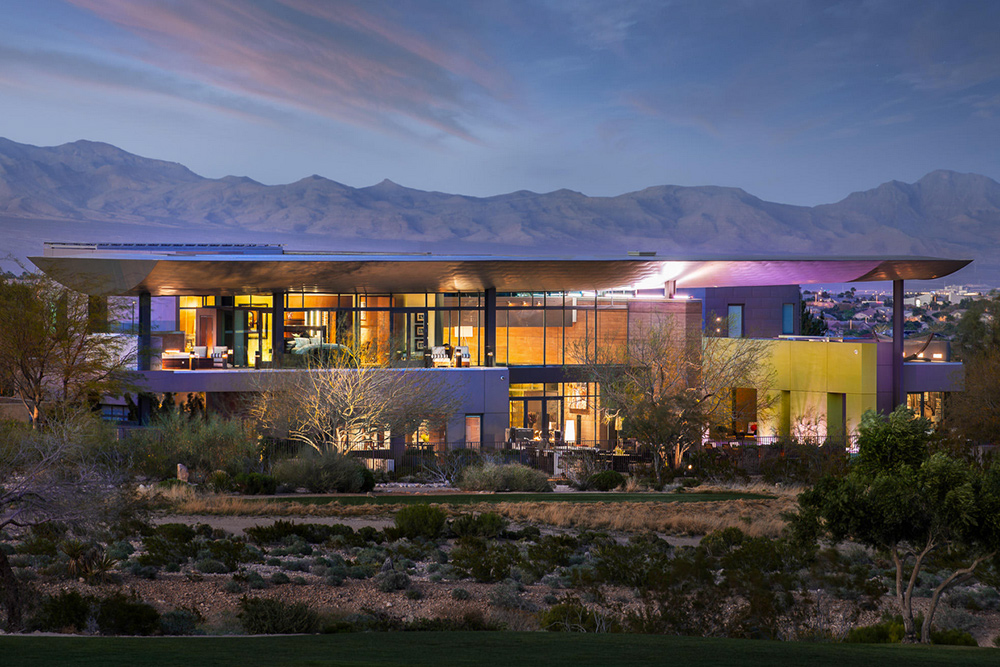 The five-bedroom, nine-bathroom home sits on the fringes of Nevada's Red Rock Canyon, a National Conservation Area that encompasses close to 200,000 acres of pristine Mojave Desert wilderness. Bathed in tones of violet and umber, this picturesque, serene landscape is a far cry from what beckons high rollers just 17 miles to its east: the clamor and glamour of downtown Las Vegas.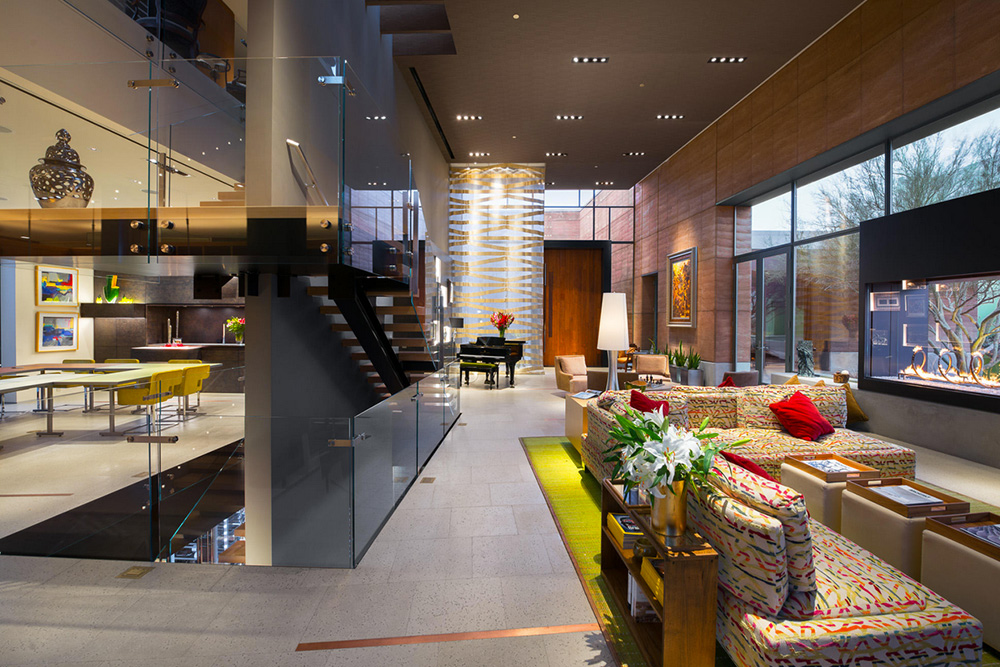 A monument to its mountainous setting, the home commands attention through an imposing, angular facade of adobe, steel mesh, and zinc panels. The interior, however, is anything but rigid. An open layout flows over three levels, while high-clarity glass stretches from floor to ceiling, blurring the boundary between indoors and out.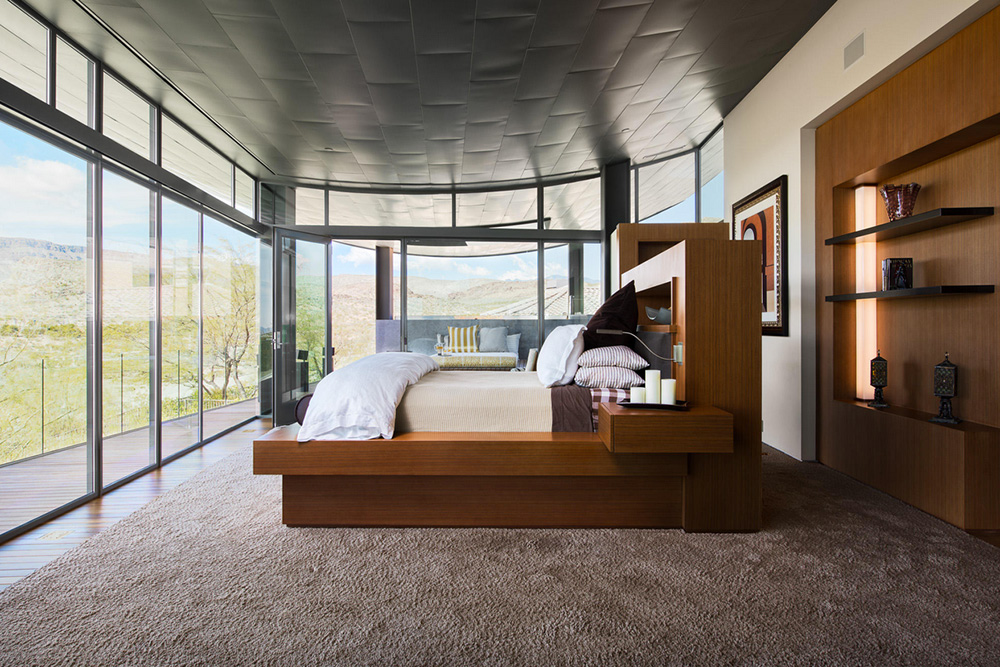 Awe-inspiring views remain the focal point in the master suite, which offers access to a private, glass-fronted deck complete with a Jacuzzi, fire feature, wet bar, and another bed (because why not?). Back inside, automated sunshades deliver a little privacy — or just a few extra minutes of shut-eye.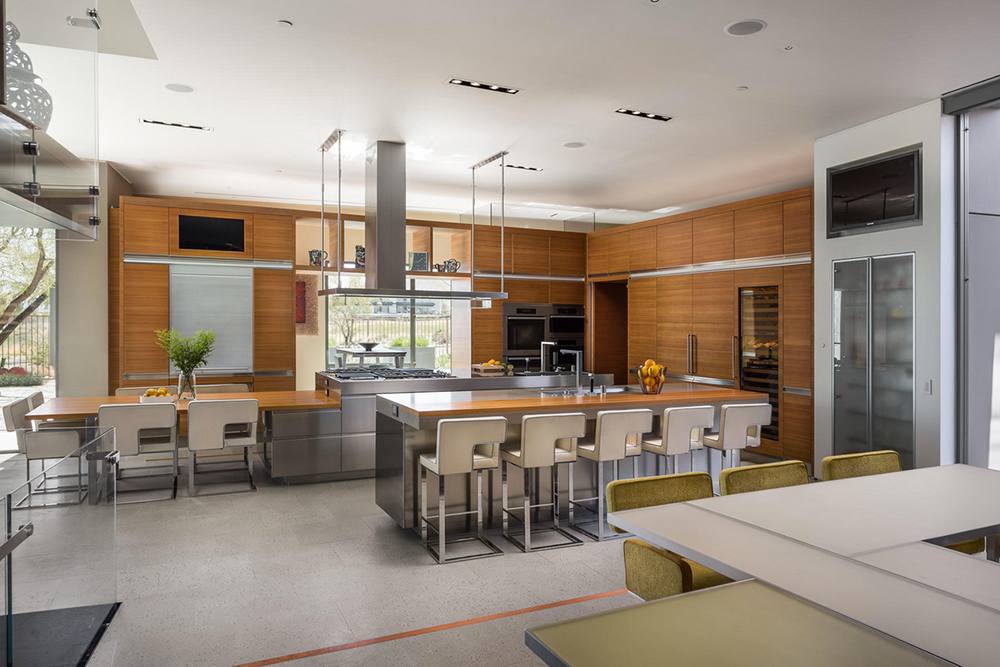 High-end Miele appliances add an extra element of legitimacy to the massive, custom-designed chef's kitchen, which boasts modular seating and continues the designer's penchant for teak and natural stone. Here, the warmth of the wood is offset by the cool touch of sleek stainless steel accents and built-ins. Wall-mounted twin televisions fill the silence when conversations lull.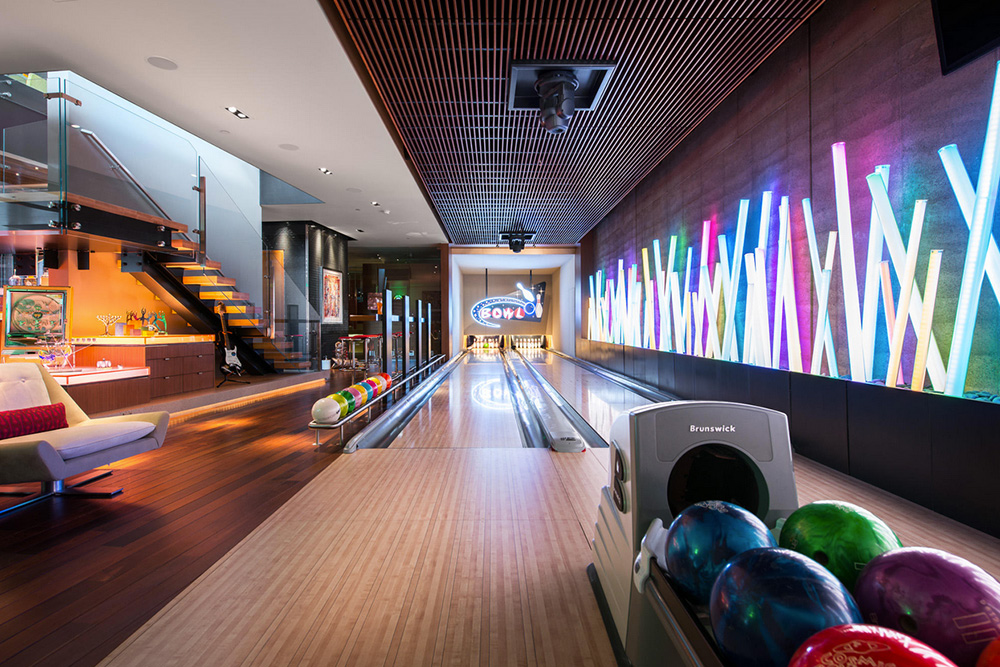 Now we're getting to the really good part: the home's lower level. Accessible by an elevator button marked "play," this over-the-top, adult-minded wonderland comprises a bowling alley, billiards room, bar and wine cellar, state-of-the-art movie theater, and spa and wellness center. With its flashing lights, working slot machine, and overall ostentatious appeal, the space delivers a little slice of Sin City to this sleepy corner of the desert.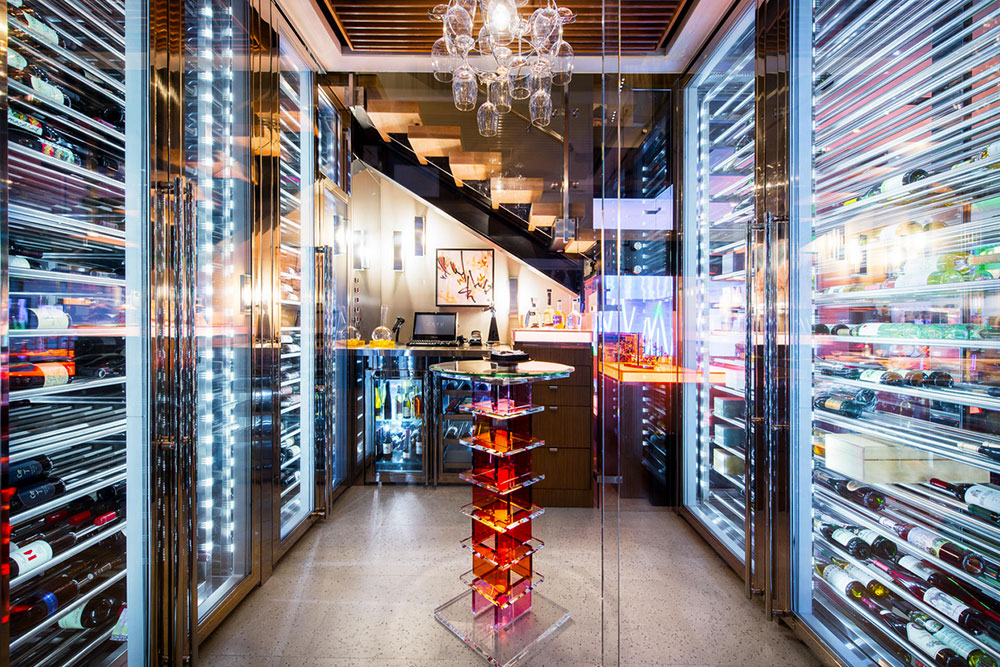 The climate-controlled, glass-walled wine cellar hosts 1,400 digitally cataloged bottles. Those who'd prefer a brewski can belly up to the wood-slab bar and take their pick from a trio of beers on tap.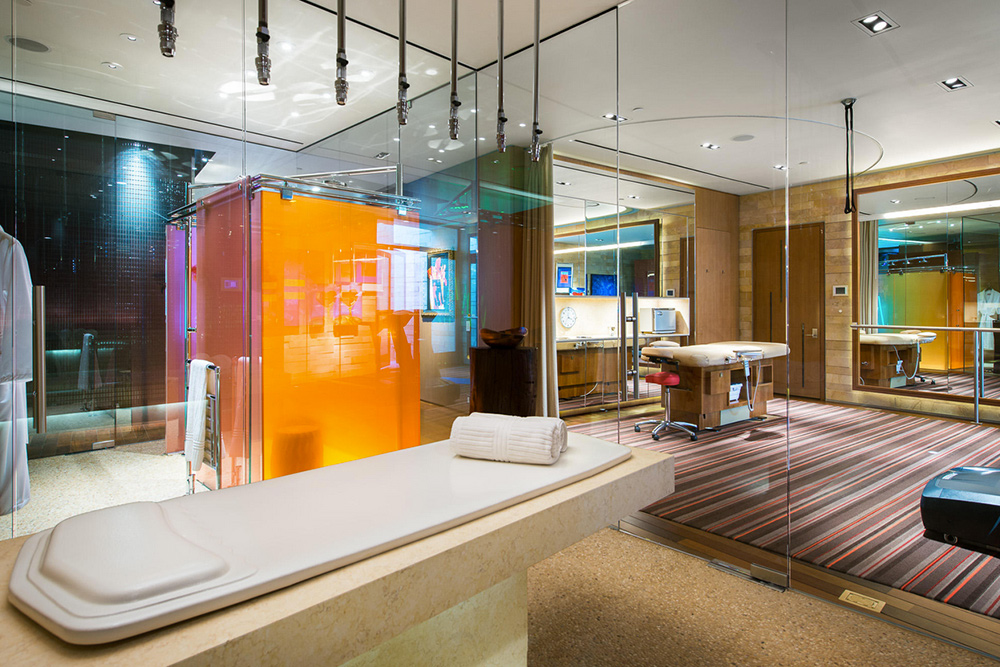 The only thing missing from the home's futuristic spa and wellness center? A staff. This labyrinth of glass panels promotes peace and pampering with a massage room, a steam sauna, a treadmill-equipped exercise room, and an outdoor Japanese soaking tub.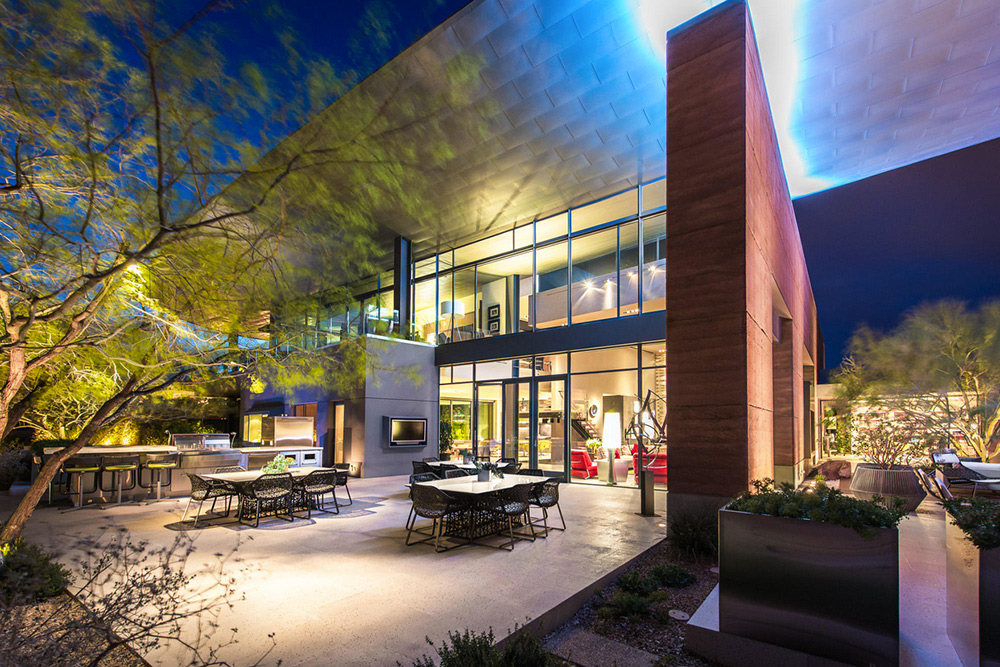 Here's one surefire way to lure visitors from the underground playroom: Install a wood-burning pizza oven one floor up. It's the main attraction within the landscaped courtyard-meets-party space, but that's not to say the oven is without competition. It's rivaled by multiple fire features and cozy seating areas, an infinity edge pool, and an unobstructed view of the home's impressive solar power wing.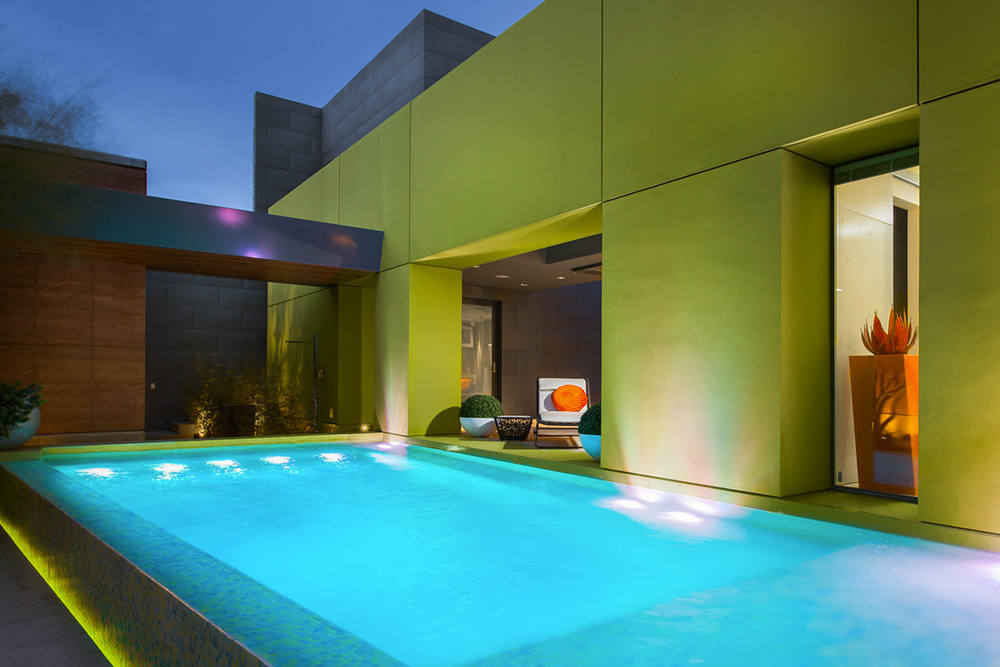 Between the sunset sky and the ambient lighting, the courtyard is best experienced after dark. The pool is proof, with a luminescent glow delivered by LED lights and the reflection of a wall swathed in chartreuse paint.