Thanksgiving is just around the corner, which means we're all preparing to spend some serious time in the kitchen … and the dining room.
Mere mortals like us are likely to be spending the afternoon eating turkey with our families, but if you're an A-lister, your Thanksgiving might look a little different. Personal chefs, fine china, swanky decor, and stylish digs are all standard for a celebrity celebration.
Since the holidays are all about togetherness, let's all gather 'round and take a peek at some of the most stylish and over-the-top celebrity dining rooms.
Bruce Willis in Bedford, NY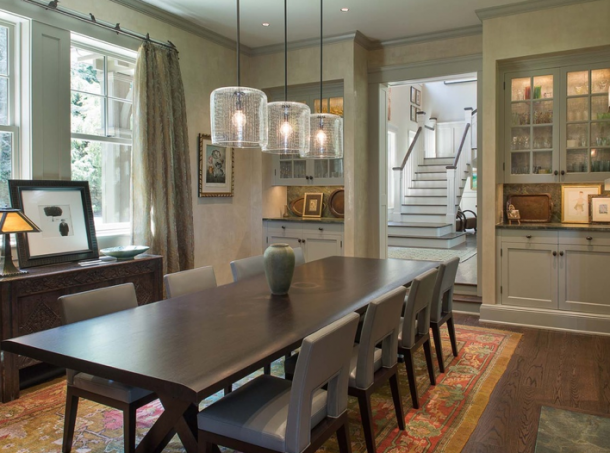 Bruce and wife number two, Emma Hemming, just scooped up this storybook Bedford, NY, estate for $9 million. The 8,400-square-foot estate has a sunken dining room with built-in cabinets and lots of light. An added bonus? Martha Stewart lives nearby and can probably bring the perfect pumpkin pie for dessert.
Katie Holmes (and Suri too!) in Calabasas, CA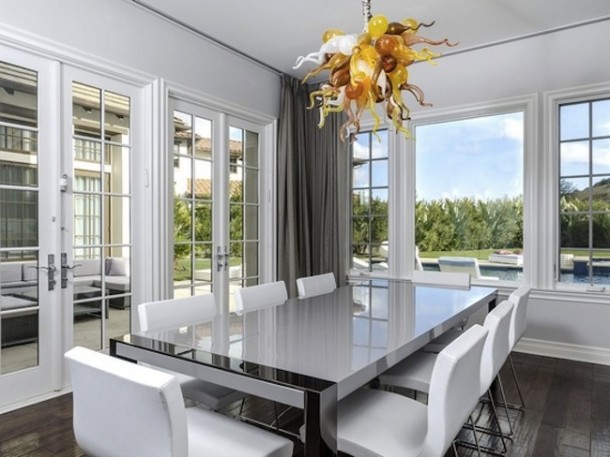 Holmes bought a new home for herself and daughter Suri this year, spending $3.795 million for a spread in Calabasas. In her post–Tom Cruise life, Holmes spent years as a New Yorker before deciding to bring Suri back to the West Coast, where they'll be spending their first Thanksgiving in their gorgeous new home.
Kim Kardashian and Kanye West in Hidden Hills, CA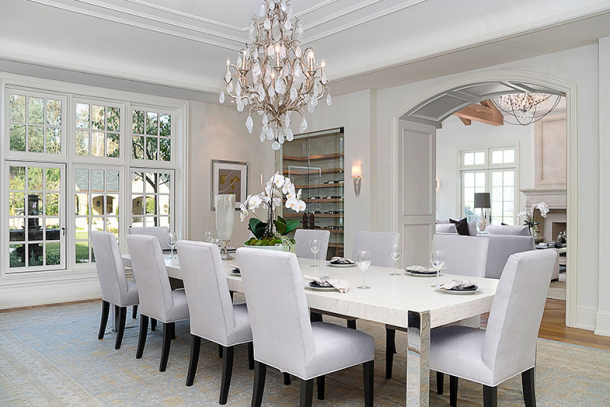 This year, Kimye and North West will dine in opulence in the brand-new $20 million mega-mansion they recently purchased in Hidden Hills, CA … only five minutes from grandma Kris Jenner.
Their crisp and clean dining room can seat 10 and features a climate-controlled wine cellar located just steps from the table. Located in the heart of the home, Kimye's dining room is the perfect place to assemble all of the Kardashian klan.
Sofia Vergara in Beverly Hills, CA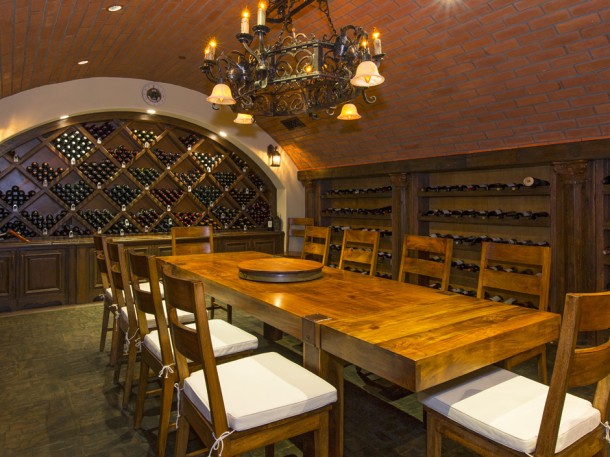 Colombia-born bombshell Sofia Vergara is the highest-paid actress on TV, so it's no surprise that this year, she parlayed her success on Modern Family into a to-die-for $10.6 million Tuscan-style villa in the heart of Beverly Hills. Gorgeous and glamorous in every way, the estate has a sprawling dining room inside the 3,000-bottle wine cellar. If that isn't luxurious, we don't know what is.
Dr. Dre in Brentwood, CA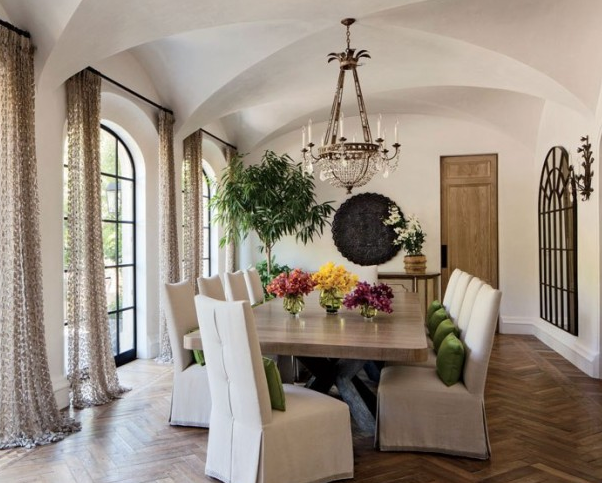 Hip-hop mogul and newly minted billionaire Dr. Dre had quite a year. He sold his Beats audio brand to Apple for billions, and then turned around and dropped $40 million on the estate that Tom Brady and Gisele Bundchen custom-built the year before. Now nestled into one of the swankiest pads in Los Angeles, Dre will be enjoying this dining room, where floor-to-ceiling windows give the space a truly Californian indoor/outdoor vibe.
Which celeb dining room would you choose for your Thanksgiving dinner this year?