Dear Santa: It's been a banner year — I've met every deadline, cooked dinner for my husband more than anyone could have anticipated, and done my best not to whine about my hilariously tiny rental apartment. I even adopted a pitiful homeless dog. I mean, I'm practically Florence Nightingale.
I've been working my barely-manicured little fingers to the bone to keep myself at the tiptop of your "Nice" list this year, because my Christmas wish? It's a doozy.
This year, Santa, I'm asking for a house. Specifically, a house in Marin County, CA. Now, you're probably shaking your head and muttering about how this is one of the most expensive real estate markets in the country.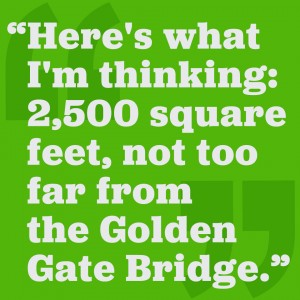 I know, I know … believe me. But I can't help myself; it's kind of perfect here. Even you'd have to admit that the sublime 70-degree weather around here beats the dickens out of the North Pole. The thing is that not only is Marin pricey, but inventory is scarce. So, Santa, I'm putting it in your hands.
Here's what I'm thinking: 2,500 square feet, not too far from the Golden Gate Bridge. (And with a view, of course.)
But my house doesn't have to have its halls fully decked, dear Santa — in fact, I'm hoping for a bit of a fixer, so I can go all HGTV and gut the kitchen and bathroom. I'll turn them into something so gorgeous that Trulia will be fighting Architectural Digest for the exclusive.
I'm dreaming of a six-burner Viking range, marble countertops, and those fantastic lower cabinets with roll-out drawers (instead of shelves) that make hyperorganized Type A people like me weak in the knees.
Of course, we'll need to do something about the master bedroom. Let's shoot for vaulted ceilings, loads of natural light, and a walk-in closet that would make one of the Real Housewives chartreuse with envy. And maybe enough room for a chaise longue. A girl needs a place to swoon properly, after all.
In the rest of the house? Oh, I don't need much, Santa. Not at all. I mean, I'd love a window seat, so I can curl up and read a book … which I'll have plucked from one of the many floor-to-ceiling built-in bookshelves. And a fireplace. And speaking of floor-to-ceiling, I'd like oodles of windows in every room. Maybe even one of those gorgeous no-seam corner windows in my breakfast nook. (Did I forget to mention the breakfast nook?)
I'm crossing my fingers, Santa. It's a tall order, but I know you'll come through. And trust me: If you deliver on this big request, I'll have something much better than cookies waiting for you under my tree.
How does a 3 percent commission sound?
Yours in real estate,
Becki Singer
(cc: Hanukkah Harry… just in case.)