AT A GLANCE
As the tiny house movement gains momentum, states and cities are updating their codes to make it easier to build—and live in—tiny homes.
As a result, entire communities of tiny homes are on the rise. There are now more than 50, by our count.
Tiny home communities come in several different types. To figure out if the tiny home life is for you, take a look at the types of communities we've found in our travels.
---
Until recently, tiny house dwellers had to remain under the radar. They mostly lived in the backyards of relatives, hoping that no neighbors would turn them in. Cities did not consider tiny homes to be legit dwellings. They were too new, too outside the box, too much like an RV to fit into existing zoning codes. But now, a growing number of states and cities are updating their codes to welcome tiny homes. As a result, developments that cluster tiny homes together as a community are on the rise.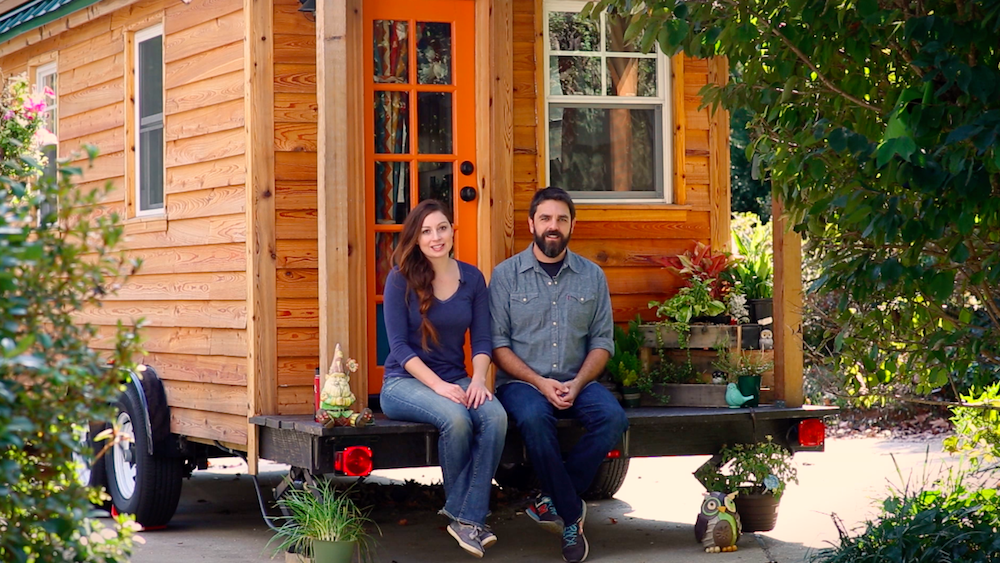 We're traveling the country on a Tiny House Expedition, with our own tiny home in tow.
By our count, there are now 50-plus tiny-home communities from coast to coast, and that's only the beginning. Every time we visit a new state, we hear about more that are in the planning stage. These communities come in several different types, each catering to a different crowd and addressing a different need. Some attract retirees looking to trade in square footage for free time. Others are made for digital nomads who are escaping cubicle life to work remotely. And others are experiments in how to address the affordable housing crunch.
If the tiny house life appeals to you, this breakdown of the types of communities out there will help you zero in on the right spot for you.
Photos and videos by Christian Parsons
Which type of tiny home community can you picture yourself living in?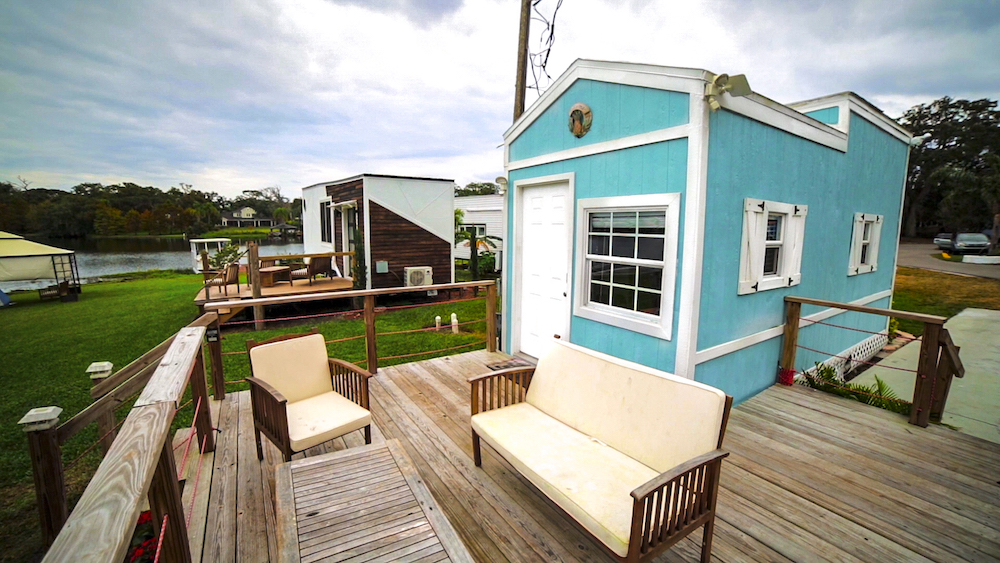 Tiny homes have brought fresh life and a new look to Orlando Lakefront.
Tiny-Friendly RV Parks
Spotlight: Orlando Lakefront at College Park in Orlando, Florida
The big idea: RV parks all over the country are reinventing themselves as hybrid RV/tiny house communities. This makes so much sense. RV parks have everything needed for tiny-house living—power, water and sewer hook-ups—making them the most hassle-free option for legally parking a tiny house. And tiny homes give deteriorating trailer parks a shot of fresh energy, an upgraded image and motivated young homeowners. Orlando Lakefront pioneered the idea and has been slowly revitalizing the park by replacing old trailers with tiny houses as longtime RV residents move out. Five of its tiny houses are available for short-term rental—a great low-commitment way to try out the tiny home life.
What it's like: When we made our second visit to Orlando Lakefront recently, we could see the plan had paid off. There are now 22 tiny houses in the community, which sits at the edge of a lake just 10 minutes from downtown Orlando. We loved the active vibe, easy dock access and spruced-up grounds. James Taylor, a digital nomad who can work from anywhere, invited us to a party at his tiny house with neighbors ranging from their 20s to their 60s. We swapped tiny house living stories and laughed until our cheeks hurt. Before we left, Adam took us on a short sunset boat ride to a new restaurant. As we left the dock, a new resident waved to us from his paddle board.
Others like this: There are now 60+ tiny-friendly RV parks across the country, including Lemon Cove Village outside Sequoia National Park in California, Riverview RV Park in Loveland, Colorado, and Gracious Tiny House Park in Lake Okeechobee, Florida
Five people and two pets share the garden and common rooms of this Portland co-op, called Going Places.
Backyard Co-ops
Spotlight: Going Places in Portland, Oregon
The big idea: The most common tiny house arrangement is the small backyard co-op, a semi-communal mini-neighborhood of private homes clustered around community spaces. Residents typically share ownership and maintenance responsibilities. These co-ops fly under the radar—you might not even know if there's one in your neighborhood.
What it's like: A 1,200-square-foot house with two tiny homes in the backyard, Going Places is not at all out of place in its historic Portland neighborhood. It all fits just so, and still has room for a big garden. The five people and two pets who live here share the outdoor space and the kitchen, living room, bathroom and laundry room in the main house. We joined them for a bi-weekly shared meal and a meeting that opened with games and giggles but later turned to a serious discussion of official business. This is no casual arrangement. It's a deliberate, thought-out community, a model that works well for people seeking an intimate, supportive environment of like-minded folks.
Others like this: It's hard to know how many backyard co-ops there are. They are often informal and unnamed. But we've visited a half dozen ourselves, including Simply Home and The Commune.
Maker Spaces
Spotlight: DIY Tiny in Asheville, North Carolina
The big idea: The first and biggest obstacle to tiny house living is finding a place to build your house. Drew Crawford struggled with this when he built his home, which inspired him to create DIY Tiny. This community offers a space to build, plus advice and help from the residents, all of whom have built their own tiny homes. It's a supportive place to build and then move on, or to stick around long term. DIY Tiny is now looking for financial partners—ideally future residents—to work together to buy enough property to accommodate 12 to 20 more tiny homes.
What it's like: DIY Tiny sits in the Blue Ridge Mountains, just 10 minutes from downtown Asheville's galleries, breweries and restaurants. When we visited two years ago, there were two tiny houses set among the evergreen trees. Now there are six—at least three of which were built on the spot. It's evolved into a creative community of makers and artisans who love working with their hands.
Others like this: We've visited two other maker spaces that offer space to build a tiny home: the DIYCave in Bend, Oregon, and Green Anchors PDX in Portland, Oregon, where there are usually at least three tiny houses under construction
A resident of Tiny Lots on the Prairie tackles a paint job outside her home.
Rural Communities
Spotlight: Tiny Lots on the Prairie in Decatur, Texas
The big idea: Rural tiny home communities are picking up steam big time in states like Texas, Arizona and New Mexico. Out beyond the city and suburbs, a lot of zoning and minimum-size restrictions loosen up. That freedom inspired Brett and Mindy West to found Tiny Lots on the Prairie out in the wide-open prairie of North Texas's big sky country. It feels like the middle of nowhere out here, but it's actually within commuting distance—just 45 minutes—from Dallas/Fort Worth.
What it's like: Brett and Mindy were pleasantly surprised by the close bonds they formed with their new community. It's a big family, composed of their own three kids, plus Rae, who is in her 20s, and three retirees—Cheryl, Robyn and Donna. After spending a few days here, we felt like part of the family, too. There was a communal vibe, and often at least a couple of neighbors were lounging outside or helping each other with household projects.
It's incredibly peaceful out here, save Rae's Chihuahuas—her "wolf pack," tiny but mighty. We parked our home on one of the seven concrete pads, situated in a V-shape on the 7.5-acre property. The pads are staggered, which maximizes privacy and gives everyone fine views of the fiery sunsets and bright starry nights. This is tornado country, and each pad comes with tie-down anchors to protect against the prairie's high winds.
Others like this: We keep running across rural tiny house communities in our travels, like the just-opened LuxTiny community in the White Mountains of Arizona.
Retirement Villages
Spotlight: The Village of Wildflowers in Flat Rock, North Carolina
The big idea: Park model communities have been popular with snowbirds for years, but the Village of Wildflowers is different. For starters, it's open year round, a place where people can age in place in a tight-knit community. And two years ago it officially welcomed tiny homes, with a designated section for homes no larger than 400 square feet.
What it's like: The village is spread out across 26 wooded acres and feels secluded, though it's near the charming town of Flat Rock. About half of the tiny homes in the community are second homes or are reserved as rentals, and it has a resort-y feel, with a pool and fitness room, plus planned trips to breweries and art galleries and activities like a book club and a bonfire with s'mores. When we visited two years ago, they were just beginning to attract a younger crowd in the new tiny home section of the village. Many residents see this as a welcome change: "Young people add vibrancy," one told us. "I want to live in a multi-generational community."
Wandering the village's walkways, we met so many locals out walking their dogs. One morning, we crossed paths with Ada as she hauled materials from her tiny home to the community garden she was kickstarting. At a potluck and bonfire later that day, we met a few more full-timers, plus a dozen potential residents, some of whom were considering buying a tiny house here and renting it out until they were ready to retire and join the community full-time.
Others like this: The vacation vibe is big among tiny-home dwellers, including those who like to try on the tiny home life while taking time off from "real life." Tiny-home-friendly resort communities include Fairplay, Colorado's Whispering Aspen Village and the Mill Creek Ranch Resort in Canton, Texas.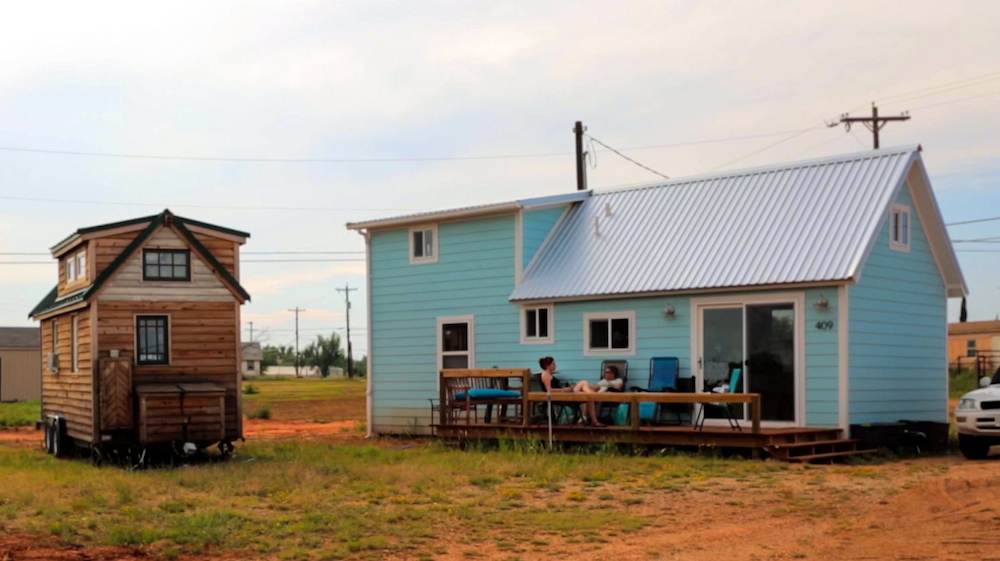 Tiny-Friendly Towns
Spotlight: Spur, Texas
The big idea: In 2014, the itty-bitty town of Spur, Texas, had dwindled to 900 residents. As a way to attract new residents, the city government proclaimed the entire town tiny-house friendly, loosening building codes and zoning restrictions. This made Spur the new frontier for the tiny-house movement. After a ton of press and rapid-fire word-of-mouth, the town has sold more than 61 lots and welcomed 26 new tiny-house residents. And they're eager for more. One of the local masterminds behind the revitalization effort, Dave Alsbury, told us that Spur has the infrastructure to support 3,000 residents.
What it's like: When we visited in 2016, the first three of the tiny houses had just begun to breathe life into what had been a dying town. We spotted plenty of dirt-cheap lots with horizons that stretched for days. The historic downtown is almost a ghost town—many residents told us how they would love a coffee shop. The town is truly in the middle of nowhere—it's a solid hour to Lubbock, the closest sizeable town. You'd need to bring your own job—or to create one. On our visit, we stayed on the land of Denise Rosner, the second tiny house dweller to come to town, who told us that even though she was used to big cities, she was loving the serenity of country life.
Others like this: Tiny house friendly towns are becoming more common. Places to look into include Rockledge, Florida; Fresno, California; Nantucket, Massachusetts; and Walsenburg, Colorado. For more details, watch our docu-series Living Tiny Legally on YouTube.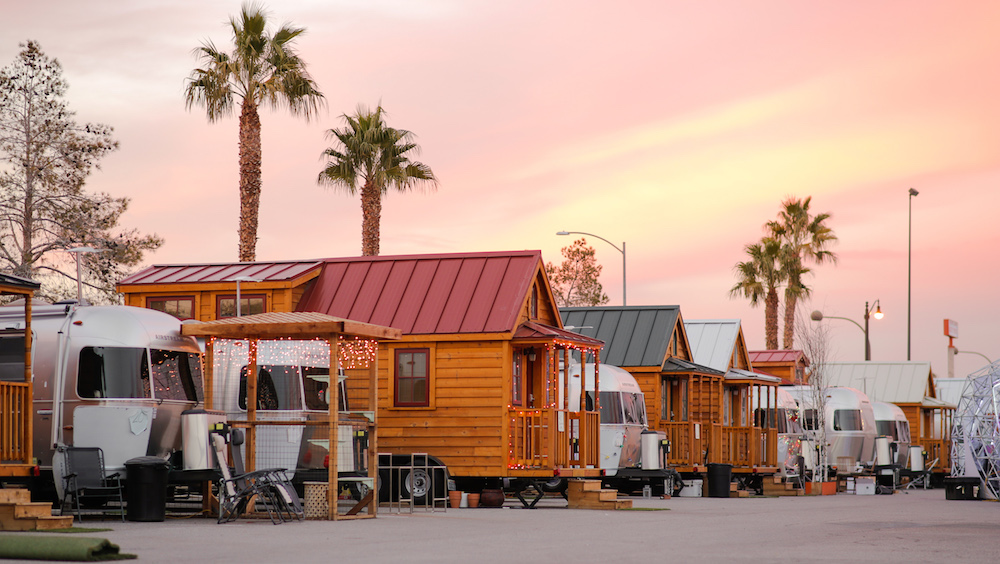 Pocket Neighborhoods
Spotlight: Llamalopolis in Las Vegas, Nevada
The big idea: In an effort to attract residents back to its vacant lots, downtown Las Vegas went for a full-on reinvention, encouraging new businesses, especially at the Lego-style Container Park. Another big part of the revival is Llamalopolis, a gated tiny-home village that's walking distance to restaurants, bars, shops and—yes—casinos. For billionaire founder Tony Hsieh, the idea was to recreate the creative camp vibe of Burning Man with a group of his close friends. The goal: figure out how to transform an asphalt lot into a fully functioning, sustainable village with an emphasis on self-expression. The result: a vibrant village where the air is always filled with music.
What it's like: You enter on foot through a tunnel of trees and twinkling lights. This opens up to the "living room," an outdoor space with a stage, lounge and two fire pits—all an extension of each resident's tiny home, or "bedroom." Our Llamalopolis neighbors were a mix of downtown professionals, traveling musicians, artists and entrepreneurs. It's a place full of quirky charm, with roaming pet alpacas and a bi-monthly concert hosted by a resident professional musician. The downside? New residents must be recommended by current residents.
Others like this: Swap in a more suburban location and vibe, and distant cousins of Llamalopolis include Lake Dallas Tiny Home Village, planned to open this summer in an old residential neighborhood just outside Dallas, and Keyo Park West, a wooded tiny- and small-home subdivision in the culturally rich city of Charlotte, North Carolina.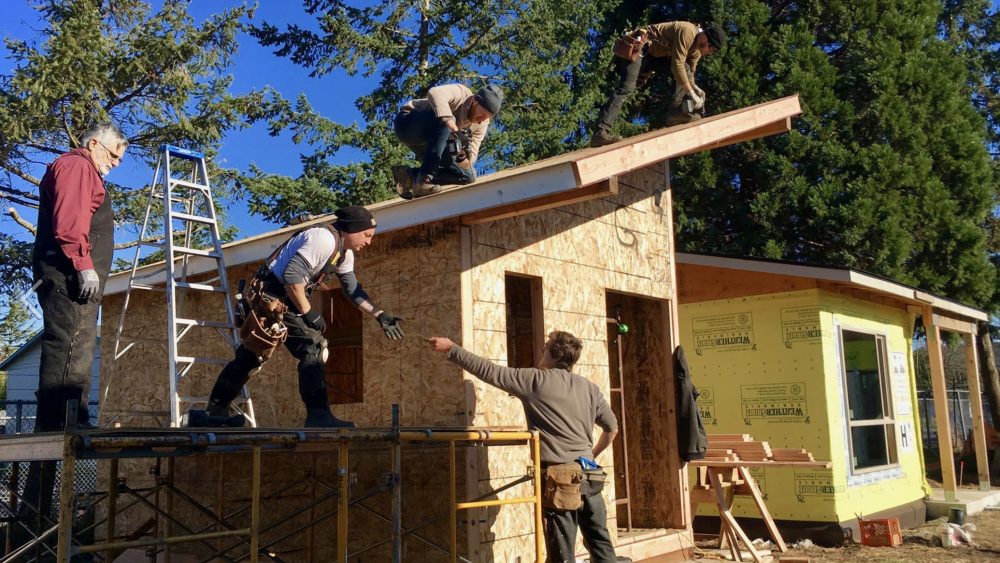 Affordable Housing
Spotlight: Emerald Village Eugene in Eugene, Oregon
The big idea: Tiny house communities are the up-and-coming trend in affordable housing. The almost complete Emerald Village Eugene (EVE) will provide permanent and sustainable tiny homes to those with a low income. It's a co-op, where all residents will be members, paying $250–$300/month to cover utilities, maintenance and all other community operating costs. In return, residents will build equity, creating a modest asset that could be cashed out if they decide to move on.
What it's like: During our visit this past summer, EVE was under construction but coming along beautifully: The tiny homes are laid out with walking paths and lots of green space between them. And at a meeting, future residents worked together on a mission statement and a basic code of conduct.
Others like this: We're excited to visit Tiny Homes Detroit, a pocket neighborhood that's revitalizing vacant lots with rent-to-own tiny homes priced to be affordable for minimum-wage earners.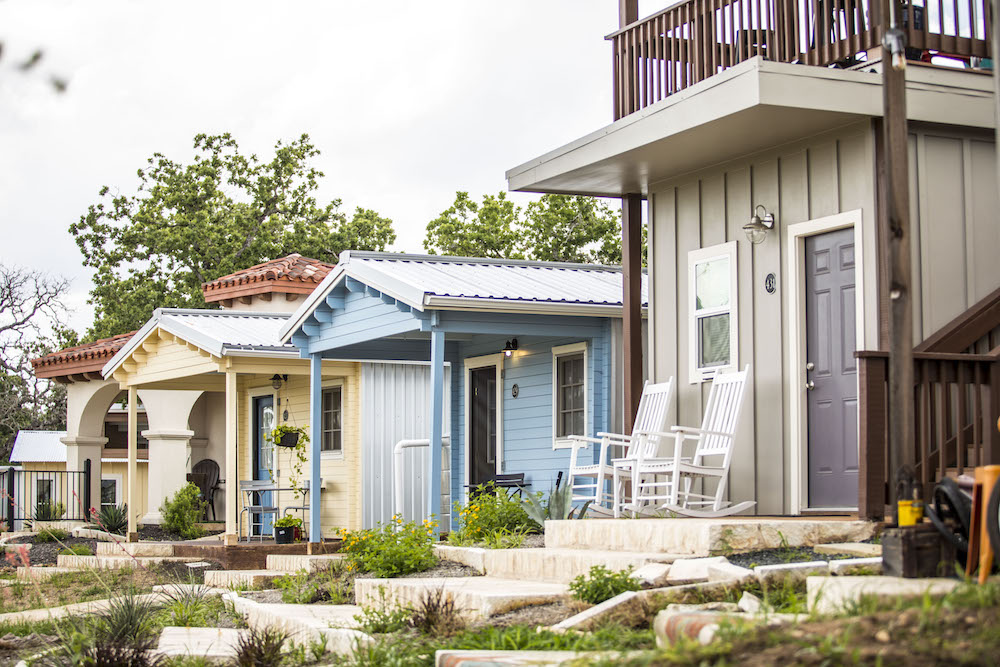 Homes for the Homeless
Spotlight: Community First Village in Austin, Texas
The big idea: There are now at least 20 tiny house communities designed for those transitioning of out of homelessness. A great example is Community First Village, a low-cost home for the disabled and chronically homeless residents of central Texas.
What it's like: We were blown away by the 27-acre village. Seriously, we would be happy to live here. You wouldn't know the residents were recently homeless until you start to hear their stories. Bonnie flew down the walking path in her wheelchair to greet us. She told us she hasn't felt this at ease or at home in years—that she finally has a place where no one looks down on her. Community First provides more than just shelter. Residents can learn new skills and crafts, like metal- or woodworking, and can tend vegetables and raise animals. The community breaks down stigma, too, by welcoming in the greater Austin community in for outdoor movie nights.
Others like this: During our travels, we've visited five communities for those transitioning of out of homelessness, including Opportunity Village Eugene (OVE), a micro-shelter community, or—as residents like to call it—a gated community for the homeless.