You may think you're the only one who is still renting, but that couldn't be further from the truth when you look at some of our favorite celebrities. In fact, many prefer to mansion-hop in lieu of settling down in once place, while others double as landlords. Everyone's got a side hustle these days, including your favorite A-listers.
Here's a look at three Hollywood stars who rent out their real estate, from beach homes in Malibu, CA, to modern bungalows in Hollywood Hills, CA — and the scoop on a few celebs who choose to rent instead of buy.
He's known for the Swingers line "Baby, you're so money," and $12,500 a month is what you'll need to lease actor Vince Vaughn's Hollywood Hills, CA, home. Vince bought the 2,890-square-foot home, previously owned by actress Kate Bosworth, in 2014 for $2.375 million. The three-bedroom, two-and-a-half-bathroom home in the celebrity-dense Nichols Canyon neighborhood is tucked behind gates and a long driveway. The home's master bedroom features unique details like a skylight directly over the bed and a balcony nestled in the treetops. Vince bought two other properties around the same time: a Manhattan Beach, CA, home that previously belonged to former University of Southern California football coach Lane Kiffin and a family-friendly home in La Canada Flintridge, CA.
Salma Hayek, known for her diverse roles in everything from Frida to 30 Rock, rents out her Hollywood Hills, CA, property for almost $10,000 per month. Built in 1962, Salma's ranch-style home is tucked away on a cul-de-sac in the highly coveted Outpost Estates neighborhood. The property, which features vaulted, beamed ceilings, floor-to-ceiling glass walls, and hardwood and tiled floors, comes fully furnished. A wood-burning fireplace adds that cozy, homey feeling, while terraced gardens, multiple decks, and a swimming pool provide the ultimate outdoor space for any family. Perhaps best of all are the stunning city and canyon views (of course, included in the price of the rental). Salma bought the home back in 1996 when she was just starting to gain renown in the American film scene.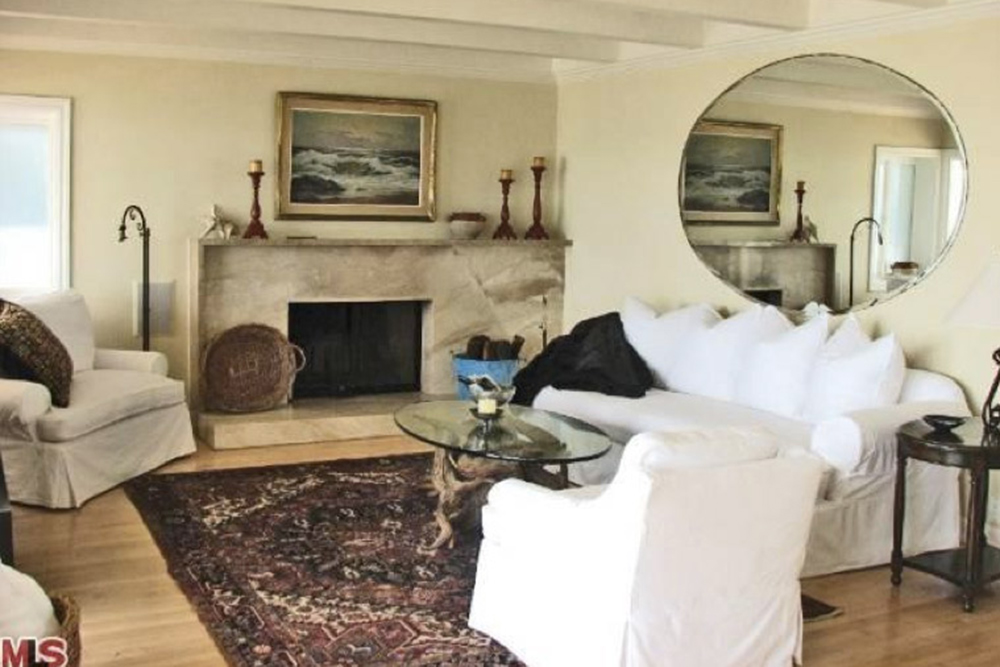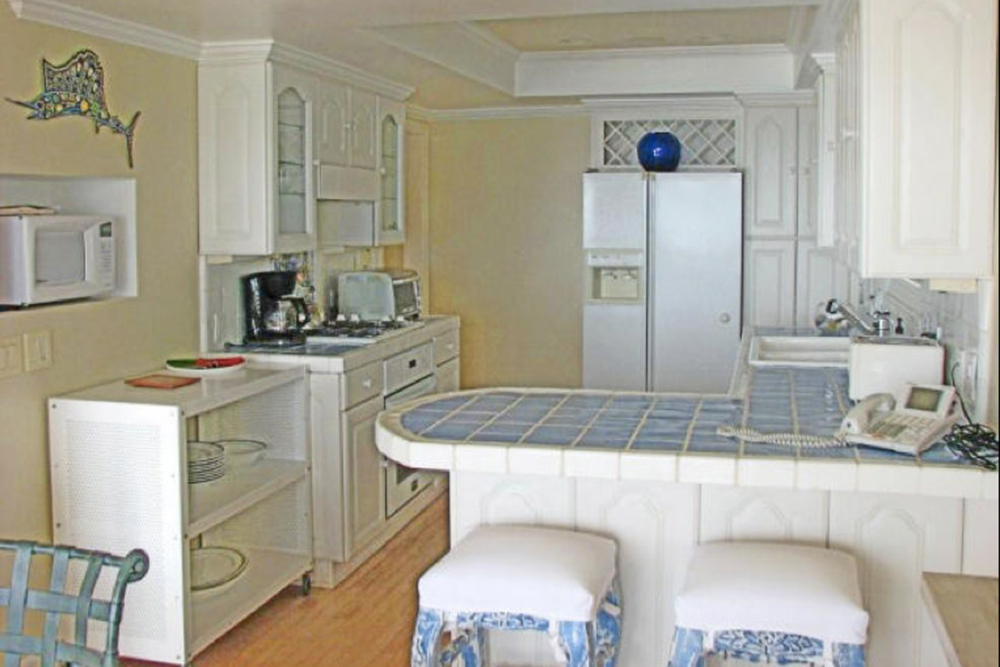 Just like on the Titanic, Leonardo will "never let go"… of his sweet Malibu, CA, beach house, that is! Located on Carbon Beach (commonly referred to as Billionaire's Beach because of its ritzy residents), the peaceful cottage features hardwood floors, a spacious deck right off the living room, a spa, and a barbecue area. But if you want this cozy cottage to be yours for the summer, you'd better be willing to fork over a lot of cash: The house goes for $23,000 per month in the off-season, or $50,000 per month during the summer. But this isn't Leo's first foray into the landlord life: He rented out his previous beachfront Malibu estate for $150,000 per month during the summer but went on to sell it for $17.35 million. That's just pocket change when you're the Wolf of Wall Street.
Bey, Jay, and their bundle of joy, Blue Ivy, are globe-trotters, and that's probably why they embrace the chronic renter lifestyle. But don't for a second think you'll spot Blue Ivy camping out at an extended-stay hotel: When they're looking to stay in one place for a chunk of time, Beyoncé and Jay Z are willing to pony up the cash for a pricey rental. In early 2015, the family spent $150,000 per month to hole up in a 16,000-square-foot Los Angeles, CA, mansion. That seven-bedroom, nine-bathroom modern masterpiece, which came complete with tennis courts and an infinity pool with a waterfall, was soon traded for an even more luxurious spread: the $45 million mansion that formerly belonged to controversial ex-Dodgers owner Frank McCourt. Measuring 20,000 square feet, the Holmby Hills manse, which is tucked behind iron gates and comes complete with its own guard, features an indoor Olympic-sized pool complex and an outdoor pool with a waterfall and formal gardens.
The Carter family has been known to rent for the occasional vacation too. They opt for places like a 31,000-square-foot, three-story estate in the Hamptons, that went for $400,000 for the month of August alone. The power trio isn't too cool to rent just for the weekend either: while in the San Francisco, CA, Bay Area for the 2015 Super Bowl, they rented a 9,834-square-foot, five-bedroom, seven-and-a-half-bathroom home in the Los Altos Hills. "Hard Knock Life"? We don't think so.
There's nothing like Living La Vida Lohan. The former Hollywood starlet and tabloid mainstay is always on the move, resulting in quite the rental (and gossip column) history. Back in her wilder days when she called Los Angeles, CA, home, Lindsay Lohan lived in a Hollywood Hills Spanish Revival on the west side, eventually relocating to another West Hollywood, CA, property. After a while, Lindsay switched it up and headed down to the bohemian beach community of Venice, CA, where she rented a glass-fronted contemporary home with four bedrooms and three and a half bathrooms (Lindsay's first three California rental homes are pictured above). That rental didn't stick either. Lindsay lived in another Beverly Hills, CA, property until she decided to ditch the US of A for a new life in London. That property, a Georgian Colonial, was later taken over by Fashion Police star Kelly Osbourne.
It probably doesn't surprise you that Hollywood's most notorious serial renter is none other than Justin Bieber. The Biebs doesn't currently own property, but that doesn't mean he avoids dropping serious dough on a rental every now and then. In fact, his rental history is about as complex as his relationship history. Here's a quick breakdown: Back in early 2014, Justin was crashing in Atlanta, GA, reportedly to be near his mentor, Usher. Guiding the youth of America! (Well, Canada anyway.) Hats off to you, Usher. But Justin's choice of home was quite interesting: an estate commonly referred to as a "spaceship mansion," because, well, it looks like something straight from Mars. He also rented an Atlanta home from friend/music producer Dallas Austin for a cool $25,000 per month around the same time.
Justin eventually ditched the South for the bright lights of Tinseltown, settling on a $59,000-per-month rental in Beverly Hills, CA, before moving to his most famous rental to date: a Hollywood Hills, CA, mansion with an 80-foot nightclub and three bars! The 16,000-square-foot, all-glass contemporary estate has 10 bedrooms, including two master suites with huge closets, and an in-home movie theater with a 160-inch screen. Additional luxuries include a floating glass staircase and an 80-foot pool with a 4-foot-high blue glass-tile rendition of the famed Hollywood sign running the length of the pool. Subtle! Then there was his rental condo back in 2014, where The Biebs angered the neighbors with late-night parties and the heavy stench of "herbal refreshments." In 2015, Justin moved to a modern rental home in Beverly Hills, CA, paying $35,000 per month.
While that 6,000-square-foot home is certainly a masterpiece, he more than doubled his rental budget in 2016, and the word is, the entertainer is renting an $80,000-per-month estate in Burbank, CA. Do you think he'll ever settle down and buy a property? Let's "Never Say Never."
Which of these celebrity homes for rent would you splurge on for a month? Let us know in the comments below!