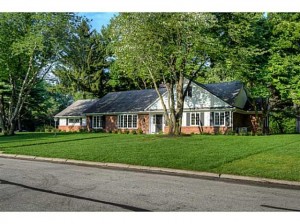 Ah … the charm, the detail, the attention to architectural style that you'll find in a '20s craftsman, '40s cottage, '50s postwar, '60s ranch style, '70s split-level, and my personal favorite, the Mid-Century Modern. They each have their own unique elements that add to their charm, and they're abundant across the United States. Older homes — which are defined as any home or condo that has been "lived in" — constitute the largest category of home sales in the United States.
Purchasing an older home offers many advantages. However, there are some potential hazards to consider before signing up for the house that will need some serious TLC, including the strain it can put on your relationship. In fact, according to a survey by Houzz, 12% of couples admitted to considering a separation or divorce mid-remodel.
But before you decide, let's look at ALL the pros and cons.
The Pros
They've got more charm. The older a home is, the more likely it is to have architectural details and decorative elements that give it personality that you rarely find in new construction.
There's more selection. These homes outnumber those in any other category of homes. More to choose from means more opportunities to find what you want, and better bargaining power for the buyer!
They're often less expensive than their new construction counterparts. More often than not, an existing home is more affordable. Some stats even suggest new homes cost 20% more than an existing home — and that's a big price to pay for brand spanking new. In Trulia's latest survey, just 46% of the people who strongly prefer a new home are actually willing to pay the 20% premium that new homes typically cost.
They're spacious. Many older homes have room for life to happen, since they're a bit more spacious than today's cookie-cutter new construction.
Some land of your own. An older home usually sits on a larger piece of land. Most new construction is built in a developed subdivision or new community, and often, there's not much open space in the back or the front of the home.
Where everybody knows your name. An older home is usually located in a more developed and established community. I grew up, for example, in the small town of Collingswood, NJ. You could walk or ride your bike to the main street with lots of shops and stores.
Upgrade and add value. You can add value to your home with renovation.
Make it your own. Upgrades allow for a degree of personal satisfaction, and you can tailor the home to your specific taste.
Older/Existing/Fixer Homes — the Cons
Pump the brakes on that moving van. These homes may not always be move-in ready. Most have varying degrees of repairs, upgrades, and renovations that need to be completed prior to even moving in.
Show me the money. Older homes can sometimes require lots of renovations, which, of course, require lots of money.
Rather not DIY? To be fair to those of you who aren't handy, willing to get your hands dirty, or face the demands of fixing up a property, this might not be your best option.
Down payment PLUS more. For first-time buyers, dishing out the down payment is enough to break the bank. Coming up with the extra cash to fix up the house to your standards can be extremely difficult.
Upkeep can bring you down. Unlike with new-construction homes, you will be faced with more maintenance issues sooner rather than later. Older homes generally have older systems. Heating, plumbing, electrical, and even the roof may need to be replaced at some point in the near future.
A messy predicament. Your house will be messy, and perhaps even unlivable for an uncertain amount of time.
What's the real cost? You never really know how much it will all end up costing. My rule of renovation is that it will always cost you 20% more than you planned.
Shut out of an open floor plan. The desirable open floor plan is going to be harder to find, because that home design didn't come into popularity until the '60s, so many older homes have more rooms and less open flow.
Going green is going to cost you more green! Older homes may not be as energy-efficient as some of the new homes with new, more efficient building materials and appliances that cost less to operate on a monthly and yearly basis.
Thus, trying to navigate the move, significant repairs, renovations, your relationship, and the family may be a lot to juggle all at once. However, the purchase price savings, the more established neighborhood, and all the wonderful charm of an older home may outweigh all the possible downsides. But in the end, it's up to you to decide!
Even with all the pros and cons considered, with patience and lots of communication, there's nothing more rewarding and bond building than transforming an older house into your very own home.
Do you prefer a new or an older home? Why? Share your preferences in the comments below.