Your bedroom sets the tone for a good night's sleep — and a good morning too. A chaotic mess of furniture and clothes in your space has a way of reminding you of that laundry list of things you need to get done (like yesterday), but a sparse room is just depressing. Yet many of us don't really bother to do anything to resolve either scenario. Maybe it's because we spend the majority of our time in there with our eyes shut. But maybe it's because we're perplexed by the most common feature of a bedroom: limited square footage.
One theory about bedroom size is that a bedroom is the last space an architect factors into an apartment or home's design. We don't necessarily blame them. It's not a public space like a living room or kitchen (unless you're a reality TV star, of course), and it doesn't have fixed features like a bathroom. If you're buying a home, it's unlikely that the previous owner renovated this space, since most real estate experts will tell you that it's better to have multiple smaller bedrooms than a few big ones.
So if you're reading this and thinking, "And how am I supposed to fit anything else in there when I'm barely able to fit in a bed?" know that you're not alone — and that there are solutions. We've asked up-and-coming designer Alyssa Kapito of Kapito Muller Interiors for her expert tips on maximizing style in a small space.
First, the bad news: You're going to have to declutter. Bedrooms tend to be where we hide our shame, the place where we throw heaps of stuff before guests come over and pile up clothes until we've achieved full floordrobe. But don't trust yourself to not fall victim to the overwhelming nostalgia for moth-eaten wool sweaters that are now several sizes too small. Invite a trusted friend over to help you take an unsentimental approach to ridding the junk. You'll probably find that you have much more room than you thought.
After you've tackled the decluttering part (and moved on from the many emotions of giving away your college T-shirt collection), try these small space solutions.
Opt for mirrors
Not on the ceiling (ahem), but on the furniture itself. "Mirrored furniture is great for small spaces and allows you to have storage without closing in the room," Kapito explains. While it won't fool you into thinking that you have a whole new space, the surface reflects light, making the room feel more spacious.
Blueprint: Mirrors can't work their magic if they're in the dark, so be sure to place them in a well-lit spot.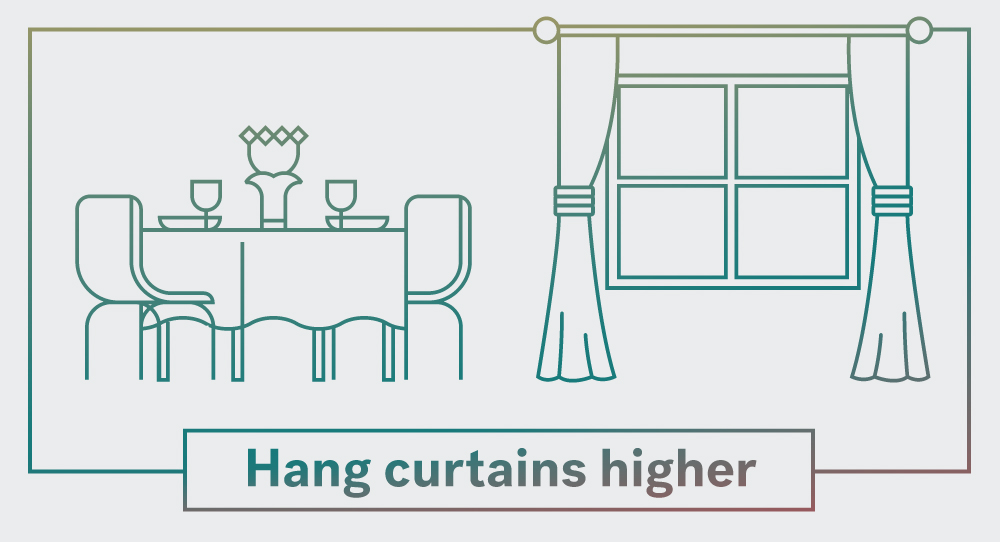 Dress your windows
It's the one detail many skip, but it can make a huge difference. "Drapes are important in a small space — they add character and charm," Kapito says. "Just remember to hang them as high and wide as possible."
Blueprint: By placing the curtain rod almost to the ceiling and extending it beyond the dimensions of the window glass, you'll draw the eye up and out — creating the illusion of a larger space.
Add carpeting
"Wall-to-wall carpet can make a small room feel a lot larger," says Kapito. This might be because a strong contrast between the walls and a hardwood floor can emphasize a room's tiny proportions. "If you're not able to install wall-to-wall carpeting, try getting an oversized rug. In very small rooms, we like to use a rug that's about 4 inches away from the wall." The other benefit: A rug helps absorb noise, a must if you happen to live in an apartment complex.
Blueprint: If you can't install wall-to-wall carpeting — or don't want to — measure your space carefully to be sure that your new rug will fit with just a 4-inch gap between rug and wall. Be sure to buy a rug pad to protect your investment (and keep it from sliding all over your floors).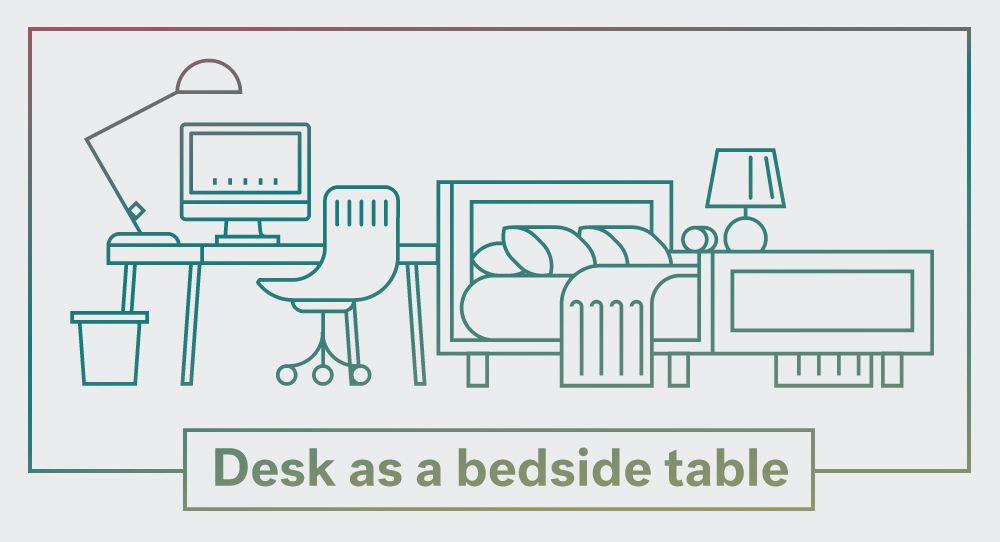 Go double-duty
In a cramped kitchen, holding onto space-hogging items that serve only one function — such as that waffle maker you use once a year — is a bad idea. The same goes for the bedroom.
"Use pieces of furniture with dual purposes — for instance, a desk can function as a nightstand. It's a major space saver," Kapito says. A bookshelf also helps bibliophiles stay organized, but the shelves can also be a great place to store shoes and can provide nightstandlike space.
Blueprint: Your bed can still be the focal point if it doesn't have nightstands on either side. A desk next to the bed can be a stylish alternative (and a daytime workspace), and a short bookshelf can offer extra storage.
Hang art
Art is a great way to distract from a less-than-ideal view, brings in an element of personality, and helps make a space seem bigger. Just opt for larger pieces.
"Art is super useful for opening up a small space," Kapito says. "A large photograph of a landscape or city can actually trick the eye into feeling like the space extends. Mirrors work great too."
Blueprint: Visually open up a small space by hanging a piece of oversized art above your bed or on the largest wall.
What are your favorite ways to save space in the bedroom? Let us know in the comments!