Imagine waking up every day and looking out through a wall of windows onto a sea of seemingly unending greenery. This was architect Leonard Lundgren's peaceful, progressive vision when he designed this home for sale in Travis Heights, a neighborhood just 10 minutes from downtown Austin, TX, in the late 1950s.
Lundgren was a disciple of the Mid-Century Modern style and is best known for his award-winning hotel designs. But he first focused on residential projects like this one on Bonham Terrace. The two-bedroom, one-bathroom, family-friendly home packs in plenty of design savvy, including two decks that extend the entire length of the 1,489-square-foot home, a nice amenity in a city where temperatures can average 60 degrees in January.
The home's treehouse feel fits in perfectly with the Travis Heights neighborhood (and, really, Austin itself). The neighborhood's miles of biking and jogging trails, its parks, and even bordering Lady Bird Lake underscore the home's prime location among mature foliage. But it's not an oasis in solitude — the home is just minutes from trendy South Congress Avenue, where you can eat, hang out, and enjoy Austin's vibe.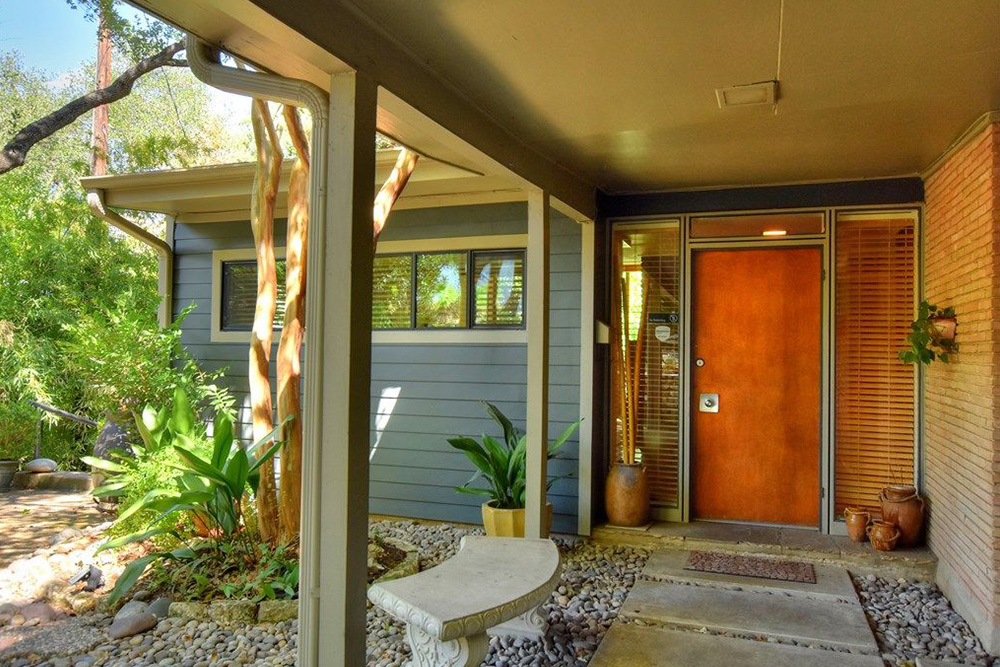 The home's exterior flies the flag for Mid-Century Modern design, prominent during the 1950s and '60s. It expertly mingles materials, including vertical and horizontal siding, a front walkway that mixes loose stones with larger paving pieces, a wooden front door, and a flat roof. Just before visitors reach the front door flanked by long vertical windows, a curved stone bench invites them to sit and enjoy the neighborhood. Nearby, the detached, insulated garage can double as a studio, workout room, or office.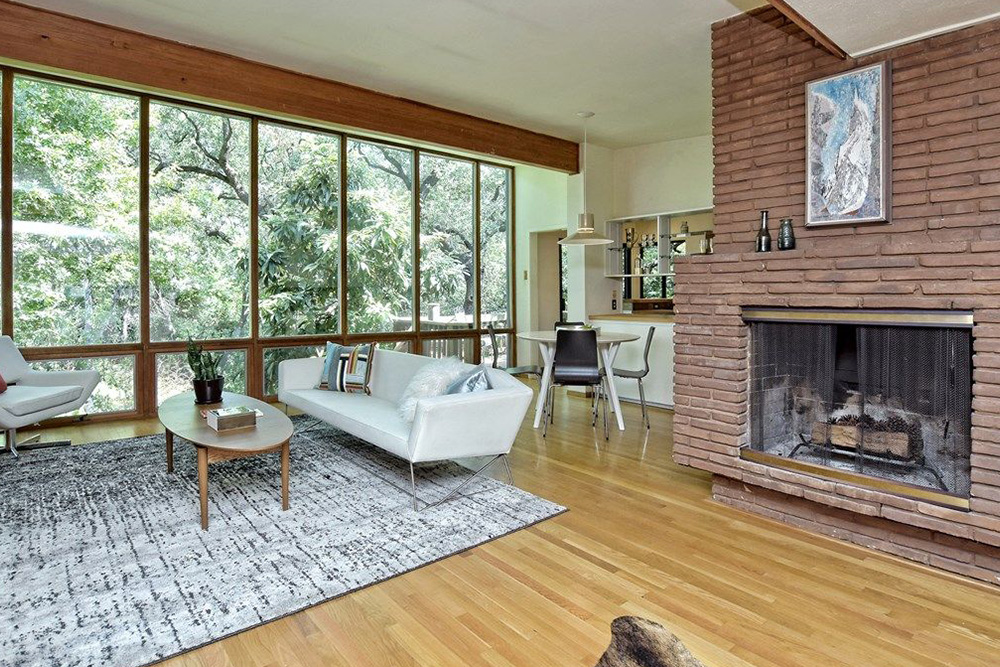 Previous owners kept the home true to Lundgren's vision, and the 1956 floor plan has gone untouched. The living room's wall of windows helps let nature in with a nearly unobstructed view, and the home's placement on a 0.32-acre lot in the trees pays homage to the outdoors.
The living-room furniture echoes the home's original design with a sleek sofa that mixes chrome and leather, a wooden coffee table with curvilinear lines, and an Eames-inspired chair, all in a neutral palette. The room's clean lines continue in the multilevel wood-burning brick fireplace situated between the living room and entry area. Mid-Century Modern homes need care, and in doing so, the home has been gently updated with Milgard windows and white oak hardwood floors.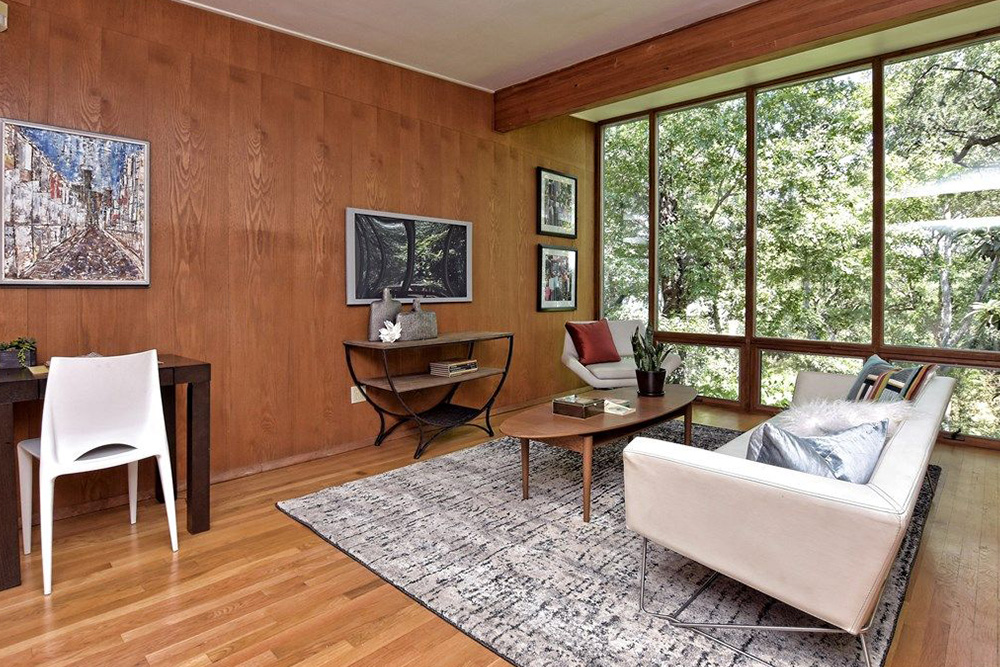 While watching TV may seem unwarranted in a home that has this many noteworthy design details to take in, there is a space for an entertainment nook in the living room. Besides the TV, the room has floor-to-ceiling windows, sleek oak floors, and exposed beams, which were common when Lundgren designed it. The flat screen? Not so much.
The kitchen is mindful of form and function, as the dual sink faces a double set of windows overlooking those aforementioned leafy trees. The counter above the sink is also part of the sunny breakfast nook, with stools that can be tucked away neatly. Original flat-front cabinets and open glass shelving provide plenty of storage space while also allowing the kitchen to seamlessly transition into the dining area and living room. All this natural wood is juxtaposed to slate floors.
The master bedroom is simple and airy, allowing the wood floors, double windows, and sliding glass doors to steal the show.
Out on the master patio, you'll feel as though you're living in a stylish treehouse on one of the two decks (the other on the lower level). Both are equally perfect when you're entertaining friends who've come to town for Austin's iconic festivals. Bringing nature inside was paramount to Mid-Century Modern architects like Lundgren. We'd say the mission was accomplished: The line between inside and outside really seems to blur in this Austin abode.
This listing agent is Elizabeth Brooks of Landmark Properties.
What makes you feel #AtHomeHere? Sign up for your chance to win $1,000 per week! To enter, follow @Trulia on Instagram and register at Trulia.com/athomehere.