If you fit in the category of "restless city folk" (aka those who were built to rip, ride, and hike all day in the wilderness, but are confined to city life during the week), you might be on the hunt for something, well, special when it comes to choosing an apartment building.
Take heart: The perfect space is out there. It might even be one of these four downtown apartments that were made for the urban athlete — the kind of person who will take advantage of the natural world right outside their windows, even if they're looking for apartments for rent in New York City.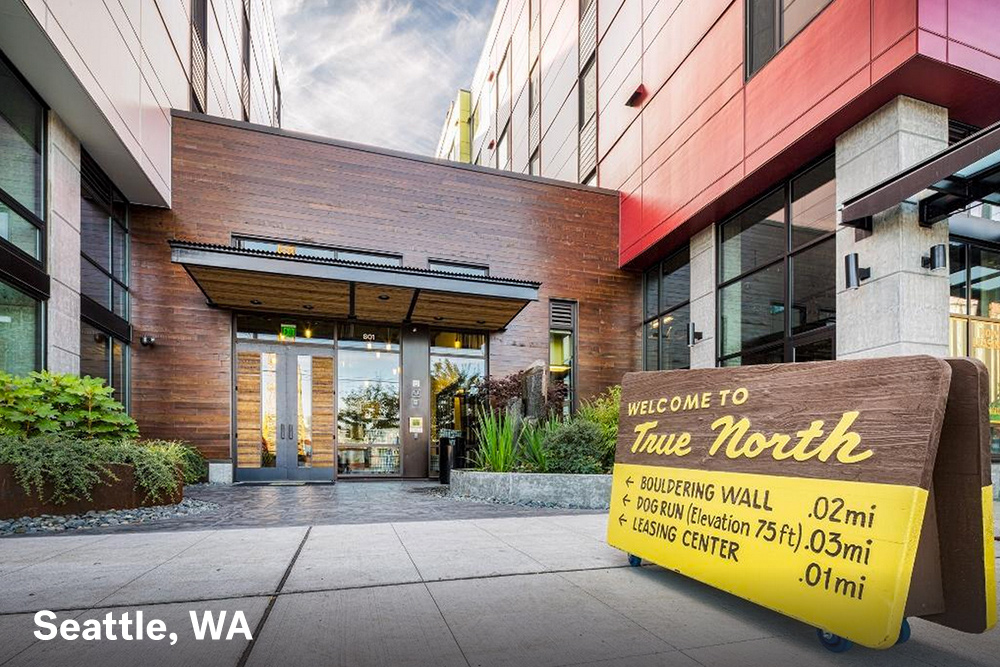 An ode to National Parks: $1,690-$3,680, True North Apartments
The one rule at this Seattle apartment complex? Keep nature close to your heart. The apartment even embraces the great outdoors with a sign made to look like one from a United States National Park.
True North Apartments, which start at $1,595/month for a one-bedroom, have everything (yes, everything) you'll need for your next adventure: kayaks to borrow for a jaunt on Lake Union, a bike lounge to tune up your ride, a gear room to dry out your camping and ski equipment (the apartment is located 25 minutes from ski mountains), and a trailhead room with a concierge present to help you map your next route.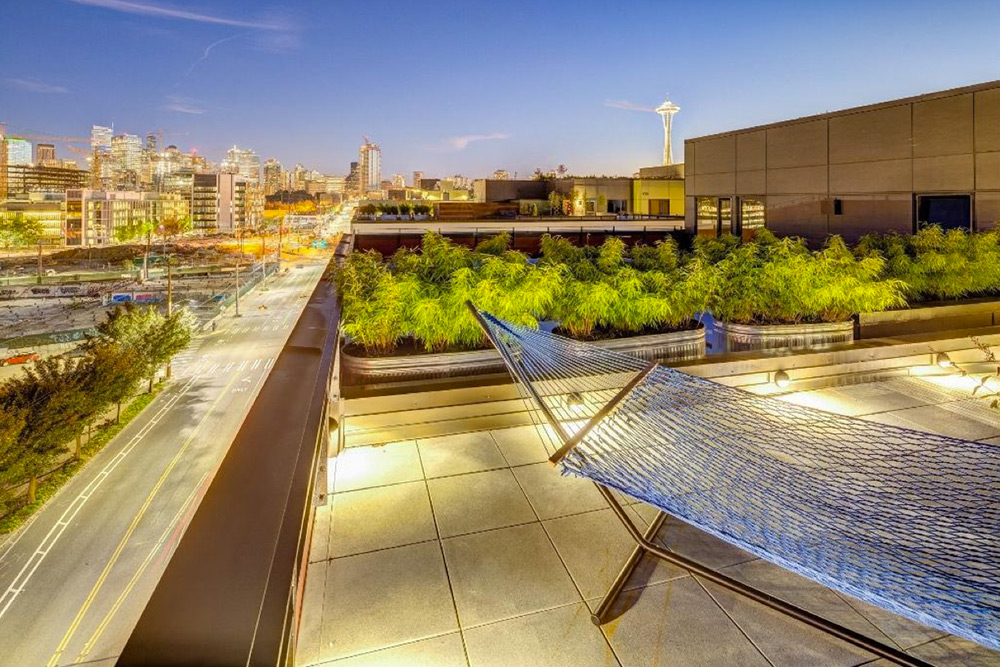 When you're not outside, you'll stay busy conquering the bouldering wall and working out at the fitness center, which has spin bikes, cardio equipment, and free weights. Even your pooch will stay in supreme mental and physical shape at the dog run, which is complete with an agility course. See if you can find another apartment for rent in Seattle that even comes close.
The laid-back lake life: $1,259-$15,671, Calhoun Beach Club Apartments

Take advantage of the Land of 10,000 Lakes with a view of Minneapolis' Lake Calhoun from your apartment window — and start planning your adventure before you even set foot outside.
Windy? Head out for a sail. Still and hot? Take out the paddleboards. Beautiful fall morning? Head to the tennis court or roll out for a bike ride on the Grand Rounds scenic bike paths.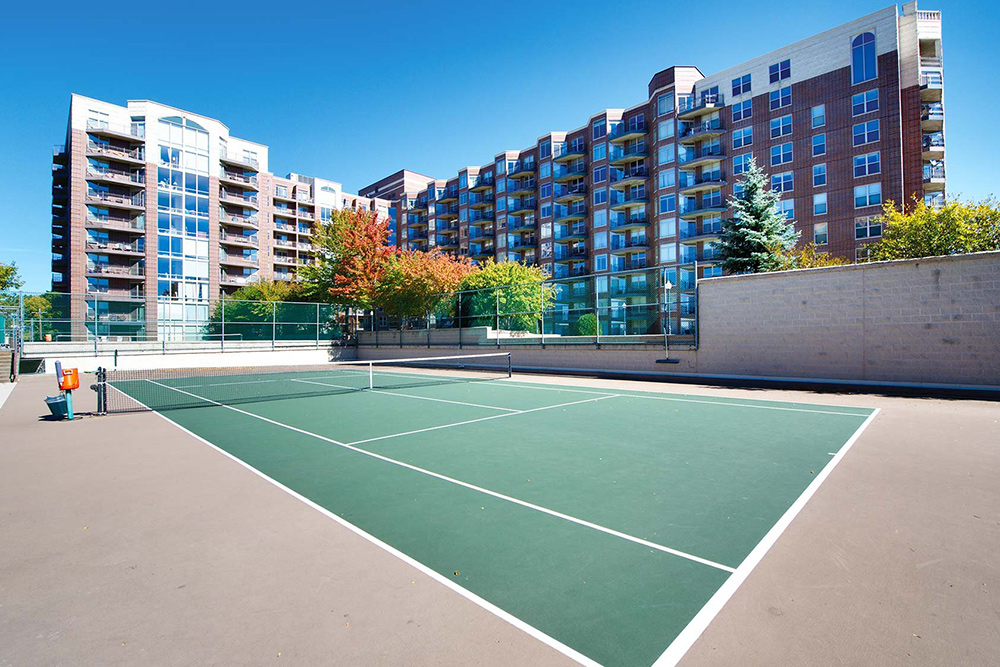 Warm-weather activities are just the tip of the iceberg — er … um, frozen lake. On a winter day, Lake Calhoun turns into a wonderland for ice skating and cross-country skiing. Even on the gloomiest rainy days, you could scratch that workout itch at the indoor lap pool, which is part of the complex's 40,000-square-foot Calhoun Beach Social and Health Club.
Of course, exercise leads to sore muscles. Take advantage of the Calhoun Beach Club Apartments spa and massage services, followed by a cocktail served fresh from the cafe by the outdoor pool. If $1,209/month doesn't jibe with your financial goals, find other Minneapolis apartments for rent that offer similar outdoor attractions.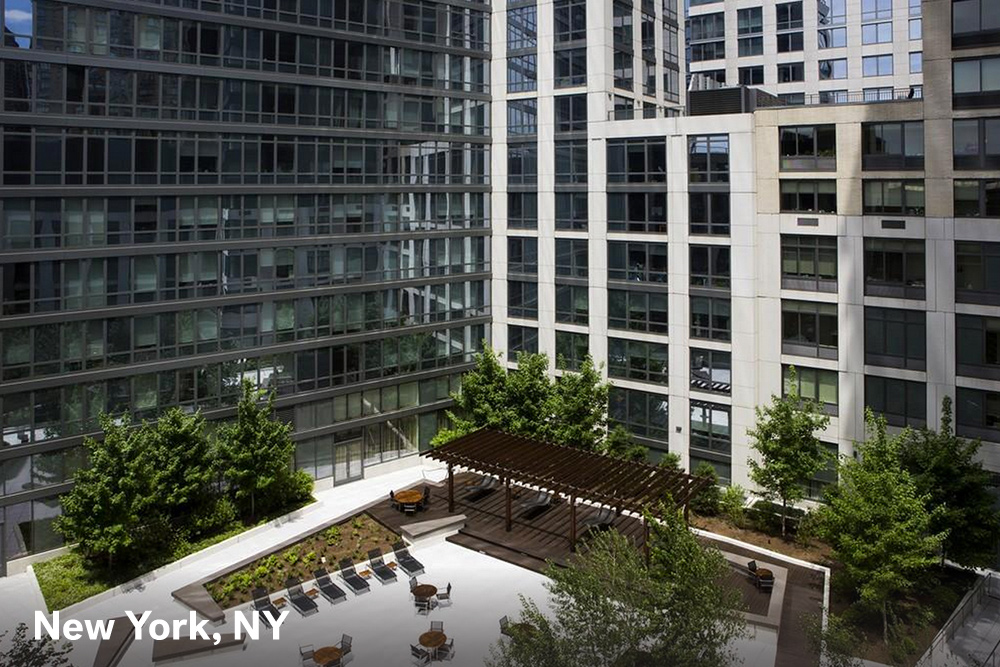 Boulder among skyscrapers: $4,028-$22,900, The Aldyn Apartments
Imagine honing your bouldering skills in the city that never sleeps. We're not talking about scaling skyscrapers Spider-Man–style. At The Aldyn Apartments on Manhattan's Upper West Side, an urban athlete willing to pony up $3,350/month on a studio apartment can practice on the building's 38-foot rock climbing wall.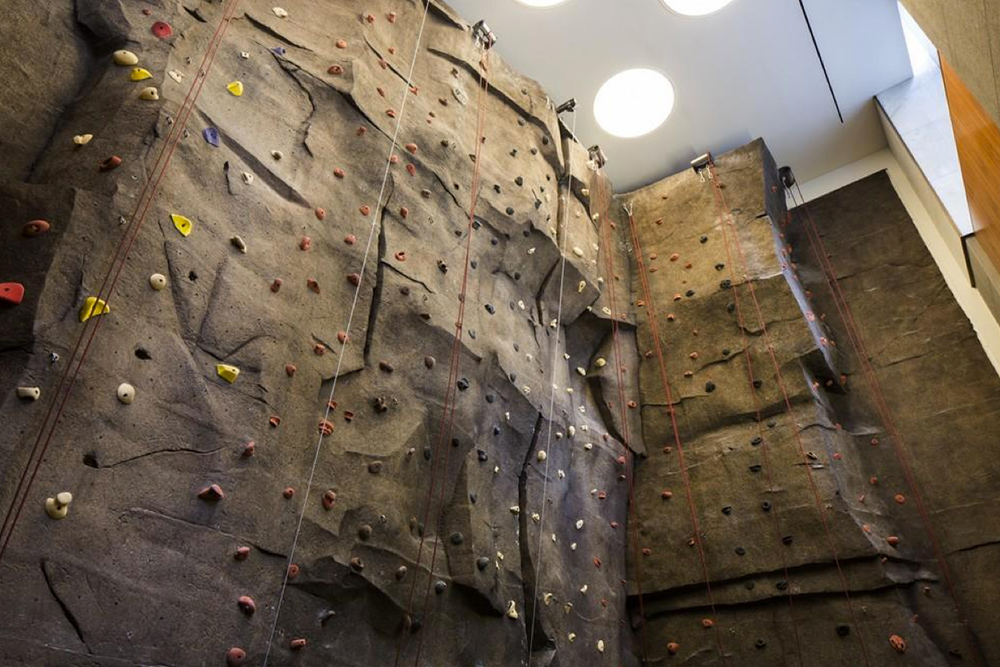 The climbing wall is part of the building's 40,000-square-foot La Palestra Athletic Club and Spa, which also includes an indoor basketball court, 75-foot indoor pool, and yoga, Pilates, and personal training classes.
Even in the midst of busy streets, these apartments offer water views of the Hudson River and are located within walking distance of Riverside Park. In search of other horizons? Browse other apartments for rent in New York.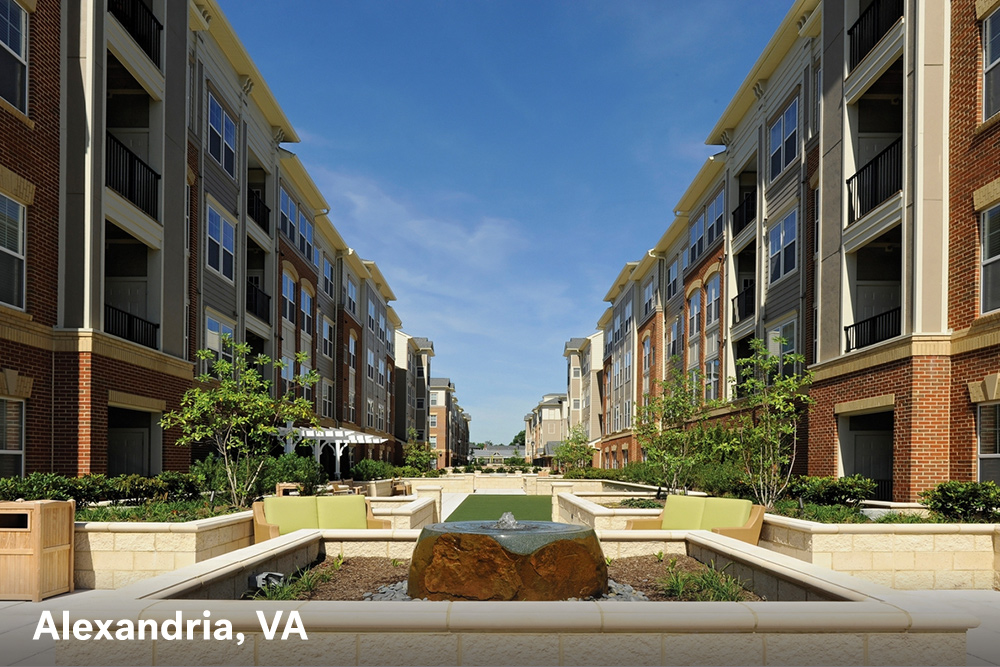 Explore then refuel naturally: The Courts at Huntington Station Apartments

Well-being is top priority at this apartment complex, which was designed to promote a healthy, green lifestyle. The urban athlete who lives here, minutes from Four Mile Run and the trails surrounding the Potomac River, as well as the 45-mile-long Washington & Old Dominion canal trails, will have no excuse not to explore.
Of course, as with any apartment for rent in Alexandria, you can join the fun of sailing or boating on the Potomac right from Old Town, but if you need to get down to Washington, DC, you can leave your car in the apartment's underground garage — the building is adjacent to the Metro's Yellow Line.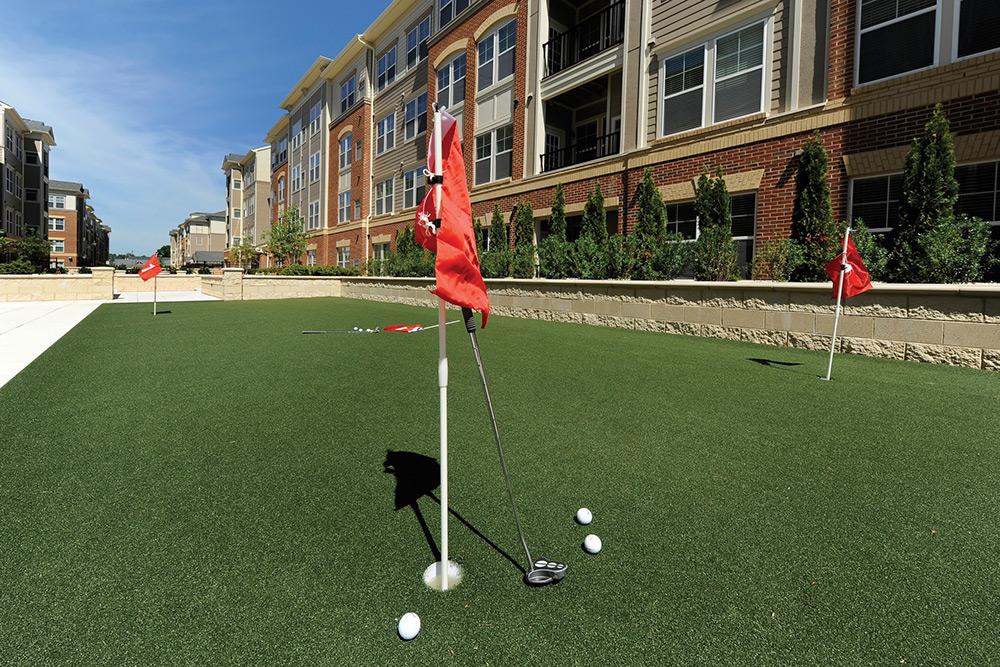 On the days when you must stay home, you'll be satisfied that part of the $1,670 you're paying every month for your one-bedroom apartment at The Courts at Huntington Station helps pay for the pool, rotating climbing wall (yes, you could technically climb forever), putting green, and yoga studios at the fitness center. And when you've worked up an appetite from all of that activity, you can whip up a healthy meal at your apartment's fully equipped kitchen.