At the start of the new year, there are many intentions to live cleaner. There are diet cleanses, financial cleanses, and even closet cleanses. But one of the most lasting (and easily achievable) ways to simplify your life is to adopt a minimalist design style and purge the clutter from your home. Yes, this means scaling way back on all those knickknacks and tchotchkes that adorn your counters and walls. Just think: If you're renting an apartment, this freed-up space can not only make a bold statement, but it can also make your home feel larger.
Luckily, there are many spaces to look to when it comes to minimalist living: Take a cue from the eight apartments below, from Austin, TX, apartments to Seattle, WA, and you'll be living clean in no time.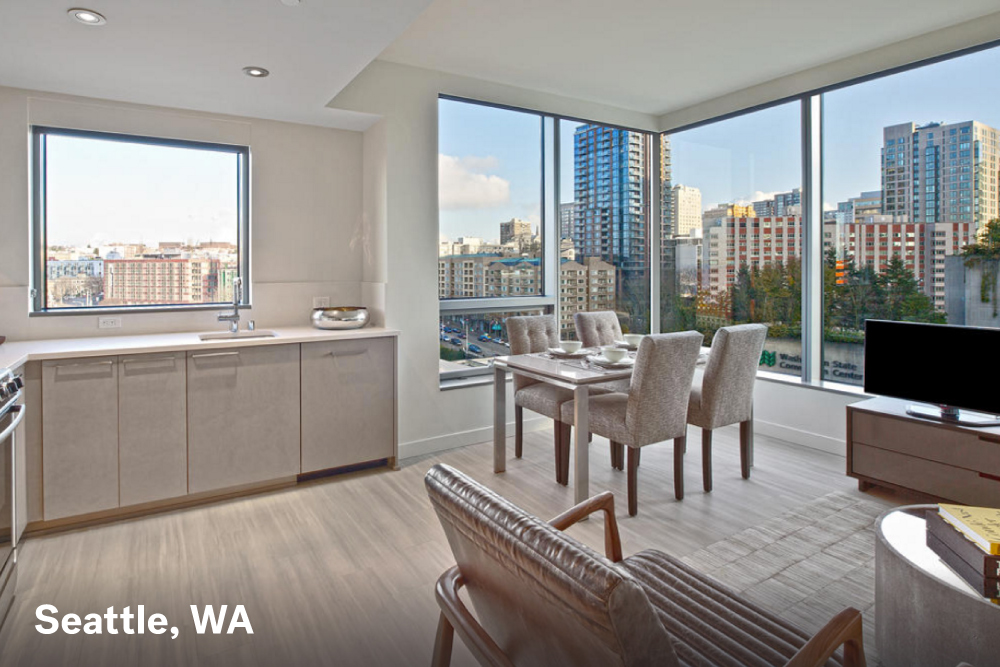 Go monochromatic: $1,810 to $7,315, Premiere on Pine
At Premiere on Pine in Seattle, WA, there's one hue to rule them all — gray! Not only does it unite the space, but it also makes it feel bigger (those windows don't hurt either). Decorating monochromatically with a neutral color — who doesn't love a gray room? — is one of the quickest ways to achieve a minimalistic design. Just make sure to vary the textures of the neutral you choose, like these wood floors, tweed dining chairs, and striped rug, so the design doesn't fall flat.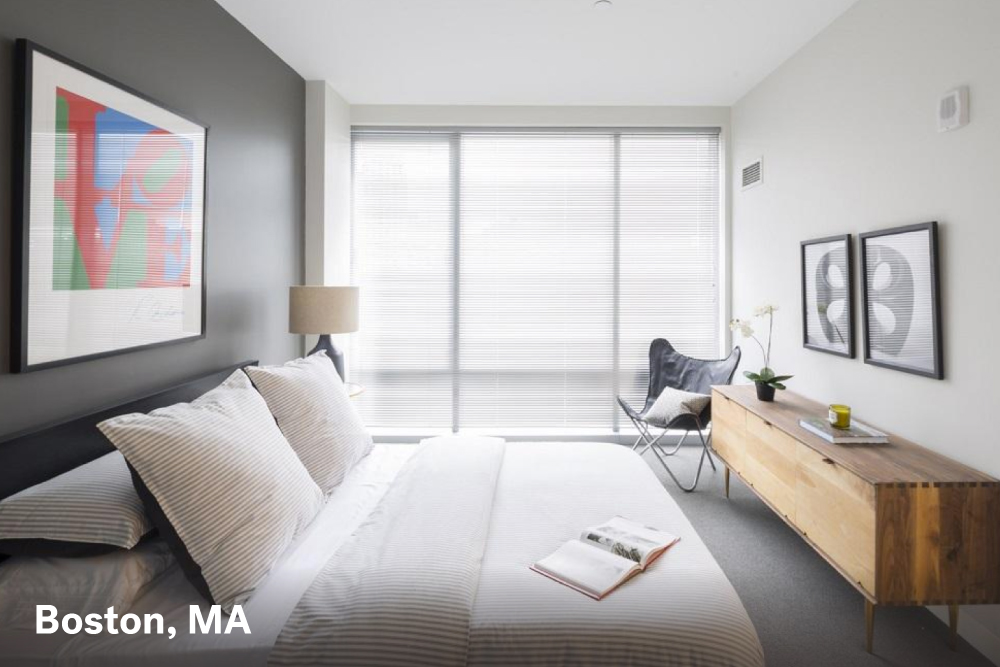 Redefining the bachelor pad: $2,769 to $3,814, Ink Block Apartments
If you're looking to strike a more masculine design vibe in your apartment, designing minimally can be a great way to do so. At the Ink Block Apartments in Boston, MA, striped bedding and a leather butterfly chair could easily veer into dorm-room territory, but by keeping the color palette sophisticated (gray again!) and the clutter at bay in a credenza, this room screams bachelor-pad-done-right.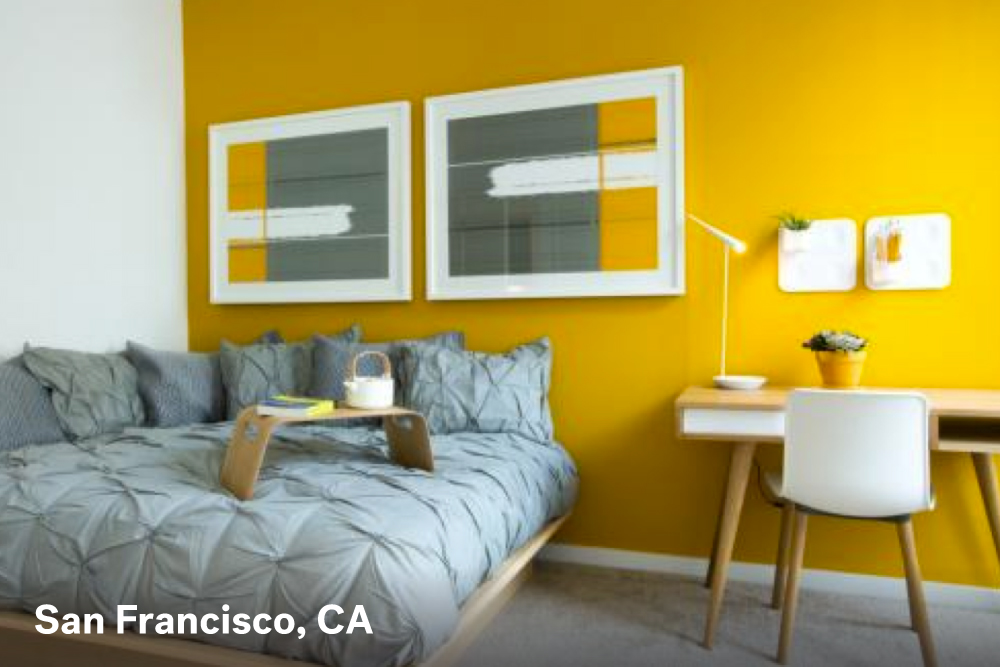 Minimal, not meek: $2,845 to $8,192, Mosso Apartments
Contrary to popular belief, minimalism doesn't mean your apartment has to be boring. Case in point: Mosso Apartments in San Francisco, CA. The dandelion-yellow wall adds some pizzazz, especially since it's echoed in other elements in the room: the painting, the flowerpot, and the pencils above the desk. Picking one or two colors and sticking with them makes a rather bold (and simple) statement.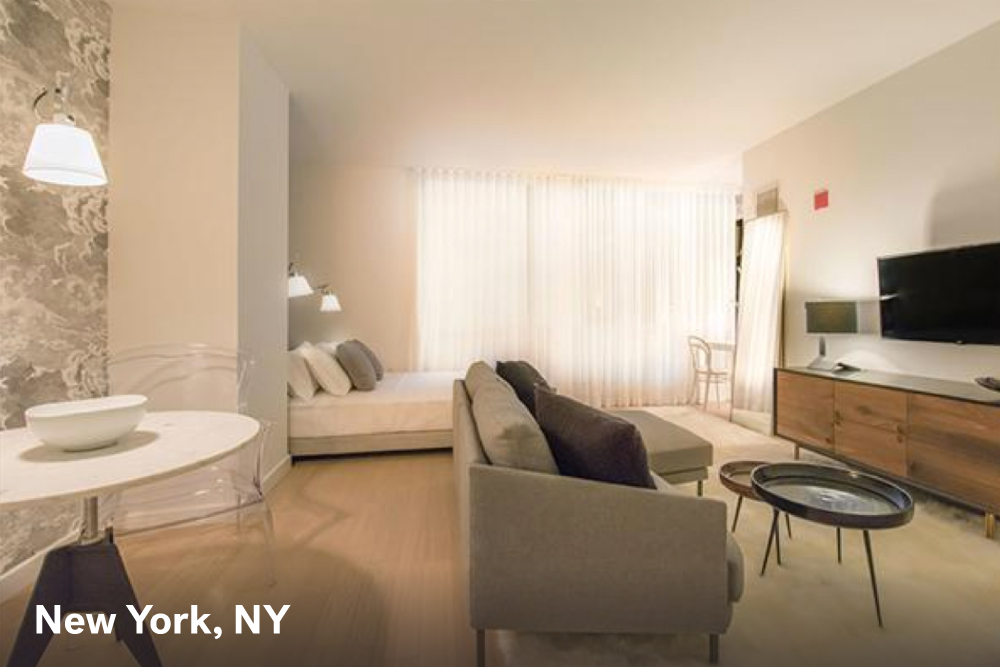 Divide and conquer: $3,710 to $15,260, Prism at Park Avenue South
If you're living in a studio apartment, like this one in New York, NY's Prism at Park Avenue South apartment building, it's helpful to visually divide the space into "rooms" with decorative elements. An area rug defines the living room, and the back of the sofa becomes a hallway wall. Clearing clutter and strategically placing your furnishings allows you to define and visually separate spaces.
Tricking the eye: $2,853 to $5,200, Fremont Apartments
Lucite furniture has been everywhere lately — and from the looks of this dining table in San Francisco, CA's Fremont Apartments, it's obvious why! Lucite is the ultimate neutral: You can pair it with any color or pattern, and it instantly glams up a room. If you're going for a minimalist look, Lucite will help keep your decor streamlined and clean, since it has zero visual footprint.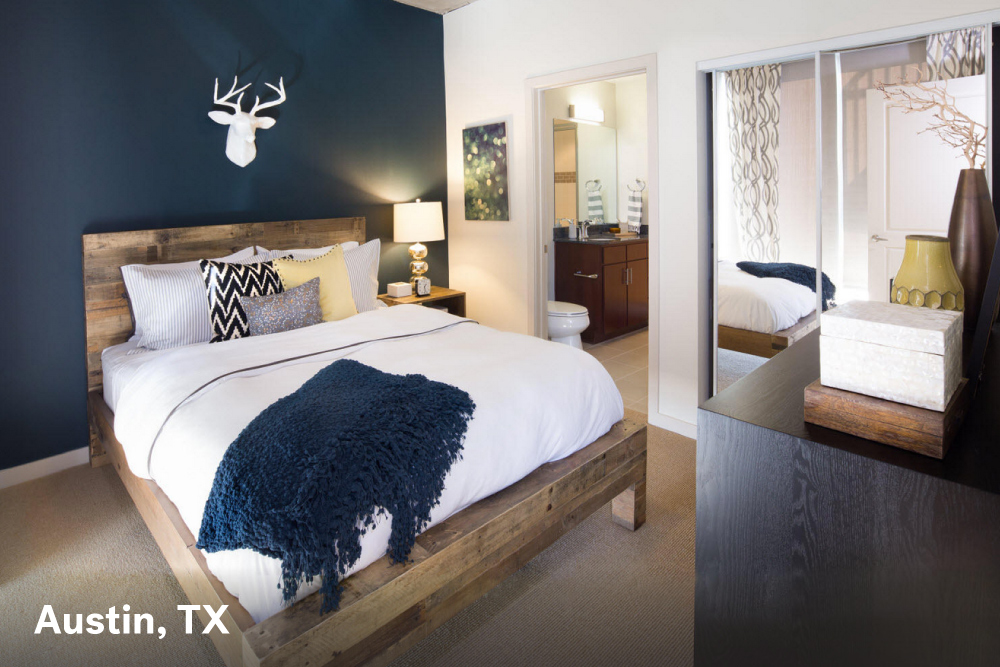 Sleeping pretty: $1,725 to $4,630, Skyhouse Austin Apartments
A recent sleep study found those who slumber in cluttered rooms are more likely to have sleeping problems. One way to remedy that issue? Overhaul your bedroom and go minimal! Take a cue from Skyhouse Austin Apartments in Austin, TX: add a simple platform bed, one statement art piece, and maybe a bold accent color on the wall (see above). You'll wake up feeling more refreshed, and not start off stressed by all that clutter.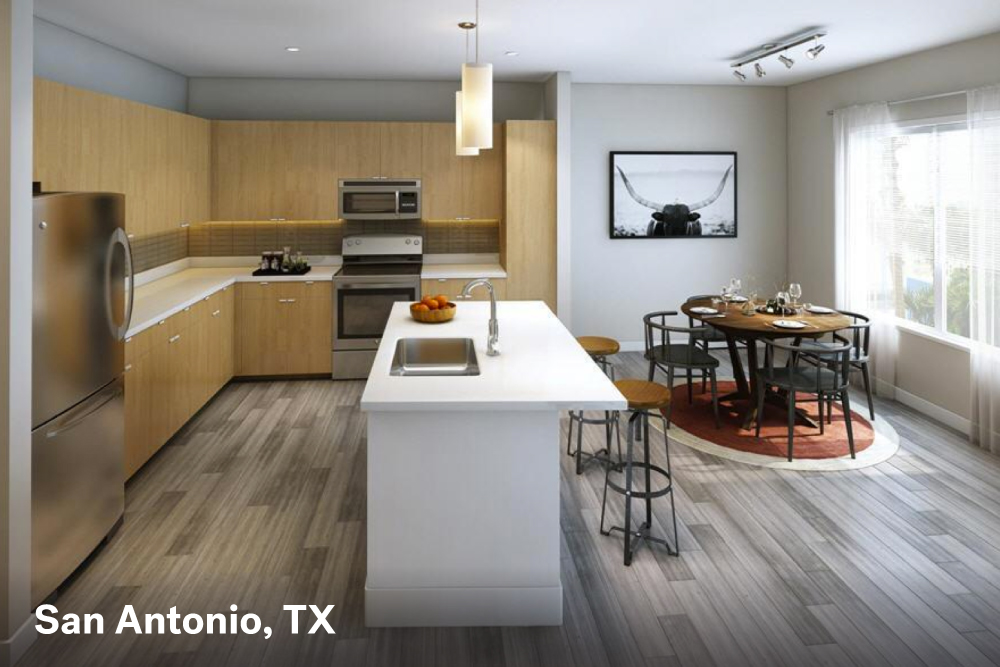 Lone Star lovely: $1,055 to $2,830, Big Tex River Walk
When you're shopping around for a new apartment to rent, you can search specifically for pads with minimalist finishes. For example, Big Tex River Walk apartments in San Antonio, TX, which boast wood-grain flooring, flat-front cabinets, and simple white countertops that make a great palette for a minimalist interior. Add in those industrial-chic barstools, sheer curtains, and bold black-and-white print, and voila! That's one good-looking space.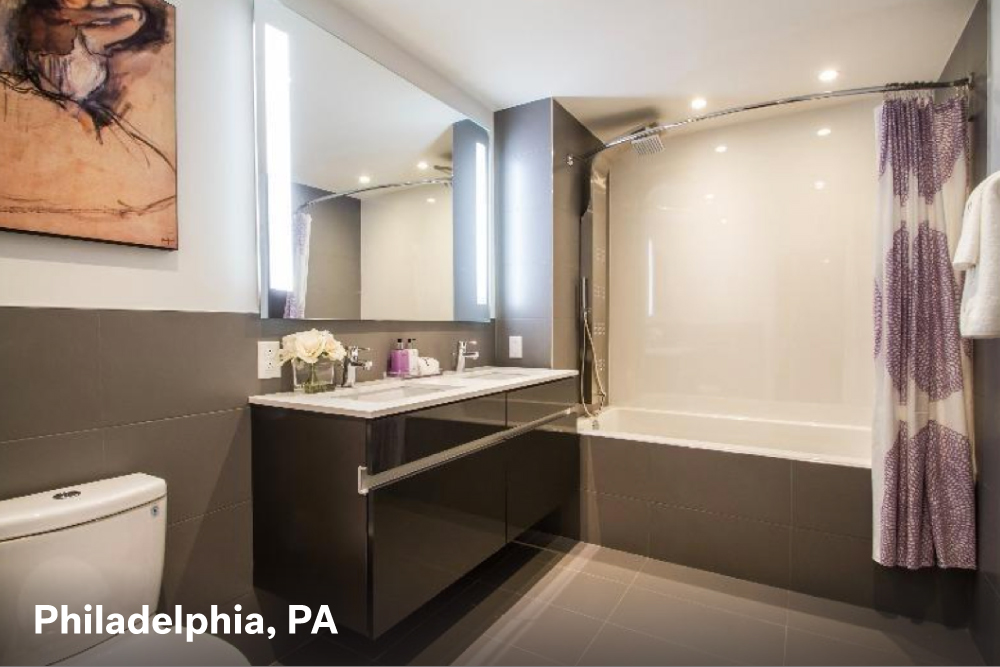 No rubber ducks allowed: $1,025 to $1,915, Washington at Presidential City Apartments
When you think about it, the bathroom is one place where a minimal design should always be: It's usually the smallest room in your house, and there are many opportunities for clutter to lurk, from toiletries to too many towels. Keeping it minimal can be very calming. Take this Washington at Presidential City Apartments in Philadelphia, PA, bathroom: It offers plenty of sleek, streamlined storage to hide away your deodorant and hair dryer while still maximizing style. The floating vanity and frameless mirror are an especially nice touch, since they keep things clean and simple.