When it comes to decorating, a brand-new apartment is like a blank canvas. That can be a good thing — unless you can't decide where to make the first brushstroke. Therein lies the appeal of the adaptive-reuse rental: Industrial finishes like floor-to-ceiling windows, polished concrete floors, and exposed beams and brick ensure that character comes standard.
But really, who wouldn't find decorating inspo in a loft that lived a past life as a chocolate factory in Dorchester, MA, or as a big-name brewery in Baltimore, MD? Here are six apartments for rent that will leave you in architectural awe.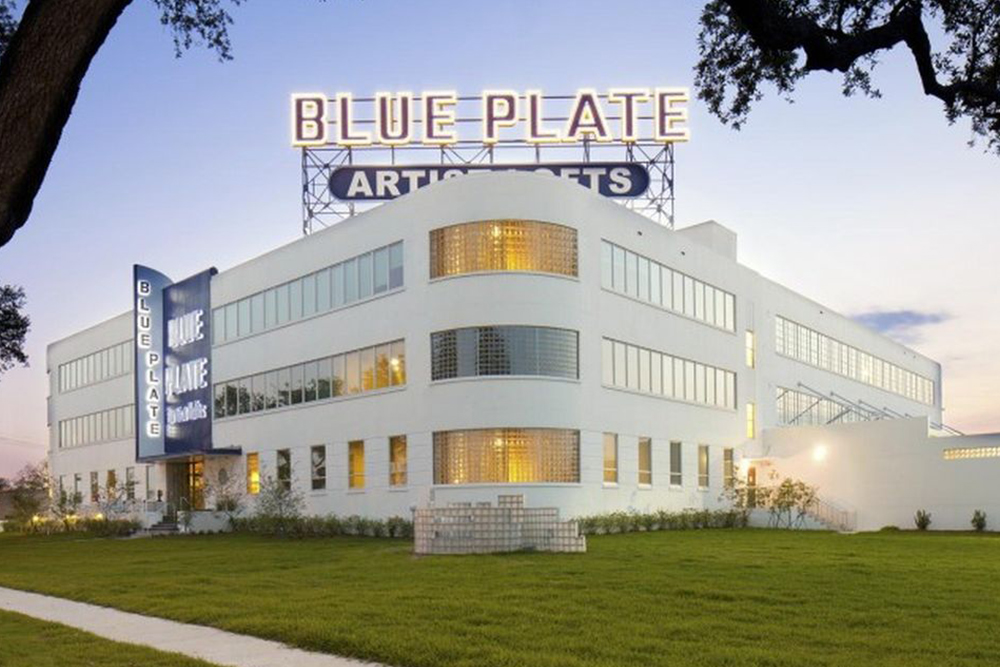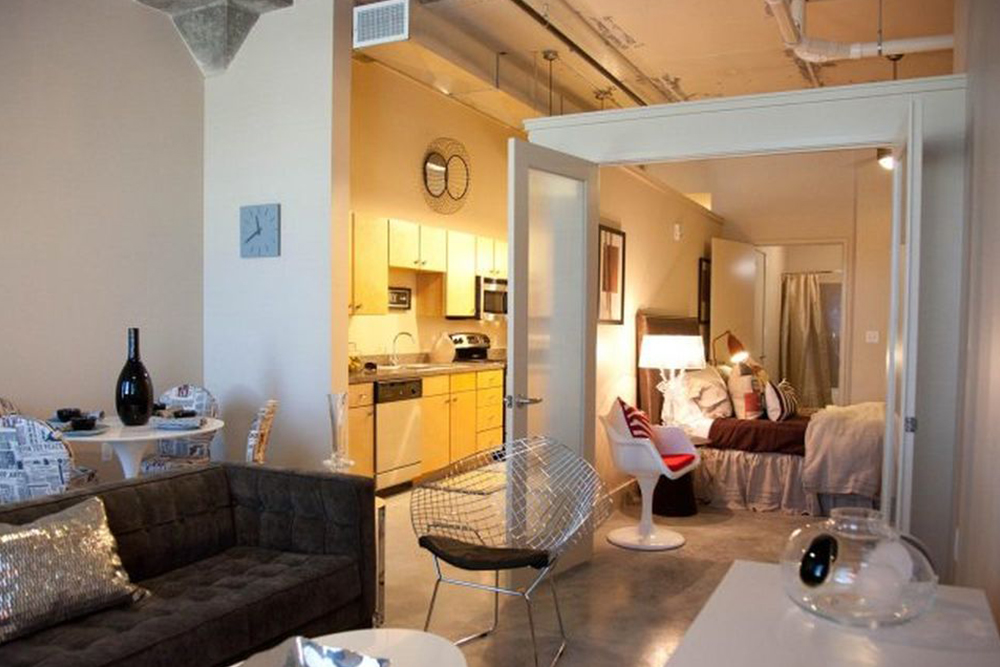 Everything but the mayo in NoLA: From $1,125/month, Blue Plate Artist Lofts
Exemplifying the Streamline Moderne design style (curved corners, ribbon windows, flat roof), the Blue Plate Building has long been considered a landmark of the Mid-City neighborhood in New Orleans, LA. The four-story concrete building — now listed on the National Register of Historic Places — was constructed in 1941 to serve as the production plant for Blue Plate–brand mayonnaise. Operations ground to a halt when Hurricane Katrina made landfall in 2005, but the building has since been reimagined as Blue Plate Artist Lofts, an eco-minded apartment community comprising 72 loft-style units. Many of the building's original materials and architectural details (including its recognizable signage) were salvaged during construction.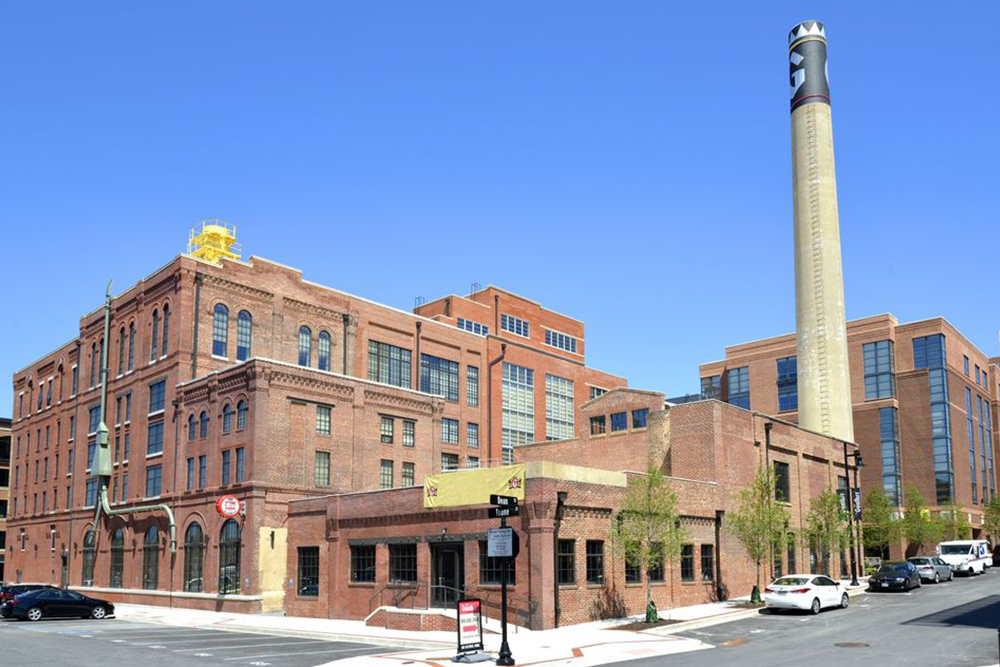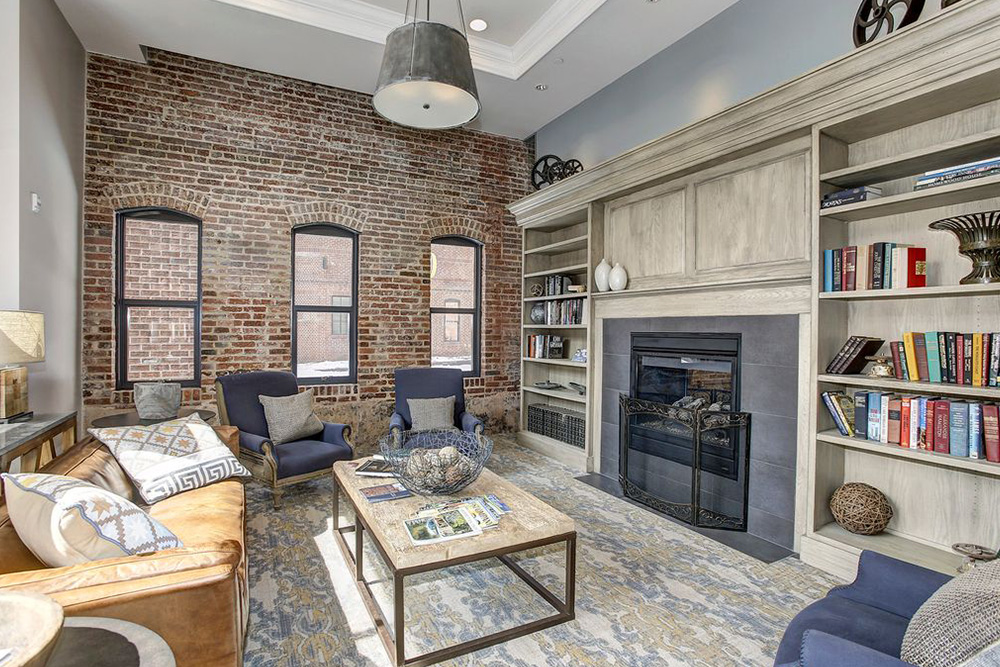 Home-brewed character in Baltimore: From $1,738/month, The Gunther
The towering red brick building of The Gunther Apartments has been a part of Baltimore's Canton neighborhood since 1900. Back then, though, the building was home to Gunther Brewing Company, one of Charm City's largest and most productive breweries (800,000 barrels of beer per year!). Fast-forward to today, and The Gunther plays host to luxury loft apartments outfitted with exposed brick (original to the building), granite countertops, and energy-efficient appliances. In fact, The Gunther is a LEED Gold–certified building with plans of being "the greenest building in Baltimore."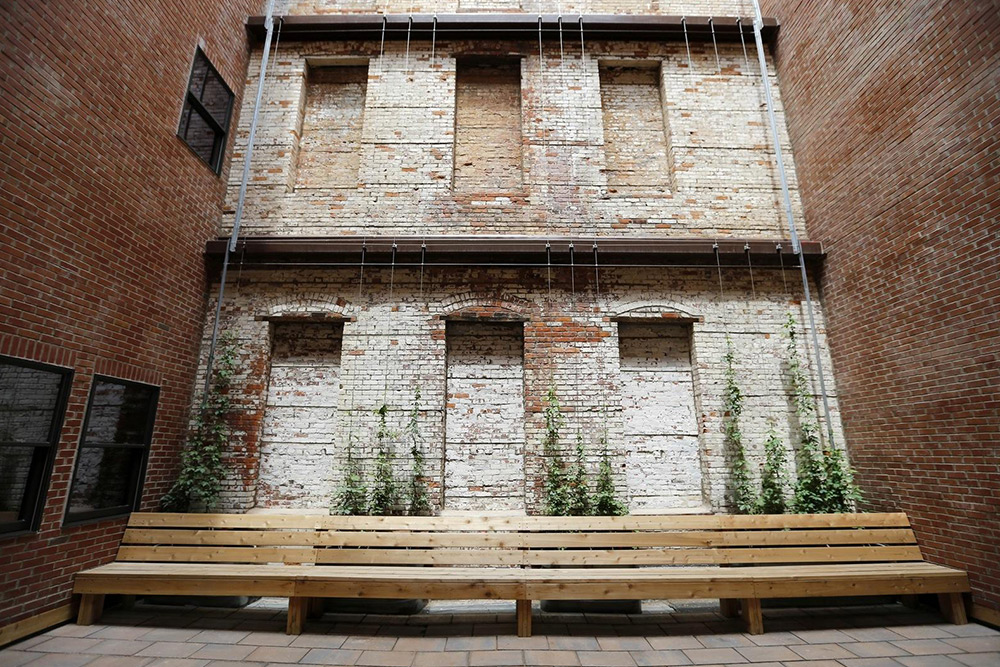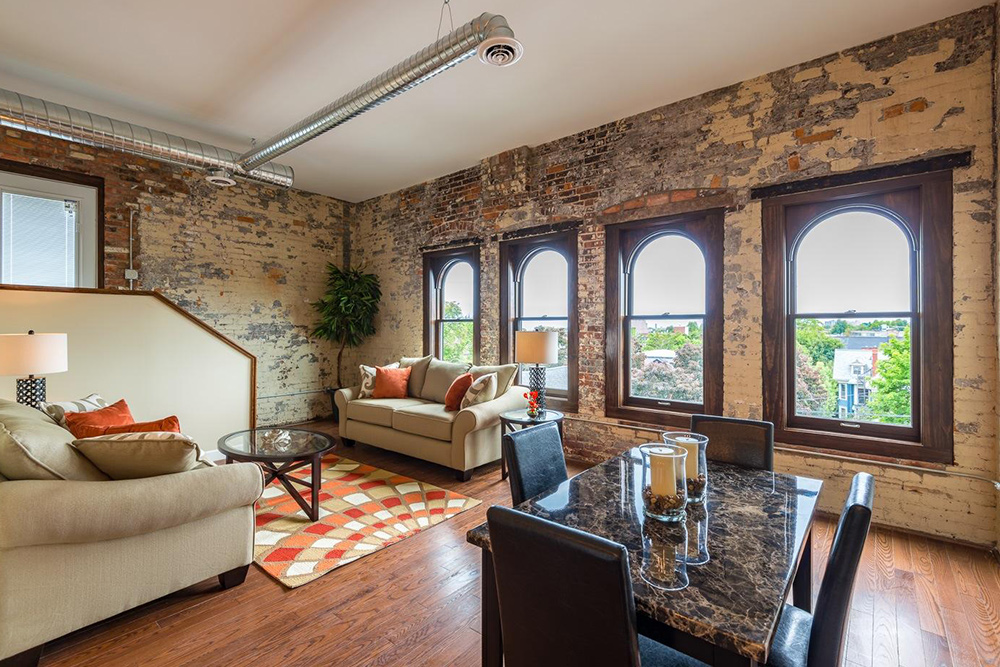 Carriage repository-turned-rental-community in Buffalo: $1,345/month, The Bosche Lofts
Completed in 1891 and originally serving as a carriage repository, the 23,000-square-foot Bosche building in downtown Buffalo, NY, faced emergency demolition before being scooped up by developers in 2005. More than a decade later, the four-story brick-and-sandstone building re-emerged as a rental community of 20-plus high-end lofts with commercial space on the first floor. The developers decked out the units in 21st-century bells and whistles (granite countertops, stainless steel appliances, in-unit washers and dryers) while preserving the building's Richardsonian Romanesque details — get a load of those arched windows! The communal rooftop patio offers an unobstructed view of Buffalo's historic Allentown district.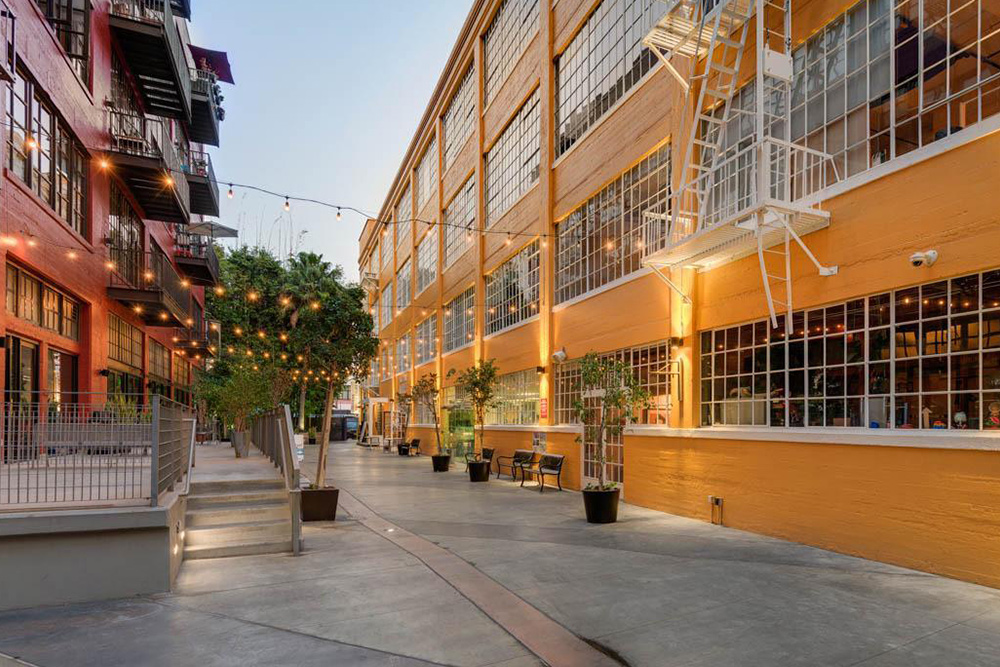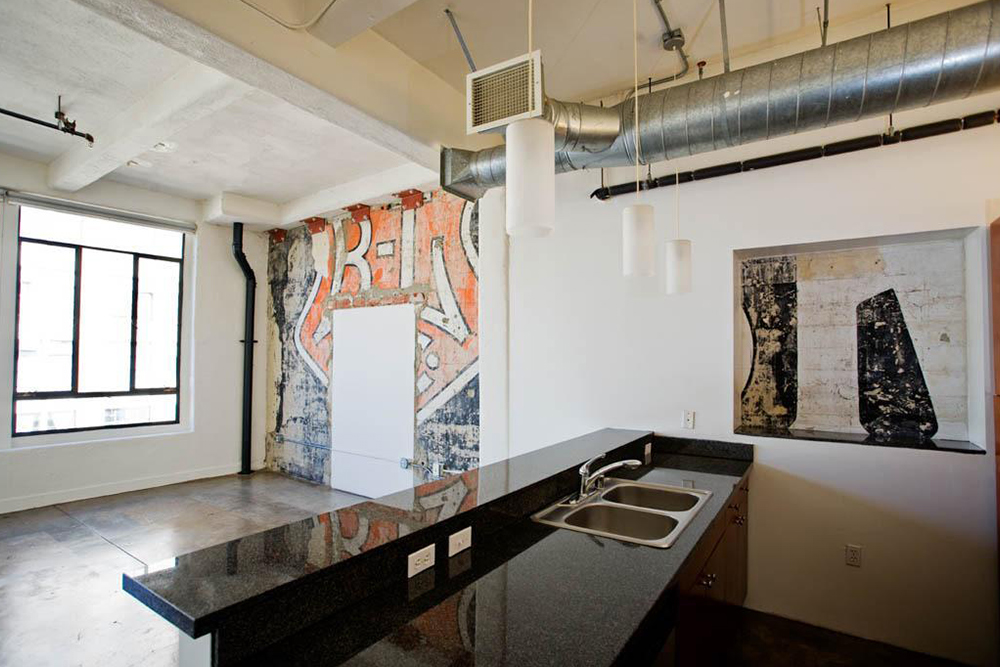 Amenity-packed meets artsy in DTLA: From $1,925/month, Santee Court
Multiple warehouse-style buildings make up Santee Court, an enclave of modern loft apartments in downtown Los Angeles, CA. You'll know them by their painted red, green, and yellow exteriors, which hint at the community's playful, artsy vibe (select units are even adorned with street art–inspired murals!). Huge factory-style windows, exposed ductwork, and polished concrete floors come standard in every unit, but each building offers different community amenities — think barbecue areas, basketball courts, a mini driving range, and a rooftop pool and hot tub.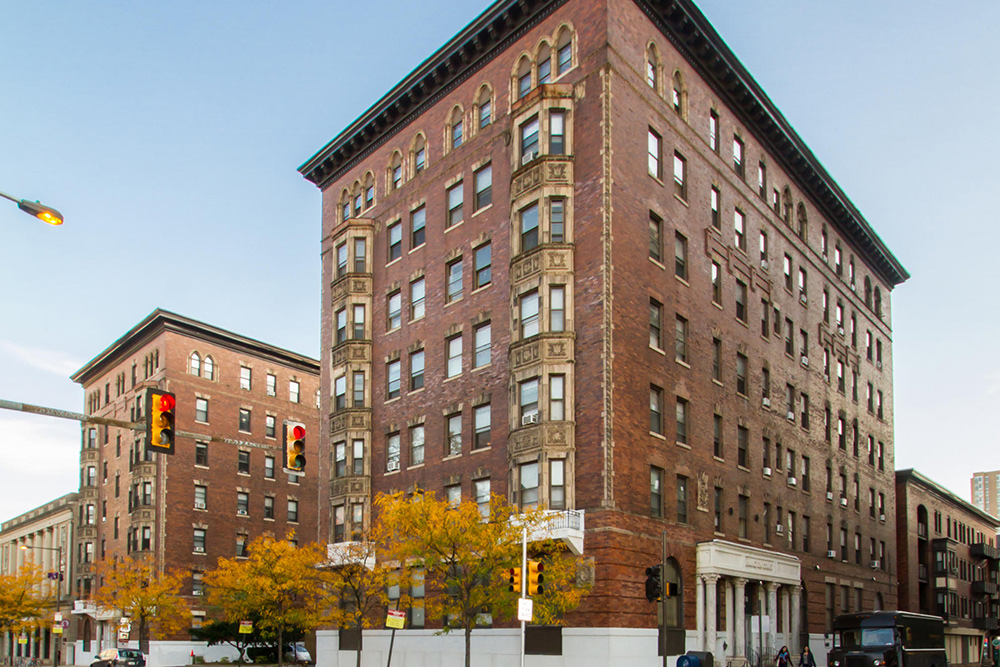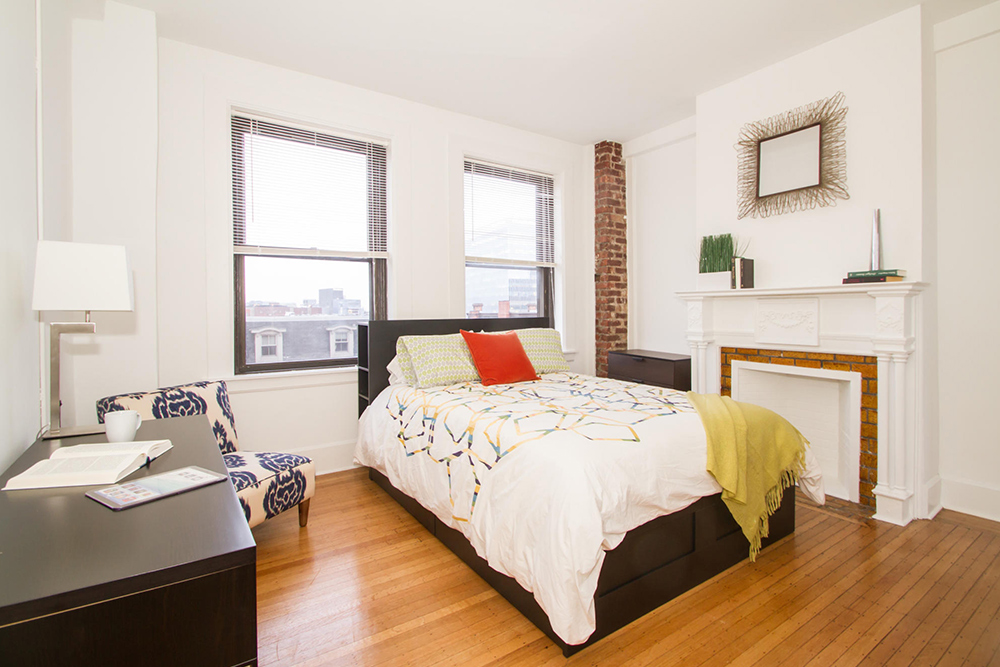 Swanky student-friendly housing in Philadelphia: From $1,245/month, Hamilton Court
Hamilton Court in Philly's University City section has a long history as an apartment complex — more than a century's worth, in fact. With its expansive courtyard (once sporting a fountain and ornamental landscaping), this U-shaped Venetian Gothic building was constructed in 1901 as a luxury apartment complex for undergrads of the University of Pennsylvania. Students of the Ivy League school continue to bypass dorm life in favor of Hamilton Court's well-appointed apartments, which are equipped with exposed brick and beams, ornamental fireplace mantels, and decorative millwork, all original to the building.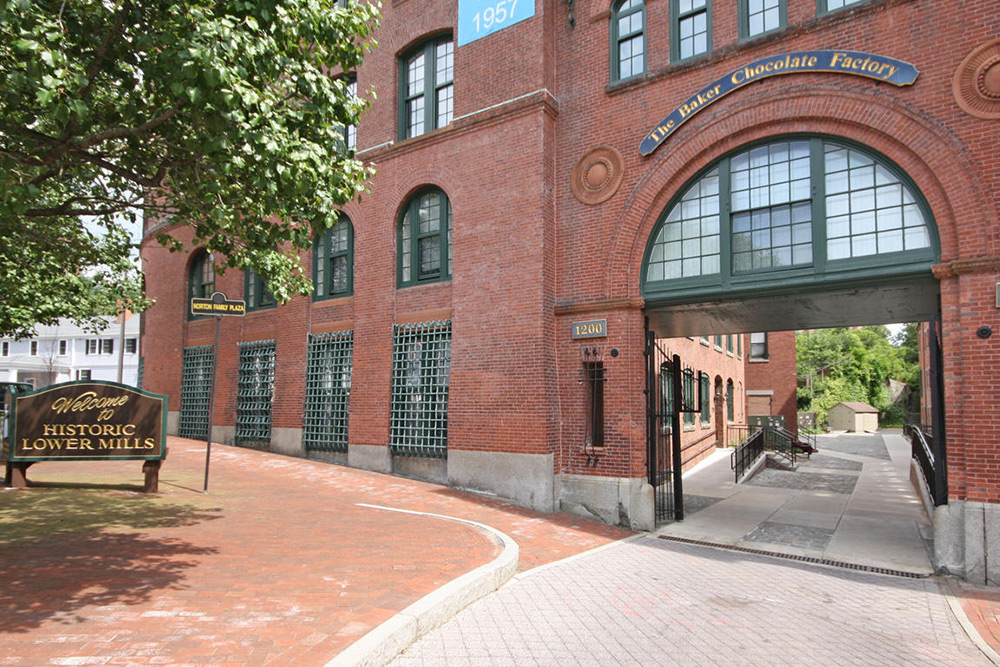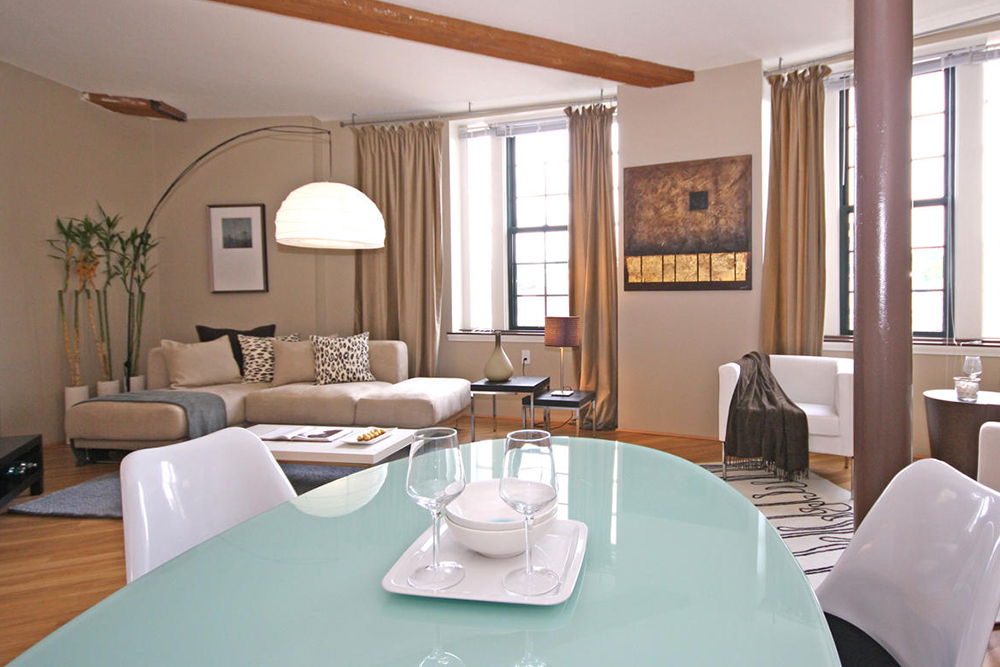 Perched on the banks of the Neponset River in Dorchester, MA, about 10 miles from downtown Boston, is a trio of renovated mill buildings with a sweet past life: They once housed the Baker Chocolate Factory, now known as the nation's oldest producer of chocolate. The red brick buildings date back to the late 19th century and, about a century later, were converted into 133 modern loft apartments offset by historic brickwork and exposed wood beams. River views, quaint cobblestone courtyards, and energy-efficient appliances are also part of the package here.
Which is your favorite architectural gem? What unique details do you love about your building? Share in the comments!