If you're like many Americans, the phrase "dream home" brings to mind visions of designer finishes, cutting-edge appliances, spare bedrooms, and other niceties typically associated with real estate listed in the seven figures. Then again, if you're like many Americans, a million-dollar house just isn't in the cards. (Don't just take our word for it: The U.S. Census Bureau reports the median value of the owner-occupied American home to be $175,700.)
Chin up, you budget-minded buyers with champagne taste! This roundup of stunning homes for sale in Kansas City, MO, to Raleigh, NC, is proof that an affordable home can still tug on your heartstrings — but without pulling so hard on those purse strings.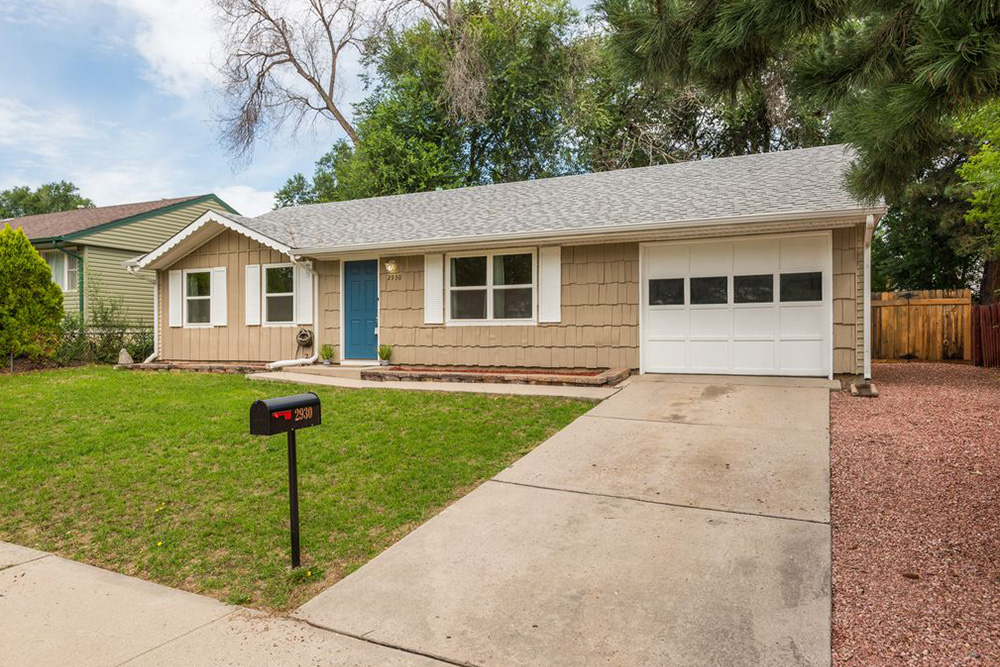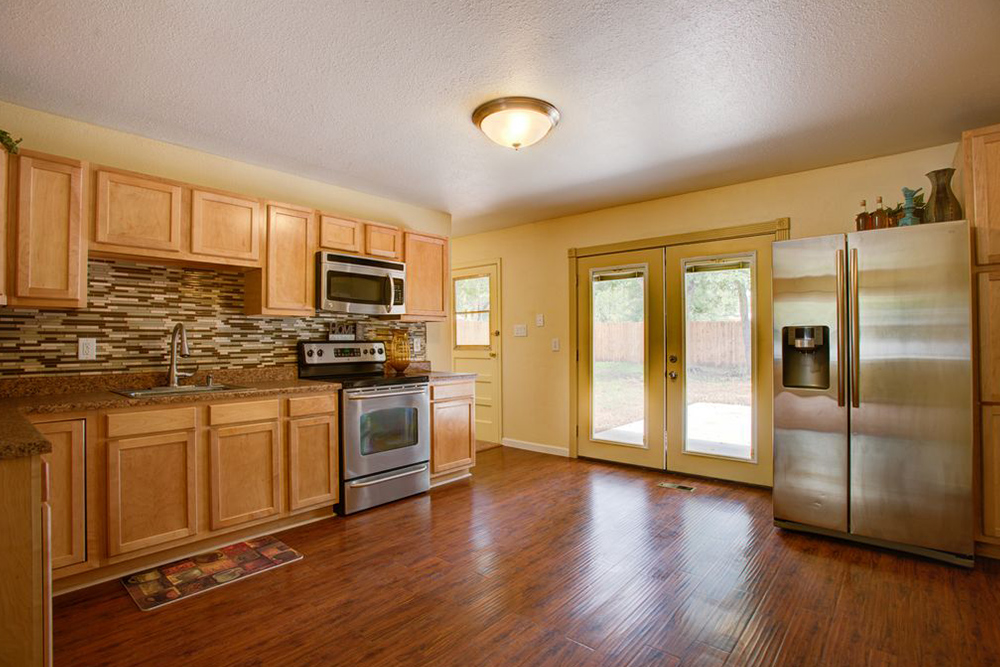 The least expensive home in our roundup (with an estimated monthly mortgage of just $669!), this turnkey shingled rancher would make the perfect starter home. A young family could easily be accommodated by the home's 1,144 square feet, which span a carpeted living room, three bedrooms, one full bathroom, and a spacious kitchen. Recently updated, the bright kitchen opens out to a fenced-in backyard and concrete patio. Bonus: The home is located just minutes from downtown Colorado Springs, CO.
The Sun Ridge neighborhood of El Paso, TX, plays host to this four-bedroom, two-and-a-half-bathroom home. It boasts an impressive 2,204 square feet of living space (that's just $77 a square foot!), plus a generously sized backyard with a covered cement patio. Did we mention the walk-in closet in the master suite? Score!
This 1,119-square-foot turnkey home in Charlotte, NC, is awaiting new owners to reap the benefits of its new roof, new HVAC system, new kitchen, new windows, new water heater, and new landscaping. New is the operative word here, but the three-bedroom home's contemporary decor, shiny hardwood floors, and spacious backyard with deck are also worthy of mention. And let's not forget that you can grow your own fruits and veggies in the nearby Oakhurst Community Garden.
Dressed to the nines in its interior-designer best, this two-story townhome is turning heads in Fort Myers, FL. Beyond its Florida-chic decor and stunning architectural details (hello, coffer-style ceilings and walls!), the townhome offers three bedrooms and two bathrooms across 1,816 square feet. Of course, no home in the Sunshine State is complete without a lanai, and this beauty delivers a screened-in outdoor space adjacent to the living room.
Vaulted ceilings, arched windows, and a free-standing fireplace add character to the open floor plan of this one-story home in the Austin, TX, neighborhood of Texas Oaks. Three bedrooms, two bathrooms, and a modern gray-scale kitchen make up the home's 1,234 square feet, but the backyard is where the magic really happens. There, you'll find an awesome covered deck overlooking a fully fenced lawn that practically begs for a fire pit and numerous games of cornhole.
This 1,232-square-foot bungalow dates back to 1901, but its style is totally 21st century. Just check out that sage-green front door, the modern finishes in the kitchen, and the espresso-hued wood floors throughout. The recently remodeled home also earns points for its tall ceilings, private, fenced-in backyard, and close proximity to the DART train.
Can you guess what's included in the sale of this 1,224-square-foot bungalow in the Brookside neighborhood of Kansas City, MO? A wood-burning fireplace flanked by built-ins, a newly renovated kitchen complete with skylights, and all-you-can-eat omelets for breakfast. That last bit is thanks to the backyard chicken coop that, at the buyer's request, can remain with the home. This egg-ceptional home also offers two full bathrooms and three bedrooms, with the master suite occupying the entire converted attic.
With a charming interior and curb appeal to match, this three-bedroom bungalow — built in 1926 — occupies a large corner lot in Hattiesburg, MS. Inside, refinished antique oak wood floors hint at the home's history without revealing her age, while wainscoting, crown moldings, and built-ins provide a peek into the past. More readily impressed by modern conveniences? This 2,929-square-foot home offers a full bathroom in each of its three bedrooms, plus a recently revamped kitchen.
The Regency of Palm Springs, a midcentury building known for its distinctive S shape, plays host to this two-bedroom, 1,150-square-foot condo. In addition to views of the Intracoastal Waterway, the sale price grants the future owner access to the building's perks: a fully loaded gym, sauna, outdoor pool, landscaped grounds, and deeded beach access.
Guaranteed to make you do a double take, the swanky master bath of this newly renovated split-level house in Raleigh, NC, boasts twin marble vanities and a frameless glass shower with marble accents. The same wow factor is found elsewhere throughout the 1,500-square-foot, four-bedroom home, from the granite- and subway tile–adorned kitchen to the brand-new laminate floors to the home's expansive, wooded backyard.
A view of the Pascoag Reservoir adds to the appeal of this 1,607-square-foot dollhouse in Pascoag, RI. Also known as Echo Lake, the 325-acre body of water is a favorite for fishing, boating, and swimming, and luckily for the future owners of the three-bedroom home, the sale price includes access to an association beach. During the winter months, you can throw another log in the wood stove and bake up something sweet in the modern kitchen, which offers ample counter space for rolling out cookie dough.
Old meets new in this two-bedroom, one-bathroom condo in the Chicago, IL, neighborhood of Sheridan Park. Pocket doors, a carved oak fireplace, original millwork, and hardwood floors impart a vintage flair to the 1,400-square-foot space, while the recently updated kitchen appeals to the modern buyer with a layout that's both current and user-friendly. A pleasant retreat during balmy summer nights, the rear deck is perfect for people watching.
Which piece of adorable, affordable real estate would you spend $250K or less on? Share your favorites in the comments below!