We're all trying to simplify our lives these days, and if you're game to do so in a studio apartment, it can really pay off. When it comes to where you live, it's all about location, location, location — and these 12 rentals put you in the best cities — like Dallas, TX, and San Francisco, CA — without costing an arm and a leg. Whether you're looking for a commute that can't be beat or first-class neighborhood amenities right outside your door, these 12 affordable apartments have you covered from coast to coast, with rental prices that are below the monthly median rent in each city.
<!–[if IE 9]>
<!–[if IE 9]><![endif]–>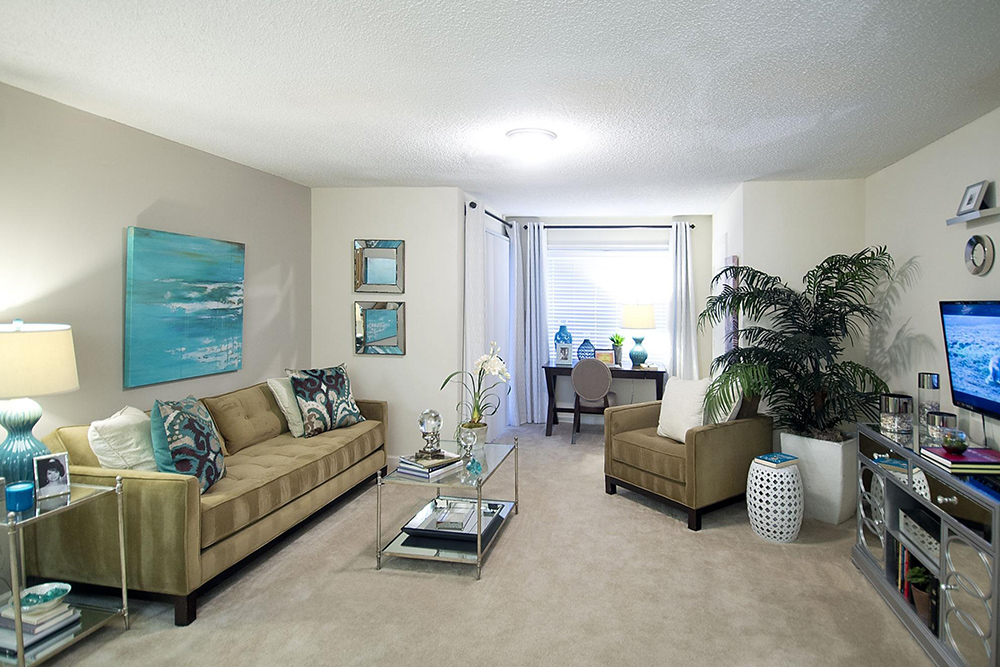 Act natural: $845/month, Gables Mill in Atlanta, GA
Atlanta's Gables Mill gives you the best of two worlds, with a pretty, bucolic location right in Atlanta's Chattahoochee National Forest and proximity to all major highways for those who can tear themselves away. The traditional, seamlessly blended apartment homes that form the community feel rustic but elegant, while the luxurious pool somehow also feels like a naturally occurring watering hole for those hot Georgia afternoons. And at just $845 per month for a one-bedroom unit, you'll pay much less than Atlanta's median rent of $1,450.
<!–[if IE 9]>
<!–[if IE 9]><![endif]–>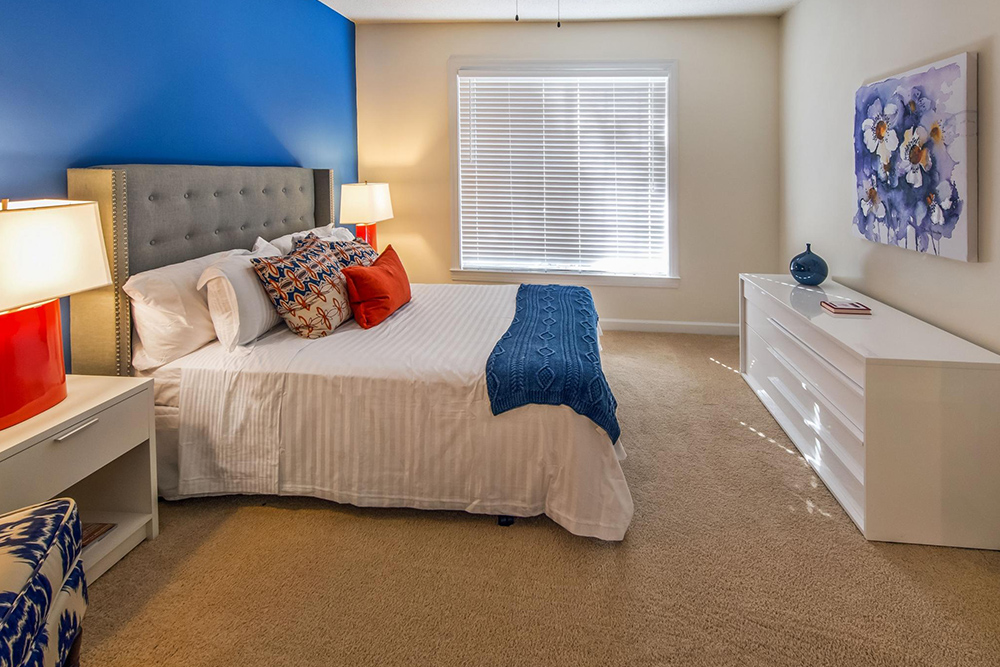 Tucked away in a residential but central neighborhood, the London has undergone a recent renovation and packed your living experience with extraordinary amenities. Residents get access to an herb garden, as well as a complimentary weekly boot camp class, free group tennis lessons, and a "bark park," not to mention a country club–worthy pool with a row of curtained cabanas. Apartment interiors are spacious and "fully appointed with high-end appliances and finishes," and a one-bed, one-bath apartment will set you back just $1,065 a month. Off to the London, cheerio!
<!–[if IE 9]>
<!–[if IE 9]><![endif]–>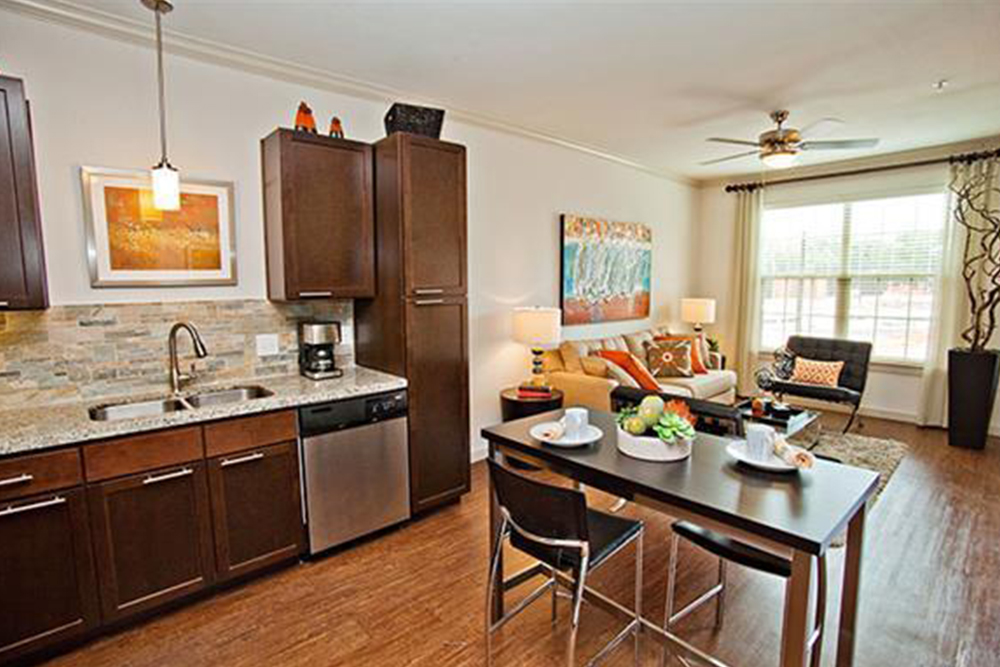 Deep in the heart of Texas: $869/month, Indigo in Austin, TX
Situated north of the hustle and bustle, amid beautiful homes and picturesque streets, apartments at the Indigo bring just the right amount of urban appeal, with granite countertops, high ceilings with crown molding, and private patios. These affordable units offer loads of modern amenities befitting a brand-new apartment building, from a pool to pet-friendly perks to short-term lease options to outdoor spaces as stocked and sleek as the spiffy units. The Indigo is a sweet spot in Austin with one-bedroom units at much less than the median rent price of $1,995.
<!–[if IE 9]>
<!–[if IE 9]><![endif]–>

Charm City charmer: $1,232/month, The Equitable Building in Baltimore, MD
Few cities put unparalleled, rich history within easy reach the way Baltimore does. Terraces at The Equitable Building overlook Baltimore City Hall, while right out the front door lie the city's best restaurants, nightlife, and tourist attractions. Inside, the impeccably restored building is just as charming, with original architectural elements including period mosaic tile, arched windows, plaster details, and barreled ceilings, complemented by modern touches like USB outlets and quartz countertops. It's so posh, and a one-bedroom here still costs less than Baltimore's $1,450 median rent.
<!–[if IE 9]>
<!–[if IE 9]><![endif]–>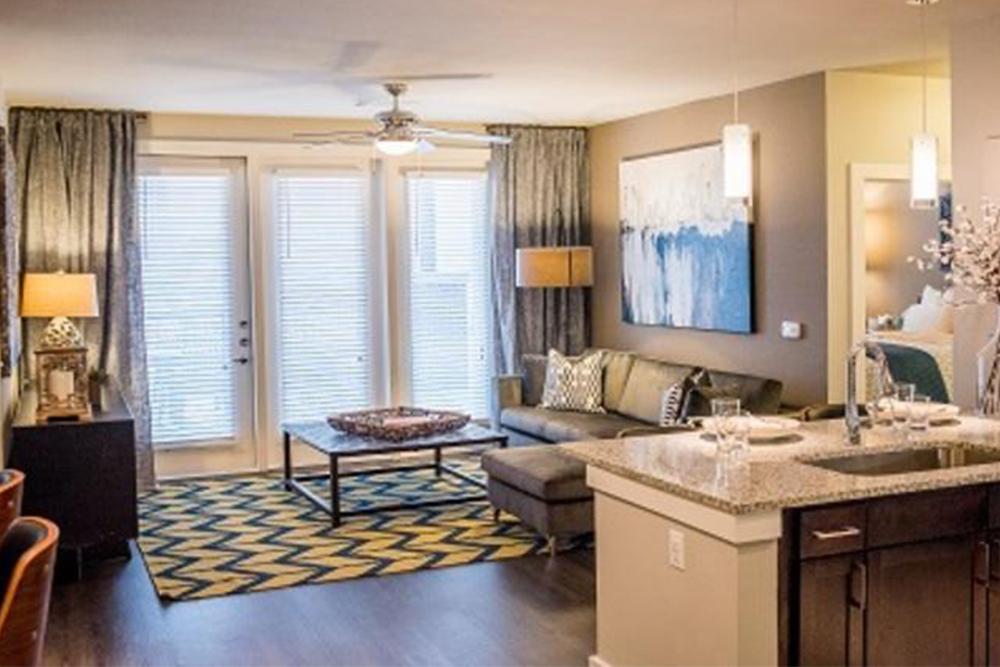 Platinum style: $1,135/month, Aura Prestonwood in Dallas, TX
Dallas is a see-and-be-seen type of town, where the median rent is $1,695, and a one-bedroom unit at Aura Prestonwood puts you in the prime position to play. The building itself makes you feel as if life's just one big Texas-sized vacation, with a pool and serene views of the breathtaking city skyline. Apartment interiors feature wood-style plank flooring, 9-foot ceilings, and energy-efficient stainless steel appliances. Just beyond your doorstep lies the emerging north Dallas area's foodie culture and ample outdoor fun.
<!–[if IE 9]>
<!–[if IE 9]><![endif]–>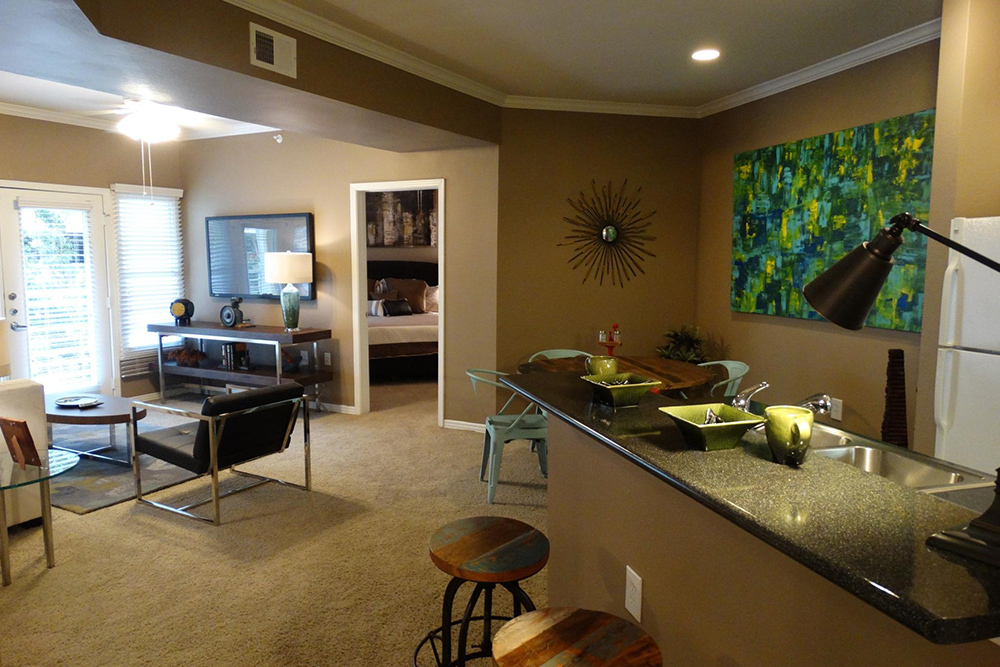 Spread your wings in Mockingbird: $960/month, Phoenix Midtown in Dallas, TX
For less than $1,000, you can snag a coveted Mockingbird address and live it up in the style the trendy neighborhood intended. Your studio apartment is just a stone's throw from the awesome shopping at Mockingbird Station and walking distance to the DART train, while a palm tree–flanked pool inside the building's courtyard offers a respite from the bustle.
<!–[if IE 9]>
<!–[if IE 9]><![endif]–>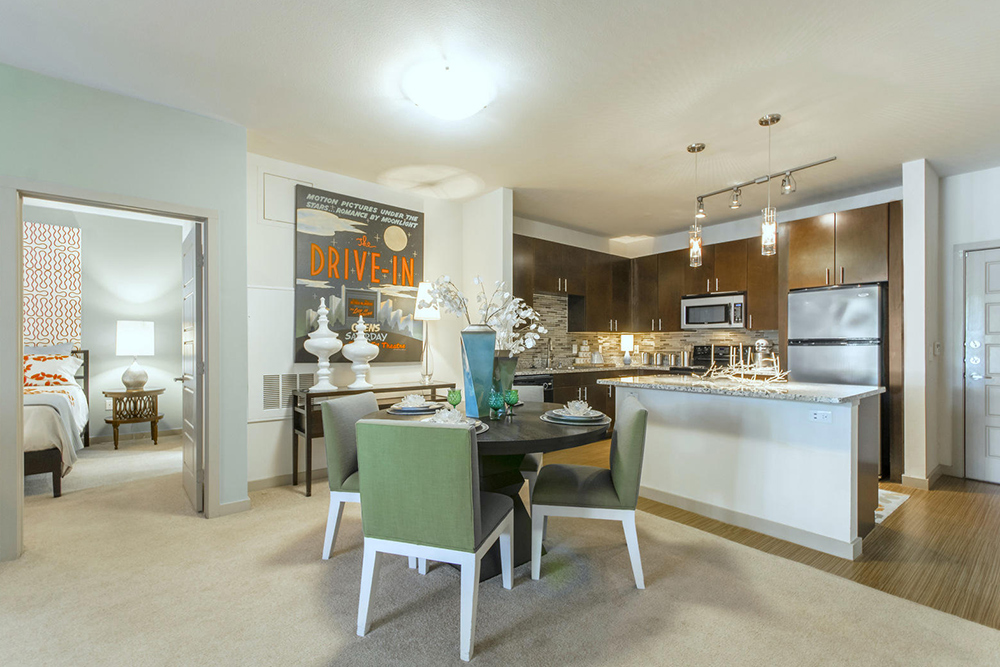 Life at the epicenter: $1,175/month, The Avery on Southwestern in Dallas, TX
On one side, you've got the prettiest outdoor space in Dallas, White Rock Lake, and its surrounding running path. On another, there's Northpark, arguably one of the most legendary shopping malls in the country. Hip Lower Greenville, University Park, Highland Park, and Downtown are no more than a stone's throw away — in a sprawling metropolis, that's just about everything good right at your fingertips. It doesn't hurt that when you do stay home, your apartment will have custom marble vanities, granite countertops, unique pendant lighting, and more. Plus, there's a Mid-Century–style clubhouse flanking a pool that could very well be at an A-list hotel in Vegas.
<!–[if IE 9]>
<!–[if IE 9]><![endif]–>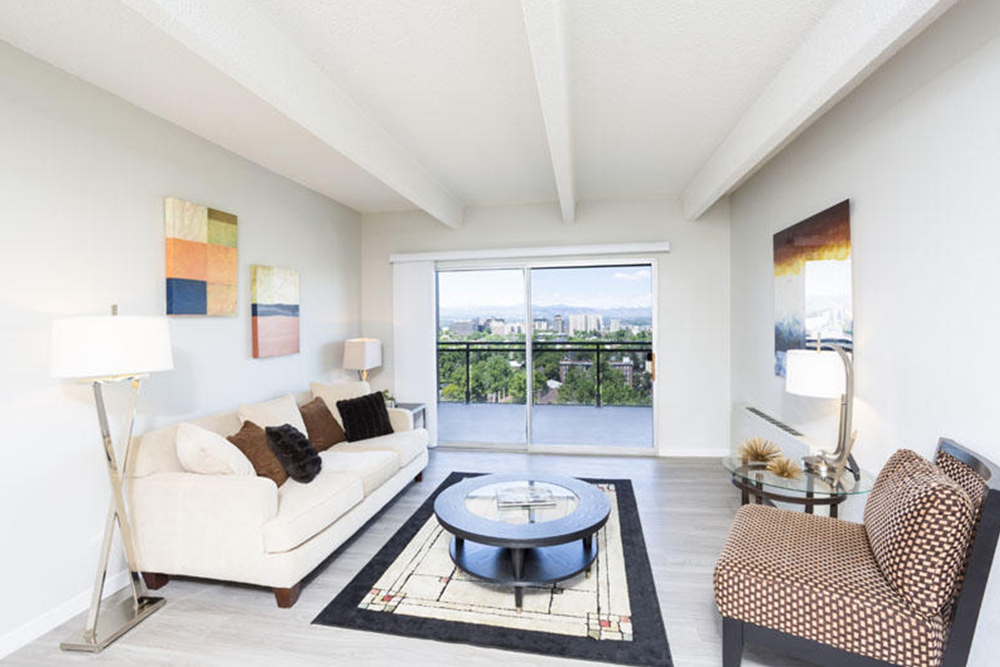 Retro on the park: $1,820/month, 1044 Downing in Denver, CO
When Denverites aren't escaping to the Rockies, they're clamoring to be outside in the city's parks. Among the most spectacular is Cheesman Park in Capitol Hill, and a spot at 1044 Downing gets you right there for weekend Frisbee and morning walks around the historic space. Snag a one-bedroom space for far less than Denver's $2,200 median rent in this recently updated architectural star that pairs retro style with a natural backdrop in the heart of the city. Units feature architectural details like exposed brick, quartz countertops, and floor-to-ceiling windows.
<!–[if IE 9]>
<!–[if IE 9]><![endif]–>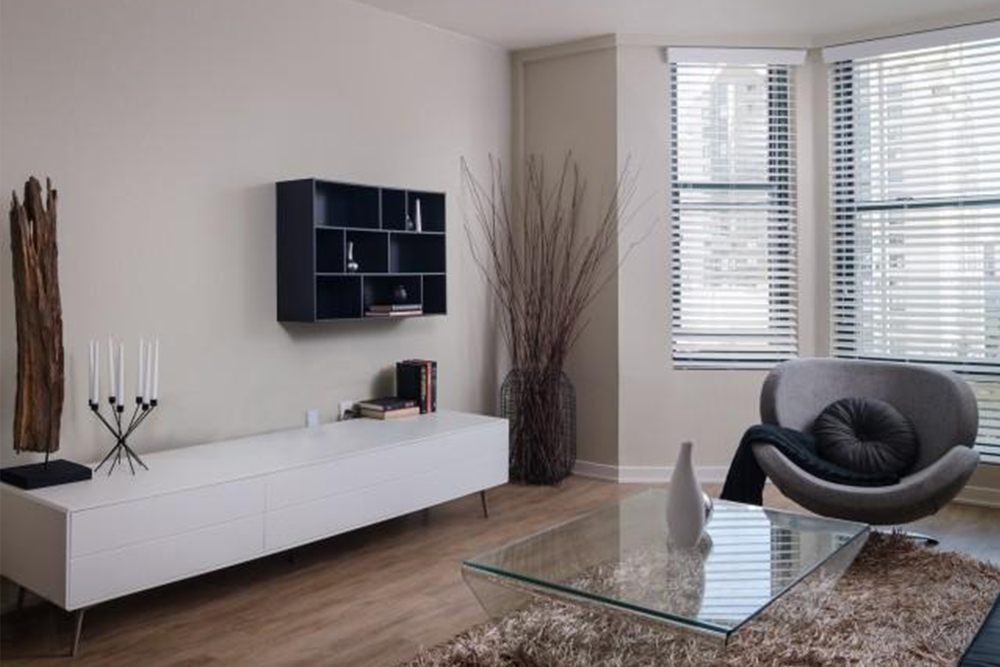 San Francisco treat: $2,363/month, The Fillmore Center in San Francisco, CA
A good apartment is hard to find in San Francisco, where the median rent is $4,500, but just steps from the Fillmore music venue — with Japantown and Pacific Heights on either side — this building packs in the perks for a great price. Residents don't have to worry about commuting if they take advantage of the complimentary shuttle to the financial district and nearby public transit. High-speed internet is included, the views can't be beat, and a studio, one-bedroom, or even small two-bedroom apartment in this building is well below the city's pricey median rent.
<!–[if IE 9]>
<!–[if IE 9]><![endif]–>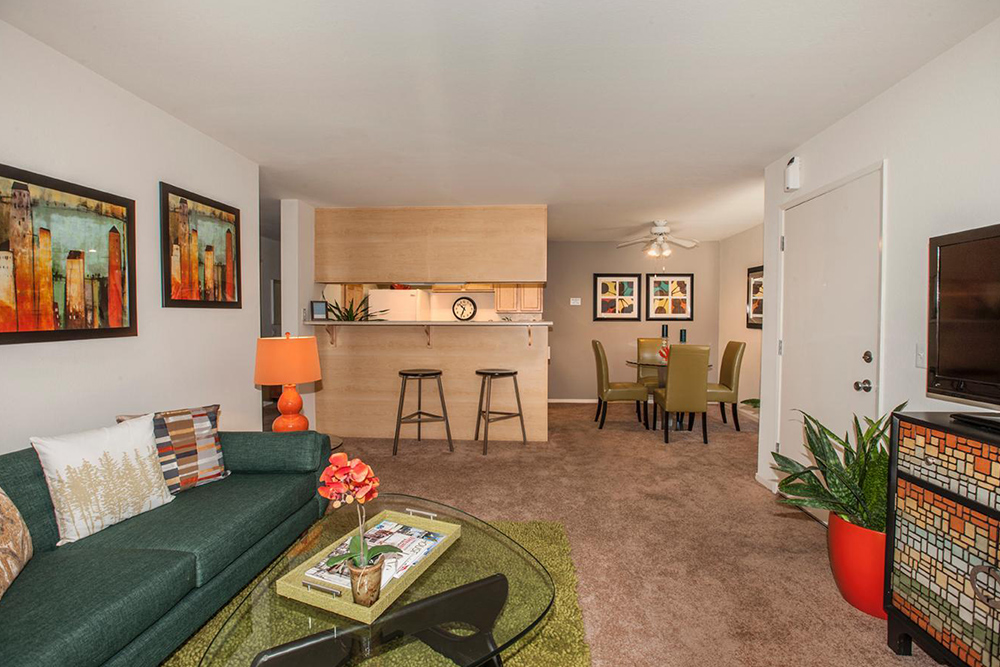 Garden of Edenvale: $1,695/month, The Woods in San Jose, CA
Amid the high prices of Edenvale is the villagelike enclave of The Woods. The club-style setting brings neighbors together at the pool and hot tub, gym, playground, and on the meandering walkways spanning the property. That is, when residents aren't cozied up at home in spruced-up, spacious, airy units. The Woods has 51 different floor plans, each with well-appointed kitchens, spacious closets, and private patios or balconies. A studio apartment will set you back just $1,695 per month, but even a three-bedroom unit still costs less than San Jose's $3,495 median rent.
<!–[if IE 9]>
<!–[if IE 9]><![endif]–>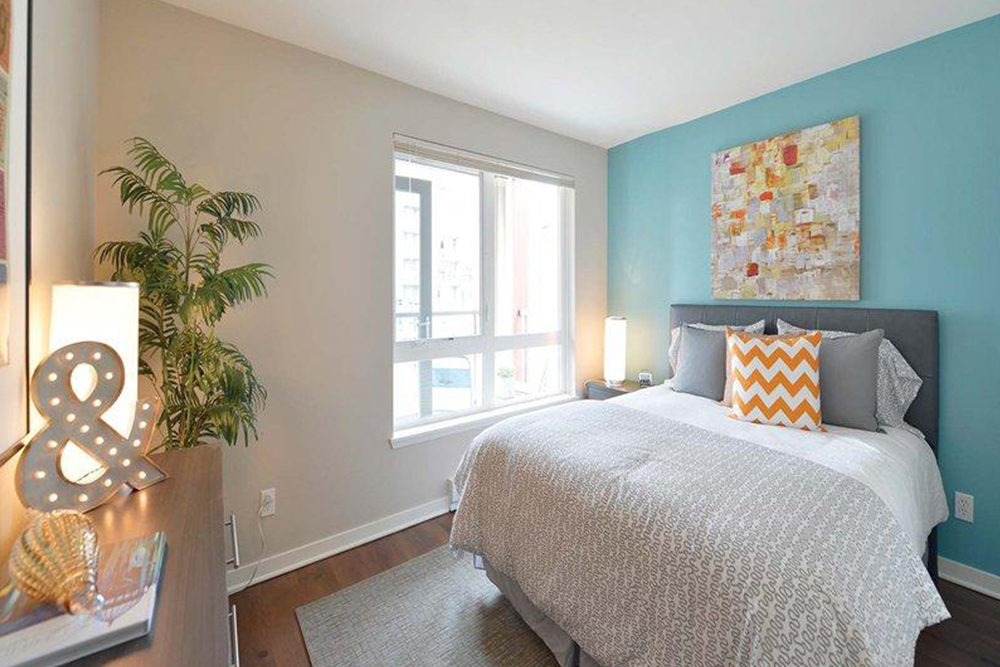 Belltown is one of the best places to be in Seattle, for both locals and out-of-town guests who want to walk to all the major attractions like Pike Place Market and the Space Needle. A studio in this modern building enjoys rent for studios and some one-bedroom apartments that's far below the city's median rental cost of $2,795, plus an on-site dog run and a Thai restaurant.
<!–[if IE 9]>
<!–[if IE 9]><![endif]–>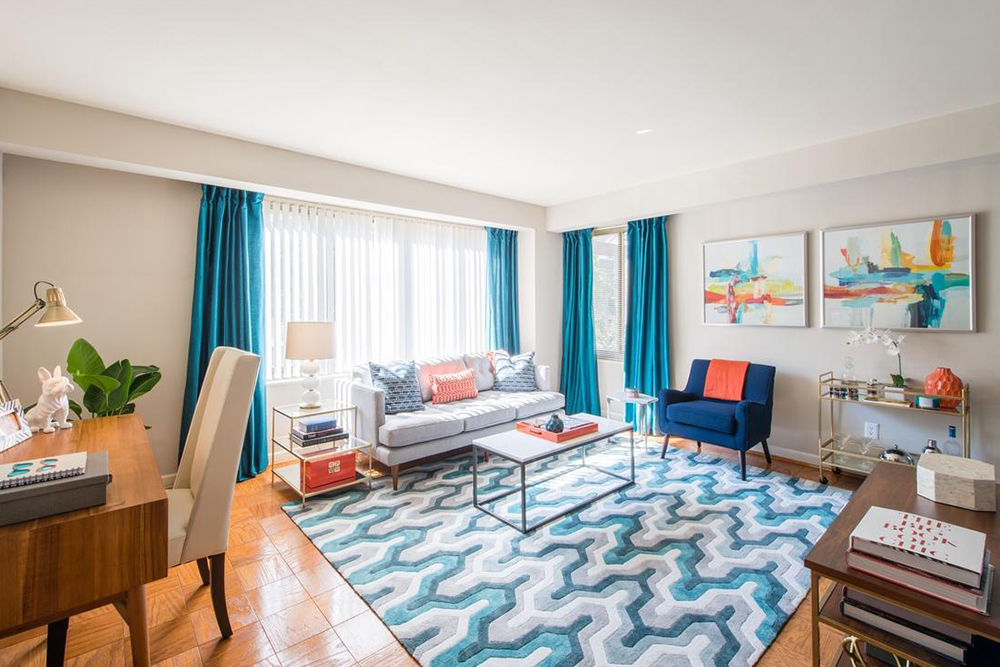 DC green: $1,375/month, The Berkshire in Washington, DC
One of Cathedral Heights' rare apartment buildings, the Berkshire offers smaller-scale living among the neighborhood's giant, leafy lots. With Glover Park nearby and downtown just far enough to be convenient, the neighborhood has long been a haven for diplomats and the international set. These modern units on Massachusetts Avenue offer up the best of DC's traditional and modern styles, with hardwood floors or carpeting, spacious walk-in closets, and renovated kitchens and baths — and studios or one-bedroom apartments are a price far below the capital city's median rent of $3,250.
Which affordable apartment would you choose? Share your picks in the comments below!