When it comes to Hollywood real estate, chances are, your neighbors could be an Oscar-winning actor on one side and a Grammy-winning songbird on the other. The truth is that when your home base is more 90210 than Main Street, USA, a celebrity home is around every corner.
And when they put those stylish homes on the market, the next buyer may be on the following page in this week's issue of Us Weekly — it's an unofficial game of celebrity home swap. Here are some of Tinseltown's biggest A-listers who have dropped a couple of million on a home once owned by another big-time celebrity.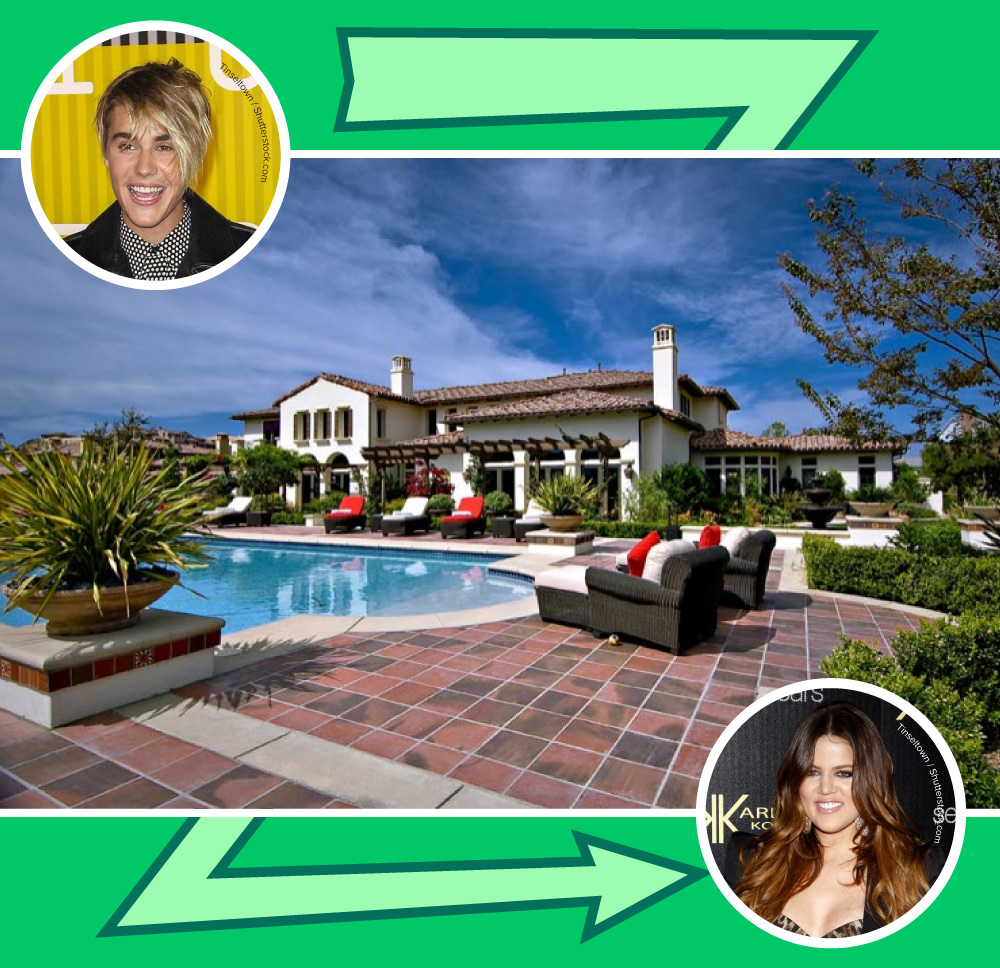 Justin Bieber → Khloe Kardashian
Khloe Kardashian has good taste when it comes to real estate. So when the curvaceous reality starlet was looking for a luxury home in Calabasas, CA, she made a good choice when she bought Justin Bieber's home in The Oaks, a highly coveted gated community in the San Fernando Valley. The mansion features all the regular trimmings of a celebrity abode, such as a media room, swimming pool, dual Sub-Zero refrigerators, and sprawling views of the city's rolling hills.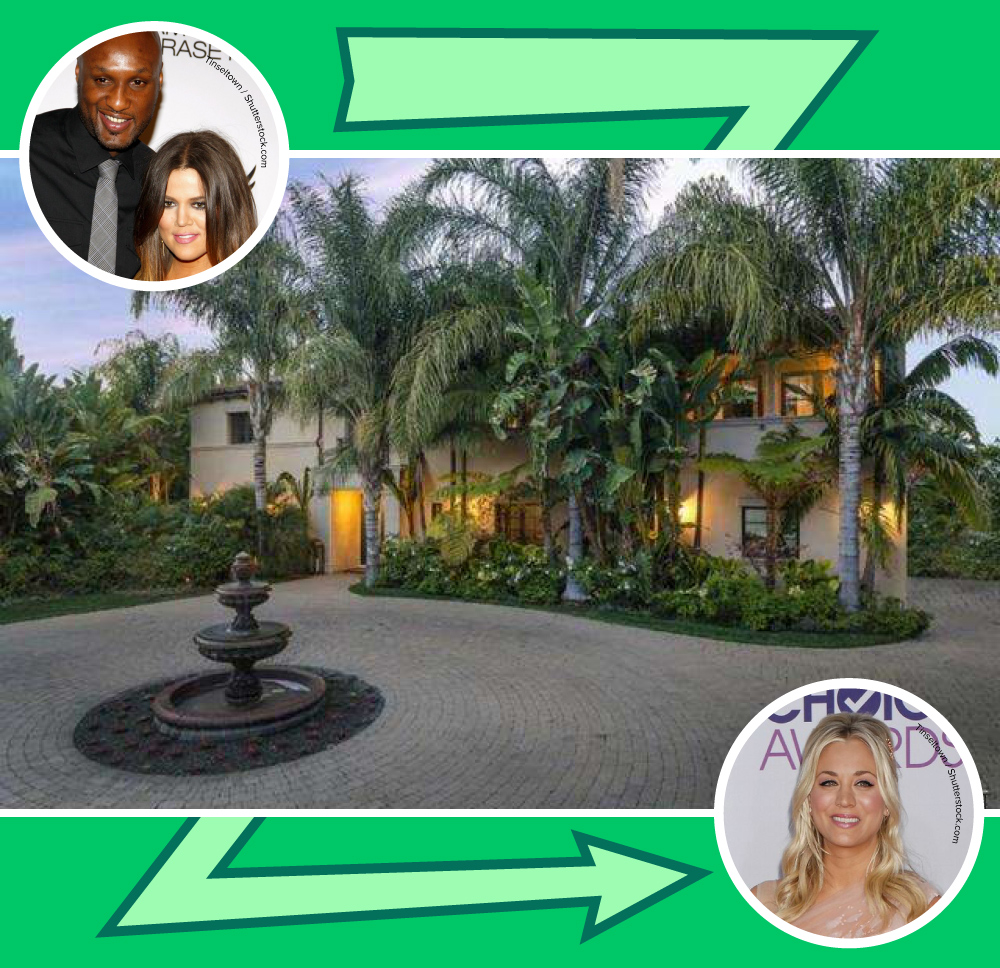 Khloe Kardashian and Lamar Odom → Kaley Cuoco
Khloe Kardashian may have made the jump to Calabasas, CA when she broke up with then-husband Lamar Odom, but in true celebrity style, she sold the home she shared with Odom to another celeb: The Big Bang Theory star Kaley Cuoco and her not-as-famous, soon to be ex-husband, Ryan Sweeting. That Tarzana, CA, spread, which was on the market for a cool $5.499 million, was a seven-bed, nine-bath home at the end of a cul-de-sac. In happier times, Khloe and Lamar lived there when they weren't renting a manse over in Dallas for the five minutes Lamar played for the NBA's Mavericks. Will Cuoco decide to put this potentially cursed celebrity home on the market now that she's living the sweet single life again? (Our money's on: Yes.)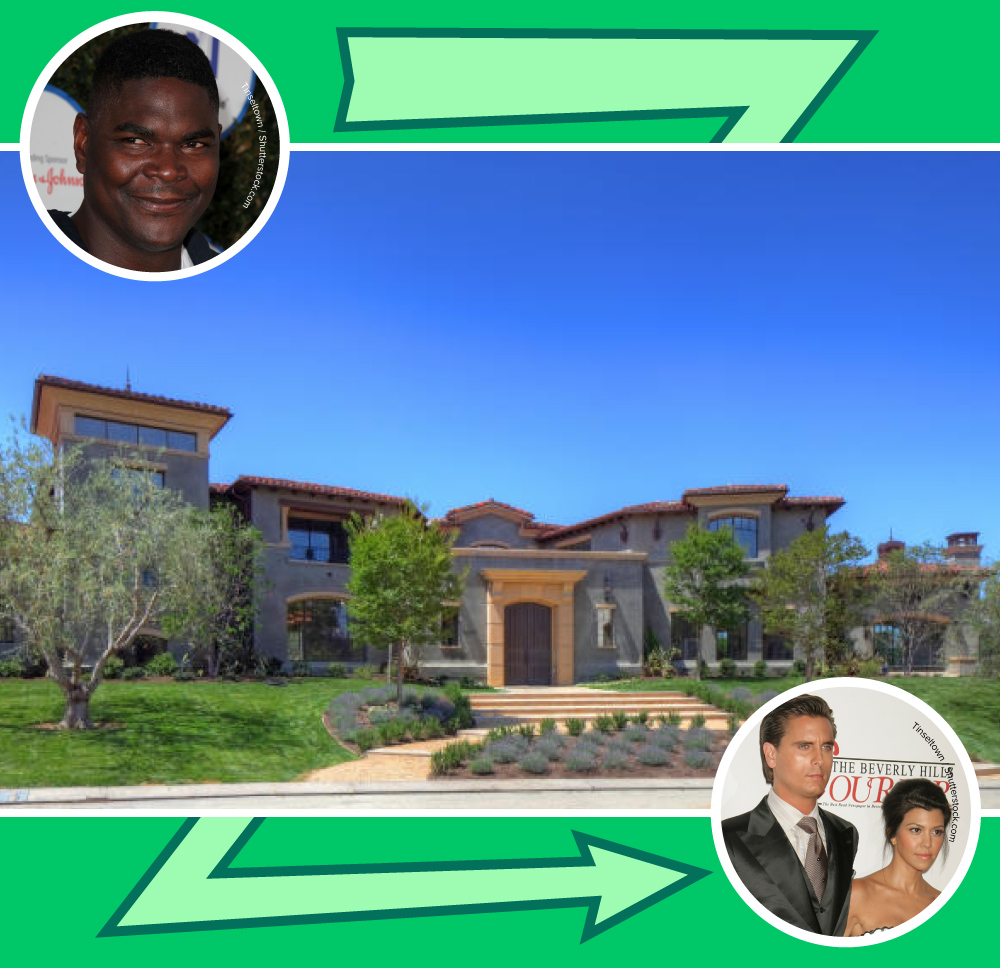 Keyshawn Johnson → Kourtney Kardashian and Scott Disick
Big sister Kourtney Kardashian made a celebrity home transaction of her own in Calabasas. In January of 2014, Kourtney and then-boyfriend Scott Disick dropped $8.495 million on former NFL star (and current ESPN analyst) Keyshawn Johnson's 11,746-square-foot behemoth of a home. The six-bed, nine-bath beauty also features a chef's kitchen, game and children's playroom, spa, sauna, elevator, and theater.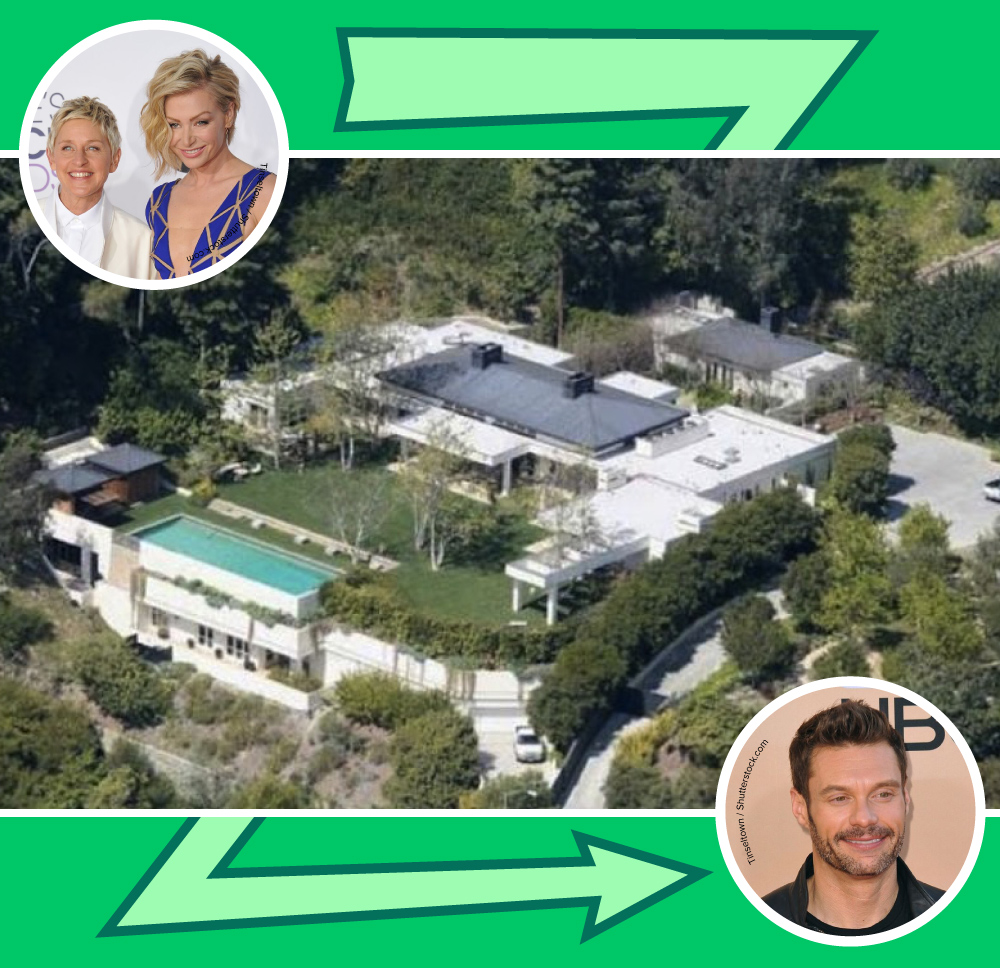 Ellen DeGeneres and Portia de Rossi → Ryan Seacrest
Seacrest IN! (Get it?) Ryan Seacrest, the American Idol host and TV producer, knows where the big-money properties are: in everyone's favorite ZIP code, 90210. In 2012, Seacrest swooped in on Ellen DeGeneres and wife Portia de Rossi's megacompound in Beverly Hills, and dropped $37 million on the 2.8-acre estate, which was showcased in a 2011 issue of Architectural Digest.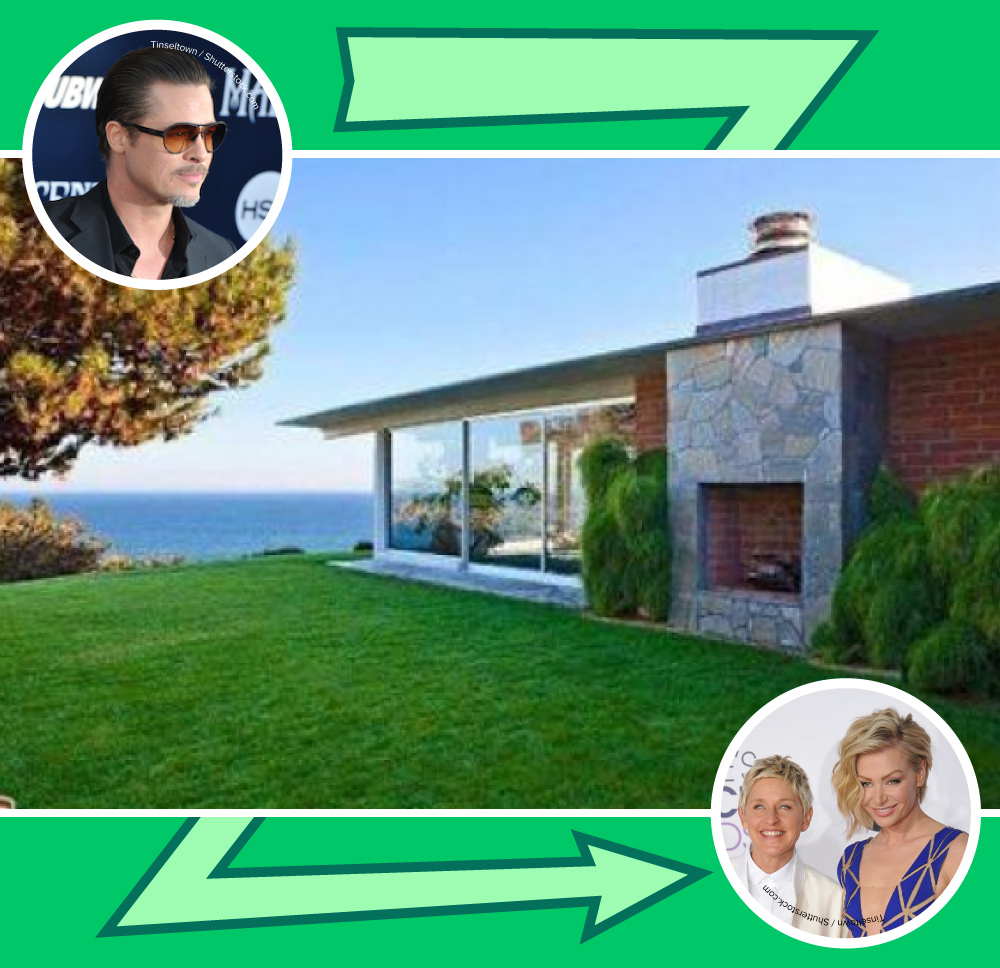 Brad Pitt → Ellen DeGeneres and Portia de Rossi
If sleeping in Brad Pitt's bed strikes your fancy, then sleeping in his former bedroom might too. Back in 2011, Ellen DeGeneres and Portia de Rossi snagged Brad's former home, a 4,088-square-foot coastal property in Malibu, CA, where big-name celebs flock when they want to catch some sun and sand. The lovely ladies bought the home for an estimated $12 million. The very modern design — Brad's known for being an architecture buff — features glass walls, sleek ceilings, oversized chandeliers, and stainless steel appliances.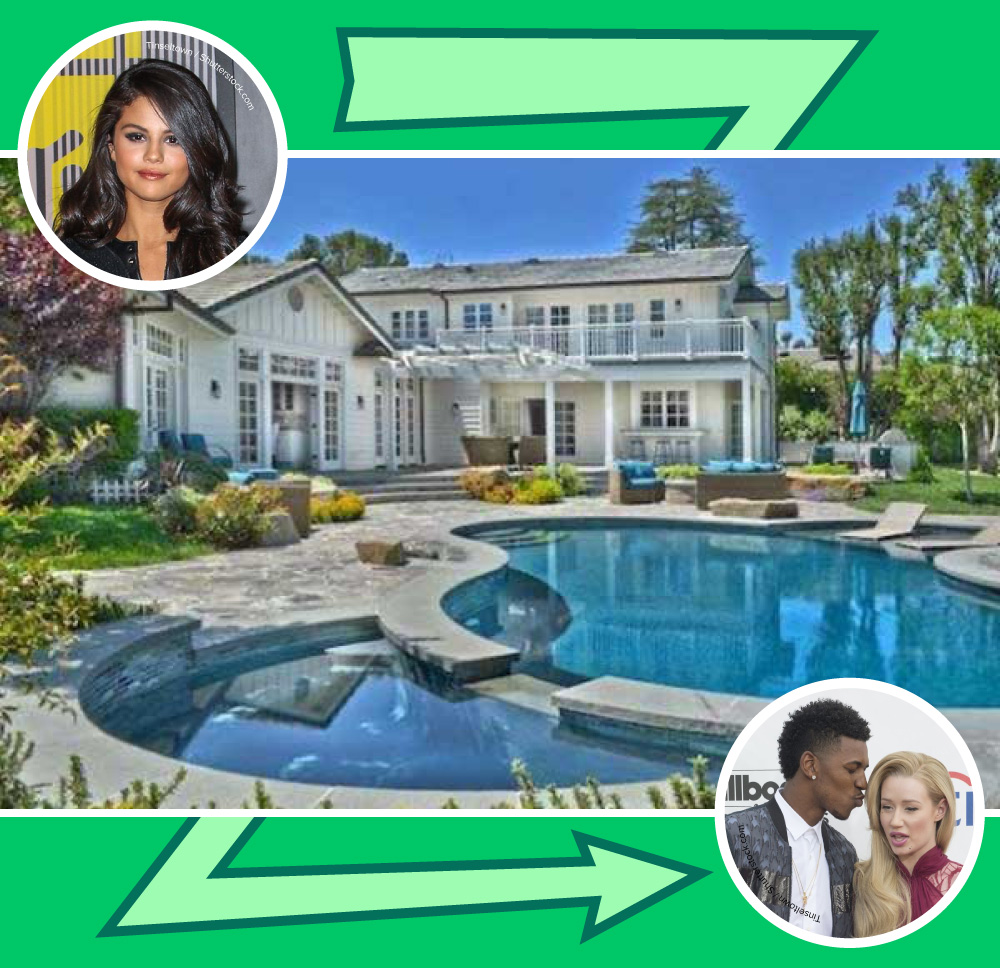 Selena Gomez → Iggy Azalea and Nick Young
Iggy Azalea, the Australian rap-pop starlet, certainly has "Fancy" taste in home decor. Last November, Iggy and boyfriend Nick Young dropped $3.45 million on Disney-teen-queen-turned-spring-breaker Selena Gomez's home in Tarzana, CA. The 1-acre compound, which Gomez put on the market in May of 2014, features a lavish upstairs guest suite, as well as amenities including a fruit orchard, bocce court, and full basketball court, in case Iggy wants to throw down a dunk or two. And of course, the home has the perfect poolside for a celeb-studded party.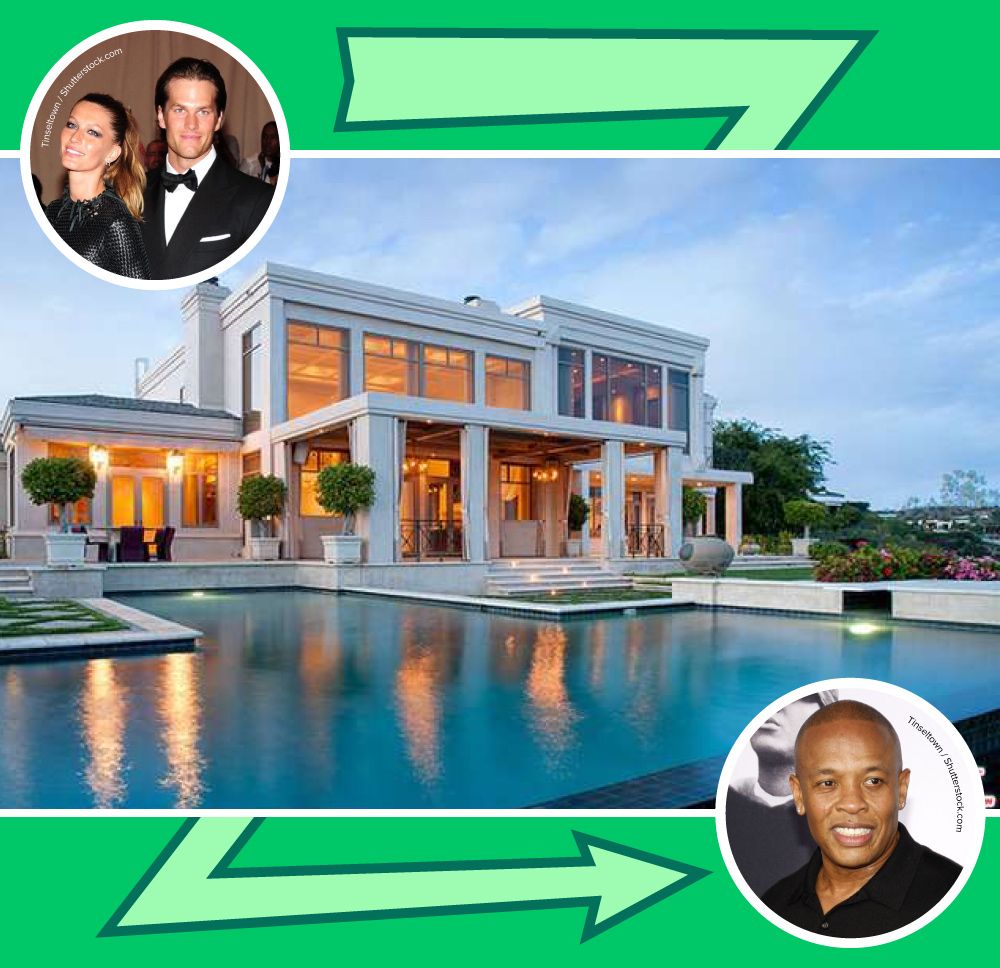 Tom Brady and Gisele Bündchen → Dr. Dre
Tom Brady and Gisele Bündchen certainly did not "forget about Dre." The supermodel and her husband, the New England Patriots superstar quarterback and Deflategate survivor, built an 18,298-square-foot mansion in Brentwood, CA, yet never bothered to move in! (The duo also maintain homes in New York City and in the Boston suburb of Chestnut Hill, among others.)
So when rapper-mogul Dr. Dre came along, he dropped $40 million on the expansive estate, which covers 4 acres. Sounds like he's selling quite a few pairs of those headphones, huh? Anyway, Dre turned around and put it on the market for $35 million. What's $5 million to one of hip-hop's biggest stars? Pocket change.