Autumn's explosion of color serves as Mother Nature's dramatic conclusion to the growing season. It's akin to the grand finale of a fireworks show — a fleeting, bursting display that sets the landscape ablaze in saturated shades of reds and ambers. But unlike the pyrotechnics variety, this fiery spectacle is one you'll actually want to bring indoors.
But how? You could simply plop a pumpkin on a shelf and call it a day (and hey, if that's your style, go right ahead). Or you can take a cue from the fall foliage in popular leaf-peeping locations (just look at these mountain homes for sale in Asheville, NC) and think beyond the gourd by inviting the changing seasons to influence your home's overall vibe, from appearance and ambiance to aroma.
Read on as four design industry experts with a combined 55 years in the biz share their favorite fall decor tips and tricks. Spoiler alert: Color can make an impact without a lot of commitment.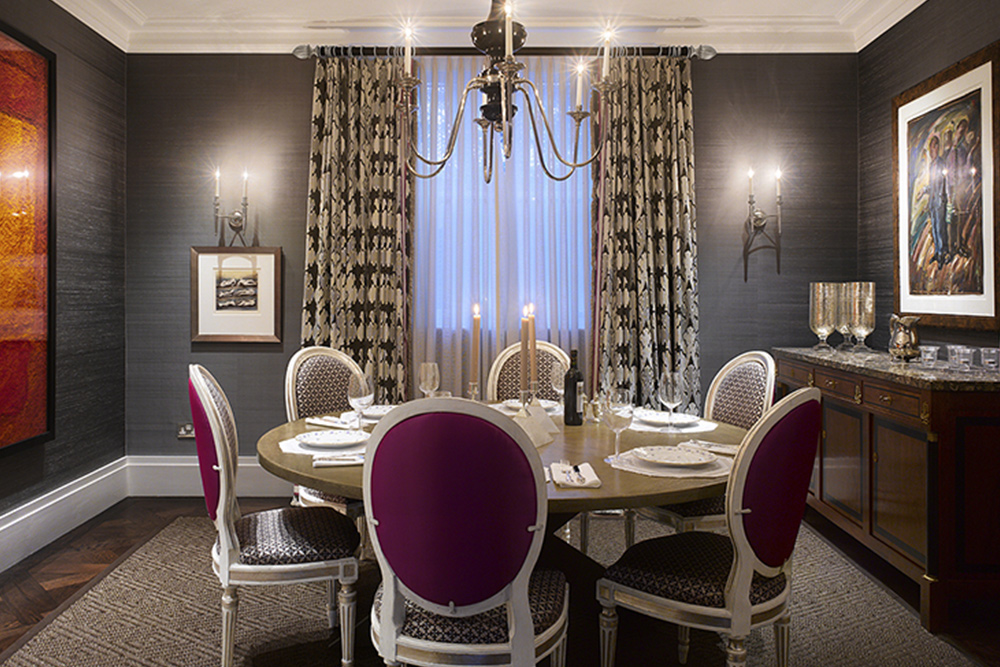 1. Know your palette
Put down those paint swatches: Assembling an autumn palette is as easy as looking outside. (After all, fall decorating is all about bringing the outdoors in.) Take a cue from nature and think along the lines of rich plums, rusty reds, golden ambers, buttery yellows, and chocolaty browns — all colors you're sure to spot among the changing leaves and on the forest floor.
2. Don't be afraid to experiment
Consider throwing a curveball color (or two) into the mix. "Blue is an incredibly versatile color," say Kathy Piccari and Taryn Rager, design partners at Harris & Tweed Interiors. "We are obsessed with Benjamin Moore's Wythe Blue this season."
Purple, in both jewel tones and pastels, is the nontraditional autumn color of choice of Amy Cuker, owner and creative director of down2earth Interior Design, and Bruce Norman Long, owner and head designer of the eponymous Bruce Norman Long Interior Design.
Want to stray even farther from the norm? Opt for a more contemporary, monochromatic color scheme of whites and creams: picture a vignette of white pumpkins, preserved cotton stems, and natural birch branches.
3. Accentuate and accessorize
Good news for the color-wary: The most foolproof way to incorporate fall colors into your home is through accents that can easily be swapped out with the seasons: throw blankets, pillows, rugs, vases, frames, heirlooms, and the like. Not only do they require little commitment, but accent pieces also help keep you within the boundaries of the 60-30-10 color principle, a common design "rule" stating that accent colors should account for no more than 10% of a space's overall color scheme.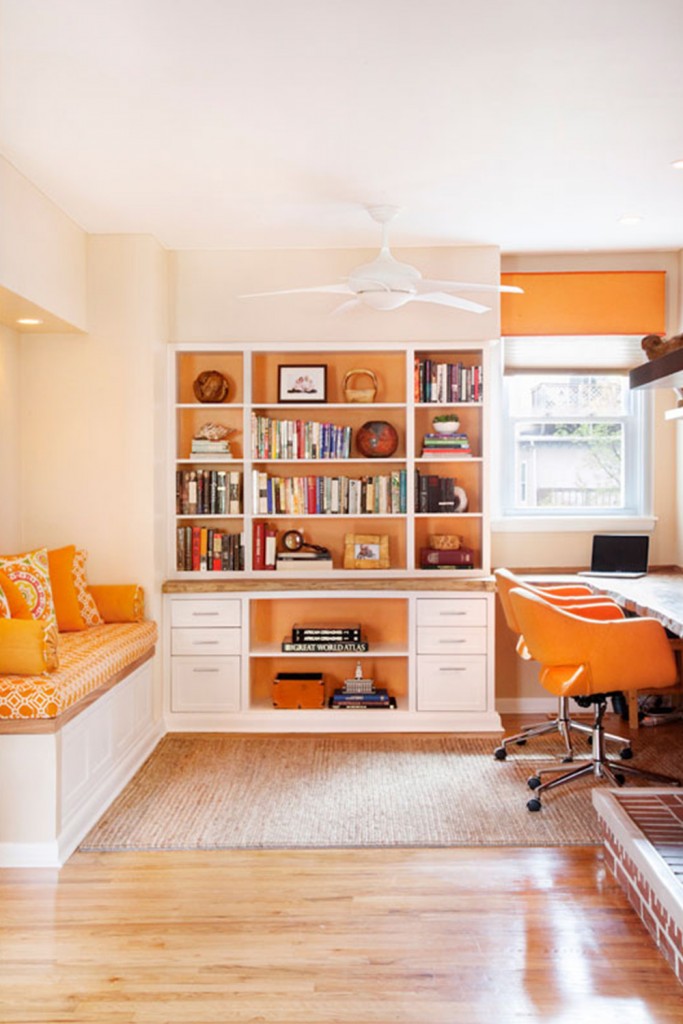 4. Contemplate and curate
Do your best to resist the allure of the knickknack. Instead, make a statement with a few thoughtful vignettes or a centerpiece: Keep things simple by editing your displays to include only the objects that truly bring you joy.
That's not to dissuade you from making more drastic changes to your home once the leaves start to drop. In fact, quite a few "fall" paint colors have appeal that transcends the seasons. An energetic and inviting orange, Navel by Sherwin-Williams can provide an instant pick-me-up to a tired front door, notes Cuker, while Long lists Benjamin Moore's Tapestry Beige (a warm neutral), Clinton Brown (a rich, chocolate brown), and Million Dollar Red (a striking cherry red) as his favorite fall paint colors for interiors.
5. Repurpose and reuse
The pros agree: In terms of decorating, fall lends itself to repurposing. Pulled from storage, a knotty wooden cutting board or tray can provide a fitting foundation for a seasonal display of gourds, candles, and flowers in vases. A stunning centerpiece or mantel display can be created using foraged items from your own backyard (or fridge!): a hurricane vase filled with acorns, cranberries, or apples; a swag constructed from dried wheat or herbs; or perhaps a vaseful of tree branches, crimson leaves still attached.
Suspended horizontally across a wall, a length of string can serve as a dedicated space for seasonal greeting cards, photos, and children's artwork, adds Cuker. Use clothespins to showcase seasonal school projects, brightly hued leaves, snapshots from last weekend's hayride, and other timely tokens.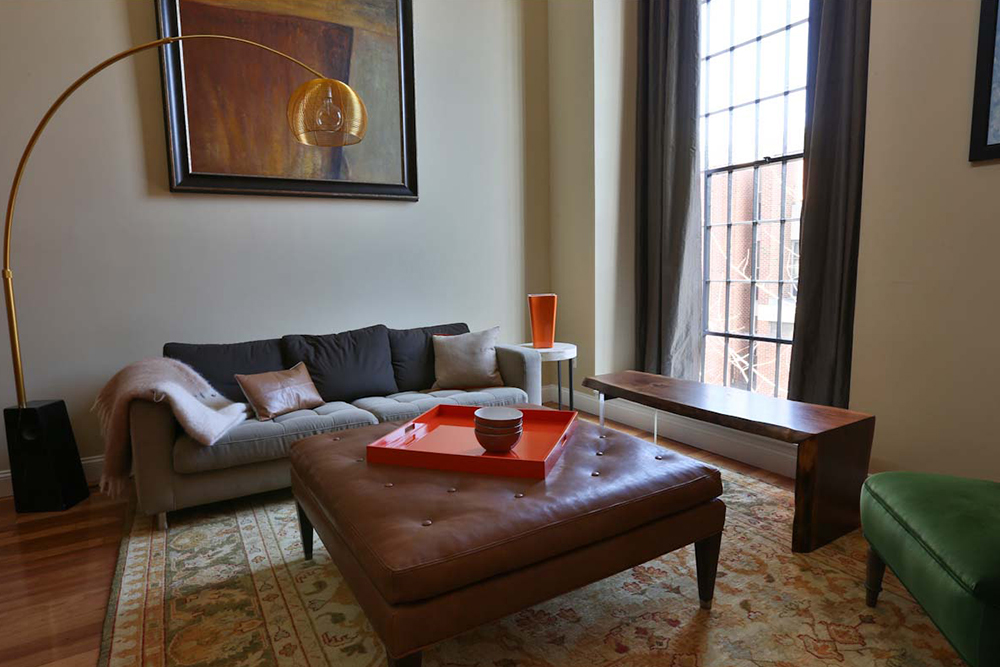 6. Add texture and layers
If you're reaching for a cardigan, so, too, should your home: "A cashmere throw draped on sofa backs or on a club chair is like putting a visual sweater on your living room," says Long. Fall accent pieces, particularly throws and pillows, should contribute to the season's warm, cozy vibe, as well as impart an element of texture. Think heavier-weight, sumptuous fabrics such as velvet, tweed, wool, faux fur, flannels, and chunky sweater knits.
Create a layered look by adding an area rug in a natural fiber, such as jute, and generously scatter pillows and blankets among seating areas.
7. Let there be light
Let's get real: Shorter days and plummeting temperatures can really put a damper on a good mood. The aforementioned snuggly blankets and pillows can combat cold hands and toes, but they won't do much to help extend the daylight hours. The solution? Add a few extra table lamps throughout your space, swapping your light bulbs for those with a warmer color hue.
Amy Cuker also recommends experimenting with things that sparkle and shine — namely, string lights, which she says have evolved way beyond the holidays. Use them to brighten both gloomy moods and dim corners.
A trendier remedy for the seasonal blues: light-reflecting metallics, particularly in warm, autumnal tones of brass and copper, note our pros. Keep your eyes peeled for objets d'art, catchall dishes, bookends, candlesticks, light fixtures, and other smalls that have received the Midas touch.
8. Spice it up
With fragrance, that is. "Handmade candles and potpourri are our go-to DIY projects for the fall," say Kathy Piccari and Taryn Rager. Imbue your home with the smells of the season — cinnamon, pumpkins, apples, and oranges — by parking a pot of homemade potpourri on the stove, or preserve and display fall foliage by dipping leaves into melted, fragranced wax. Both methods are favored by the designing duo.
Of course, you can always go the easy route and take a match to a few scented candles. Bruce Norman Long recommends candles from the Parisian perfume and body care company Diptyque. Combine fragranced candles with unscented varieties to avoid overpowering a room.
Images courtesy of William Pryce / Bruce Norman Long Interior Design (top), Ryan Macchione / down2earth Interior Design (middle), and Kyle Born / down2earth Interior Design (bottom).