A bland or outdated kitchen can present a steep challenge to any renter who craves a little more style in the heart of their home. That's because the things that make the most impact in a kitchen — namely, appliances, cabinets, and countertops — tend to be pricey. (And replacing or updating them is completely inadvisable if you want to get your security deposit back.) But that doesn't mean there aren't plenty of things you can do to spice up your decor. Read on for budget-friendly solutions to the eight most common problems renters encounter in their kitchens.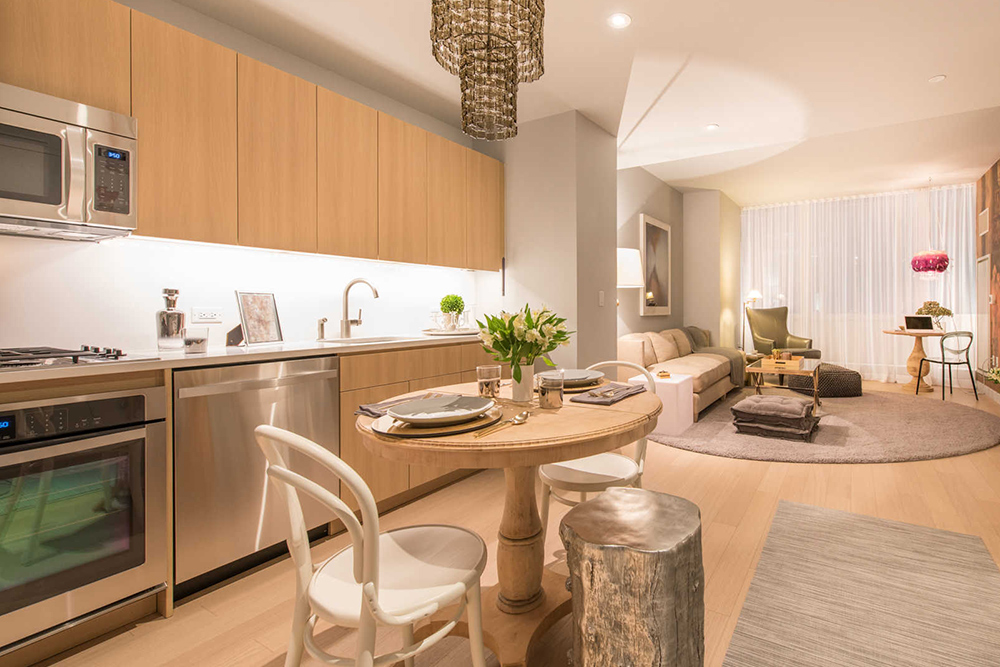 Problem: Inefficient lighting
Solution: Under-cabinet adhesive lights
We know what you're thinking: "Those touch-light things? Like the ones in infomercials?!" And the answer is: Yes. These stick-on battery-operated lights can be hidden underneath cabinets to cast a lovelier glow than your standard overhead fluorescent. Plus, they cost only about $5 each. If you want something slightly higher-end, you can also hang a tiny plug-in pendant light or mini-chandelier over the sink from a hook. Just be sure to secure the power cord far away from the sink.
Or add a dose of high style and opt for a faux fixture, no electrical skills required! (Who says an unlit chandelier can't just be a cool ceiling accessory?) Purchase and hang a nonfunctional light fixture to get the look, like the apartment kitchen at Prism at Park Avenue South in New York, NY.
Problem: Outdated appliances
Solution: Peel-and-stick wallpaper and attention-grabbing accessories
Surprise: Wallpaper isn't just for walls. Temporary wallpaper has lots of uses, including adding personality to outdated refrigerators and other appliances. If wallpaper patterns are too busy, you can opt for stainless steel film, which will make even the most yellowed plastic panel on a dishwasher look modern. The key phrase is "temporary" — make sure you're using a peel-and-stick product that can be removed without leaving a sticky residue behind. As for stoves, you'll definitely want to avoid using paper here. Instead, drape a cute tea towel over the door handle for a colorful pop of "art."
Problem: Unfortunate cabinetry
Solution: Stylish pulls and handles
For a few dollars, you can completely change the look of cabinets (or even drawers) by swapping out the handles in favor of something a little more stylish. Of course, you'll want to keep the originals handy so you can swap them back in before you move out. If you really can't take another day staring at faux pine, you can cover the doors with temporary wallpaper (again, make sure it won't leave a residue behind before you tackle them all). If you're a really, really good negotiator, your landlord might allow you to paint them. Don't get your hopes up, though, because you might not get approval, but if you offer to paint them a neutral color (white, black, gray) or if the landlord was going to replace the cabinets soon, there is an ever-so-slight chance of a "yes."
Problem: No storage
Solution: Baskets, carts, and hooks
The tops of your cabinets are likely doing nothing but collecting dust. Make the most of this often overlooked space by adding stylish baskets and bins for storing rarely used things (holiday decor, anyone?). You can also squeeze in storage with a rolling cart (a bar cart can work brilliantly). And never underestimate the power of hooks like those under-cabinet cup hooks, which turn your collection of cute mugs into decor.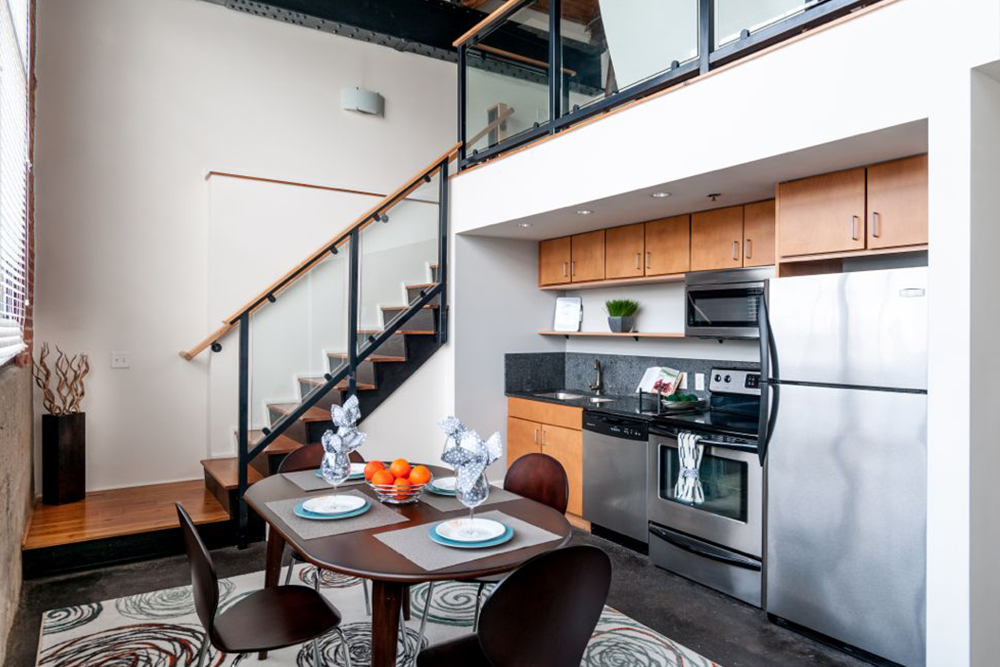 Problem: Boring floors
Solution: A kitchen mat
The kitchen isn't the best place for an area rug for obvious reasons (hello, tripping hazard and stain magnet). But a chef's kitchen mat, which is made from durable material with a no-slip backing, adds a touch of personality and feels good underfoot when you're standing at the counter, endlessly chopping salad ingredients. Rugs in the kitchen (or any space, really) can also help define an area, which is helpful if you have an odd layout. Case in point: the rug in this apartment at New Manchester Flats in Richmond, VA, shows how to anchor a dining area in an open-concept apartment.
Problem: Basic backsplash
Solution: Tile decals and stick-on panels
Like faux wood cabinets, builder-grade tiles can look cheap. Enter tile decals. These are removable designs that add pattern and color. They can be a little pricey, but you need only a few to brighten up a backsplash. Or you can completely cover up the offending tiles with peel-and-stick panels that mimic the look of embossed metal.
Problem: No privacy, no view
Solution: Window film
If you have a teeny-tiny kitchen window that happens to look upon a gritty back alley (or you just don't want prying eyes looking in at you when you're making coffee in your jammies), this product is basically heaven-sent. Window films are translucent, decal-like sheets that add a privacy-boosting pattern without completely blocking out light.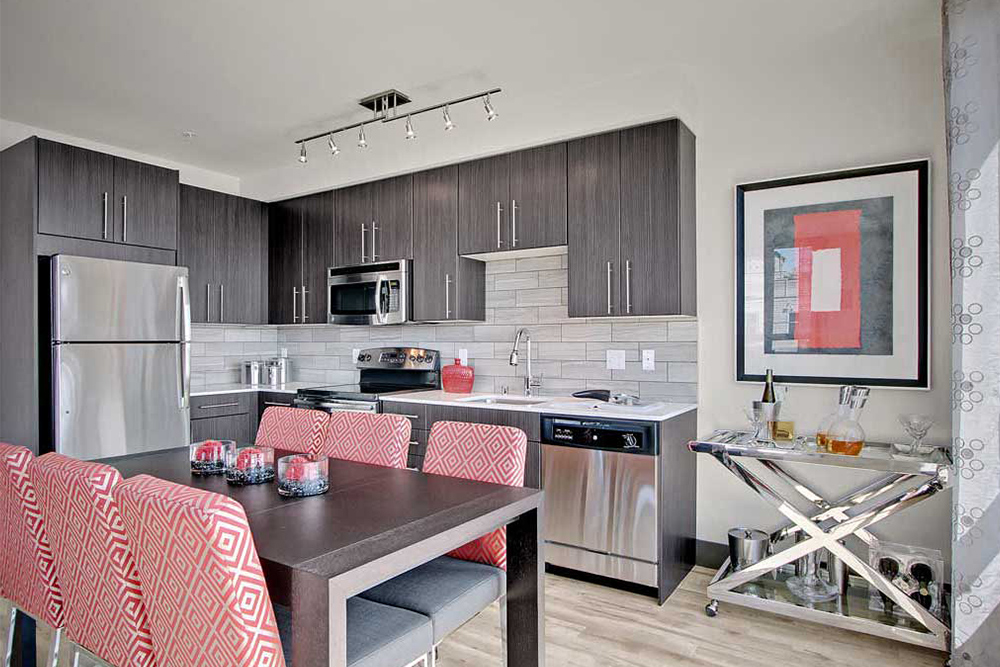 Problem: Ultraneutral palette
Solution: Bring on the colorful accessories!
You'd be surprised at the impact that a boldly patterned trash can, colorful new countertop canisters, and even a vibrant fruit bowl can make. The bright patterns on these chairs at ArtHouse in Seattle, WA, immediately attract attention. By shifting the focus to these stylish extras, you're less likely to notice the kitchen's lesser charms.
What kitchen makeovers have you done to spruce up your rental place (without pissing off your landlord)? Share your tips in the comments!