When we first met the team from Sterling Cooper, it was 1961 and life was a whole lot simpler. JFK was still alive, the Vietnam War wasn't on every American's mind, and enigmatic ad man Don Draper still lived in a peaceful Colonial home with his then-wife and two children in bucolic Ossining, NY.
It's now 1970 on the AMC drama, which has seen the characters shifting their lives over the last decade, moving from their original homes to new worlds, whether just across the Brooklyn Bridge or 3,000 miles away from New York City.
Each of the character's homes tells a little story. Maybe it's Don picture-perfect Ossining house that turned out to be home to a not-so-picture-perfect family inside, or the sleek Mid-Century Modern ranches where Pete Campbell and Co. slithered around during their time out west.
So if you're a Mad Men uber-fan looking to tip back a gimlet and watch the rest of season seven, here's a glimpse at a few homes that would fit right in with the hit show.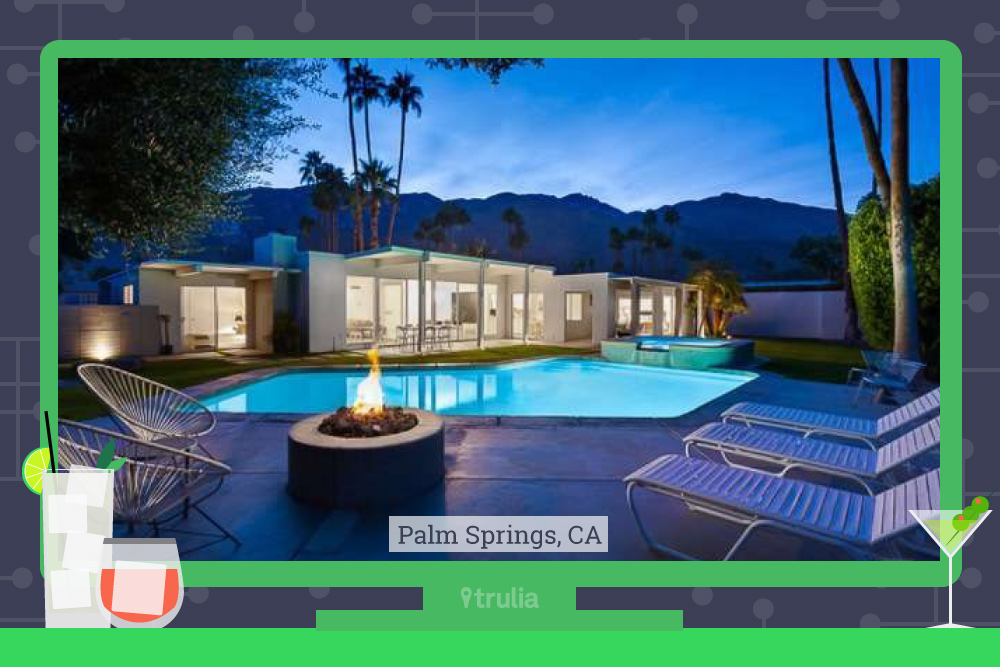 1. Mid-Century Mod in Palm Springs, CA
This desert oasis is a gold mine of Mid-Century Modern style. It's easy to imagine Don visiting one of his many lady loves in the earlier seasons at this four-bed, three-bath beauty in the Southern Palm Springs community of Indian Canyons.
The 2,700-square-foot home features white terrazzo tile floors and glass walls overlooking the mountains to the west. Lush landscaping surrounds the spa tub (fits 10 guests, integrated within the angular heated pool), with an intimate patio area for sitting back and slinging cocktails as you ponder the flames leaping out of the fire pit. Not a bad spot for the team at Sterling Cooper & Partners to drum up inspiration for their next campaign.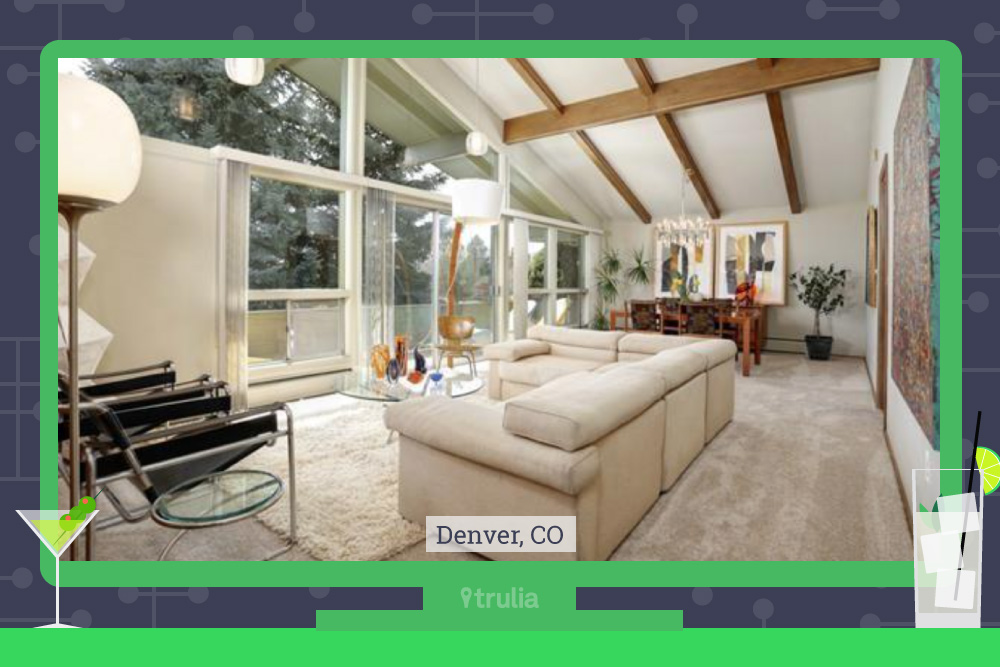 2. Wood-paneled dream in Denver, CO
Nothing screams late 1960s like wood-paneled walls and abstract art. This five-bed, three-and-a-half-bath home has decor that looks like it was plucked straight from Don and Megan's sunken living room apartment in Manhattan.
Built in 1962, this home is located in the coveted Hilltop neighborhood of Denver and features classic sixties details like clerestory windows, a low-slung roofline, and even a built-in drinking fountain in the home office.
No doubt Betty Draper would gaze out those windows to watch Sally and Bobby playing in the grass (as she smoked a cigarette and drank red wine broodingly, of course).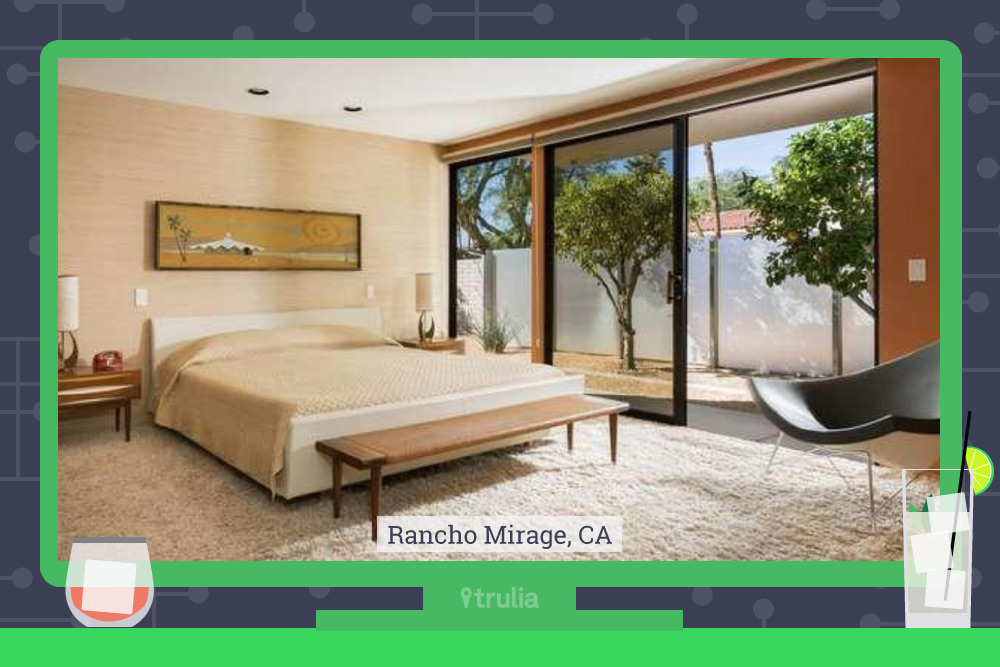 3. Lovers' crash pad in Rancho Mirage, CA
In the season two episode "The Jet Set," Don ditched Manhattan for Palm Springs — and a beauty named Joy and her clan of ritzy-bohemian nomads. As expected, Don and Joy, ahem, spend the night together, and when he wakes the next morning, she's lying in bed reading Faulkner's The Sound and the Fury. (Which caused quite a fury among the show's rabid fan base.)
Don and Joy's love lair looks eerily like the one in this four-bed, one-and-a-half-bath home in Rancho Mirage. For $2.495 million, you can luxuriate just like Don and Joy amid walls of glass, a floating fireplace, and gleaming walnut wood panels in this meticulously restored home.
It wouldn't be the first time the home hosted an infamous couple. According to the listing, the home has been published multiple times, including the talked-about Brad Pitt and Angelina Jolie spread in W magazine.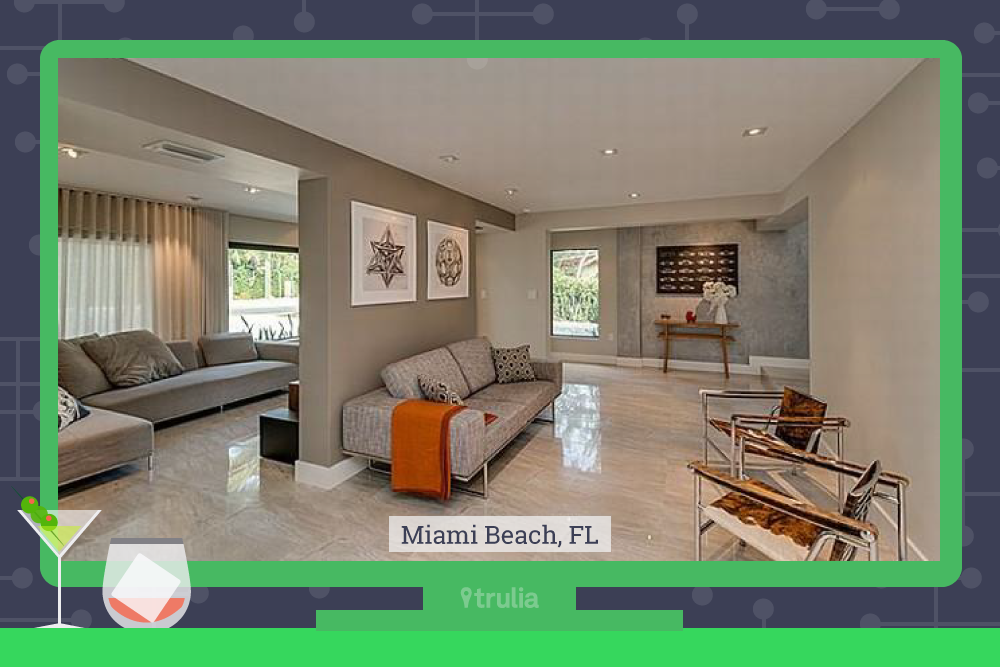 4. Modern masterpiece in Miami, FL
It wouldn't be hard to imagine Don and Megan Draper sipping a Tom Collins in a Floridian Mid-Century home in Miami. Lovingly restored in 2013, this home features vaulted ceilings, glass walls, and a custom kitchen where Betty Draper could chug whipped cream straight from the bottle all over again.
The three-bed, two-and-a-half-bath spread also has a 900-square-foot master suite with a spa-quality bath and digital rain shower, which technically would be a little too advanced for the 1960s. But given Betty's proclivity for cozying up to home appliances, the high-tech shower might have been a selling factor.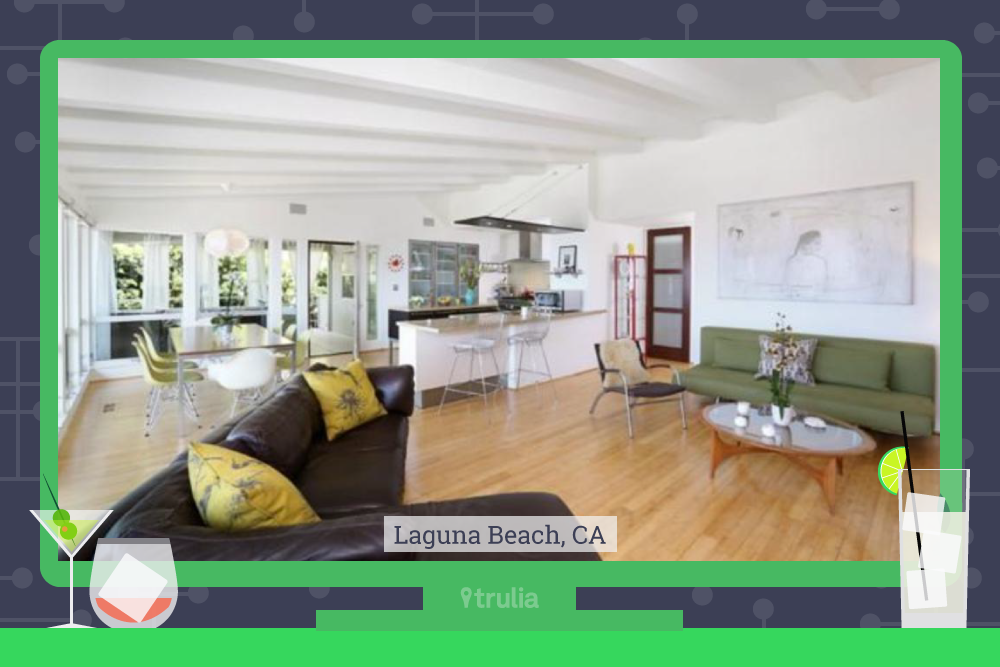 5. Sparkling views in Laguna Beach, CA
Long before the crew of teenage twits from Laguna Beach infiltrated MTV, this cozy beach community was a haven for laid-back Californians seeking homes like this one, where Modern design reigns supreme.
It's not hard to imagine Pete Campbell and his ex-wife, Trudy, cozying up in the indoor-outdoor sunroom. This three-bed, open-floor-plan home overlooks the Pacific, with ample opportunities for enjoying the Catalina sunsets. Balconies and cozy nooks spell quiet nights enjoying the perfect view from this lush, green enclave.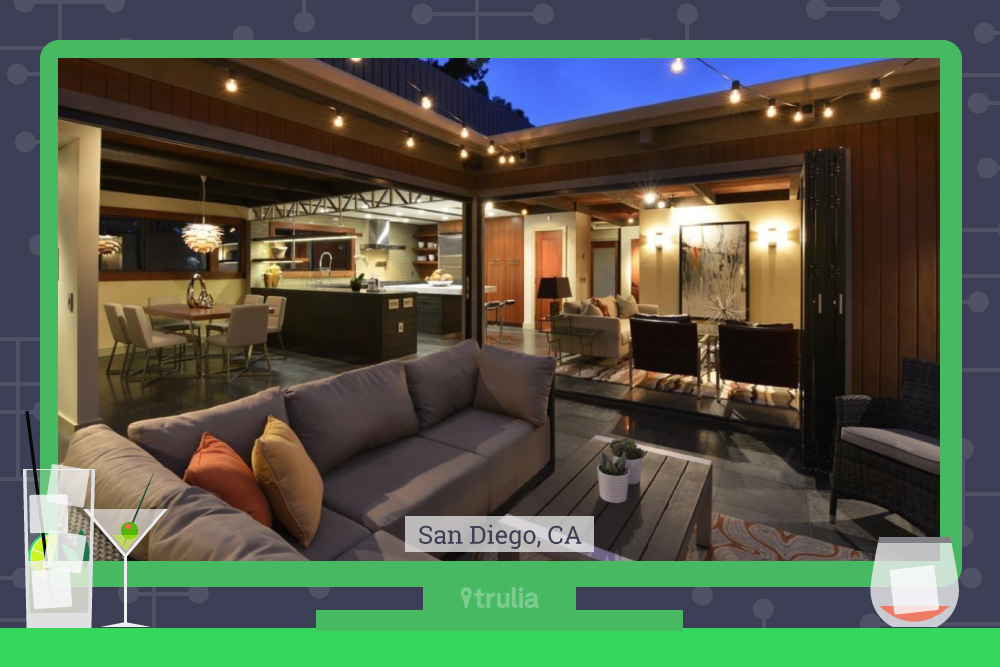 6. Luxurious spread in San Diego, CA
South of Los Angeles, this Mid-Century beauty would be the perfect place to pull on your Topaz pantyhose, pour yourself a brandy Alexander, and watch the rest of season seven of Mad Men.
The four-bed, two-and-a-half-bath house combines features like vintage light fixtures and Egyptian limestone flooring with the necessary appliances of the modern world.
There's also a spacious courtyard if you feel like doing the Charleston after you've had a few too many cocktails. It's an indoor-outdoor haven that we wouldn't mind seeing at least one of our favorite characters (cough, Peggy Olson) riding off into the sunset toward.