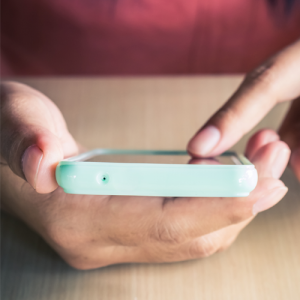 If you're doing most of your apartment searching on the go, your phone may be your best friend. Of course, you can always lug that stack of papers and documents along, but being well-organized and tech-savvy will make you look like a rock star resident. In honor of Trulia's awesome rentals app and our newly redesigned homes app (check it out!), we're giving a shout-out to five other apps we think will open the door to a smoother rental search.
This is one tool we wish we'd found a long time ago. Perfect for emailing documents to a landlord or property manager in a pinch, this app acts as a scanner, taking a photo of your important forms — such as pay stubs, references, and applications — and easily creating a PDF. It has so many uses beyond just the hunt for a home, you'll continue to use it every week.
A lot of apartments have virtual move-in planners on their websites, but this tool is still worth a mention. If you're wondering how, exactly, your furniture is going to fit in a particular space, take this app with you. You can use MagicPlan to draw up potential floor plans, finding the perfect fit for your favorite chair.
This one is so ubiquitous, it hardly needs a recommendation. Then again, maybe you wouldn't think to use your favorite app to find the best restaurants and nightlife during your search for a new place to live. The fact is, though, you're not just looking for four walls and a roof when you rent, you're looking for a neighborhood too. So make sure your new potential block has all the amenities you crave nearby — just don't go out to eat out every night. Your wallet will thank you!
Property managers and landlords ultimately want to know that they'll get paid each month. That's why your credit score is so important. And while multiple credit inquiries during the rental search process are typically treated as a single inquiry by your credit-reporting agency, give your credit score a breather by using Experian's freecreditscore.com app to find your rating beforehand, making it easy to share your score on the spot.
Whether you're walking, driving, or taking public transit to visit the latest listing for rent, Google Maps can help you organize your search. Star each location beforehand and make a schedule. Just a little planning will keep your open-house visits on track, ensuring you'll hit every appointment on time and avoid backtracking and wasting gas.