Few things are better than a home with an ocean view … unless said oceanfront house also boasts its own private beach. (And maybe a private dock. And private fishing pier too.)
Dig your toes in the sand and cozy up with a good book — or brew — and enjoy a seat at the water's edge that's exclusive, private, and all yours. Dive into this list of five charming waterfront properties for sale in the U.S., each with its own stretch of sand.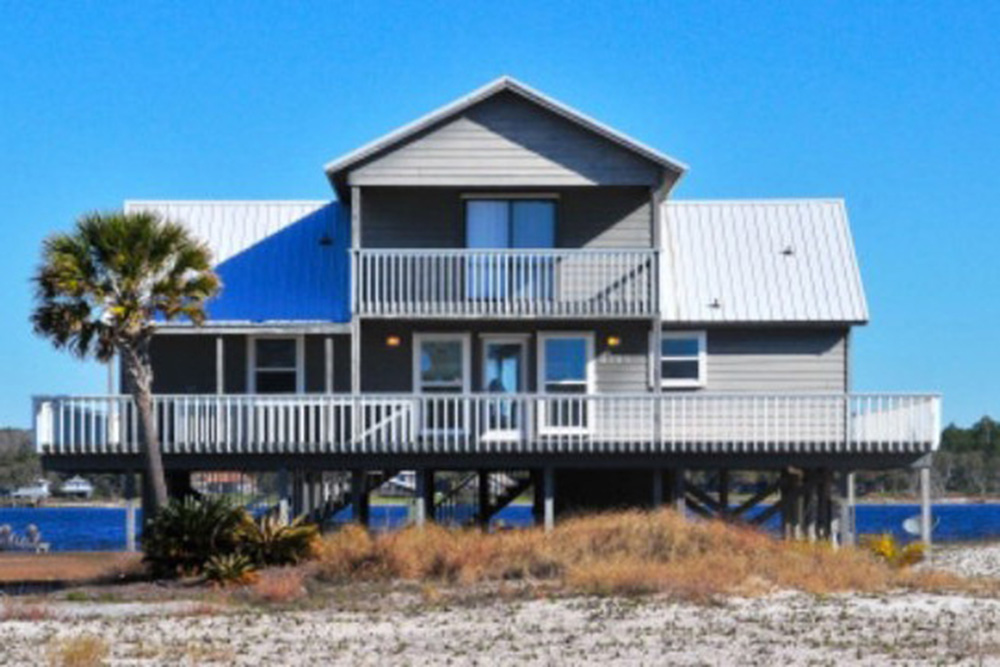 1. $699,900 in Gulf Shores, AL (click here for more photos)
Located on a lagoon with access to the Gulf of Mexico, this four-bedroom stunner is just about every boat and water lover's dream. With a private dock and pier — complete with Adirondack chairs perfect for lounging — you can escape the heat with a dunk in the gulf or a boat ride at sunset.
A screened-in porch and two expansive decks allow for a 180-degree water view that's made even better with the addition of the home's proximity to the town of Gulf Shores, which Travel + Leisure magazine rated one of America's Favorite Towns in 2014.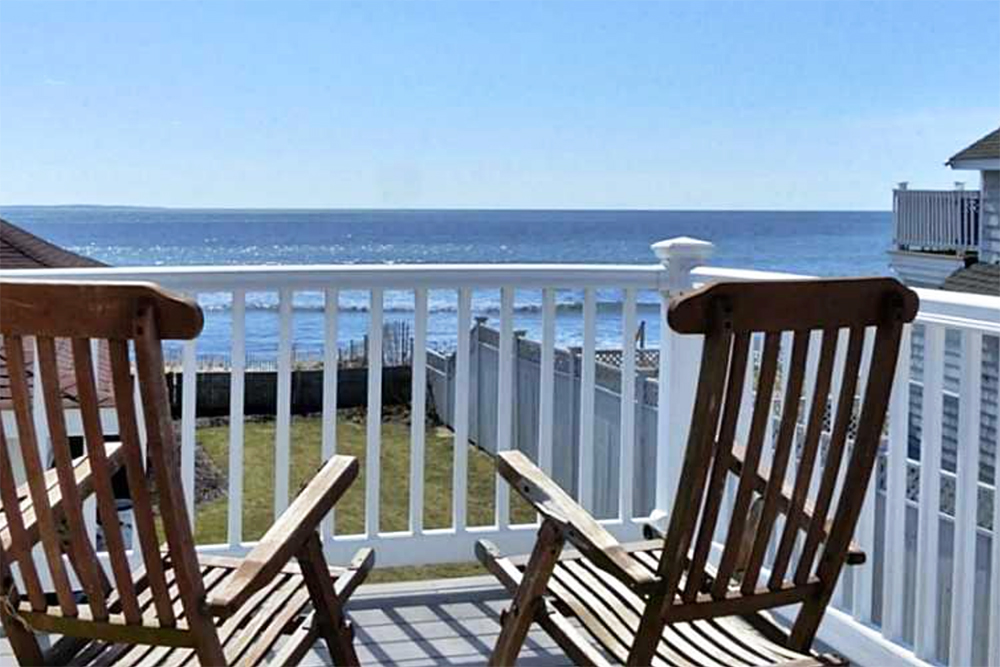 2. $699,000 in Kingstown, RI (click here for more photos)
This oceanfront home is the epitome of coastal New England architecture with its dark, cedar-shingle façade and white trim detailing. While the interior finishes (granite counters, top-of-the-line appliances, gourmet kitchen, and hardwood floors throughout) make the three-bed, three-bath home a standout, it's the outdoor living spaces, complete with manicured grounds, three open-air decks, and a panoramic view of nearby Block Island, that give the home a wow factor.
Toss your sandals to the side and nestle your feet in the grassy front lawn that overlooks the ocean and beach before heading to the porch for a post-beach-day cocktail.
3. $650,000 in Fairfield, CT (click here for more photos)
Perched above the Atlantic, this quaint beach home provides a close-up look at the water's ebbs and flows. The two-bed, one-and-a-half-bath home is so close to the ocean that you could easily drop a line and fish from the oversized deck, complete with built-in benches — perfect for sun lounging or gathering with friends.
An adjacent beachfront lot with a panoramic view of Long Island Sound serves as the optimal spot for pitching an umbrella, setting up a chaise lounge, and unwinding with a good book, while the cozy interior proves to be the ideal space to relax after a day at the beach.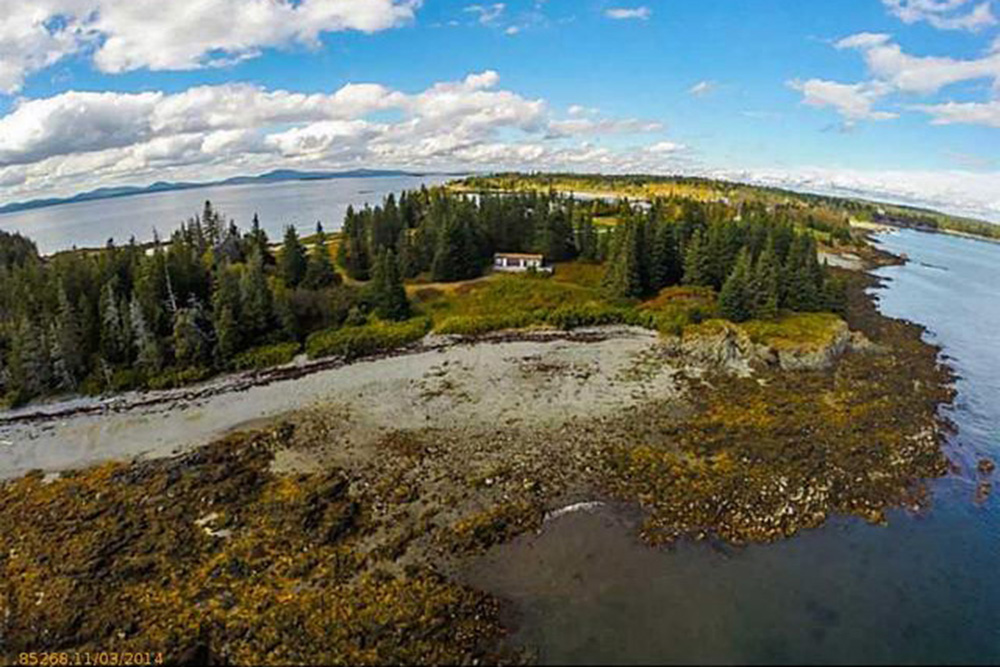 4. $595,000 in North Haven, ME (click here for more photos)
Nestled among towering pine trees, this intimate beachfront cottage is in the remote town of North Haven, ME. Just one of 14 unbridged islands, this tiny island community boasts just under 400 residents and classic coastal New England scenery with rocky beaches and mountains on the horizon.
With this wooded, 5.30-acre oceanfront lot, expect complete privacy on your own beach overlooking Penobscot Bay. There's not a bad month to enjoy in North Haven with views of the nearby shorelines covered in wildflowers during the spring and summer months, changing leaves in the early fall, and snowcapped mountains and valleys in the winter.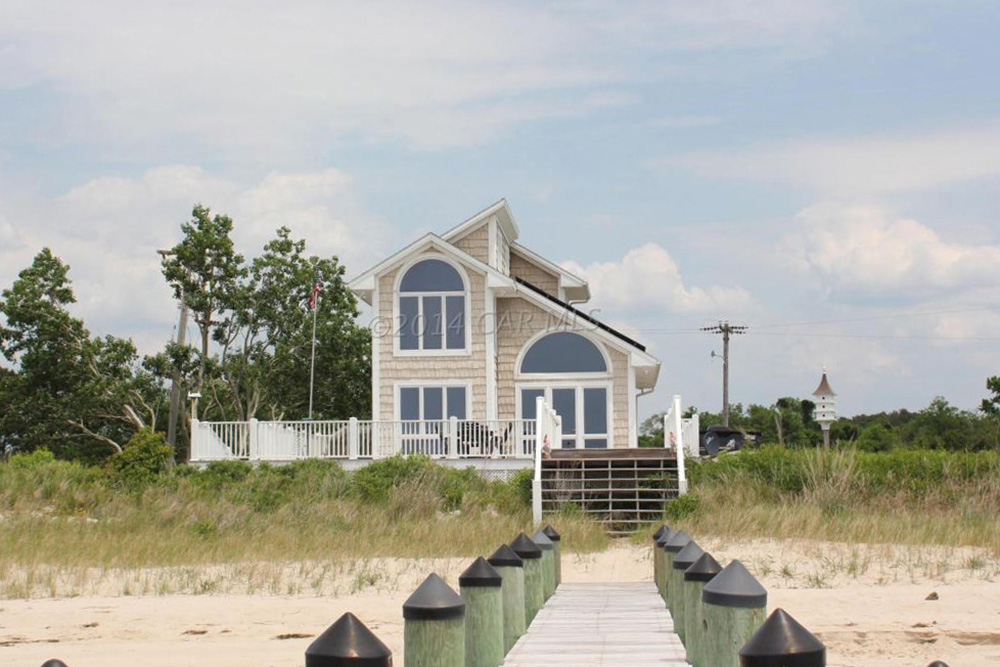 5. $595,000 Deal Island, MD (click here for more photos)
With views of both Chesapeake Bay and tributaries in Somerset County, get the best of both worlds with this ultraexclusive home, just one of eight situated in a private, gated community overlooking Tangier Sound on Maryland's eastern shore. Its location atop a high dune, coupled with an expansive deck area, gives this two-bedroom beauty ample ocean views and entertaining space — not to mention ultimate privacy.
Manicured grounds and a private beach give way to the highlight of the property: a long pier, which allows for quick and easy access to Chesapeake Bay and the Atlantic Ocean (just drop your boat in the water and go!) for a day on the ocean.