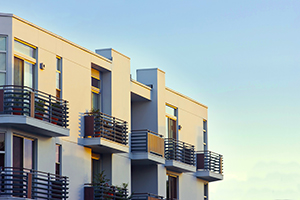 Economics play a big part in the decision to rent or buy a home, and which is a better bargain depends largely on where you live. If you're living in a place with relatively affordable homes, your choice may seem obvious: buying is a better bet, even if you'll only live there for a few years. But what if you're living in a city with generally higher housing costs? Is buying a home truly a better deal? A recent Trulia analysis found 11 major metro areas in which renting is cheaper than buying. Before we launch into the list, here are some assumptions.
Buyers have a 30-year, fixed-rate mortgage at 4.5%
Buyers offer a 20% downpayment
Buyers itemize the deductions on their federal taxes, and are in the 25% marginal tax bracket
People will stay in the home for three years
We consider the full metro area, not the official city limits
Based on that analysis, here are the 11 metro areas in the U.S. in which renting is a better deal.  (And if you want to see what's best for you, check out our rent vs. buy calculator.)
1) Honolulu, HI
The capital of the Aloha state is also the best place in the nation to be a renter, according to our analysis, which found that if you're only going to live in a metro for 3 years, it's 42% cheaper to rent in Honolulu than to buy a home.
2) San Jose, CA
The heart of Silicon Valley attracts a lot of entrepreneurs, but the cost of living is pretty high. Renting in San Jose is 40% cheaper than buying, if you'll only live there for three years (before cashing out from your tech startup and retiring in Honolulu.)
Just north of San Jose, the colorful and eclectic city of San Francisco is a smart place to rent if you're only staying for a few years: In the situation outlined above, renting is 36% cheaper than owning.
South of Los Angeles and north of San Diego lies Orange County, a breathtaking coastal area made famous by reality television. If you plan on living here for three years, you'll pay 21% less as a renter than you otherwise would as an owner.
5) Oakland, CA
Located east of San Francisco, Oakland is the third-largest city in the greater San Francisco Bay Area, and it's famous for everything from professional sports to music, art, food and its moderate climate. It's also 16 percent% to rent than to buy in this metro area.
Are you noticing a trend yet? Here's the fifth consecutive listing that's located in California: Los Angeles, a city which needs no introduction, is virtually tied with Oakland in its rent-vs-buy ratio. If you're only going to live in the City of Angels (and its surroundings) for three years, it's 15% cheaper to rent than buy.
Finally breaking that long California streak, we move to the opposite coast, where the Big Apple greets us with its high housing prices. In the New York metro area (which includes all five boroughs, plus some other outside counties), renting is 14% cheaper than buying over a three-year window.
Back to the Pacific Coast: Ventura County, located in the greater Los Angeles-Long Beach Combined Statistical Area, is another place where short-term residents may want to stick with renting. Renting in this area is 11% cheaper than the alternative.
Located at the southern tip of California, the metro San Diego area — famous for its sunny, temperate climate, canyons, cliffs, hills, oceans and palm trees — is also a prime place to pay rent. Renting in metro San Diego is 6% cheaper than buying over a three-year span.
10) Boston, MA
Here's one of the few non-California cities on the list: Renting in the metro Boston area, famed for its colleges, sports, food, and culture, is 3% cheaper than buying.
11) Sacramento, CA
We close out the list with the capital of California: Sacramento, one of the few major metro areas located inland rather than along the coast, is a slightly better deal for renters. Renting in this metro area is 2% cheaper than buying over a three-year span.