Nationwide, homeownership is still on the decline. But there are a few areas where it's on the rise — ever so slightly; the largest change was a .6 percent year-over-year growth — and the locations might surprise you. If you're looking to buy or sell a home, deciphering market trends can be tough.
As we've explained before, the published homeownership rate, which refers to the share of households that own instead of rent, can be misleading when inferring actual trends in the housing market, especially when it comes to millennials leaving the nest. Using the most recent U.S. Census data, we calculated the "true" homeownership rate and discovered a few places where homeownership is on the uptick — even if only by a fraction of a percent. (The "true" homeownership rate, the number of owner-occupied households divided by the number of adults, gives you a more accurate percentage than the conventional published rate.)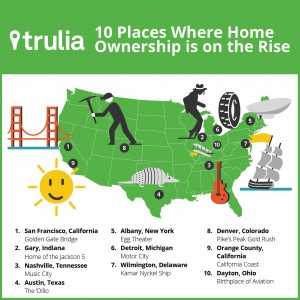 The top 10 locations making waves, according to our analysis of "true" homeownership, might at first glance seem like a motley crew. (Gary, IN, and San Francisco, anyone?) But when you look more closely at the list, two trends emerge: affordable markets like Detroit, and superstrong economic or corporate centers, like Orange County, CA, and Wilmington, DE.
So what's the takeaway for buyers and sellers in these markets? Economic development matters. Some of the cities showing a slight jump in homeownership rates have recently doubled down on efforts to grow local business and development. Earlier this year, The New York Times reported on a new state program in Delaware that would cover up to 20 percent of the construction costs for builders, nonprofits, and homeowners who develop properties in designated downtown districts. Similarly, Dayton, OH, and Albany, NY, are both in the process of pitching growth and revitalization plans aimed at boosting their regional economies.
Others, like Denver and Austin, TX, boast states with high employment growth — Austin owes some of its growth to Apple's recent investment in local facilities projected to add more than 3,000 jobs to the region in the next few years. Which brings us to the areas showing a decrease in homeownership — what can we learn there?
10 Metros with the Biggest Decline in Homeownership
US Metro
Change in true homeownership rate
Bakersfield, CA
-2.0%
Greensboro, NC
-2.0%
New Haven, CT
-1.7%
Edison-New Brunswick, NJ
-1.6%
Fort Lauderdale, FL
-1.5%
Albuquerque, NM
-1.5%
Knoxville, TN
-1.3%
Lakeland-Winter Haven, FL
-1.3%
Richmond, VA
-1.2%
Toledo, OH
-1.2%
Does this mean we might be able to use local markets to predict overall housing trends? Not quite.
The cities showing a decline in "true" homeownership rates include Fort Lauderdale, FL, and New Haven, CT. Jed Kolko, Trulia's chief economist, pointed out recently that in areas like coastal California, South Florida, and the Northeast, an increase in housing affordability would require either plummeting demand or a huge increase in supply.
What the numbers do show is that by looking at real estate data through a thoughtful lens, like "true" homeownership versus published homeownership rates, we can extract meaningful insights that give us both big-picture and more granular trends — and hopefully help you navigate the market with a little less noise.
Click here to see the changing homeownership rates in the top 100 metros in the U.S.