These days, the most invaluable tool for inspiring and organizing any home design project fits in your back pocket. Whether you want to compare and contrast new potential paint colors for your den, find a coffee table that fits in your living room and your budget, or plan a complete kitchen overhaul, there's an app out there that can help.
Here are 10 favorites — many are free — that are well reviewed, easy to use, and incredibly handy. Think of them as the next best thing to hiring a decorator.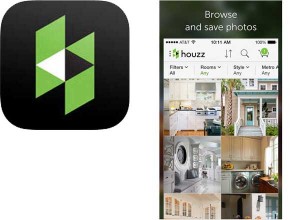 1. Houzz (Free, iPhone, iPad & Android)
If you're looking for images to inspire a remodel, try Houzz, which CNN deemed the "Wikipedia of interior and exterior design."
In a simple, elegant interface, you can browse more than 4 million photos by room, style, location, and furniture type, and save shots you like to a virtual scrapbook (similar to a Pinterest board).
Coolest feature: Plug in the name of any major paint brand and color (e.g., Behr in "Aged Olive") and see images professional designers have posted and tagged with that paint color installed — especially helpful for nosing out the subtle nuances in different neutral grays, beiges, and creams.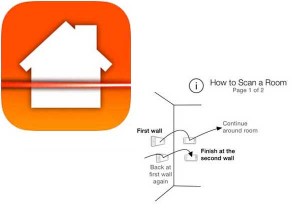 2. RoomScan (Free, iPhone)
An ingenious app that can draw up a room's floor plan of a room quickly — no tape measure required.
To get a read on a space, you simply tap your phone against a wall and then another; as you tap, you'll see the plan come together onscreen. When you're done, you'll have a complete floor plan with approximate wall lengths and floor area dimensions.
Coolest feature: Works on complex room shapes (rooms with nooks or L-shapes) just as easily as rectangular rooms.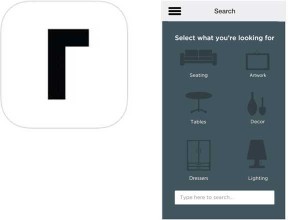 3. RoomHints (Free, iPhone)
If you've ever wished you could quickly crowdsource decor advice, RoomHints is for you.
After entering what you're looking for (a new sofa, paint color ideas, or even general advice on what to do with a certain space), upload a photo of the room, and design pros weigh in with recommendations.
Coolest feature: From the designer-recommended pieces that pop up, you can save favorites and even shop right from the app.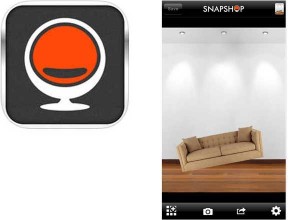 4. SnapShop (Free, iPhone & iPad)
When you're shopping around for new furniture, it can be tough to visualize how it'll look in your space.
That's where SnapShop comes in. Just upload a pic of your room and overlay images of furniture (from IKEA, Crate & Barrel, CB2, Horchow, Pier 1, and other popular brands), moving and rotating the piece to see how it will look wherever you want to put it.
Coolest feature: Quickly view the dimensions, pricing, and color and finish variations for every single piece and click through to shop.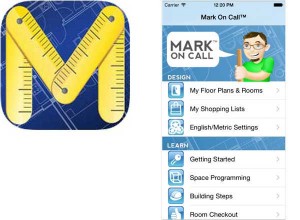 5. Mark On Call ($5 download, iPhone & iPad)
From interior designer Mark Lewison, this app was technically made for pros — but for those tackling their own remodels, it's really helpful for plotting out all the details.
What sets Mark On Call apart is the fact that you can go beyond a basic floor plan. The interface lets you add different flooring options, architectural features, furniture, and appliances, each in different colors, textures, and finishes. That means you can start to visualize a space in the big-picture sense and add ideas you like to a shopping list.
Coolest feature: If you see a fabric, textile, or floor texture you like, snap a pic and drop it into your plan to get a sense of how it might work in your space (the app even autoscales textures and patterns depending on where you place them).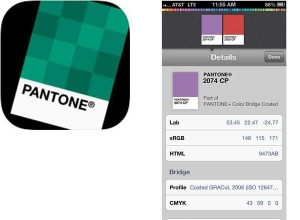 6. myPANTONE ($7.99–$9.99 download, iPhone & Android)
Pantone has widely been considered the go-to "language of color" since the system's inception more than 50 years ago.
So it's no surprise that designers love using this app to plan general color schemes for rooms and homes. DIYers can get a lot out of it too, browsing and referencing Pantone's extensive shade libraries, creating palettes, and sharing them via email with a few swipes.
Coolest feature: If you see a color you like out in the world, snap a pic, upload it, and drag your finger to highlight the shade; the app automatically pulls up the closest colors on a Pantone spectrum. Save your favorites, and you'll have a head start on finding the shades you really want when you shop for paint.
7. nousDECOR (Free, iPhone & iPad)
Picture this: you spot an item you love — at a flea market, department store, or friend's apartment — and want to quickly find out what it is and where to buy it (or a similar piece that fits within your budget).
This app streamlines that process — and be forewarned, it's addictive. Snap or upload photos of decor items or design elements you like, enter a little info about them, and the app searches for you, pulling up similar items at different price points from more than 100 retailers.
Coolest feature: A library of designer inspiration images and mood boards that are shippable — accessible price points included.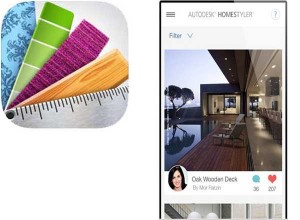 8. HomeStyler (Free, iPhone & iPad)
Before you make purchases or knock down walls, HomeStyler lets you conceptualize a room from start to finish.
After uploading a shot of your empty space, you can virtually "try on" furniture, lighting, area rugs, mirrors, artwork, and finishes from real brands to preview how they'll look in your space. Save your favorites to compile an instant, dynamic shopping list.
Coolest feature: If you're ready to call in the experts, the app can help match you with a design professional near you.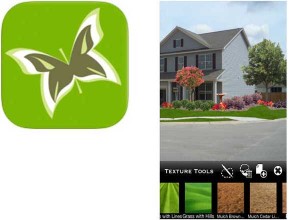 9. iScape ($9.99 download, iPhone & iPad)
Similar to HomeStyler and Mark On Call, but for outdoor spaces — upload a shot of a garden or yard and start adding in trees, plant beds, furniture, fountains, patios, and fences.
If you're DIYing it, iScape makes it easy to plan out what to buy and how to put it all together. If you're hiring a landscaper, the app can help you explore ideas and share your vision.
Coolest feature: The Texture Tool, which lets you add grass, mulch, stones, and other ground covers to complete your plan.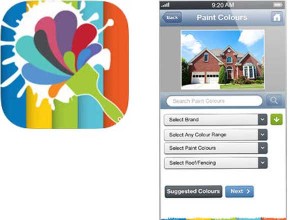 10. Paint My Place (Free, iPhone & iPad)
Choosing paint colors can be an overwhelming, exhausting process. Paint My Place makes it a little bit easier.
The heart of this app is a simple tool that lets you see how a new color will look — on your walls, your home's exterior, or cabinets and furniture — before you ever pick up a brush. Just upload a photo, pick a color, and "paint" by swiping your finger, trying out as many shades as you like with zero commitment.
Coolest feature: Upgrade for $2.99 and you'll unlock 30,000+ colors from 35 top brands.