What is a Trulia VIP?
Trulia VIPs are the top members of the Trulia Voices community. They are always available to answer community questions and they consistently post content that is rated helpful by other members. See who's already a Trulia VIP and read on to find out how you too can become a very important person (or professional) within the Trulia community.
Who is eligible?
Any member of the Trulia community can become a VIP! Community members become eligible for VIP status once they earn 100 points and will qualify for higher VIP levels as they earn even more. Points are awarded to members based on their contributions to Trulia Voices (Q&A) and the recognition those contributions receive (Thumbs Up, Best Answer, Comments and Page Views).
Once eligible, community members will achieve VIP status when they make 5 contributions to Trulia Voices (questions, answers, and comments) within 30 days, and they can attain higher levels of VIP status with even more contributions. Each member's contributions are recalculated daily based on the past 30 days, so consistent participation is key to maintaining the VIP designation. Once members become VIPs, they will keep this status for 30 days thereafter and will need to maintain their contribution levels to remain a VIP.
Check out the table on the right to see how many points and contributions are needed to become a VIP Level 1, 2 or 3, and read on to find out how to start earning points and reaping rewards.
| Level | Badge | Points | Contributions (in 30 days) |
| --- | --- | --- | --- |
| 3 | | 1,000 | 20 |
| 2 | | 300 | 10 |
| 1 | | 100 | 5 |
| Former VIP | | 100 | < 5 |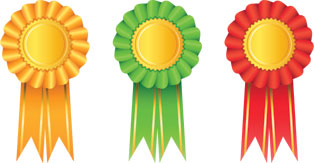 Do VIPs receive rewards?
Of course! Besides the snazzy badges that appear on VIP profiles and showcase VIP members across Trulia, VIPs are rewarded for their involvement and fantastic contributions with increased exposure throughout Trulia Voices and in our Find an Agent directory. These benefits increase with each VIP Level, and, as an added reward, Level 2 and Level 3 VIPs have the opportunity of being featured in our bimonthly Consumer and Agent Newsletters.
How do I earn points?
When you create a Trulia account and complete your profile, you've already begun to earn points! You'll receive more points as you contribute to Trulia Voices by asking and answering questions and posting comments. Additional points are earned if others give thumbs-up votes to your posts, or chose your answer as the Best Answer, so contributing high quality content is a must.
Check out the table on the right to find out how many points you'll receive for your contributions and start earning points now!
| Activity | Points |
| --- | --- |
| Create an account | 100 pts |
| Complete your profile | 100 pts |
| Receive a best answer award | 100 pts |
| Add Sold Listing | 100 pts |
| Verify Sold Listing | 100 pts |
| Receive a Recommendation | 50 pts |
| Check into a Listing | 10 pts |
| Answer a question | 4 pts |
| Receive a thumbs up | 4 pts |
| Write a review | 3 pts |
| Select a best answer | 2 pts |
| Ask a question | 1 pt |
| Receive profile page views | 1 pt / 20 views |
| Post blocked by Trulia | -30 pts |