Hi Tahir-

The home listed at 116 Regents Drive in Troy, MI is a multi-family home. The listing agent is showing the taxes at $7453.00 per year. The house was sold in 2005, and the new owner will expect a slight increase in taxes. Calling the City of Troy with the address will give you more specific information on taxes if you plan on living in the home and renting out the other side. If you have any other questions, please refer to my web-site. If you are not working with an agent, I would be happy to show you the property. The property is being sold as a short sale.

Regards,
Maryann Kepreos
Keller Williams Lakeside
586-703-8400 Cell
Tahir,
They are showing the annual taxes as $7453. You can estimate what they will be after you purchase here:
https://treas-secure.state.mi.us/ptestimator/ptestimator.asp
It is hard to know exactly what they will be because a new state equalized value will go into place. It is safe, in most cases right now, to assume they will go down based on the new sales price. There is also probably a new assessment, so it is likely they will be lower than this anyway.
Maureen Francis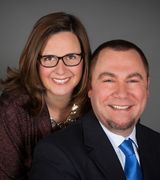 Contact
Tahir:
Depending upon what area you wish to live, the school district and the current total millage rate, your taxes as a new purchaser can be estimated closely using the current assessed value for the house. If you would like to know your tax bill on any property in particular... please respond and I'll be glad to give you details on resources you can use to figure this out on your own, or I can calculate the taxes for you.
Regards,
Brian Luck
Keller Williams Realty
email: brian@brianluck.com